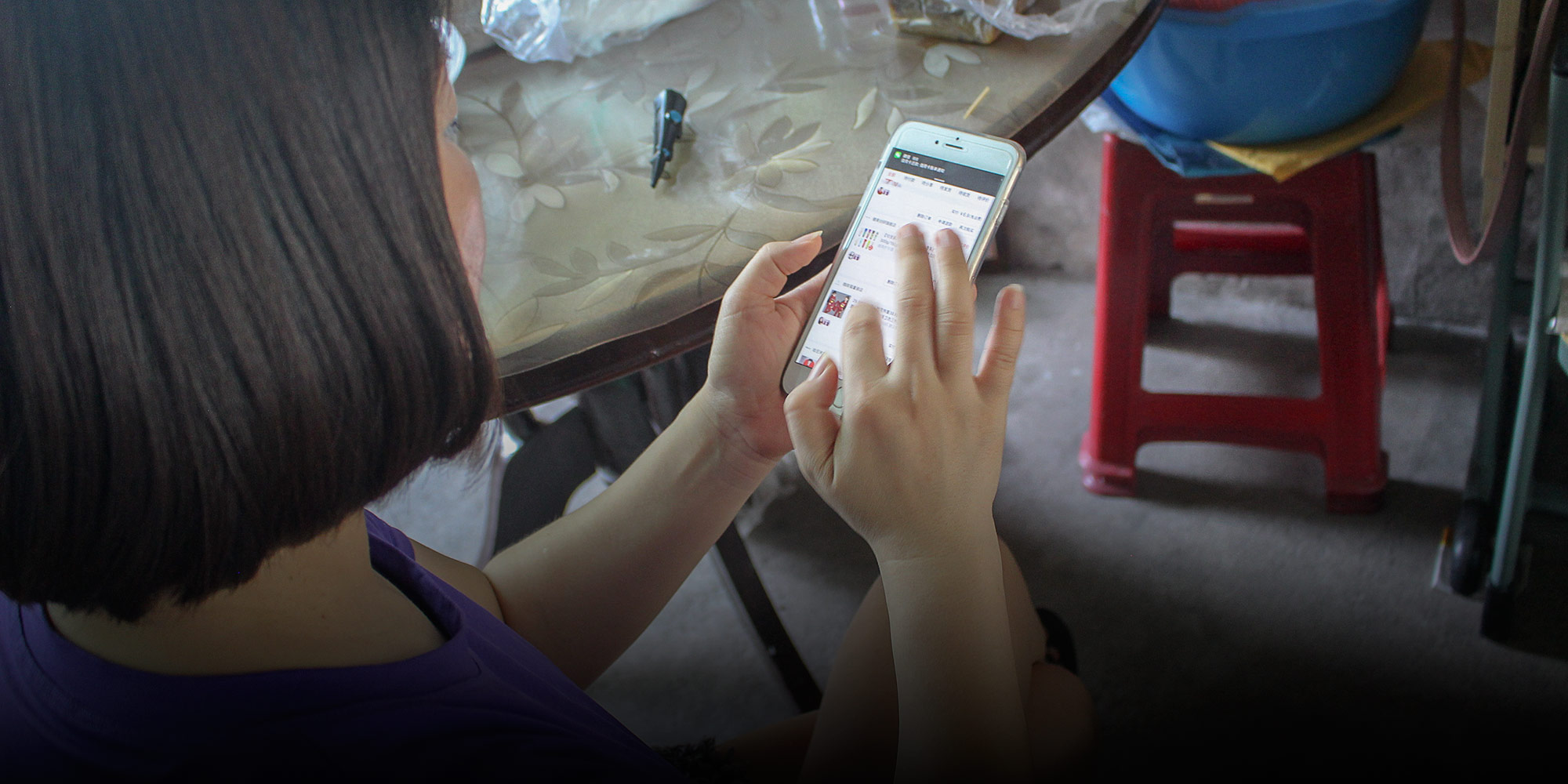 FEATURES
The Shopping App That Unveiled China's Social Divisions
While middle-class consumers mock Pinduoduo, buyers in rural areas stand by the bargain-hunting platform.
ZHEJIANG, East China — Zhang Yueying is wearing a black T-shirt emblazoned with the letters "HBA." It's the logo of a high-end New York fashion label — but Zhang's never heard of it.
"I don't know about brands," Zhang says, smiling shyly. "I bought it on Pinduoduo for 47 yuan ($7)."
Authentic versions of Zhang's shirt retail for around $100 on HBA's website, but on e-commerce platform Pinduoduo, buyers like Zhang can get the shirt — along with daily groceries, household items, and electronic devices — at dirt-cheap prices. Last month, Pinduoduo raised $1.6 billion during its IPO on Nasdaq — the fourth largest U.S. IPO this year, making its 38-year-old founder Colin Huang China's youngest self-made billionaire.
Zhang says she doesn't know what "IPO" means, either. If she did, she might know that she's one of 344 million annual active Pinduoduo users — around a quarter of China's total population — who made the public listing possible. Data from research institute Jiguang shows that over 60 percent of Pinduoduo's user base is from China's less-developed cities and rural areas, meaning there are plenty of users in places like Shi'erdai, the village in Wenzhou City's Qianku Town where Zhang lives.
Zhang estimates that she's spent over 1,000 yuan on Pinduoduo since she started using it a year ago. "We buy basically everything from Pinduoduo," Zhang says, sitting on a red plastic stool in her run-down brick house, her 1-year-old son napping peacefully on her lap. Her son — who's nicknamed Lele — was born with microtia, a birth defect causing his outer ear to be underdeveloped. All around Zhang's house, there's evidence of her Pinduoduo purchases. In her workroom — decorated with red, white, and blue tarpaulin to help her son's sensory development — there are numerous toys to entertain him while she guides seams through her sewing machine. There's a red stuffed elephant chair, a blue toy car, a rainbow-colored basketball, and a bathtub-sized inflatable pool — all bought on Pinduoduo.
The 31-year-old opens her Pinduoduo app, swiping through to check its order history. A pair of baby shoes: 7.9 yuan. A box of popsicle molds: 7.3 yuan. A pair of men's jeans: 20 yuan. A packet of 50 diapers: 25 yuan. And a pack of 20 condoms: only 6.9 yuan.
In the village of 380-or-so households, the streets are almost deserted and summer days pass slowly. Barefoot farmers stoop to plant rice stalks in the roadside paddy fields. The quiet is only disrupted by chirping cicadas, croaking frogs, and the hum of sewing machines from the villagers — most of whom make a living sewing seams on reusable shopping bags.
At the doorway to Zhang's house, there are piles of colorful shopping bags waiting to be finished. Zhang and her husband moved to Shi'erdai two years ago from their less-developed hometown in central Hunan province's Chengde City, hoping to make more money out of their sewing workshop. Depending on how many bags they sew, Zhang and her husband can make around 2,000 to 5,000 yuan each month together, but still less than 9,655 yuan — the average monthly income in Shanghai, according to career platform Zhaopin Limited. Now, they're saving so they can send Lele to kindergarten in Wenzhou in 2020.
For people like Zhang and her husband, time is in abundance, but money is in short supply. And that's where Pinduoduo comes in.
Founded in 2015, Shanghai-based Pinduoduo is now the second most popular e-commerce platform in China — after Alibaba's Taobao, but ahead of JD.com. Pinduoduo roughly translates as "together, we get more" — a fitting name, as the app encourages users to form shopping squads on social media to group-buy items. The more buyers, the lower the price — but getting others to agree to group-buy items can require a long wait. On the app, the predominantly female and elderly users can see real-time updates on what others are buying. Backed by China's tech giant Tencent, Pinduoduo also has a mini-app within Tencent's messaging app WeChat, which boasts one billion users. Pinduoduo's CEO Huang describes the app's addictive mixture of gamification and shopping as "a combination of Costco and Disneyland."
Unfortunately, Huang's shopping wonderland has a catch. In a story Huang likes to tell in interviews, his mother complained to him that when she bought nine mangoes for 10 yuan on Pinduoduo, two arrived rotten. Nevertheless, she continued to use Pinduoduo. "If you can buy seven good mangoes for 10 yuan, you're not losing out," Huang said. A few months ago, Zhang bought a box of mangoes from Pinduoduo. The whole box arrived rotten.
"The mangoes were like this tiny," Zhang says, stretching her fingers to indicate the size of an egg.
There are other purchases she regrets, too. In April, Zhang spent 40 yuan on a fishing pole as a gift for her husband. "Broken on arrival," says her husband, taking a break from silently playing games on his smartphone to chip in. The couple also splurged and spent 400 yuan on a tablet so their son could watch cartoons, but the tablet never switched on. They bought shoes for themselves, but those came apart within a week.
Down the road from Zhang's house, 40-year-old twin sisters Huang Xiaoying and Huang Shaofen are also keen users of the app. But like Zhang, they've found problems with Pinduoduo's quality. Huang Shaofen bought a pair of sneakers for 38 yuan this June, but when the shoes arrived, they were both the wrong size and wrong color. Huang Xiaoying rushes upstairs, returning with a 9.9 yuan umbrella she bought on Pinduoduo. "I used it in the rain for three minutes," she says, laughing bitterly. "And it's already broken."
The buying decisions of Zhang and the Huang sisters — among other Pinduoduo users — recently set social media alight. Following the IPO, a number of purchases allegedly bought from Pinduoduo were shared online, including a hair dryer that broke out in flames after it was switched on, and a power bank with nothing inside it besides four AA lithium batteries. Curious netizens found vendors selling 400-yuan "Shrap" televisions, 18-yuan "Caev Kceai" underwear, and 388-yuan "Shaasuivg" smartphones. Soon, there were memes about Pinduoduo's subpar wares. "Pinduoduo, a company with 300 million users, has brought joy to the other one billion Chinese!" noted a schadenfreude-laden article on microblogging platform Weibo that received over 10,000 likes and over 4,000 comments.
Others were quick to point out that Pinduoduo's goods were cheap for a reason. "Pinduoduo is not a charity organization — you get what you pay for," wrote another user. Some raised concerns that the authorities' long fight to rid the country of counterfeits — and rehabilitate China's image — had been in vain. "Pinduoduo's IPO wound China back 20 years," read one widely-shared blog post. When Pinduoduo users posted photos of themselves posed in front of their Pinduoduo-sourced television sets and air conditioners, their lower living standards prompted a fresh round of hand-wringing.
Prompted by the outcry, the authorities took action. Days after the IPO, the State Administration for Market Regulation called for an investigation into the sale of counterfeit products.
Judy Wong — a 24-year-old student at Hong Kong University, who hails from Shi'erdai but later moved to Qingdao in eastern Shandong province — yelled at her mother in horror upon hearing that she'd bought a rice cooker and a bottle of olive oil through Pinduoduo. "It's kind of embarrassing," Wong tells Sixth Tone. "To me and my friends, using Pinduoduo means you are poor, gullible, and don't care about quality."
Like Wong, many were asking the same question: Given its notoriety for poor-quality products, why on earth would someone buy something from Pinduoduo?
Prior to Pinduoduo's success, the general consensus among the media was that China was going through a consumption upgrade, meaning that consumers were increasingly eschewing cheap goods in favor of quality goods and overseas imports. Figures seemed to back that up: Last year, for instance, Chinese consumers contributed to 32 percent of the global luxury market. Cross-border e-commerce sites popped up, and online shopping giants Taobao and JD.com worked to introduce more quality overseas products.
But the popularity of Pinduoduo tells a different story. Consumers weren't looking for quality or overseas goods, and they didn't care if their purchase was counterfeit or prone to falling apart. Like Zhang, they just wanted a bargain.
To people in Shi'erdai, the fakes on Pinduoduo aren't surprising — it's their everyday reality. The village's shops are awash with fake versions of designer goods and daily supplies: "Aiddas" or "Abibas" sneakers for 92 yuan and "OFF-WH1TE" or "F1LA" sneakers for 129 yuan. In a corner drugstore near mother-of-one Zhang's house, products from China's sanitary napkin brand Space 7 are displayed right next to a cheaper, imposter version Space 7Q. Zhang says she's never seen the real version of the counterfeits, and even if she had, she wouldn't be able to afford them. For Zhang and her family, using Pinduoduo is simply moving their cut-cost shopping experience online, but with even lower prices and even more options.
The disconnect between China's growing middle class and underreported Pinduoduo consumers might have shocked net users, but it likely came as no surprise to Pinduoduo's founder Colin Huang. (Pinduoduo did not reply to a request for comment). In a well-known interview with China's Caijing magazine, founder Huang noted: "People living within Beijing's five ring roads wouldn't understand our purpose." Huang himself has insight into the life of those outside of Beijing — he grew up on the outskirts of Hangzhou, raised by factory worker parents. "The consumption upgrade isn't just about giving Shanghainese people the life of Parisians, but about enabling people from Anqing to enjoy paper towels and good fruit," he said in another interview, referring to a less-developed region in eastern Anhui province.
Wang Hui'e, an analyst from Chinese market-research firm Analysys, agrees that the controversy over Pinduoduo shows China's social fragmentation — and the bubble some of China's net users inhabit. "Everyone is talking about consumption upgrades from the perspective of the new middle class," she says. "But few are aware that China's consumer development and education levels are imbalanced." Although living standards are improving all over the country, "there's still a huge gap between Pinduoduo users and the new middle class consumers. China's new middle class isn't going to bother spending hours saving 5 yuan on toilet paper rolls," Wang says.
The statistics behind the imbalance aren't new. In 2017, the annual per capita disposable income of urban residents was 36,396 yuan, while rural residents only had 13,432 yuan. China's income inequality, which increased slightly last year from the year before, is classified as severe by the United Nations. But while such information is released each year, Wang says there's never been this kind of reaction before. She says it's a good thing — it's brought the experience of those living in less-developed areas into the spotlight.
For many Pinduoduo users, the app is not a consumption downgrade, but an upgrade, says Wang. Most Pinduoduo users had never used online shopping platforms before, and through the app, they realized that they had more options. Wang pointed to China's news aggregator app Jinri Toutiao and live-streaming app Kuaishou as examples of other companies tapping into a similar userbase.
And as for fakes on Pinduoduo, they're nothing new, says Wang. "Actually, many of the fake products that people have bought on Pinduoduo have been sold offline for a long time," she says. "The reason why there's such a strong reaction is that Pinduoduo allowed people to realize the existence and the prevalence of fake products in China."
Back in Shi'erdai, Zhang says she's heard about the criticism of Pinduoduo from people in her WeChat group for team-buying on the app. But the backlash — and her own shopping mishaps — won't stop her from using Pinduoduo, and she's even considering buying a new Xiaomi phone for her husband. But this time, she's already messaged the vendor to make sure it's real.
Editor: Julia Hollingsworth.
(Header image: Huang Shaofen uses the Pinduoduo app at her home in Shi'erdai, Zhejiang province, Aug. 4, 2018. Xue Yujie/Sixth Tone)