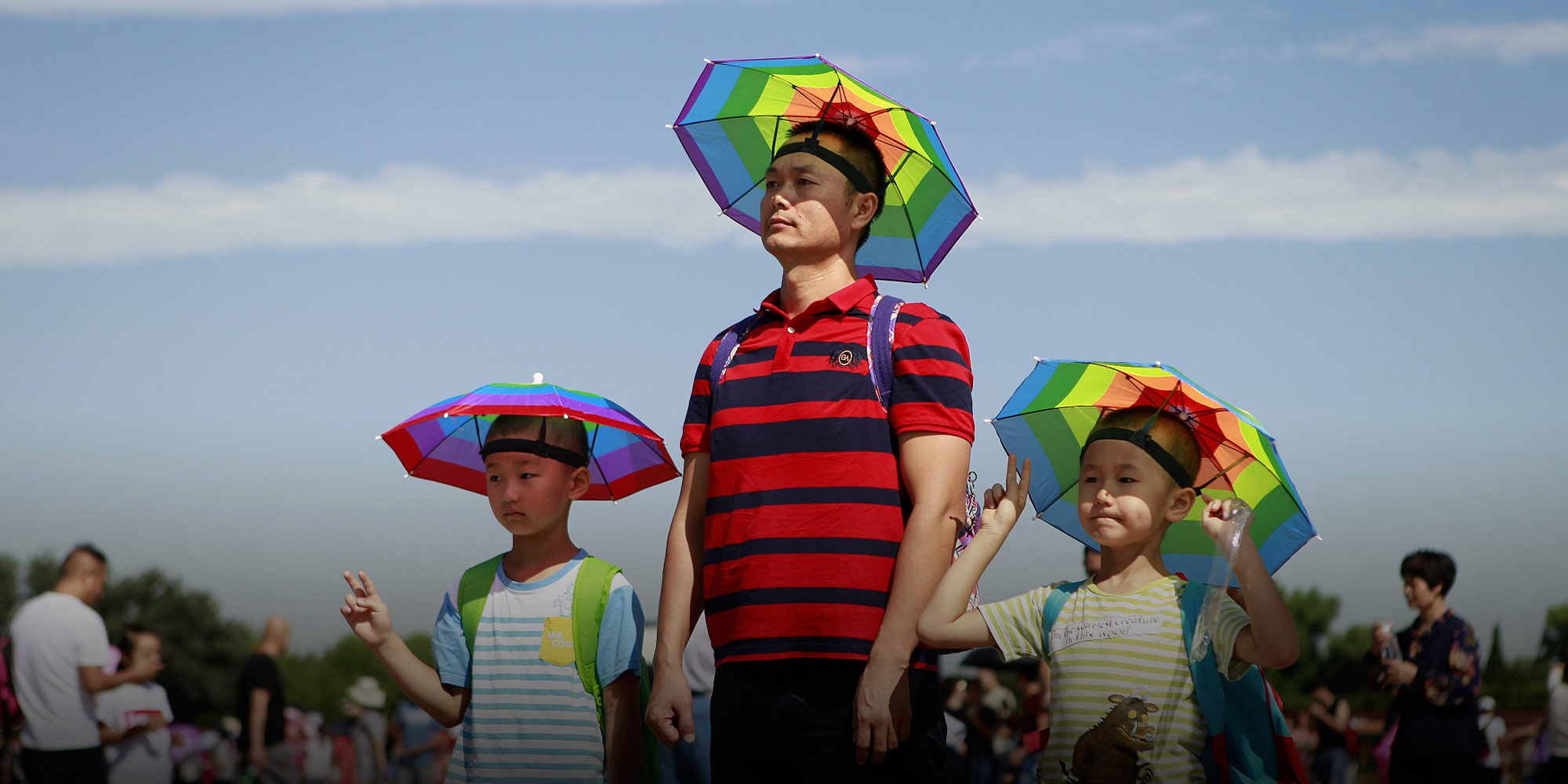 FEATURES
China's Scorching Heat Wave Brings a Glimpse of the Future
The country's construction workers and elderly are already suffering under the heat — but experts warn it's only going to get worse.
The 1.7 million inhabitants of Benxi, an industrial city in northeastern China's Liaoning province, are used to summer temperatures hovering in the mid-20s. But last month, the local weather station posted a peak temperature of 39.6 degrees — the hottest July day ever recorded in the area.
At the city's hospitals, an unusually high number of patients complained of heat-related illnesses. "Previously, you wouldn't see more than 10 such people per month, but this year, more than 20 turned up in [the hottest] week alone," a doctor at a major Benxi hospital told Sixth Tone on condition of anonymity. "Most of them have to work outside, but other patients work in enclosed, poorly ventilated spaces."
Benxi is not an outlier. The extraordinary warmth, length, and geographical reachof last month's searing heat wave has climate experts concerned about China's ability to adapt to global warming. The average air temperature across China in July was 22.9 degrees Celsius — 1 degree hotter than the recent historical average and significantly warmer than last year, according to the China Meteorological Administration (CMA), the country's national weather service. Last month, 24 weather stations nationwide posted record-breaking temperatures for July, with some chalking up all-time highs.
In addition, around 100 weather stations recorded daily highs above 35 degrees across a vast region stretching from Gansu province in the northwest to Jilin province in the northeast. In some places, searing heat has been accompanied by other extreme weather events, such as high humidity, stronger-than-normal typhoons, or flash floods.
Scientists warn that climate change makes such heat waves more likely. Last week, the journal Nature Communications published a study examining the effects of global warming on the North China Plain, a highly irrigated 400,000-square-kilometer area in the north and east of the country that is home to an estimated 400 million people and considered the cradle of Chinese civilization. Researchers claimed that under the "business-as-usual" model of global greenhouse gas emissions, by 2070 the region could play host to deadly combinations of heat and humidity "exceeding the threshold defining what Chinese farmers may tolerate while working outdoors."
China's vast area, diverse weather systems, and relative dearth of historical data complicate long-term climate analysis. But it seems clear that the country has seen a marked increase in the number of heat waves since 1980. In July this year, China experienced 6.1 days during which average temperatures exceeded 35 degrees, 2.1 days more than the recent historical average. The country's infrastructure is struggling to adapt to the heat.
In Haining, a city of 800,000 people in eastern China's Zhejiang province, temperatures hit 34 degrees yesterday. At a building site managed by Jujiang Construction, many workers downed tools from 10 a.m. to 4 p.m., splitting the labor between the early morning and evening instead. "It's absolutely unbearable down on the site in this weather," Ye Junguo, who is responsible for erecting the steel frames of high-rise residential buildings, told Sixth Tone. "It's just too hot … The steel becomes so warm that you can't touch it."
Zhejiang's provincial government requires employers to pay outdoor workers 300 yuan per month from June to September, regardless of the air temperature. But Ye says he has not received it. When Sixth Tone spoke to Ye's foreman, Mao Shipan, he claimed that the company paid all laborers a heat allowance of 500 yuan a month.
Outdoor workers frequently complain that they either do not receive the allowance, or that the stipend makes little difference to their working conditions. In many of China's larger cities, outdoor labor is largely performed by migrant workers like Ye, many of whom lack the same legal safeguards as local residents and are unwilling to confront their employers about unpaid allowances, especially if they are on short-term contracts.
Thirty-six-year-old Ye seems content to while away the noontime hours in the workers' air-conditioned dormitory. But over on the work site, he claims, heat-related illnesses are common. "I've never had heatstroke myself, but I know lots of fellow laborers who have," he says, adding that the company keeps a well-stocked supply of medicine in case workers show signs of dizziness or nausea. "There's no getting away from it — you just have to sit in the shade … or go rest somewhere with air-conditioning," he concluded. Despite the dangers to health, Ye said some workers remained on site at the height of the day.
Studies into rates of heat-related illnesses in China tend to be sparse and narrowly focused. A 2011 paper examining the effects of high temperatures and heat waves in Nanjing, a city in eastern China, concluded that the excess mortality rate — an increase in the normal death rate attributable to a single cause — was more than 20 percent when heat waves occurred. A similar study from 2013 conducted in the central city of Wuhan found that when the temperature exceeded 35 degrees, the excess mortality rate was more than 50 percent.
Zhang Heng, an emergency-room doctor at a hospital in Shanghai's Minhang District, said that fewer patients were presenting with symptoms of heatstroke this year than in previous years. In 2013, at least 10 people died in Shanghai as temperatures rose above 40 degrees, and in 2017 the city recorded its hottest temperature — 40.9 degrees — in at least 145 years.
Zhang hinted that memories of recent heat waves and growing public awareness of heat-related conditions may be convincing his patients to mistake everyday ailments for more severe responses to the weather. "It's a very strange phenomenon. People coming to the emergency room are attributing anything and everything to heatstroke — for example, fevers, colds, upset stomachs, or dizziness," Zhang said. "Very few of them actually satisfy the medical definition of heatstroke … but maybe everyone is much more aware of the problem these days."
While outdoor workers and young children are particularly vulnerable to heatstroke, Zhang says that, historically, elderly people make up the majority of such patients. Some are growing less able to look after themselves and accidentally lock themselves out on the exposed balconies of their homes, he says. Others "are more traditionally-minded, and don't like turning on the air conditioner … Perhaps they aren't used to using it, or they prefer to use it in moderation." Many elderly Chinese tend to practice a greater degree of frugality than younger generations.
Heat-related illnesses arguably pose a greater threat outside China's major cities. In rural areas, much agricultural work is still performed by hand, many residents lack awareness of public health issues, and medical facilities are sparser and of lower quality compared with their urban counterparts.
In a Monday press release, China's National Climate Center (NCC) attributed the country's prolonged heat wave to global climate warming, abnormal polar air circulation, and abnormal sea temperatures at the equator, in the Middle East, and in the Pacific Ocean. "Against the backdrop of global climate warming, high summer temperatures will become more frequent," the NCC said.
In China, a "heat wave" is defined as a run of at least three consecutive days when average daily highs exceed 35 degrees. The NCC said that by 2025 the country could see heat waves persist for at least half the summer, adding: "This, in turn, will bring greater risks and challenges to human health, agricultural systems, and energy systems."
China should strengthen research into the social impact of global warming and high temperatures, improve the public's ability to adapt to and resist extreme high-temperature events, and accelerate its transition to a low-carbon, low-emissions economy, the NCC concluded. The country recently restarted a number of coal-fired power projects that the government had previously placed on hold.
The heat has had other, less expected repercussions. In Liaoning, an estimated 680,000 tons of sea cucumber, a popular delicacy and traditional medicine, perished as temperatures edged into the mid-30s. In Shenyang, the provincial capital, sales of air conditioners rose 3,500 percent year on year, the China Daily reported. And in central China's Henan province, a man got stuck trying to cross a road after the tarmac melted.
Additional reporting: Wang Yiwei; editor: Julia Hollingsworth.
(Header image: A father and his children pose for a photo wearing umbrella-shaped hats in Beijing, Aug. 24, 2017. Zhao Naiming/Qianlong/VCG)