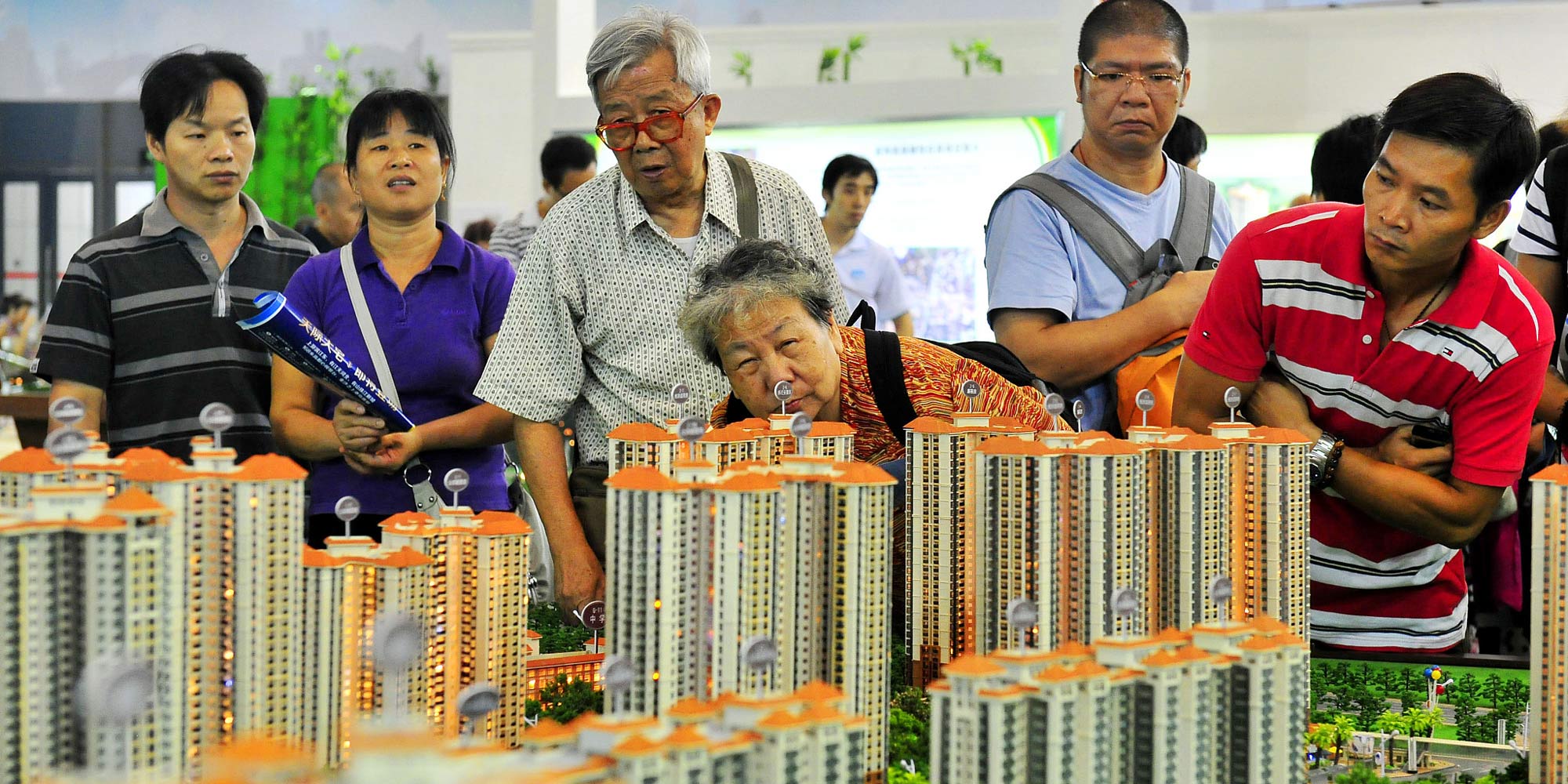 NEWS
China Pushes Reverse Mortgages to Pay for Pensions
Four-year trial period had virtually zero participation, and experts say that's unlikely to change without a clearer policy framework.
To support its greying society, China will promote reverse mortgages for seniors nationwide, despite four years of underwhelming trials and a vague implementation plan.
According to a Wednesday notice from the China Banking and Insurance Regulatory Commission, the country's top financial watchdog, the reverse mortgage scheme will encourage people aged 60 or above to take out insurance policies that provide them with monthly payouts in exchange for ownership of their property after they die. The scheme was first implemented as a pilot project in cities like Beijing, Shanghai, and Guangzhou in June 2014 and has been steadily expanded since, despite poor participation.
In China, pensions rely on arrangements between companies and the government. A compulsory national policy requires that a certain amount of each worker's salary be contributed to a pension fund, though the rules vary by region. In addition, some companies — including most state-owned enterprises — contribute an extra percentage of their earnings to pension funds. But with the ratio of workers to retirees narrowing, this system won't be sustainable for long.
By December 2017, there were 241 million people aged 60 or above, accounting for 17 percent of the country's total population. According to a January report on China's pension system from the Chinese Academy of Social Sciences, by 2022, retirees will be growing at a 3 percent faster rate than pension fund contributors. And from 2018 to 2022, over a dozen provinces in China will be unable to "make ends meet," the report warned. Since 2016, the northeastern province of Heilongjiang — once a major industrial base — has been borrowing from the central government's social security fund to pay its pensioners.
Against this bleak backdrop, reverse mortgages were proposed in 2013 by the State Council, China's cabinet, as another means of ensuring that people are taken care of in their old age: Anyone aged 60 or above with full legal ownership of a property was encouraged to apply for a reverse mortgage.
The public's response, however, was the equivalent of a single ripple in a vast, otherwise glass-surfaced sea. As of this May, there is only one insurance company in all of China that offers reverse mortgage services, and only 132 people have taken out policies.
This pervasive reluctance to bite on reverse mortgages is both personal and societal. In a 2013 survey of nearly 2,800 people in Shanghai aged 60 or above, Qu Xiaomin, a social demography researcher at East China University of Political Science and Law, found that although 31 percent of respondents said reverse mortgages were an acceptable way to pay for pensions, only those without children, or those who had strained relations with their children, showed any interest in them. For respondents who reported positive relations with their children, the notion of holding onto a property as a legacy for the next generation made the reverse mortgage a hard sell.
When economist Chai Xiaowu saw the China Banking and Insurance Regulatory Commission's notice, he was disappointed. "There is nothing concrete there, nothing specifically related to implementation. There's no reflection from the four-year trial period," the long-time researcher on mortgaging property for pensions told Sixth Tone.
Chai said people's lack of familiarity with reverse mortgages was one contributing factor to their low popularity. "When people talk about mortgaging property for pensions, they might think of reverse mortgages as risky, time-consuming, and complicated," he explained. Last year, heart-wrenching stories of old people being swindled out of their homes in property-for-pension scams attracted wide attention. Most cases involved loan sharks persuading ingenuous elders to mortgage their properties and invest in bogus financial schemes where default was all but inevitable.
In an official 2014 guideline, the national insurance regulatory commission gave detailed requirements for insurance companies offering reverse mortgage products, but according to Chai, this wasn't enough. Instead of relying on companies to design their own insurance packages, he suggests that the regulatory authority should provide a clear framework for more diversified insurance services for the elderly. When Chai was an advisor to the one insurer handling reverse mortgages, he lamented that the company only offered a single package — hardly suitable for China's entire elderly population.
"It's like inviting people to a meal: If you prepare one dish, the only choice people have is to eat or not eat," Chai said. "But if you prepare a buffet with 30 dishes for people to choose from, the result will be much better."
Editor: David Paulk.
(Header image: People inspect a scale model of a residential community at a housing expo in Guangzhou, Guangdong province, Sept. 12, 2014. VCG)