SHANGHAI — It's past midnight in my stuffy 16th floor apartment, and I'm lying in bed alone.
Well, not entirely alone. On the pillow beside me, a gentle female voice emanates from my Xiaomi smartphone.
"Hello, big brother, I'm going to read you a story. Just relax and close your eyes; you don't need to talk. I'll end the call myself after you fall asleep," says the disembodied voice in the dark. I mutter a confirmation, and she begins to read.
The text, a flowery article about self-empowerment, is hardly a bedtime classic. And as the minutes pass, I feel increasingly awkward and embarrassed at being read to like a child by a distant stranger.
A young woman from Sichuan province turns her morning wake-up woes into a moneymaking scheme. By Wu Huiyuan, Lu Yunwen, and Shi Yangkun/Sixth Tone
Ten minutes later, the call ends unexpectedly with a beep.
"Did you hang up?" my phone companion, Ye Xiuyan, texts, adding a pouting GIF for good measure. I didn't, but it's late, and I would like to sleep in peace. Uncertain of the protocol, I thank the stranger and bid her good night, eventually drifting off in silence.
Earlier in the evening, I paid Ye 45 yuan ($7) for her "lull to sleep" service, and another 40 yuan for an appointment to play "Honour of Kings," a popular mobile game. But the next day, rather than gaming, the 22-year-old tells me about her life as a full-time game companion.
Ye, whose online name, Jiugu, means "long solitude," makes a living playing games with strangers from her bedroom at her family's home in the southern island province of Hainan. Most of the time, she plays online games with clients, but those who are lonely or in need of morning motivation can also purchase phone conversations for 40 yuan an hour, or wake-up calls for 5 yuan each.
Ye's services can be conveniently ordered and paid for via Blade Esports, a website specifically set up to satisfy demand for gaming buddies. Each companion's profile features photos, client reviews, and voice samples. After logging in, users can buy a service from the companion of their choice, who'll then add them on messaging platform QQ and set a time to play.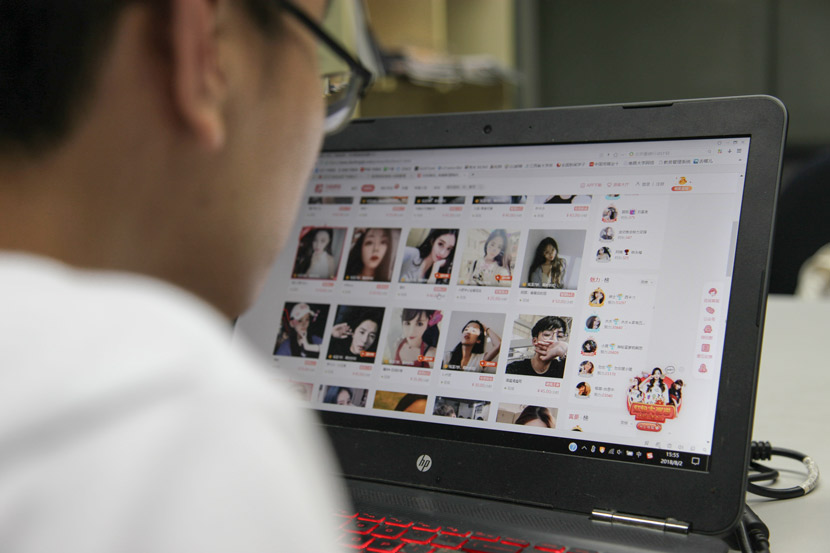 A young man browses the Blade Esports website in Shanghai, Aug. 2, 2018. Han Xinyu for Sixth Tone
A burgeoning market for gaming companions exists in the West, too, but China's stands out for its sheer size. On Blade Esports alone, over 10,000 young men and women are available to play with — and it's just one of many gaming companion sites. The market has existed since at least 2013, and gaming companions are just the tip of the iceberg: Personalized musical performances and bedtime reminders can be purchased online as easily as kitchenware or socks. But the private nature of the services means they're hard to regulate: Some paid gamers say they've experienced verbal abuse while playing with their clients, while others have reportedly used their work as a front for prostitution.
Ye's page openly advertises her single status and features pictures of her pulling cute faces overlaid with filters that superimpose mouse ears and whiskers. "I'm your little cutie, mwah, mwah! If I please your highness, you can buy time with me. I can do any time; I'm always available," she writes in her introduction. It's clearly worked for some clients: "Little sister, marry me! Then we can play every day," writes a recent reviewer.
But while Ye may have stood out to that reviewer, she's gamed with so many clients over the past three years that she struggles to recall any memorable moments. She first got into paid game companionship for the popular online title "League of Legends" while studying accounting at university and went full time after graduating.
On an average day, she'll be woken around noon by clients asking her to game with them, which she'll continue to do until 2 or 3 in the morning, though she prefers to get to sleep earlier. The unpredictable flow of clients and competition from other companions means it's hard to give an estimate of her monthly salary. "If people don't click on my profile and buy time with me, I simply don't make any money," she tells me over the phone. Ye occasionally plays games alongside clients in person at internet cafés — her WeChat feed advertises in-person gaming for 188 yuan an hour, or 800 yuan for a day — but she does so rarely as there's limited demand in her city.
Clients — or "bosses," as she terms them — tend to be men aged 19 to 30 who are usually bored or lonely. The master-servant dynamic, which can help clients feel powerful, is another draw of using a companion service, she explains. "That's why you come to us: We're skilled [gamers], our voices are nice to listen to … and we're easy to chat with," says Ye. "You're the one who spent money, so you're the boss, and we will serve you."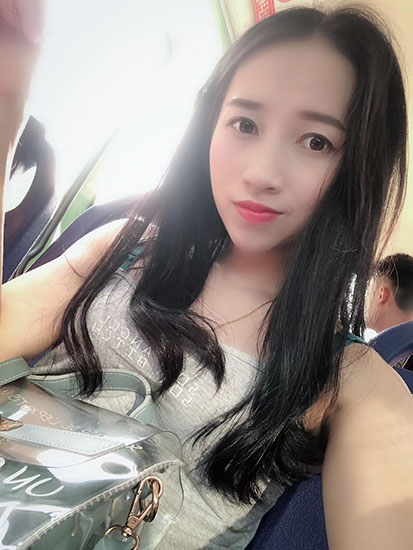 Ye Xiuyan takes a selfie on a bus in Haikou, Hainan province, 2018. Courtesy of Ye Xiuyan
"Bosses" range from conversational and flirtatious to intense and short-fused. A minority vent their frustrations by constantly criticizing or swearing at Ye as they play, and the occasional client has been a little creepy, she says without elaboration. Satisfying difficult clients requires a careful balancing act: If she plays badly, the client may complain that she's letting the team down, but if she plays too well, she might commit a gaming faux pas such as accidentally stealing the client's glory.
Such experiences are unpleasant, but Ye accepts them as a byproduct of her subservient service industry role. "These clients have spent a few dozen yuan, so they think they're superior. They ask you to do this or that and are really full of themselves," she says.
To Ye, her job is just another way of making money, and she's grown numb to the client turnover. "Some people like to play with one or two [gaming buddies] over a long period, but others like to try someone different every day," says Ye. "Even if you play together for a long time, they might suddenly vanish. All these people, they're always just passersby in your life, you know? You get used to it eventually."
Fellow gaming companion Chen Yi is far more enthusiastic. She advertises herself online with softly lit pictures, her eyes enlarged to look anime-big. For the past year, the 22-year-old has been earning anywhere from 7,000 to over 20,000 yuan a month playing alongside gamers for up to 10 hours a day from her apartment in Xuchang, an ancient city in central China's Henan province.
Chen first got involved in the industry as a 19-year-old client, while she was working at a logistics company shortly after graduating from high school. At the time, she'd already played "League of Legends" for four years but felt her skills had plateaued, so she paid for the services of a male freelance gamer to help her improve. Two years later, when she was 21, her friend noticed her skill at the game and recommended she give paid companionship a go.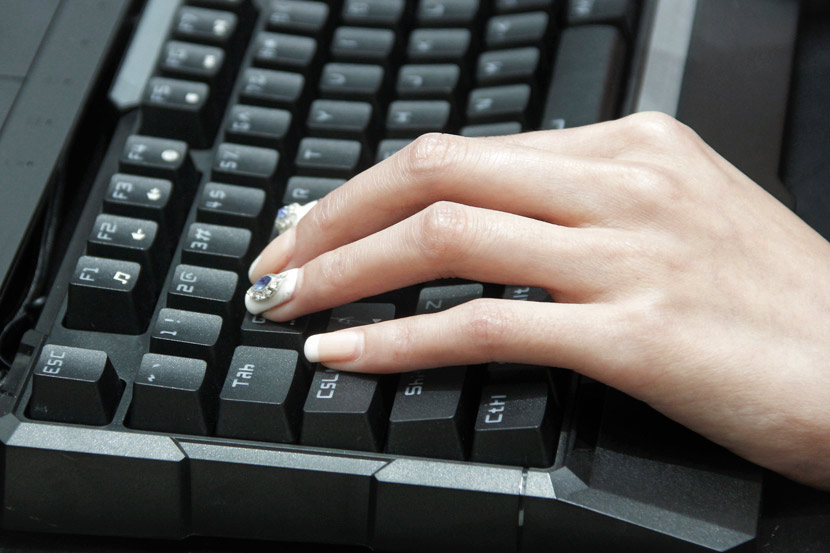 A young woman plays popular online game 'League of Legends' in Kunming, Yunnan province, Aug. 9, 2016. VCG
Most of Chen's clients are also young men, with the occasional Chinese study-abroad student or even Chinese-speaking foreigner gaming with her from the U.S. or Canada. Generally, they'll talk using online call services, but she also does the odd video chat. Clients sometimes create entire teams of paid gaming companions, while groups of friends may call in additional paid members like Chen to complete their team of five. To Chen, the preference for female company among male users is unsurprising. "Guys like playing with girls, and girls like playing with guys," she says matter-of-factly. The preference for female gamers has even led some male gaming companions to masquerade as women to attract clients.
Despite mostly interacting over voice chats, clients besotted with Chen gift her extra hours of pay to express their affection and appreciation, especially when she plays well. "Yi Yi is a little goddess," writes a client on Chen's profile page, using her online moniker.
Meaningful human interaction is exactly what Winni Xie had in mind when she set up Winni's Little Wake-Up Call Store in 2015. Xie, a native of Chengdu in southwestern China's Sichuan province, tried various wake-up services to help her get up for her dreary desk job. But she was dissatisfied with the impersonal, hotel-style calls on offer and thought she could do better. "I tried [using the service] hoping to hear a voice that would encourage me to wake up," Xie tells Sixth Tone. 
Xie's first order was a 7 a.m. wake-up call, and she spent nearly the whole night tossing and turning, thinking about what she should say. Despite her nerves, the call was a success: She chatted with the client for five minutes, reminding them to bring an umbrella when they left the house. News of the service soon spread online after the shop was covered by a local media outlet, and orders came rolling in.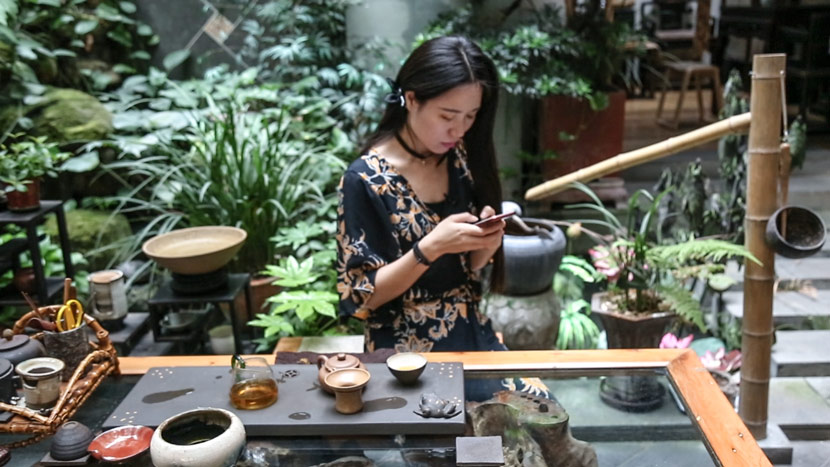 Winni Xie corresponds with customers in Chengdu, Sichuan province, May 9, 2018. Wu Huiyuan/Sixth Tone
Xie now runs her business full time. She continues to do a handful of wake-up calls each morning herself, alongside a team of 40 men and women from different parts of China. On the company's account on social app WeChat, users can hear voice samples from the callers, including "Dapu" singing a nursery rhyme in a childlike voice, "Peach" seductively reading poetry, and "Little Cherry" whispering gently in Japanese. The store has expanded its services to include birthday wishes and a sleep reminder service for night owls prone to staying up too late. The majority of her clientele are sleep-deprived students, whom she often feels bad for waking.
One of her regular customers is Zhao Libin, who has been rising to the cheerful voice of a stranger for nearly a year. Each morning, the chauffeur from Harbin in northeastern China's Heilongjiang province gets a call from Dapu, who encourages him to get up, wash his face, and have breakfast. Zhao, who follows Dapu on social media, will discreetly ask the store to arrange for a different caller if he sees a post suggesting she's unwell. During Chinese festivals, he sends the university student virtual hongbao, or red envelopes full of money.
Zhao began using the call service last summer — he struggled to wake up in the morning, even when he set multiple alarms on his phone. Needing to get up on time to take his neighbor's kids to school, Zhao searched "super alarm clock" on Taobao to see what he could find. A top-ranked result caught his attention: Winni's Little Wake-Up Call Store. He listened to audio samples from the shop's 20-odd female callers before settling on Dapu.
The next morning, Zhao awoke to the ringing of his mobile and instinctively picked it up. The voice on the other end of the line surprised and puzzled him. It was "soft, sweet, and lively" but "quite unreal" — so much so that he suspected she was using a voice changer, he recalls.
In the year since, the pair have continued to converse a little each morning. Knowing there's a human on the other end of the line makes it easier to get up, explains Zhao. He says his relationship with Dapu is very wholesome — his girlfriend knows about his morning caller and is fine with the arrangement. Nevertheless, Zhao admits that he'd relish the chance to meet Dapu and treat her to a meal just once, if only he wasn't too embarrassed to ask.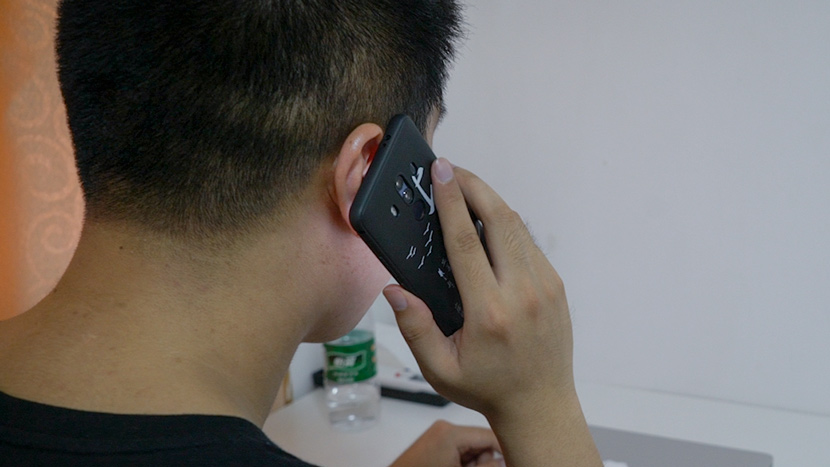 An employee of Winni Xie's Taobao shop makes a wake-up call in Shanghai, May 13, 2018. Shi Yangkun/Sixth Tone
A day after my conversation with gaming companion Ye, I awake to a 7 a.m. phone call from Sichuan. "Good morning," says a cheery, childlike voice on the other end of the line. "Do you know why I'm calling you?" I grumble something incoherent about having paid for a wake-up service online, to which she giggles in response and encourages me to get up and eat. After some coaxing, I obey, stumbling out of bed, crossing the room, and sitting down, still lost in slumber.
"Are you sure you're out of bed now?" she asks again gently. Convinced that I'm sufficiently awake and out of bed, the stranger hangs up.
Despite my still-low energy, she has succeeded in lifting my spirits — even if I paid for the privilege. I feel elated and find myself hoping that she'll call again.
Ten minutes later, my wish comes true: She's calling to check if I'm still awake. I say I am, though I admit I'm still sitting down, and she encourages me to stand up. Curious as to which of Xie's many callers she is, I ask for her name. "You can call me Dapu," she responds, revealing herself to be the caller who wakes Zhao every morning.
She asks why I need to get up. "To write an article," I say.
"Well, don't let me stop you," she says with another giggle. There's a click as she hangs up on this curiously accented client, off to wake up another lonely soul.
Additional reporting: Lu Yunwen; editor: Julia Hollingsworth.
(Header image: Ed Jones/VCG)