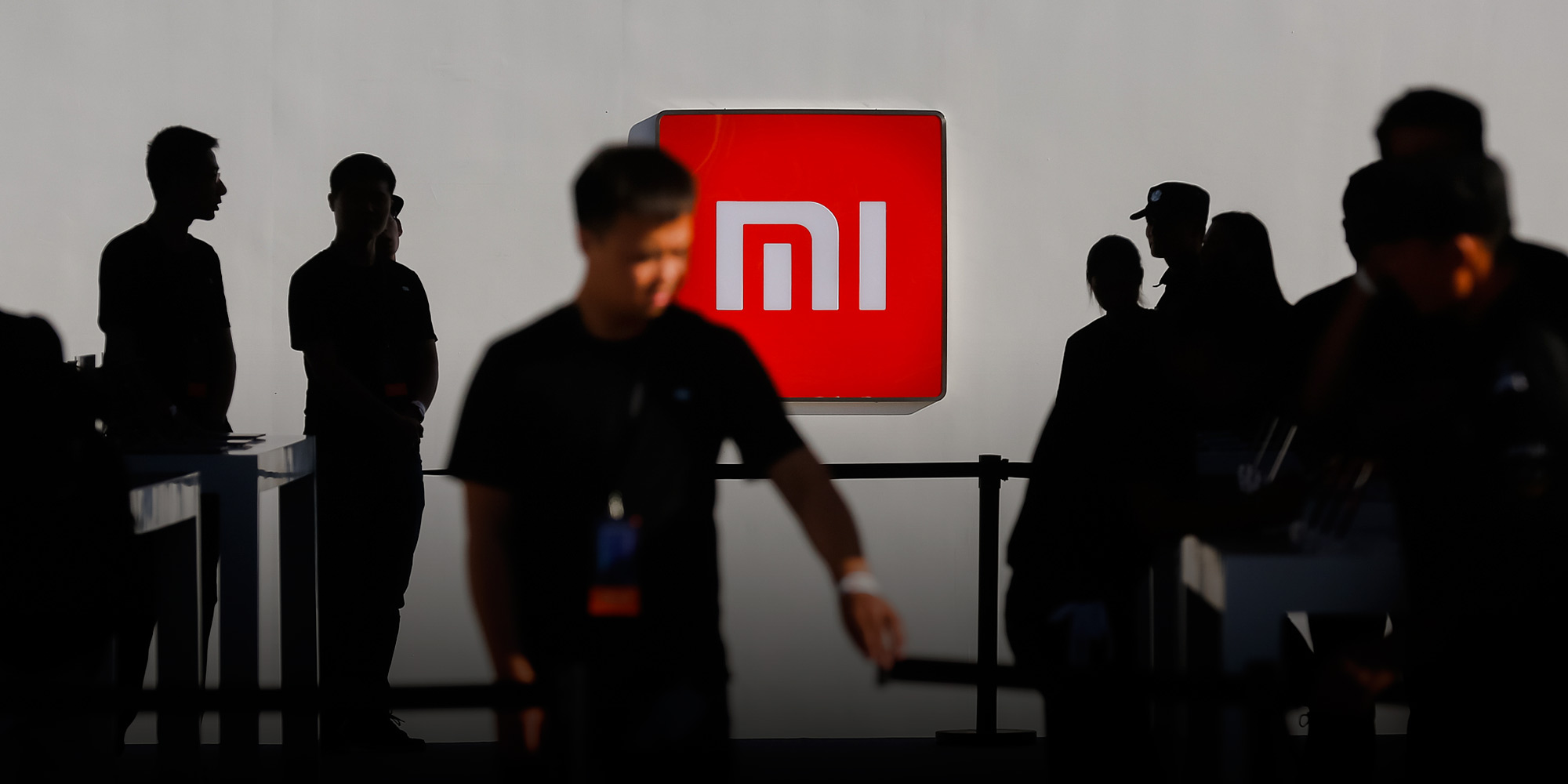 FEATURES
Beware the Fandom of a Chinese Smartphone Zealot
Loyal followers of Smartisan and Xiaomi are so dedicated that they hold regular events —and even get tattoos.
SHANGHAI — As the founder of smartphone maker Xiaomi hit a gong to mark the start of trading, the man next to him punched the air as if he'd just won the lottery.
With his black "I Love Mi" T-shirt and a tendency to talk up the company, 45-year-old Hong Jun could easily pass for a Xiaomi salesperson. In fact, he's one of the company's most loyal fans, and earlier this month, he was among the six invited by Xiaomi to witness its initial public offering on the Hong Kong Stock Exchange. As trading kicked off, he found himself standing onstage next to the company's founder Lei Jun.
"My life is complete," Hong, a Shanghai native, told Sixth Tone several days later. To attend the event, he even canceled a family trip. "It's not like I'll have this opportunity again. I've been waiting for this day for so long."
"I was on the verge of tears," said Yan Hui, another Xiaomi fan present that day. "Eight years ago, I witnessed this company's conception; eight years later, I saw its IPO launch. This was a coming-of-age ceremony for Xiaomi." Despite its underwhelming debut — which saw the company's stock close slightly below its offer price — Yan still bought 200 shares the next day. Ultimately, the company ended its first trading week 24 percent up on its HK$17 public offer, giving it a market capitalization of nearly $67 billion — roughly the value of Japanese electronics giant Sony.
Launched in 2010, the Chinese smartphone maker tried to take advantage of a demand for low-cost models. Foreign brands Apple and Samsung dominated the Chinese market for a time, but domestic brands have once again gained control: By the end of the first quarter this year, Apple, the leading foreign brand, only had 11.3 percent of the market — falling behind domestic brands Huawei, Oppo, Vivo, and Xiaomi, respectively, according to market intelligence firm International Data Corporation.
Nowadays, Xiaomi has a bevy of products — including smart speakers, air filters, and rice cookers — in addition to its oblong android-style smartphones. It's not necessarily the company's technology that sets it apart, but its low prices and passionate fanbase, whose members are known as "Mi fans," or "rice noodles" in Chinese. Apple has its own Steve-Jobs-worshipping fandom, Huawei has "pollen," Meizu has "coal oil," and OnePlus has the "add oil clan," but Xiaomi fans have taken their devotion to the next level. They travel across the country to attend product releases, organize events — and, most importantly, empty their pockets to stock up on Xiaomi products during annual sales.
"My home is like a Xiaomi model house," said Hong, who boasts more than 50 Xiaomi devices in his home that all connect with one another. "The surveillance system is Xiaomi, the lighting system is Xiaomi; a lot of devices are Xiaomi smart home devices."
When Xiaomi launched its smartphone operating system MIUI in 2010, Hong and other technology enthusiasts were immediately intrigued. When Hong installed the first version, his phone froze; months later, he gave an updated version another try. In the following month, he reported 1,000 bugs and, to his surprise, Xiaomi's developers solved his problems promptly.
Despite all of the bugs, Hong was impressed with the company's customer service. "There's never been a company that would directly communicate with its clients about its products," said Hong. "It surprised me that Xiaomi would take our opinions seriously and respond in a timely fashion. All of a sudden, I felt that my status as a customer was valued — I'd also participated in [the operating system's] development process."
It's not just that the fans exist; Xiaomi has actively worked to harness them. In Shanghai alone, Xiaomi has helped set up three fan clubs: one for general products, another for Xiaomi's operating system, and another still for the company's car accessories. Each month, there are multiple events where Xiaomi followers gather to test the latest products, watch company-sponsored movies, or try to build a positive image for Xiaomi through charity work. "Everyone uses smartphones nowadays, but some people want to be unique," said James Yan, a Beijing-based research director at technology-focused Counterpoint Research. "With the right marketing strategies, [smartphone companies] can find their niches in the market."
Most companies might have to pay staff to plan these sorts of events, but Xiaomi fans do them voluntarily. Earlier this month, one of Xiaomi's Shanghai chapters held a product-testing event at a community center for two newly launched electric fans which can pair with Xiaomi's smart home system. Xiaomi-lovers put up posters, prepared PowerPoint slides, provided afternoon tea, and set up cameras to record the event. Around 30 people showed up — some in Xiaomi-branded T-shirts, brandishing their Xiaomi phones.
Although not everyone seemed enthusiastic about the two new products, club leader Yan Hui tried her best to keep attendees hooked. There was a quiz and a competition in which attendees were asked to post pictures of the two new fans on WeChat and Weibo with specific hashtags. Those with the most likes could take the products home, though they were also asked to write product reviews. Almost everyone went home with a gift in tow — an air filter replacement, a power bank, or even a power strip.
In its first year, Xiaomi organized 60 events around the country, said Wei Wuhui, a technology columnist and a new media professor at Shanghai Jiao Tong University. "Since day one, Xiaomi has put extra emphasis on building its fanbase," he said.
Over the years, founder Lei and other executives have repeated the same catchy slogan in their public speeches: "Because of Mi fans, there is Xiaomi." Since 2015, the company has invited thousands of Mi fans to its Beijing headquarters for an annual banquet. From 2015 to 2017, Xiaomi fan Yan sat at the same table with Lei, and the second time, "I didn't even need to reintroduce myself. He remembered me!" she said. Xiaomi did not respond to requests for comments on this story.
If Mi fans are an organized army, then the fans of fellow smartphone maker Smartisan are more like a guerrilla force. Called "hammer fans" after the brand's logo, they're small but mighty, only meeting once or twice a year to watch livestreamed Smartisan product launches — an event they've dubbed their "New Year's celebration." More than 23,000 people attended May's product launch at the National Stadium in Beijing, where the company's founder Luo Yonghao cracked jokes and spent hours explaining the rationale behind the design. It was the biggest smartphone launch ever, according to the Guinness World Records, with ticket sales reaching 4.8 million yuan ($751,000). Last year, a fan went so far as to get the brand's hammer logo tattooed onto his chest, which troubled Luo. "I know it's your personal choice, but if you ask for my opinion on this, I would beg you not to do this. It will make people think we're a cult," he later said in an interview.
Unlike Xiaomi — which regularly checks in with chapter heads and supplies them with bundles of freebies for their club members — Smartisan's engagement with fans dwindled two years after its founding in 2012. "They would love to have a better relationship with the fans, but they probably don't have the money to do so," Hu Qingyang, the head of a 500-strong Smartisan fan group in Shanghai, told Sixth Tone.
Instead, underdog Smartisan is buoyed by the quality of its products and the fame of its founder Luo, who's known for his outspoken manner and eccentric behavior. The 46-year-old former English teacher hit headlines in 2011 when he lashed out at the German engineering conglomerate Siemens by smashing refrigerators in front of the company's headquarters, protesting over what he saw as their poor quality. Since then, he has built a reputation for being intolerant of products with questionable quality and mediocre designs. Throughout the years, he's constantly attacked other brands such as Apple and Xiaomi, and although Smartisan's sales are miniscule compared with its competitors, Luo boasted that his company made the world's best smartphones in an interview last year.
Luo's behavior has rubbed many the wrong way, and there's even a Baidu forum filled with Smartisan enemies who spend their spare time attacking Luo and the brand. But Luo's personality has also earned him his own rabidly loyal fans — and the criticism toward Luo has pushed them closer together. "He's a badass," said Chen Siyi, a wine importer in Shanghai. "I've been following him since he quit his job as an English teacher and started his own businesses." Chen only went back to Apple products once since Smartisan debuted its first product. But he found it difficult to bear and, after Smartisan's new phone came out, he immediately traded his 4,588-yuan iPhone for a 2,499-yuan Smartisan T2.
"Chinese companies usually give people the impression that their products are cheap and poorly designed," said Tansy Tan, a fellow hammer fan and Chen's business partner, eagerly showing Sixth Tone her phone. "Smartisan proves that's not the case. Just look at the interface, the design, and those functions." But she's also experienced the downside of being a hammer fan. "People always give us a look when we reveal that we're Smartisan fans. They don't say it, but we know it means something negative."
According to technology columnist Wei, consumers are looking for brands that reflect who they are. "Choosing a brand means aligning [oneself] with the company's ethos and, for Smartisan, pride has been the company's style since day one — just like its founder," he said.
But passion for a brand can cause rifts. In 2015, Chen and Tan grew concerned about Hu's wavering loyalties, ultimately splitting off to form their own fan group. Hu admits his commitment to Smartisan — which has few exciting features to set it apart from its competitors — has been fading. "I've been having trouble recommending Smartisan to my friends," Hu said. "If you're an iPhone user, you can say it's a status symbol, it has a good camera, and the system runs fast. All of those [reasons] are enough to convince me. But for Smartisan, every improvement is negligible."
Ultimately, said Hu, most Smartisan fans are Luo's fans. Although he personally doesn't describe himself as a fan of Luo, he acknowledges Luo's efforts for product design. "He is a freak," said Hu. "But I have to say, I agree with some of his values on running businesses and making smartphones."
Editor: Julia Hollingsworth.
(Header image: The entrance to a Xiaomi product launch in Beijing, Sept. 11, 2017. Liu Xingzhe/VCG)