On Wednesday evening, three of the top 10 trending topics on Chinese microblogging platform Weibo had one thing in common: Chinese-Canadian pop star Kris Wu.
Wu ended up in the social media spotlight after a user on Hupu, a popular sports forum, posted an unedited video on Wednesday morning of Wu singing, along with the question, "How many seconds can you endure?" The user likely did not expect his single snarky post to start a full-fledged battle of the sexes — but within hours, Wu's mostly female fans were trading barbs with Hupu's predominantly male users.
Upon noticing the video, which had been posted to Hupu Pedestrian Street, one of the few forums on the site not dedicated to sports, Wu's fans mobilized to defend their idol, counter-posting videos of Wu singing a cappella with perfect pitch. Because would-be Hupu users must pass a test on sports knowledge and forum etiquette to register new accounts, Wu's fans — or at least those who didn't feel like reading up on the NBA — turned to online marketplace Taobao to purchase Hupu accounts, which they then used to engage their adversaries in keyboard warfare.
On Thursday morning, Hupu Pedestrian Street said on Weibo that the previous evening, its registration test had been taken 457 times per minute, and cheekily prompted Hupu jiaren — the site's "family members," or dedicated users — to guess how high the success rate was.
Many of the insults exchanged between Wu fans and Hupu sportsballers centered around gender stereotypes. The pop star's supporters, for example, accused the forum users of having "straight man cancer," a Chinese neologism commonly applied to male chauvinists. The men of Hupu, meanwhile, complained of their partners being naocanfen, or "brainless fangirls." As one shared slogan reminded the forum faithful, "There are plenty of girls out there, but only one Hupu."
On Wednesday afternoon, Wu's studio scolded the haters on Hupu for slandering the pop star, and said it had filed a lawsuit against the user who first criticized Wu's singing.
Remarkably, Wu himself weighed in on the simmering spat mere minutes later. "Whose piece of cheese has been touched here?" the artist wrote Wednesday afternoon on Weibo. "I don't make my music for you. Stay tuned for the diss track — I'll see you in a few days." Along with the pointed post, Wu included a music video of his latest single.
Within 10 minutes, Hupu's official account had reposted and responded. "It's not about anyone's cheese. Your fans are bombarding our forums, so we're fighting back like gentlemen," Hupu said. "Now tell us honestly: What do you think of the quality of your latest song?"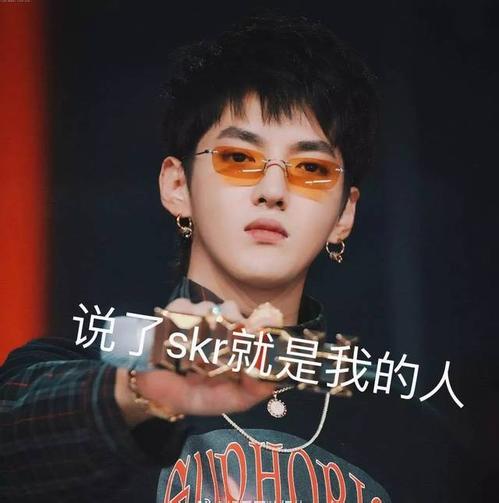 A meme of Kris Wu proclaims, "If you say 'skr,' you're my people." From Weibo
Wu rose to stardom as the leader of boy band EXO-M — the Chinese version of South Korean group EXO-K — before leaving the group in 2014 to embark on a solo career, eventually as a hip-hop artist. Last year, the 27-year-old's catchphrase "Do you freestyle?" — introduced on the televised singing competition "The Rap of China," for which Wu is a judge — became a pop culture phenomenon that inspired countless memes.
This year, the singer built on his viral success by popularizing "skr," another pearl of online slang. Many Chinese first heard this term on the first season of "The Rap of China," especially from the winning contestant, PG One, who incorporated it to spice up his tracks. Though the term was originally used to refer to the sound of a skidding car, Wu granted it a new positive meaning, praising top-performing contestants on the show as "very skr."
Given the astronomical level of hype surrounding the Wu vs. Hupu squabble, some netizens have questioned the accepted narrative of the conflict's origin. "Has anyone considered that this may be mutual marketing between Hupu and Kris Wu?" asked one of the forum's jiaren. Perhaps purely by coincidence, Wu's Weibo bio stresses that he is more of an actor than a singer.
Correction: A previous version of this story referred to Kris Wu as "Canadian-born." He has lived in Canada but was born in Guangzhou, China.
Editor: David Paulk.

(Header image: Kris Wu performs at halftime during Super Bowl LII in Minneapolis, Feb. 4, 2018. VCG)