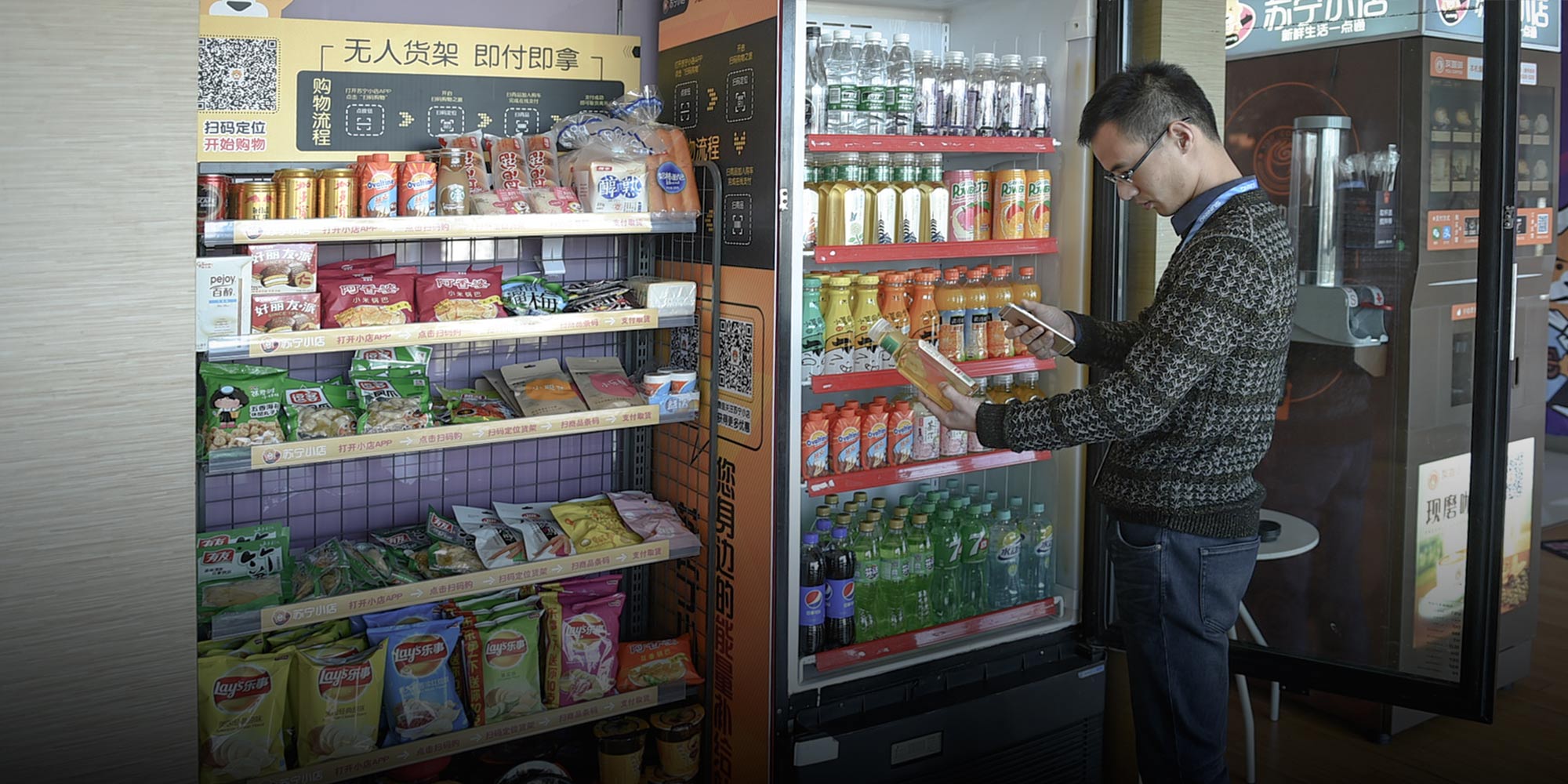 FEATURES
From Liquor to Layoffs: The Downfall of China's Unmanned Shelves
How thefts and mismanagement short-changed a red-hot retail company.
BEIJING — If the hype's to be believed, the days of shop assistants are numbered. But Wang Xiaoxi, a former unmanned shelf company employee, knows better than to blindly trust industry hot air.
Until March this year, Beijing-based Wang worked at Guoxiaomei, a company that put shelves stocked with drinks and snacks in offices. Workers could grab marinated bean curds, instant noodles, soft drinks, or boxes of tissues — all without leaving their buildings. There's no shop assistant, so the company relied on customers' goodwill to scan the QR code with their phones and pay for what they'd taken.
Last year was the heyday of the unmanned services boom, and unserviced gyms, karaoke machines, and stores were springing up all over China's cities. At the time, Guoxiaomei's office culture resembled the frenzy of "The Wolf of Wall Street," and during monthly motivation meetings, staff drank heavily and wore headbands boasting their target sales scores.
But the joyful atmosphere and free-flowing liquor quickly came to an end. In April — only 10 months after Guoxiaomei was founded — media reported that the company was laying off staff due to insufficient funding. Two former Guoxiaomei employees — who asked that their names not be published, as they are still on good terms with their previous bosses — told Sixth Tone that they had been sacked along with 1,800 others. When letting the employees go, the company claimed that the redundancies were due to the company shifting its business. In May, Guoxiaomei posted on microblogging site Weibo, saying it was switching from offline retail to e-commerce. When Sixth Tone called Guoxiaomei's hotline in July, it was no longer in operation, and Guoxiaomei's founder Yan Limin did not respond to Weibo direct messages.
According to a Chinese business media outlet's calculation, there were 42 unmanned shelf companies operating last year, but it is difficult to verify how many are still operating today. Like the once-promising Guoxiaomei, rival Xingbianli also faced a crisis in January when someone claiming to be a former employee posted on social media about allegedly planned layoffs at the company. Last month, Xingbianli told Sixth Tone that the redundancies were necessary, explaining: "This is an inevitable phase during the development of any company."
Only a year earlier, unmanned shelves were being tipped as a way to revolutionize retail. So, how did it all go wrong?
Wang witnessed Chengdu-headquartered Guoxiaomei's dramatic rise and fall firsthand. He was convinced that unmanned shelves would make a lot of money and began calling Guoxiaomei's offices daily to check when the company's services would expand to Beijing. Finally, he got his wish in October, when he joined the company's newly opened Beijing office as a door-to-door salesperson, using his easygoing manner to convince offices to use their services. The company's model was simple: provide the shelves to offices for free, then make money off of the sales. Unmanned shelf companies hoped to one-up the convenience stores that are on every corner in China — making the products more readily available to consumers, and saving on overheads like labor costs and rent.
Wang worshiped Guoxiaomei's founder Yan Limin — a former managerial executive at Alibaba, and a convicted criminal. "When you join a company, you should first look if there are badass people in it," Wang told Sixth Tone. Wang was impressed by Yan's background working for China's biggest e-commerce platform Taobao, and wasn't put off by Yan's stint in prison for accepting bribes. "If he can undergo five years behind bars and still manage to start up a business after release, he is quite something," Wang said.
In fact, Wang was generally optimistic about unmanned shops. He saw it as the next step in a trend toward bringing shopping closer to customers. And he was hardly the only one with big expectations for unmanned shelves: At the start of this year, the industry was worth an estimated 3 billion yuan ($460 million), according to analytics company TalkingData. When contacted by Sixth Tone, the company said that they had no updates on their opinion. In July, Sixth Tone approached several consultancy companies, but all said that they were no longer tracking data incurred in the unmanned shelf business.
Last year, the competition between unmanned shelf companies was so intense that salespeople like Wang were working at least 12 hours a day, six days a week. Wang found that when he visited Beijing's skyscrapers, he would barely have introduced himself before the receptionist would interrupt, pointing to an already-installed unmanned shelf from another company. "Even the top boss had to go out and use his personal connections to put our shelves in offices," Wang said.
The pressure also brought out bad behavior. Salespeople from other companies would bribe office staff with cash to let them install their shelves. Wang only gave bags of hand lotion samples to win over receptionists, so he was at somewhat of a disadvantage. Salespeople began cheating to win turf wars, sneakily putting two shelves in small businesses — even though Guoxiaomei's rules forbade such practices. Salespeople were even putting shelves in places like lobbies or canteens where the goods wouldn't be safe from thieves.
"Sometimes, even if bosses knew you were cheating, they would turn a blind eye," Wang said, explaining that the bosses wanted sales to look good on paper so that investors would continue pouring in cash. Salespeople didn't care what they had to do, so long as they earned a lot. "As long as the shelf they put in could last for more than a month, then it didn't matter [whatever happened next]," Wang said, explaining that if the shelves were in place for a month, salespeople would qualify for a bonus.
Zhou Kang, a Shanghai-based IT firm manager, remembered Guoxiaomei installing a shelf in his office, which only had a 20-person staff — despite the company initially telling investors that it would only install shelves at companies with over 100 staff members. The 32-year-old said he would buy a box of biscuits from the shelf about once a week during the six months that Guoxiaomei's shelf was installed in his office. "I would rather have fresh things," Zhou said, explaining that common convenience store wares such as steamed buns and bento boxes couldn't be found on the shelves.
Hu Chunlong, an investment manager specializing in retail from Shanghai-based investment firm Calor Capital, told Sixth Tone that the crazed, competitive environment was a direct result of overheating in the market. He'd never been especially excited by the shelves, believing that without cashiers or surveillance cameras, it would be hard to stop people from stealing the goods. "There's not a lot to look forward to in the future of office space retail," he said. "We shouldn't do things that intentionally go against human nature."
The other problem was that many unmanned shelf companies didn't have qualified executives in charge and weren't especially good at working out which products would be best-suited to their customers. "The profits were extremely low," Hu said, explaining that goods on shelves were often of little value.
By March, an overworked Wang sensed that the end was nigh and quit. He was right: The next month, the company laid off staff as the market bubble burst. Shelves were abandoned by companies and languished in office foyers.
According to Wang, Guoxiaomei's losses had been too high to bear. People within the company told outsiders that around 3 to 5 percent of goods were lost, but the reality was that around 20 to 30 percent of goods were taken without payment. That happened for two main reasons: It was easy for customers to take without paying; but delivery people were sometimes "forced" to steal, since they were paid based on how many shelves they needed to restock. If the goods were not bought quickly enough, they wouldn't need to replenish the stock, so would miss out on their commission. To rake in higher salaries, delivery people sometimes took goods to give the impression that the treats were being consumed at higher rates.
Guoxiaomei wasn't the only one to lose. Wang was owed 45,600 yuan in commissions for the contracts he signed in December, but due to the company's inefficiencies in rolling the shelves out, he was only paid 4,400 yuan for the shelves that were actually installed.
Wang's moved on — he's now the managerial director of Hahalingshou, a company which sells smart fridges fitted with antitheft measures, and deploys them around cities. Its cameras calculate which products were taken by customers as soon as they close the glass door. Now he has new competition — including Shanghai-based smart container company CityBox, which attaches radio frequency identification tags on every item, meaning that sensors can tell what products have been taken. They already have 5,000 such containers on the market, and CityBox's general manager Huang Qi told Sixth Tone that they've been riding off the hype stirred by unmanned shelf companies.
At 27-year-old Dong Bihan's Shanghai-based office, they already have a smart fridge serving around 200 employees. Although there's a café on the same floor, Dong finds herself checking the fridges on her way to the bathroom, looking for something to satisfy her cravings. But Dong still prefers going to convenience stores which have a wider variety of goods. "Convenience stores give you a feeling of shopping," she told Sixth Tone, adding that the fridges have few options unless companies constantly add new goods.
But there are still those hoping that the original unmanned shelves could still prove to be a retail game changer. "Generally speaking, we foresee a bullish future for retail business," Zhong Hefu, a strategy consulting manager specializing in retail at online consultancy iResearch, told Sixth Tone. Zhong sees "unmanned" retail as a definite trend. He explained that, due to China's aging population, China's labor force will see an estimated 30 percent decline by 2033, meaning that there will be fewer people to man China's numerous convenience stores.
Beijing-headquartered unmanned shelf company Xiao E Microshop, for one, is still persisting. The company's branding manager Miao Zixuan told Sixth Tone that she still has great faith in the unmanned shelf business, as they formed partnerships with "quality companies" where people are more "moral" and less likely to steal in the first place. "We started to break-even in some of our unmanned shelf spots," she said, though she admitted that many still have a long way to go.
In a quiet corner of an internet company in suburban Shanghai, Sixth Tone spotted one of Xiao E Microshop's unmanned shelves. Although it was afternoon tea time, the 200-member staff tapped away noisily on their keyboards, untempted by the nearby snack offerings.
Editor: Julia Hollingsworth.
(Header image: A man scans the barcode on a bottled beverage from an unmanned shelf in Nanjing, Jiangsu province, Jan. 10, 2018. Xu Hengjing/IC)