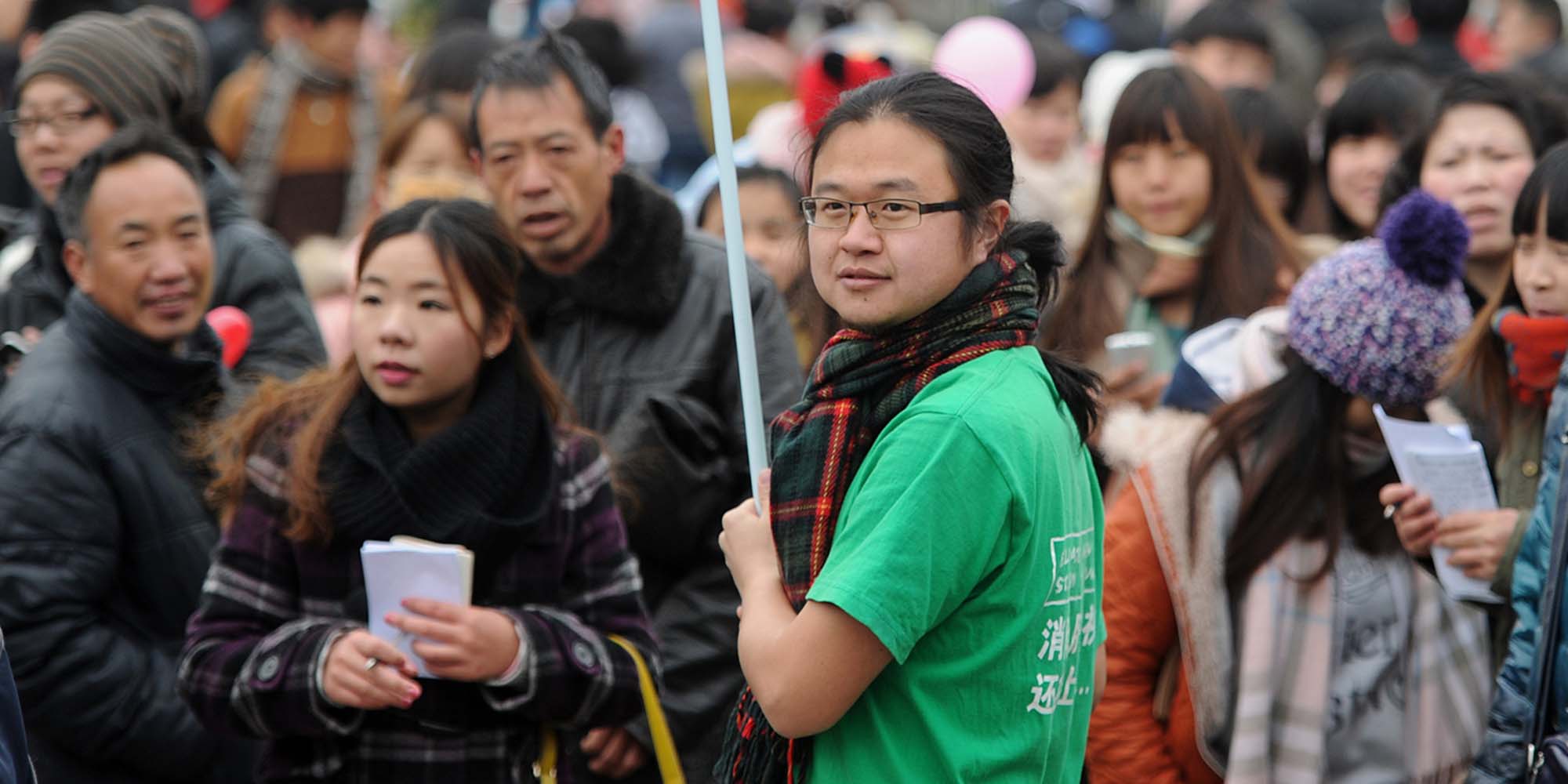 NEWS
Prominent Activist Accused of Sexual Assault Apologizes, Resigns
Lei Chuang, an equal-rights campaigner for hepatitis patients, admits abuse, then says relationship with his accuser was consensual.
Lei Chuang, the founder of YiYou Charity Center, a nonprofit dedicated to the welfare of hepatitis B carriers, apologized on Monday for sexual misconduct and resigned from his position as head of the charity before later claiming the relationship was consensual.
On Monday morning, an anonymous victim posted an open letter on Chinese social app WeChat accusing Lei of sexually assaulting her in 2015. In the letter, she said Lei forced himself on her at a Beijing hotel at the end of a 19-day hiking trip from Inner Mongolia to Beijing. Lei had organized the excursion to draw attention to the need for lower-priced hepatitis B medication.
The victim said that during the trip, Lei took special care of her, telling people she was like his "little sister." The victim — then just 20 years old — wrote that she was grateful for Lei's attention and didn't give any thought to his touches until it was too late.
On July 29, the victim wrote, Lei told the team that they would have to enter Beijing in small groups and asked her to accompany him. Later that night, she wrote, Lei booked them a hotel room with a single bed.
After Lei had sex with her against her will, the woman said she blamed herself. "Lei Chuang is a good guy, so it must be my problem," she wrote. "It's because I'm not a good girl that this kind of thing happened to me." She said that she continued to have a relationship with Lei to in order to "rationalize" the abuse, though she described every moment with him as "painful" and "difficult to endure."
Through a friend, the victim declined Sixth Tone's interview request, saying she's under too much pressure. In her letter, however, she said that she decided it was time to take a stand because she started hearing about more of Lei's victims in 2016 and July of this year. "I know that if I don't do anything, there will be more victims in the future," she wrote.
The letter quickly spread through WeChat groups and on microblogging site Weibo, stoking public anger and calls for legal action.
Several hours after the post went viral on Chinese social media, Lei admitted to the woman's accusations — including those of abuse against others — in a message posted to his public WeChat account, and said that he had stepped down as the head of YiYou Charity Center. Lei said he is also willing to take criminal responsibility for his actions, and is considering turning himself in to the authorities.
"I have to say I'm sorry to that girl," Lei wrote in his message. "Yet I know this apology is too late, too insufficient." In a follow-up letter shared with media on Monday, however, Lei said that his sexual relationship with the woman had been consensual.
Lei is a renowned public figure for his work to secure equal rights for hepatitis B carriers, and Sixth Tone has interviewed him for past articles on several occasions. In September 2009, Lei was the first hepatitis B carrier to be granted permission to work in China's food service industry. He has also been an outspoken advocate against sexual harassment. Earlier this year, following a spate of sexual abuse cases at Chinese universities, Lei wrote an open letter to Zhejiang University, his alma mater, to recommend that the school establish a mechanism for handling sexual harassment claims.
Today's revelations have surprised China's equal rights campaigners. "I was shocked to hear about this," said Wei Tingting, an acquaintance of Lei and the director of the Guangzhou Gender and Sexuality Education Center. Wei told Sixth Tone that in some ways, sexual abuse at public welfare institutions is similar to sexual harassment in the workplace, but with one key difference.
"People have different expectations of us. Those in our line of work must be more vigilant, since we are advocates of anti-inequality and anti-discrimination," Wei said. "It's hard to imagine someone working [as an activist] doing something like this."
This is not the first case of sexual misconduct at a public welfare institution. In June 2016, Cao Xiaoqiang, a mentor at a nonprofit organization for college students, apologized for sexually harassing women via WeChat after eight came forward to accuse him.
Wei said that it may be harder to expose sexual harassment in the field of public welfare since advocates are typically regarded as honest and kindhearted fighters for social justice. Speaking out against such pillars of society, she explained, requires great courage.
The woman who exposed the case has been receiving psychological treatment since the abuse occurred, according to her letter. She said the only purpose of her coming forward is to stop Lei from hurting other innocent young women who are dedicated to public welfare. "He'll never know how hard it is for us to repair ourselves and start afresh," she wrote.
Editor: David Paulk.
(Header image: Lei Chuang holds a sign promoting equal treatment for people with hepatitis B at a rally in Nanjing, Jiangsu province, Jan. 17, 2013. VCG)