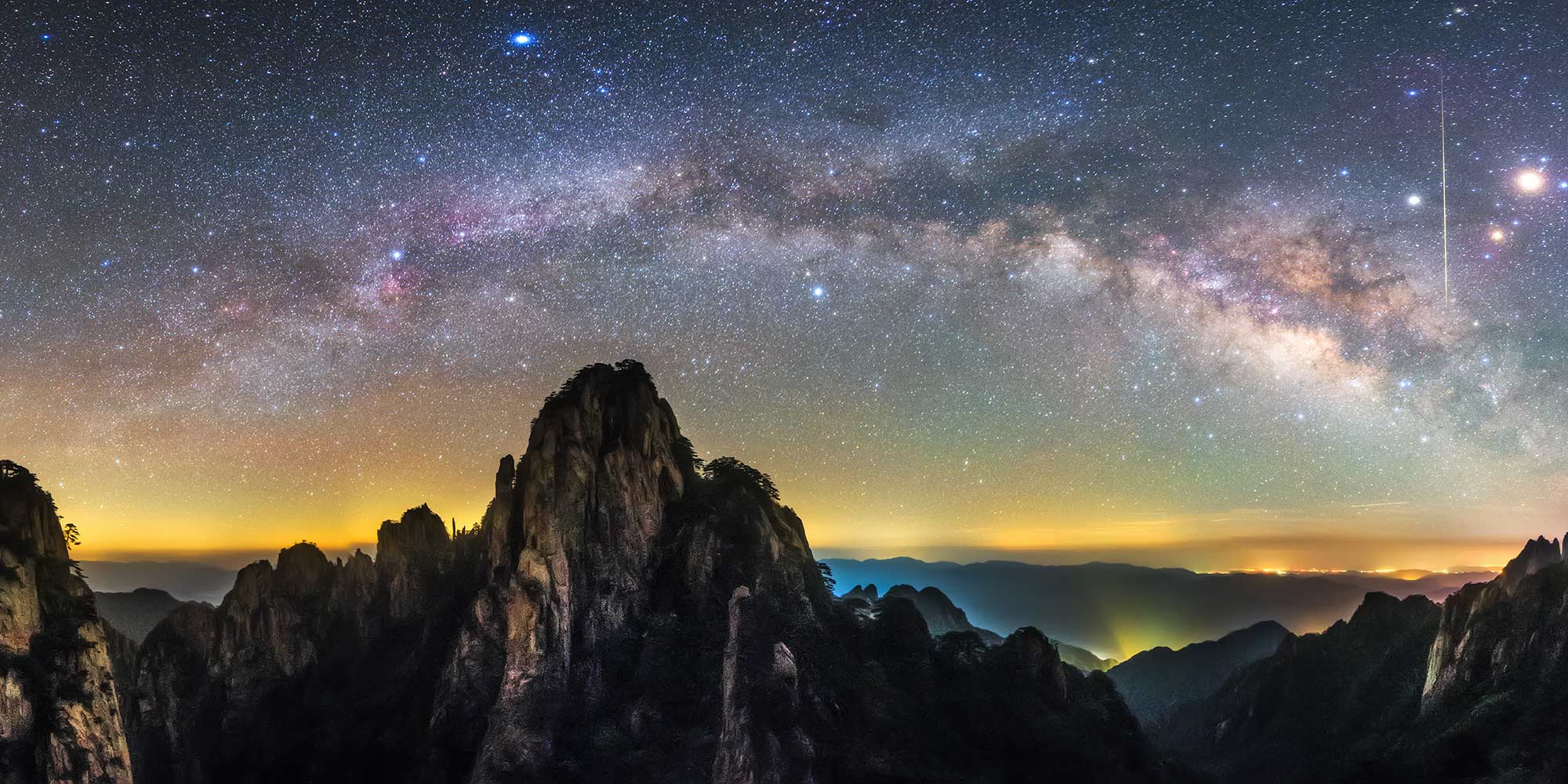 FEATURES
Why China's Stargazers Want to Turn Down the Lights
As relentless urbanization brightens the country's night skies, conservationists are scrambling to protect views of the Milky Way.
SHANGHAI — When the ancient Chinese gazed up at the night sky, they imagined that the shining stars represented a heavenly palace above the clouds, populated by a panoply of deities. When today's Chinese gaze up at the night sky, most are lucky to see any stars at all.
"We often refer to NASA images of nighttime city lights as indicators of urbanization," says He Xin, an assistant researcher at the Shanghai Natural History Museum. "But lights are also a metaphor for the human impact on our natural environment. They lead not only to the loss of starry skies, but also to decreased biodiversity."
Artificial light and air pollution block out vast swaths of China's night sky. A 2016 report estimated that two-thirds of China's population experience light-polluted nights and one-third never see the Milky Way. Although these figures are proportionally lower than the planet's most light-polluted areas — Europe and the eastern United States are the worst culprits — the sheer number of Chinese people living under spoiled skies is one of the highest of any country on earth. The majority of Chinese people live in cities, where rapid expansion over the last three decades has brought light-emitting architecture into areas that were previously suburban or rural.
Scientists know that excessive nighttime luminescence is bad for both the environment and human health. It kills insects, confuses migratory birds and turtles, and disturbs plant life cycles. There is also evidence that it disrupts the human body's circadian rhythm — otherwise known as its body clock — and increases the risk of developing depression and even cancer.
Despite this, artificial light emission remains chronically underregulated in China compared to other forms of pollution. Although official guidelines on healthy light levels exist, they are not legally binding and frequently go ignored by policymakers and real estate developers. In many cases, the bulbs are dimmed only when local residents complain to the authorities.
But a coalition of Chinese astronomers and environmentalists are fighting back. In recent years, a number of organizations have aimed to limit the amount of light obscuring the country's view of the Milky Way. In 2008, an initiative run by Shanghai Astronomical Observatory (SHAO) resulted in the establishment of China's first dark-sky preserve — an area where artificial light is strictly limited to give clear views of the night sky — in Anji, a county in eastern China's Zhejiang province. But similar projects in other parts of the country have struggled to win support from government officials, for whom glittering infrastructure and real estate projects spell economic gain and career advancement.
Growing up in Chongqing, a sprawling megacity in southwestern China, Dai Jianfeng never saw the stars. But in 2012, when the then-23-year-old accompanied a friend on a mountain hike in southwestern China's Guizhou province, he finally laid eyes on the Milky Way in all its glory. "It was amazing," Dai says. "As the saying goes, night hides a world but unveils a universe."
Dai didn't know it yet, but that evening hike would change his life. In the years to come, he quit his job as an engineer to become a photographer of the night skies and a campaigner against light pollution. This September, his photos will be exhibited at Sheshan Observatory, a SHAO-operated stargazing site perched on a mountain around 30 kilometers outside of the Shanghai city center.
When French missionaries built Sheshan Observatory more than a century ago, they marveled at the pristine views it offered of the skies. But these days, little stargazing takes place there. In 2007, researchers at Sheshan calculated that the night sky above the observatory was 20 times brighter than in 1994 — so bright, in fact, that the observatory's optical telescope was nearly unable to see through to the stars beyond. Astronomers unequivocally blamed urbanization for the unwanted brightness.
Tang Zhenghong, a researcher at SHAO, says that Shanghainese nights have probably gotten even brighter since then, but the team hasn't checked. "Nowadays, the Shanghai area is just too bright," Tang says. "It's barely meaningful to conduct any more optical observations here."
Sheshan's stargazers despair at their inability to accurately observe faint stars. Tang Haiming, head of the station's science popularization department and no relation to Tang Zhenghong, points toward a nearby amusement park from the observatory's terrace. Built in 2009, the park's rides glow every color of the rainbow. "When they turn on all their lights at night, it really frustrates us," Tang Haiming says. "Observing the night sky, learning about our universe — it's what humans have done since the beginning of time. We mustn't abandon it."
In 2008, Sheshan's astronomers stopped observing faint stars in Shanghai. SHAO moved the project to an affiliated observatory in Anji, where the observatory partnered with a tourism zone to set up China's first dark-sky preserve. But in 2012, the tourism zone walked back on the project and allowed a ski resort to be built nearby, flooding the reserve with artificial light. Although SHAO still maintains observation projects in Anji, the dark-sky preserve no longer exists.
Dai, the photographer, says that countless places where he once snapped the stars have since been desecrated by light pollution. Hoping to shoot somewhere virtually untouched, in 2015 he traveled to southwestern Tibet Autonomous Region — a holy grail for stargazers thanks to the largely undisturbed night skies over its elevated plateau. While there, Dai met Wang Xiaohua, a night sky conservationist known in China's astronomy community for his opposition to light pollution and commitment to establishing dark-sky preserves.
Wang — a keen photographer himself — convinced Dai to join his cause. Later that year, Dai joined the Starry Sky Committee — a panel headed by Wang as part of the influential environmental group China Biodiversity Conservation and Green Development Foundation (CBCGDF). In the years that followed, Wang became something of a mentor to Dai. "He was always encouraging me," Dai remembers. "He conserved the night sky at his own expense. Now I do it for the public good. There's no economic gain in it."
Today, the Starry Sky Committee manages two pilot dark-sky preserves in two regions of Tibet. The first, in Ngari Prefecture, is 2,500 square kilometers in size; the second, in the prefectural-level city of Nagqu, covers 100 square kilometers. Both areas are extremely remote, and their success has prompted the Starry Sky Committee to open negotiations with a number of other provincial and regional governments with the view to establish further preserves.
"We're not asking people to ban artificial light. We're just promoting the idea of using light in a measured way," Dai says. "It's human nature to fear the dark and yearn for light. But it's time for us to consider whether we need so many streetlights."
The Starry Sky Committee requires that dark-sky preserves feature nighttime skies with clear views of the Milky Way in summer; that they install well-shielded, downward-pointing local street lighting; and that they limit human activity at night. The preserves must also popularize science and astronomy among the public — Ngari, for example, organizes annual stargazing events and exhibitions.
Most of the time, the Starry Sky Committee partners with nature parks, tourist sites, and local government bodies. However, partners often ignore the aforementioned requirements in order to promote local economic development, Dai says. Several times, government partners or privately run tourist sites have scotched hard-won plans to create dark-sky preserves in favor of light-emitting commercial developments. In 2016, the Starry Sky Committee reached an agreement with a tourism site in Zhejiang, having ostensibly convinced locals that their stunning rice terraces would look even better with the Milky Way shining overhead. When Wang's team visited again the following year, the village was festooned with dazzling illuminations in a bid to attract more tourists.
"Some government departments only think about economic profit. They install illuminations to get tourists to stay another night," Dai says, adding that power shifts in local governments are another problem. When new officials come in, he says, "you have to renegotiate with the same departments all over again."
Although urban expansion increases the amount of artificial light in night skies, the issue is compounded by real estate developers and administrators who cover their buildings in lurid neon lighting and advertising billboards, says Liu Gang, an architecture professor at Tianjin University. "Some places illuminate themselves like light bulbs at night. They compete crazily with one another for attention and only make light pollution worse."
Certain developed countries have taken measures to combat excessive light pollution in urban areas. In South Korea and Germany, for example, cities have started installing street lights containing motion sensors. Because the lights only come on when the sensors are activated, quiet areas of town spend much of the night shrouded in darkness. As an added bonus, the measure uses 80 percent less electricity than current lighting systems.
Although China has official guidelines on architectural lighting, the rules are non-binding and a comprehensive light-pollution monitoring system has not been established. As a result, little action is taken until residents complain about night brightness. Liu calls for systematic measures to restrict light pollution, from eco-friendly lighting designs to strict government planning and supervision. "At the moment, it is unrealistic to eliminate all light pollution," he says. "However, by adopting scientific lighting measures, we can greatly reduce the negative impact on nature and human society."
In October last year, Shanghai issued an action plan on nighttime light emissions, setting progressively stricter limits on brightness in the city center, commercial districts, developing districts, and residential districts. The plan does not contain a system to punish those who turn the lights up too high, however, and officials have not yet undertaken an open evaluation of the plan's success.
The initiative would probably have pleased Wang Xiaohua, the founder of the Starry Sky Committee, who died of lung cancer last July. Dai, his protégé, remembers visiting him two months before he passed away. As Dai tells it, the 66-year-old Wang was already very frail, but spoke animatedly about the need to protect the night sky. Later, he became confused and incoherent. "I couldn't understand him," Dai recalls. "He began babbling to someone in his own head, reminiscing about the starry skies."
Since Wang's death, Dai has become the deputy head of the Starry Sky Committee. In between his preparations for his photo exhibition, he is also working to establish a dark-sky preserve in Yeludang Wetland Park — a privately run nature reserve in eastern China's Jiangsu province.
In March, the two Tibetan dark-sky preserves that Wang helped establish were recognized by the Dark Skies Advisory Group of the International Union for Conservation of Nature. Dai was thrilled by the good news, but a decade of setbacks prevent him from getting carried away. "Protecting the night sky is a long struggle," he says. "It's never easy to change people's minds."
Editor: Matthew Walsh.
(Header image: A view of the Milky Way and a shooting star over Yellow Mountain, Anhui province, May 12, 2016. Courtesy of Dai Jianfeng)