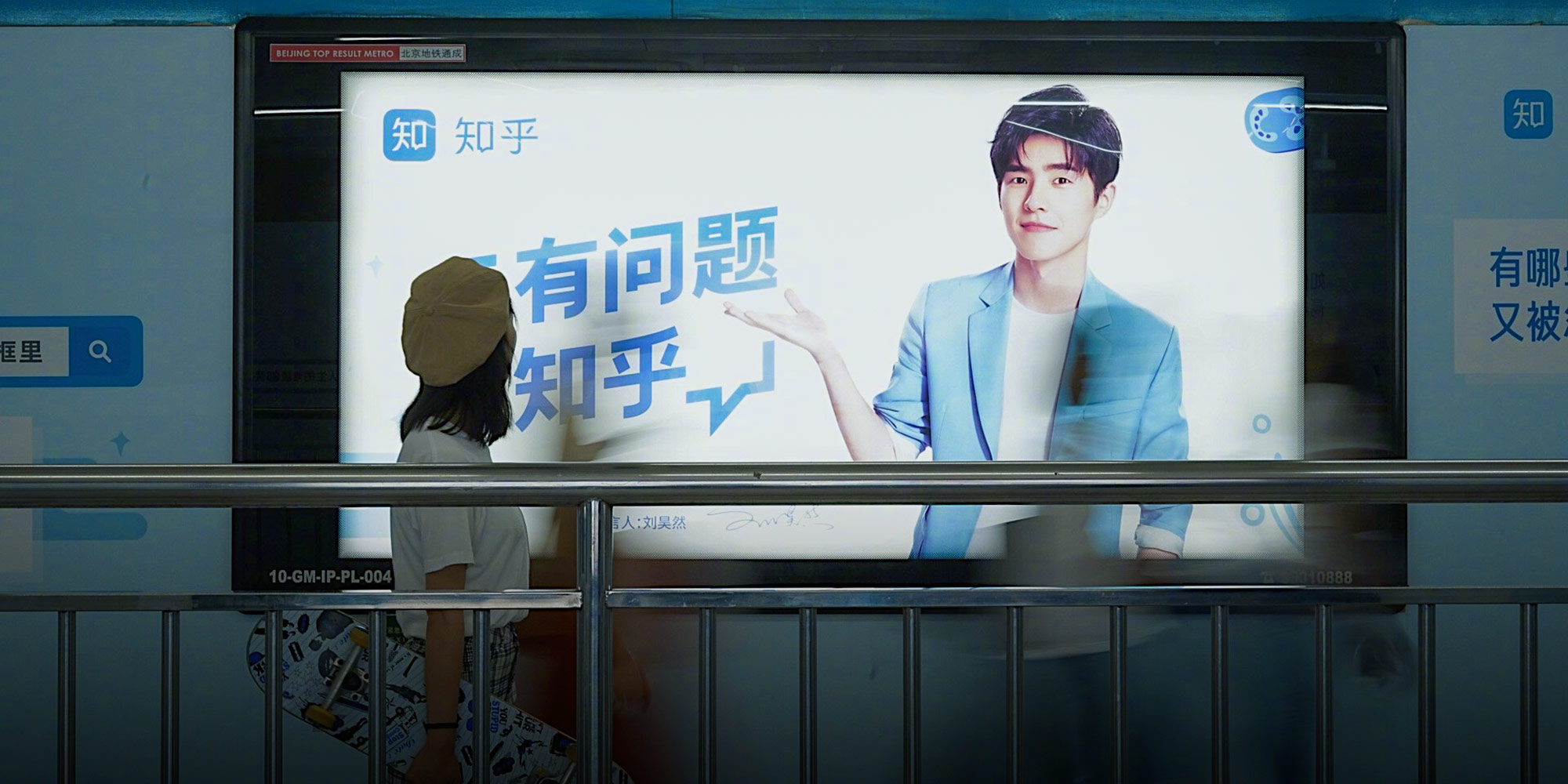 FEATURES
The Man Behind China's Most Irritating Ads
China's brainwashing-style commercials have been slammed as annoying — but the ad man who created them insists that they work.
SHANGHAI — In China, it wasn't just tense World Cup match moments testing everyone's nerves.
"Do you know? Do you really know? Are you sure you know? Are you sure you really, really know?" blared a bare-bones commercial during one of the ad breaks for Zhihu — China's answer to information-sharing site Quora. Over the course of the 15-second slot, Chinese actor Liu Haoran repeated "Zhihu" nine times. Chinese travel platform Mafengwo used a similar tactic in its commercial, in which a man in a brightly colored monk costume squeaked six times during a 15-second clip: "Why should you use Mafengwo?"
The commercials riled TV viewers all over the country. Some took to social media to complain about the intolerably repetitive, headache-inducing ads, while in online polls, the brainwashing-style clips ranked among "the worst TV commercials during the 2018 World Cup."
Net users then fixed their gazes on the man behind the commercials: Ye Maozhong. "Your crap brainwashing commercials ruined my whole World Cup experience," wrote one soccer fan on microblogging site Weibo. "Keep your hands off China's TV audience," posted another. Some of Zhihu's long-term users deleted the app altogether, while state newspaper People's Daily criticized the commercials in a since-deleted Weibo post, telling the public to "say 'no' to brainwashing marketing."
But from Ye's bright, modern Shanghai office, which features a large statue of his lifetime idol Mao Zedong, the target of the online storm could barely contain his zeal. "Exciting! Super exciting!" Ye replied when asked about the universal condemnation. "It doesn't matter whether the audiences love or hate you — they have remembered your brand already, and that's worth more than anything." He drew an analogy with dating: "Imagine you have only 15 seconds to impress a girl. Shouldn't you help her remember your name at least? Love or hate us, you can't ignore us."
Ye's style of advertising has been adopted by many Chinese ad agencies — hardly surprising, given that he's been involved in some of the country's most famous campaigns since he joined the industry in 1989. Today, Ye Maozhong Marketing & Planning Agency is one of the best-known in the industry. Ye's known as China's Don Draper — after the ad-guru protagonist in hit TV series "Mad Men" — and has a slew of honors to his name, including a government-issued Lifetime Special Achievement Award. But none of his accolades have stopped his commercials from consistently topping "most vulgar ad" polls.
The ad that kicked off the trend of spartan commercials that milked 15-second time slots for maximum impact was Ye's infamous commercial for Chinese wool company Heng Yuan Xiang. Aired during the Spring Festival Gala in 2008, the ad featured a squeaky-voiced girl listing the 12 animals of the Chinese zodiac, while a man robotically intoned the company's name over and over. TV viewers slammed the ad as "intolerable," while American advertising publication AdWeek called it "the commercial that's driving China crazy."
Ye Maozhong's 2008 commercial for wool company Heng Yuan Xiang. The ad repeats the brand's name 12 times, while a child's voice can be heard repeating each of the 12 zodiac animals three times.
A decade later, Heng Yuang Xiang's ad still haunts Chinese audiences. "When I first saw the campaign, I thought my TV set was broken," Chen Mingyang, a 25-year-old Chinese art student in Los Angeles, told Sixth Tone. Jiang Chacha, a former creative copywriter at Ogilvy & Mather Beijing, had a more personal reason for hating Ye's commercials. "I don't want my friends, my families, and my parents to think that the garbage commercials they see on TV are why we go to work every morning," she wrote on her blog during the World Cup.
Despite the criticism, Ye stands by his approach. "A revolution is not a dinner party, or writing an essay, or painting a picture, or doing embroidery; it cannot be so refined, leisurely, and gentle; so temperate, kind, courteous, restrained, and magnanimous," Ye said, quoting Mao. "So is advertising."
A self-described pragmatist, Ye insists that ads aren't there to entertain viewers. "Advertising is a war without fire. There's only one goal: to win, to help sell more products for your clients," he wrote in an email to Sixth Tone, adding that those who see advertising as a way to enhance brand reputation or for creativity are being "irresponsible to their clients." Ye's client Zhihu spent 60 million yuan ($9 million) on its World Cup commercial. But he believes that it was worth it: Mentioning the brand name 10 times in one commercial achieves the same effect as audiences watching 10 separate commercials. "Our repetition is based on science," he added.
Ye's commercials certainly bring attention to the brands they're advertising. After the first night of the World Cup, Zhihu and Mafengwo both saw a significant increase in search traffic, daily active users, and downloads, according to search engine Baidu. For a few days, Mafengwo was the most searched-for app on Apple's China app store, with its total downloads exceeding its competitor, China's leading travel service provider, Ctrip. Zhihu's Apple store ranking increased from 116 to 6. Ye's official website boasts a long list of past triumphs, including helping his clients double or quadruple sales.
These days, Ye never has to pitch ideas, and certainly never has to come up with anything elegant or creative. Instead, his clients come to him, hoping that his trademark repetition will boost their sales. "These businesspeople are the smartest — they know who can help them sell more products," Ye said, adding that not a single client ever came to him asking for a beautiful or award-winning commercial. "For businesspeople, sales is their top priority. After all, nobody loves ads."
But while Ye thinks his way is best, the impact of China's advertising — and in turn, brands — says otherwise. At last year's Great Wall Awards, China's biggest advertising prize, Taiwanese advertising companies took home over half of the gold and silver gongs, and at the Agency of the Year Awards for Asia Pacific, foreign advertising agencies won all the awards for Greater China. Chinese companies still have little international brand recognition. On global consultancy Interbrand's 100 Best Global Brand list 2017 — which measures brands' financial performance and global influence — there are only two Chinese brands: top mobile device company Huawei and computer technology company Lenovo, ranked 70 and 100 respectively.
Cosmetic brand SK-II's 2016 ad 'Marriage Market Takeover,' which focuses on China's 'leftover women.'
Meanwhile, ad campaigns that emphasize creativity have been popular with Chinese audiences, challenging Ye's notion that nobody likes ads. In 2016, Japanese cosmetic brand SK-II attracted the attention of Chinese consumers with an ad produced by a Swedish creative agency which focused on China's "leftover women." The brand's sales increased 50 percent in the nine months after it aired. Young Chinese consumers are increasingly inclined to prefer and resonate with brands whose commercials reflect the brands' values, a recent report from consultancy company McKinsey showed. Chen, the art student, is an example of such a consumer. "Every Chinese knows Heng Yuan Xiang, but I highly doubt if people really love the brand," said Chen, who has Apple's simple 1997 advertisement asking the viewer to "Think Different" hanging in his dorm room.
In 1986, a Coca-Cola commercial became the first foreign ad to be shown in China following the country's reform and opening-up period. The one-minute commercial featured Chinese people from all walks of life enjoying the fizzy drink, sending the signal that Coca-Cola had finally entered the country. It created a stir among Chinese TV viewers. Xu Yong, a 43-year-old business owner from Haikou — a city in the tropical southern province of Hainan — still remembers seeing the commercial for the first time 30 years ago. "It sent the message that Coca-Cola was not just a drink, but a culture and a lifestyle," he said, recalling how he drank his first bottle of Coca-Cola at his uncle's wedding. "This is the art of advertising: They don't want your money; they want your heart. I like this kind of commercial more than Heng Yuan Xiang."
To Zhang Rui, CEO of mobile marketing company Social Touch in southern Guangdong province's Shenzhen, the positivity toward foreign ads and the backlash against Ye's brainwashing-style commercials shows a long-standing contradiction between consumers' ever-increasing aesthetic requirements and China's backward advertising theories. According to Zhang, Chinese companies are still focusing too much on sales, and don't care about producing pleasing campaigns to boost their brand images and reputations. "The original sin of Ye and other brainwashing commercials wasn't repetition," he said. "It was repetition without creativity, and their indifference toward creativity and aesthetics." As he put it, "Advertising is the art of persuasion, not business."
The approach of Ye and his fellow ad men may soon be confined to the past, thanks to the growing strength of young consumers and the popularity of the internet. While Ye's repetitive ads might be effective at getting the attention of consumers in smaller cities, they're less likely to work for young and middle-class consumers who have different aesthetic requirements for commercials, said Iris Lai, former associate director at public relations and communications agency Weber Shandwick Shanghai. Consumers born between 1990 and 1999 will account for 20 percent of the consumption growth between now and 2030 — higher than any other demographic segment, according to the McKinsey report. Thanks to the internet, they're able to compare Ye's campaigns to the more creative offerings coming out of Thailand, Japan, and the U.S.'s Super Bowl. "They [young people] might be the pickiest, the most mature, and most cosmopolitan consumers ever in China," said Zhang. "Of course, they will utilize the power of the internet when they find your commercials intolerable."
Tencent's award-winning ad for QQ Alert, a system to locate missing children.
Young creatives are already working to meet the demand for more interesting ads, using new media platforms to change the very nature of commercials. It's paying off: During the Cannes Lions International Festival of Creativity this June, internet giant Tencent won two bronze awards from a social campaign that alerted the 860 million users of its platform QQ when a child was missing in their area, successfully linking 54 missing children and reuniting 12 families.
Zhang remains hopeful that the trend will continue, and that one day, China will have global brands and award-winning commercials — not just painful clips that get attention for the wrong reasons. When that happens, people may look back on the discussion around the World Cup commercials as a turning point, he said. "Maybe it will mark an awakening for Chinese consumers and advertisers."
Despite the positive reception toward other styles of ads, Ye, unsurprisingly, is unmoved. "You love the creativity of those Thai and Japanese commercials, but do you still remember what products they were trying to advertise?"
Editor: Julia Hollingsworth.
(Header image: A woman looks at an ad for Q&A platform Zhihu at Guomao subway station in Beijing, July 2018. From Zhihu's Weibo account)