Before the FIFA World Cup, most people in China only knew Croatia as the country where "Game of Thrones" is filmed. But when the Croatian team made the final, they won the hearts of many for their passion and persistence despite eventually losing to France.
The Chinese public was suddenly eager to learn more about Croatia — but instead, they were inundated with misinformation. Sports fan forums and online media platforms in China have been criticized for spreading false rumors about the European country and its soccer team.
Hupu, a popular sports discussion forum, circulated a petition from Facebook that urged Croatian authorities not to use the team's success for political gain. The post added a summary that attributed the petition letter to the Croatian team's head coach, Zlatko Dalić.
"I ask all politicians and all representatives of the authorities, who have led my people into a hell of misery, hopelessness, and poverty, to step away from the Croatian soccer team," the letter said. During the World Cup, Croatian ministers were photographed wearing team jerseys at a cabinet meeting.
The letter spread quickly on Chinese social media as it resonated with the public's resentment of bureaucracy and corruption. But there was a catch: The letter, it turned out, was written and posted not by Dalić, but by political commentator Igor Premuzic. Many of the misleading posts had been deleted by Friday, and microblog platform Weibo was flooded with clarification articles.
"Many of my posts have been shared without a signature," Premuzic told Sixth Tone. "People will believe whatever they want." He added that while he had given interviews to international media, the Croatian media ignored him.
The petition was not the only false Croatia story to be hyped up. Chinese netizens also shared photos of American model Coco Austin in a bikini, misidentified as the Croatian president Kolinda Grabar-Kitarović. The same set of mislabeled images went viral overseas years ago but popped up again after this year's World Cup, reaching such a wide audience that California-based fact-checking website Snopes published an article about the photos on Thursday.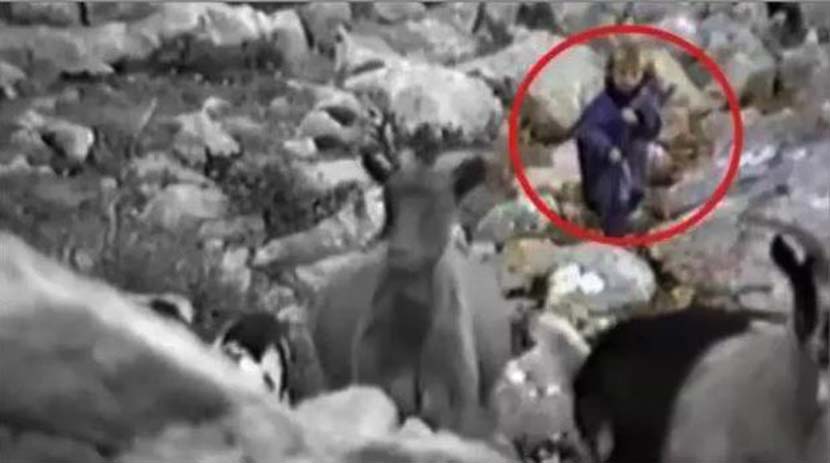 A screenshot from the 1990 documentary that portrays a young shepherd who was misidentified as Luka Modrić, the captain of Croatia's soccer team.
Croatia's star player Luka Modrić also fell into the crosshairs of media platforms hungry for clicks. Though the soccer player's real backstory would seem dramatic enough — he spent several years of his war-torn childhood in refugee hostels — one blogger chose to take liberties with the truth.
An article that has been read over 160,000 times on Weibo shares a frame from a documentary shot in 1990, supposedly showing a 5-year-old Modrić herding goats. "This child shepherd looks into the war correspondent's camera with terror in his eyes," the article wrote. Yet the film was a wildlife documentary about wolves, the filmmaker told Croatian press, and war did not break out until the following year.
"In 2018, [Chinese people] may only remember two things about Croatia: The soccer-loving president is pretty, and Modrić used to be a shepherd," Zhang Feng, a commentary writer for China's social network king Tencent, wrote on Thursday.
"True or false doesn't matter; we only want stories. That's the lesson that the media coverage of this World Cup has taught us," Zhang continued, adding that it was sad to see even serious publications falling for fake news. "Lots of media outlets are struggling financially. They stop dispatching journalists to the field, and, more importantly, they've come to believe that professional reporting from the field no longer attracts readers."
Editor: Qian Jinghua.
(Header image: Miguel Schincariol/VCG)