Some people are afraid robots may one day destroy the human race — but for now, AI is still learning from childlike sketches by Chinese social app users.
On Wednesday, Google launched its first WeChat game, "Caihua Xiaoge" — which roughly translates as "Guess My Sketch" — according to a statement released by the company.
Players have 20 seconds to draw a picture of a given object, ranging from ice skates to popsicles. Google then uses machine learning to guess what the drawings represent. Every time the machine gets the answer right, the player unlocks a badge; when users click into each badge, they can compare their mini-masterpieces with their friends' sketches.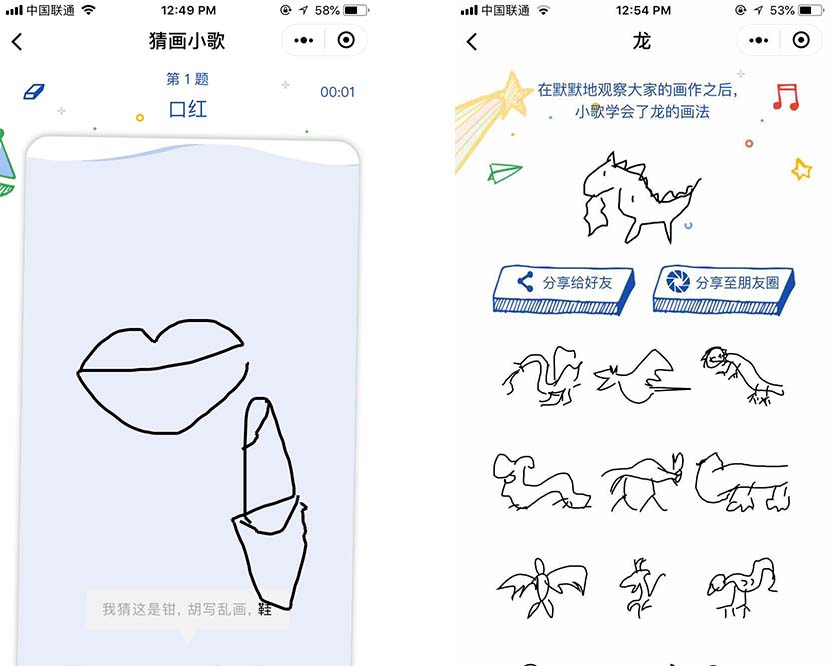 Left: A screenshot shows 'Caihua Xiaoge' incorrectly guessing a user's drawing of lipstick; Right: A screenshot shows the dragon sketches that 'Caihua Xiaoge' has gotten from users.
Since the search engine's service was blocked on the Chinese mainland in 2012, the tech behemoth has been trying to re-enter the market with products that meet Chinese authorities' requirements. This time, the game immediately caught the attention of Chinese netizens including Huang Yang, a public relations specialist in Shanghai. "I'm addicted to this," she told Sixth Tone. "The pace of the game is really quick. Before I knew it, I was deep in the game."
Since the launch of the English version "Quick, Draw!" in 2016, over 15 million people have played the game. The English-language website explains that players' drawings will be used to train Google's neural network, a collection of computer algorithms that learn tasks by analyzing vast amounts of data. The experiment uses some of the same technology that helps Google Translate recognize handwriting. The more you play, the more the AI will learn, and the better it'll get at guessing.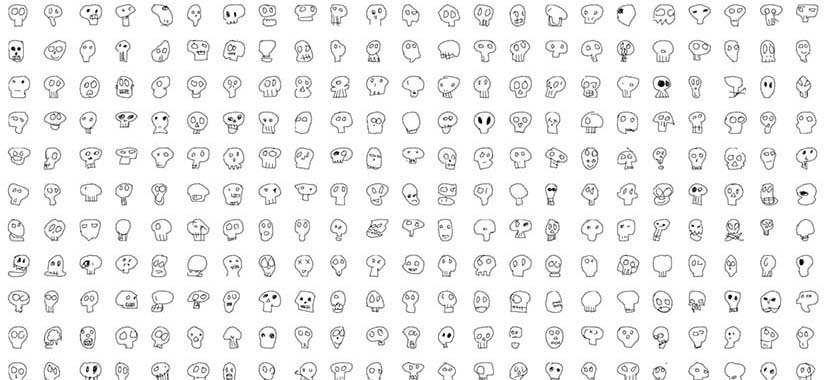 A screenshot from the 'Quick, Draw!' website shows players' skull sketches.
Wu Tong, who works at a digital marketing firm in Beijing, is excited to be part of the experiment. "It's like raising a kid," Wu told Sixth Tone. "In the future, when robots exterminate humanity, they'll be like: 'Thanks for raising me.'"
However, the technology hasn't impressed everyone. "Sometimes it's artificial intelligence, but sometimes it's artificial stupidity," Zhang Jizhou, a pharmacist from the eastern province of Fujian, told Sixth Tone. He stopped playing after the AI failed to guess some of his drawings.
Some players aren't aware that their sketching has a deeper purpose. When Sixth Tone informed Huang that her drawings are being used to train Google's neural network, she said she "felt stupid" but won't stop playing.
Editor: Julia Hollingsworth.
(Header image: A pedestrian passes a sign at Google's headquarters in Mountain View, California, US, April 25, 2018. David Paul Morris/Bloomberg via Getty Images/VCG)