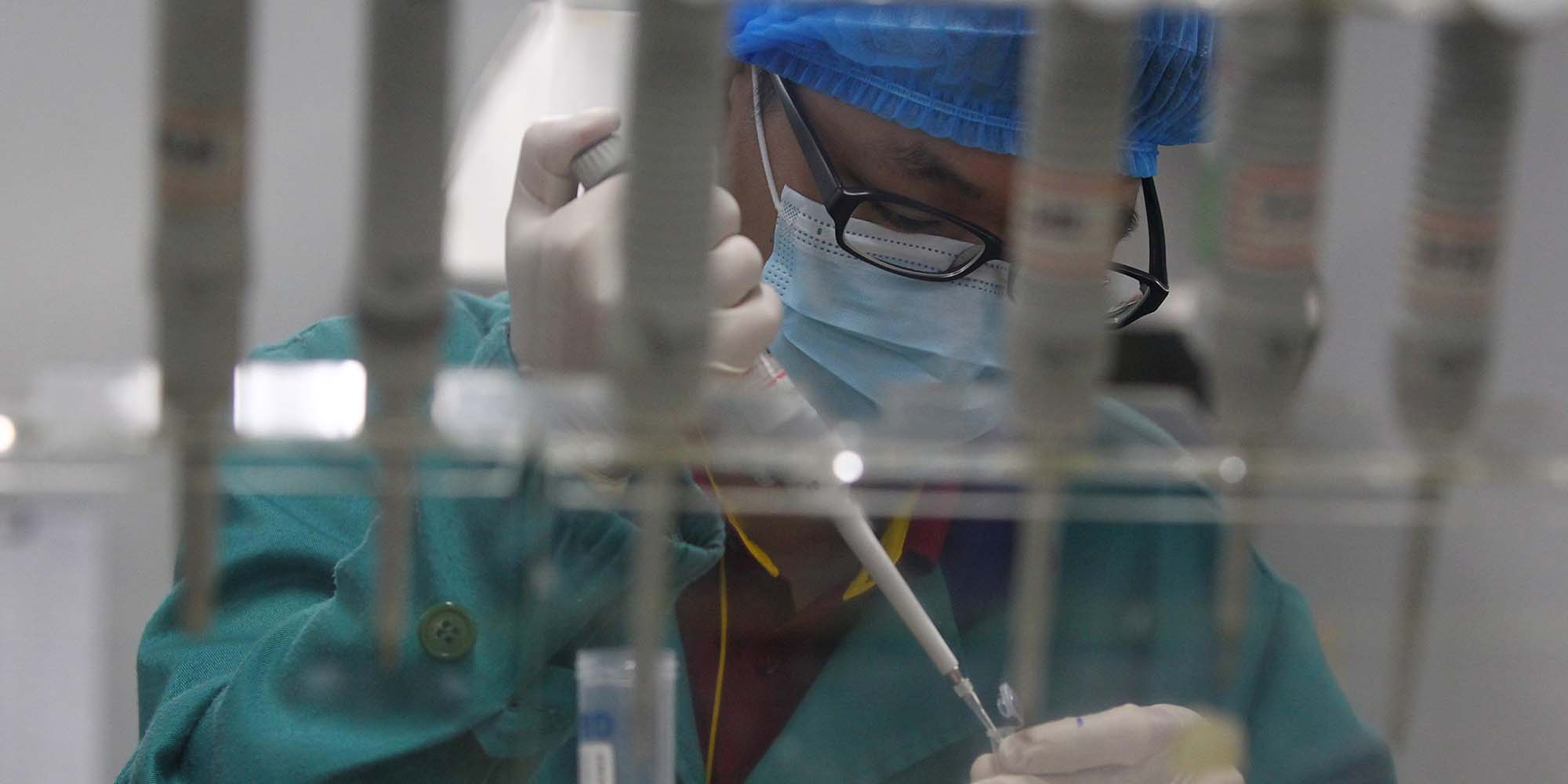 NEWS
Baby Born Sick Sends Gene Company's Stock Spiraling
Previously accused of promoting eugenics, BGI is now under fire for tests that may not be as accurate as advertised.
A leading Chinese genomics company saw its stock price drop by the daily maximum of 10 percent on both Monday and Tuesday after a viral news article questioned why one of its tests was being so widely recommended by doctors.
The article, published Friday on tech news site Huxiu, described how an infant in central Hunan province was born with several birth defects despite prenatal tests indicating little risk of genetic abnormality.
The boy's mother, surnamed Liu, told the author of the article that when she asked for comprehensive checks, a doctor recommended noninvasive prenatal testing (NIPT) from genomics company BGI, which claims that its tests are 99.99 percent accurate. When the test returned a result of "low risk," Liu said the doctors assured her that she need not worry — even after further tests at local and provincial-level hospitals suggested irregularities. Liu also declined amniocentesis — a procedure by which amniotic fluid is extracted from the uterus for chromosomal testing.
The Huxiu article described how parents like Liu have created groups on messaging app QQ to both commiserate and plan their recourse. Their NIPT results, too, indicated a low risk of birth defects, yet their children were born with Down syndrome or other abnormal conditions.
According to the obstetrics and gynecology department of the Chinese University of Hong Kong, NIPT is capable of detecting Down syndrome, Edwards syndrome, and other conditions caused by an irregular number of chromosomes. However, NIPT cannot detect structural abnormalities on individual chromosomes.
"Taking the example of the Hunan boy, his genetic defect is not trisomy [an extra chromosome], but the absence of a single chromosome's long arm," explained Li Huixian, author of the Huxiu article.
Li also pointed to the economic factors at play in China's prenatal testing market. Apart from the problem of doctors receiving kickbacks for recommending tests, he wrote, genomics companies often insure themselves against error: They attract customers by advertising near-flawless tests, and if the tests prove wrong, the family is compensated by an insurance provider.
China's NIPT market is dominated by two large companies: BGI and Berry Genomics. According to BGI's 2017 annual report, it has a cohort of 532 researchers and invested 174.3 million yuan ($26 million) — 8.3 percent of its total revenue — into research and development.
On Monday, BGI wrote on one of its public accounts on messaging app WeChat that doctors had advised the mother to undergo umbilical cord blood sampling after an ultrasound detected abnormalities, which she declined. When reached by Sixth Tone on Wednesday, Liu said that she was unable to comment because she had signed a nondisclosure agreement with BGI.
In its WeChat post on Monday, BGI said that as of the end of May, it had served over 3.1 million expectant mothers. It added that NIPT is just one of the 10 or so prenatal testing options available to China's mothers-to-be, and that NIPT is reliable for detecting extra copies of chromosomes 13, 18, and 21.
An earlier post from BGI also included a copy of an informed consent form, which states that NIPT cannot reveal chromosomal additions, deletions, or translocations. "Unfortunately, this case [of the Hunan boy] is not within the scope of NIPT," BGI wrote in its Monday WeChat post.
Liu, the boy's mother, told Sixth Tone's sister publication The Paper on Monday that she only declined the other prenatal testing options she was offered because she couldn't understand them. She added that she never expected any serious problems because the NIPT results indicated low risk.
Founded in 1999, BGI courted controversy in May when its president, Wang Jian, said at a conference that if BGI employees gave birth to children with genetic defects, it would be a disgrace to the company.
Editor: David Paulk.
(Header image: A researcher conducts a genetic test at a BGI laboratory in Shenzhen, Guangdong province, July 1, 2015. Liu Youzhi/VCG)