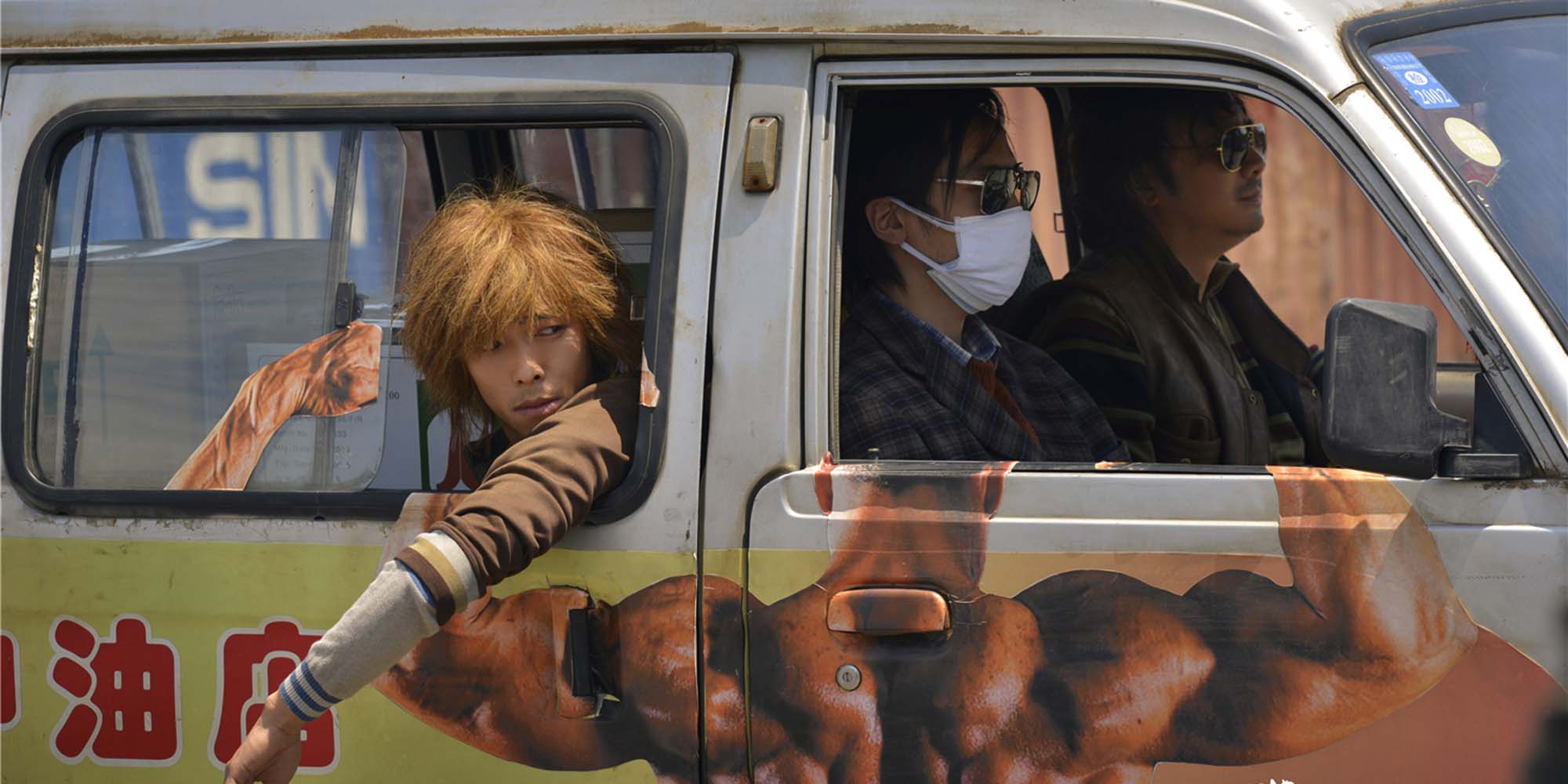 NEWS
The Black Comedy About Cancer That Could Change China
'Dying to Survive' reflects on the real struggles of Chinese patients in accessing affordable medication.
More than three years ago, leukemia patient Lu Yong was detained for smuggling cheaper drugs from India for himself and others. His case captured the Chinese public's attention, and this week, a black comedy loosely based on his story comes to the big screen.
The film, "Dying to Survive," is set in the early 2000s, when branded leukemia drugs available in China cost nearly 40,000 yuan ($6,000) while generic alternatives sold for just a few thousand yuan in India.
The protagonist, Cheng Yong, is a market vendor who peddles a "magical Indian ointment" promising to help men last longer in bed. By chance, a man asks for his help in procuring an Indian drug he needs to treat his leukemia. Cheng then teams up with the patient, a priest, a rebellious young man, and a single mother whose daughter is ill. Xu Zheng, a Shanghainese actor known for his comic chops, plays Cheng.
"Dying to Survive" has already found critical acclaim through preview screenings. On Wednesday, the production company announced that its official cinematic release would be brought forward from Friday to Thursday due to popular demand, as the film has already earned 100 million yuan in preview ticket sales.
Jiang Tian, a 30-year-old social media manager from Beijing, went to see the movie on Wednesday evening after seeing positive reviews online. He told Sixth Tone that he cried more than once during the film, moved by the suffering of patients who couldn't afford branded drugs but risked breaking the law to get cheaper generics.
Jiang added, however, that he felt that the film's depiction of a villainous Swiss pharmaceutical company was reductive, as the cost of researching and developing new cures is enormous — hence the complex relationship between these companies and copycats that produce generics.
Shen, a 70-year-old cinemagoer who attended Wednesday's screening with his wife, told Sixth Tone that medical reforms have come too late. "I have seen too many cases where people had to let their ill, elderly parents die because they couldn't afford hospital stays," Shen said with emotion. "It could happen to us, one day." He said he hoped to see more films like this one that awaken the public's consciousness, and called for government officials to put themselves in the shoes of average people.
Another viewer, 28-year-old Bai Xinting, said the movie reminded her of the Oscar-winning film "Dallas Buyers Club," which tells the story of an AIDS patient's fight to smuggle unapproved alternative therapies into the United States. She also commented that she thought the movie passed official scrutiny despite its social realism because the closing credits commend the efforts of the Chinese government in reducing treatment costs for cancer patients.
Though recent drug reforms have made a difference, China still has a long way to go. In August 2017, Sixth Tone reported on the shortage of critical drugs for children with leukemia, which later prompted Premier Li Keqiang to take action, and earlier this year, China removed tariffs on imported cancer drugs. However, many imported drugs are still priced out of reach and not covered by public health insurance, while a lengthy approval process also leaves many patients waiting for treatment options already available overseas.
Yet while "Dying to Survive" has won praise from audiences and critics, the man whose story inspired the film is not impressed. Lu Yong — who managed to get his case dropped in 2015 — voiced his disapproval on his blog when he saw the trailer because he was unhappy with the film's comedic take.
Lu added that he did not intend to be a hero, standing up against the legal system. "Me and my fellow patients never wanted to create antagonism in society," said Lu. "I am always in awe of the law and feel grateful for these new times."
Editor: Qian Jinghua.
(Header image: A still from 'Dying to Survive.' VCG)