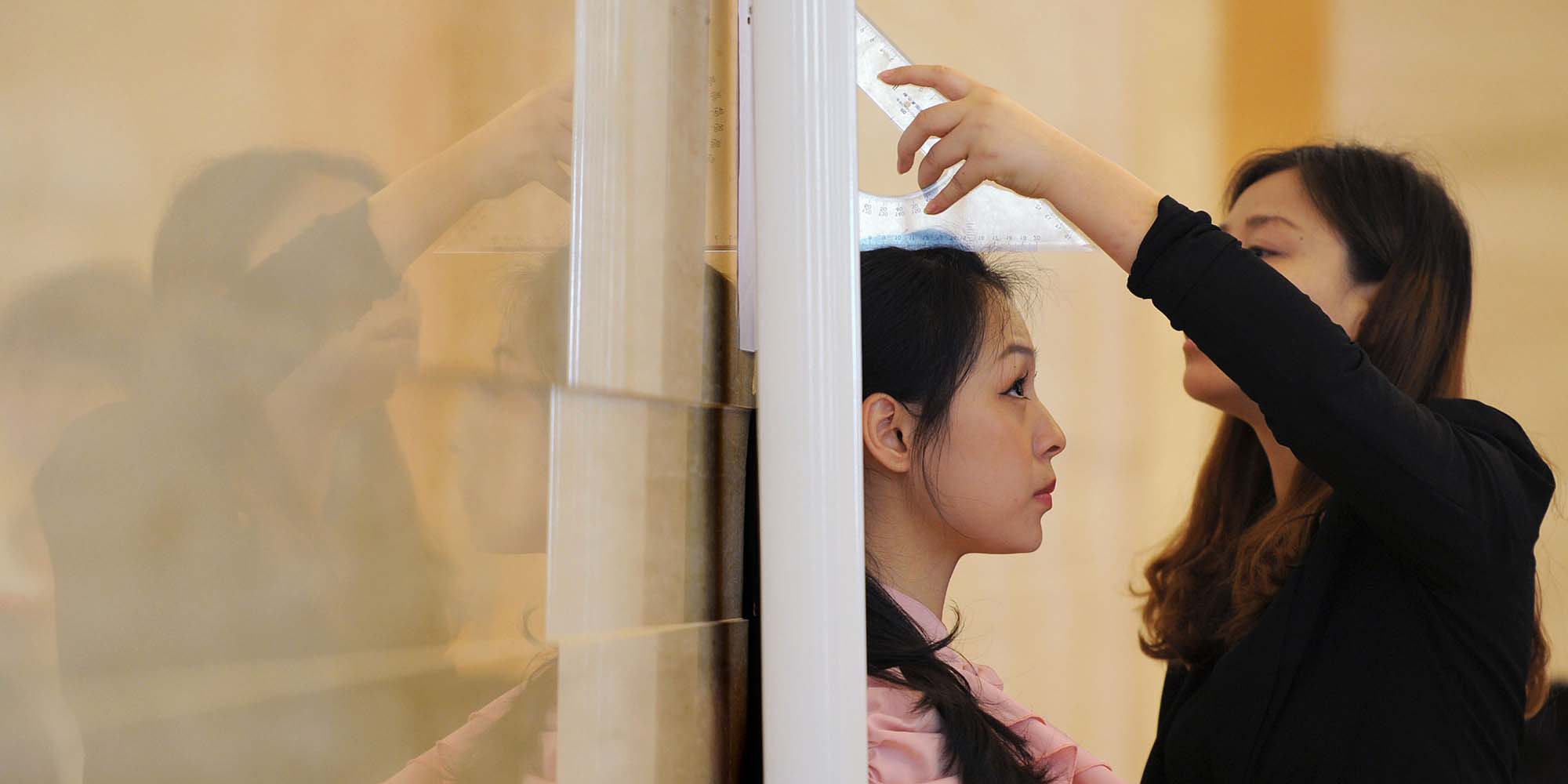 NEWS
Too Short to Teach? Graduate Fights Shaanxi Education Department
After four years of study, an education grad has been refused a teaching license because of her height.
A recent graduate of Shaanxi Normal University in northwestern China has been told that she is too short to be a teacher.
Li — an alias — completed the university's four-year teaching degree with a major in English as part of the class of 2018, Shaanxi news outlet CNWest reported Tuesday. But though Li has already signed a contract with a school, she has been refused a teaching license because she does not meet the provincial government's height requirement.
Unnecessary and unfair physical requirements have been contested across China in a range of professions: Graduates seeking employment have complained of excessive health checks during the recruitment process, and a nonprofit recently criticized food-delivery company Meituan for excluding applicants with hepatitis B, which is not spread through ordinary contact. People with disabilities say discrimination is common.
Though China's Ministry of Education does not stipulate height requirements for teachers, provincial governments are permitted to issue their own rules. Since 2009, Shaanxi province has demanded a minimum height of 155 centimeters for male teachers and 150 centimeters for female teachers — but prospective Shaanxi Normal University students were not screened for these requirements when Li enrolled in 2014.
Li, who is 140 centimeters tall, only found out that she did not make the grade on May 29, when she and other graduating students underwent a physical exam organized by the university.
When Li asked why no one had informed her of the requirement earlier, university staff passed the buck to the provincial education office. "The school just upholds these standards; it doesn't make them," said a university employee surnamed Yang, who oversees the teaching certification process at the school. The university promised to support Li and follow up on the issue with the provincial government.
Li's story has touched a nerve with users of microblogging site Weibo, with many expressing outrage. "This is blatant discrimination! How can the education department judge by appearances like this? As a teacher, I'm furious. This isn't a beauty contest!" reads one comment that was upvoted more than 2,000 times.
According to CNWest, Guangxi Zhuang Autonomous Region and the provinces of Sichuan and Jiangxi have already abolished height and weight requirements for teachers, and Shaanxi itself plans to abandon its height requirement beginning in 2019.
Editor: Qian Jinghua.
(Header image: A woman measures a job candidate's height during recruitment for an airline in Nanjing, Jiangsu province, May 23, 2012. Liu Yifan/VCG)