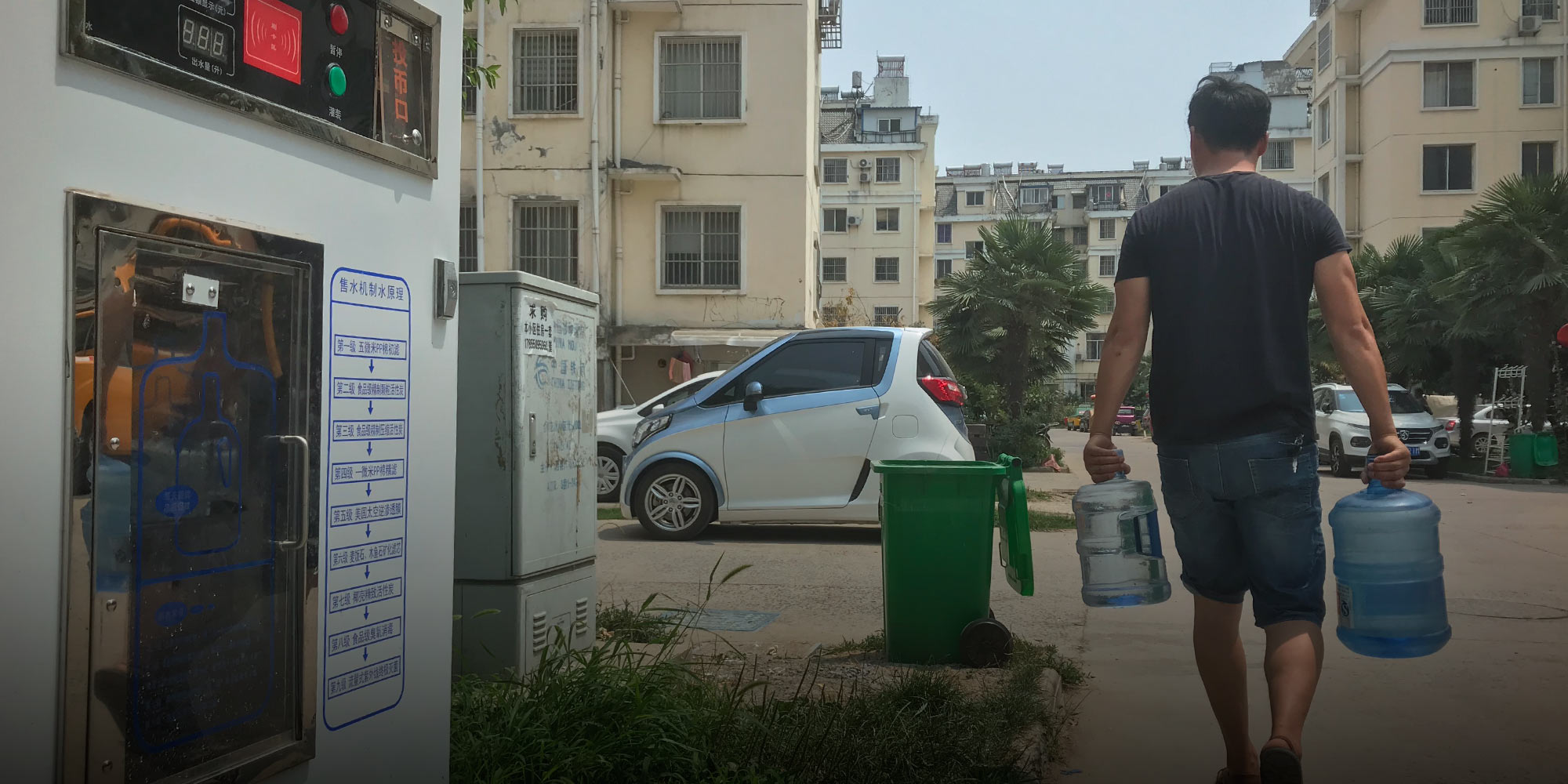 FEATURES
The Town That Rations Water by the Hour
One dried-up county in China only turns on the tap three times a day.
ANHUI, East China — When Hui Chunjie moved into her new home last winter, she was delighted. Having grown up in the countryside and lived as a migrant worker for years, she and her husband had saved up and bought a house in the center of Si County. Although the building looked a little shabby, mottled from years of wind and rain, the apartment was spacious and well-decorated — and it was theirs. But the joy quickly vaporized.
"There wasn't a drop of water," Hui, 35, tells Sixth Tone. Every morning, she had to buy a container of filtered water and carry it up four flights of stairs just to be able to do the laundry and cook for her two children.
As part of the Yangtze River Delta, Si County is surrounded by plenty of water. The county seat, a quiet town that prides itself on 3,000 years of history, is perched between a canal and a river that flow into nearby Hongze Lake, China's fourth-largest freshwater lake. Government documents noted in 1990 that underground layers of porous rock called aquifers held "abundant" water — some 1.05 trillion liters, enough to fill 420,000 Olympic swimming pools.
But that was nearly three decades ago. Since then, Si County — as well as other towns and cities across China — has urbanized at a historic rate. From 35,000 people in 1996, Si County's urban population has increased tenfold. Over the years, the county seat has transformed into rows upon rows of neat apartment blocks that are surrounded by construction sites. Nearly finished buildings stand with their windows yet to be installed, like giants with hollow eyes. Along the road, billboards advertise new real estate like items on sale in a supermarket: "Buy One Floor, Get One Floor Free."
Due in part to all of this development, Si County cannot rely on its shallow groundwater or rivers, which are affected by pollution and seasonal droughts: Rains are plenty during summer but rare in winter. Instead, the county's sole source of water is deep underground. But the wells are running dry.
Zhang Yue, the gray-clad manager of the Si County waterworks, is a serious man. Of course, with deep groundwater levels dropping by two meters every year, he has few reasons to smile. "It is hard to pump out water now," Zhang tells Sixth Tone. The average daily water flow from the county's 30 or so wells has decreased from up to 80,000 liters per well in 2005 to only 10,000 liters today.
Si County currently faces a daily shortage of up to 20 million liters of water — about two-thirds of the total residential demand. When summer comes and demand shoots up, the waterworks rations water by only turning on the taps for two hours each morning, noon, and evening.
But even then, the water won't come up to Hui's fifth-floor apartment: The county's water pressure has dropped by a third in three years. "There isn't enough water in this tall building," she says. The family recently bought an electric pump to make up for the lack of water pressure.
One of Hui's neighbors, 47-year-old Xu, has lived in the building since 2006. She says the area has always faced sporadic water shortages, but not until last year did it turn into a countywide crisis. "Sometimes there is no water for 10 days straight," she says. Xu keeps two large basins in her bathroom to stockpile water, and she has installed an electric pump on her piping so she can take showers. She complains that nobody seems to be trying to fix an issue this pressing. "After all, water is the most important of all, isn't it?" Xu says.
Hospitals, schools, and even residential communities have resorted to drilling their own wells. A new well carries a price tag of 100,000 yuan ($15,000) and can be a costly mistake: Even a depth of 150 meters no longer guarantees a steady water supply, and going deeper isn't necessarily better. A test drill by Zhang and his team proved fruitless. "At 500 meters, there is nothing but mud," he says.
Water shortages are a problem throughout the region and beyond. Some 90 kilometers to the west, in Suzhou City — not to be confused with the city in Jiangsu province famous for its historic canals — the water supply has been unstable since late February. In May, there was no water for about a week. There's a daily shortage of 30 million liters — or 20 percent of the total residential demand — Shao Wei, manager of the municipal water supply company, tells Sixth Tone. Unlike Si County, Suzhou's urban areas have the additional problem of greater demand from industries that need water to operate.
Though water shortages are rarely as immediate as in northern Anhui, two-thirds of Chinese cities are haunted by the specter of dry taps. This is partly due to the breakneck pace of urbanization, which has been explicitly encouraged by government policy — the thought being that people in cities are more productive, consume more, and lead to more investment in real estate and industry. In 1978, fewer than one in five Chinese people lived in a city. Now, 59.2 percent do — just shy of the nation's goal of 60 percent by the year 2020.
But China is becoming increasingly aware of urbanization's less favorable consequences. More and more people packed together strain resources, and overenthusiastic local governments heeding the call to urbanize have led to a glut in housing. Urban planning expert Hu Gang warned in 2016 that there was enough new real estate planned to house 3.4 billion people by 2030, 2.5 times the country's population.
When people urbanize, they invariably start consuming more water, He Shouyang, an associate professor at southwestern China's Guizhou University and expert in environmental science, tells Sixth Tone. The average Chinese person consumed 220 liters of water a day in 2016, including water in public facilities. In rural areas, that number was only at about a third. The difference, according to He, comes mainly from urban residents' use of water-consuming appliances like washing machines, showers, and flush toilets.
In Si County, more and more of the countryside has become urban. "In the last few years, all of the villages near [the county seat] have been uprooted," says Zhang, the waterworks manager. In 2017 alone, Si County renovated 3 million square meters of so-called shantytown areas and planned nearly 10,000 apartments to resettle the villagers. This urban development has changed the area's hydrology. People living this close together mean that wells are drilled in close proximity, too. This can drain aquifers even when their replenishing rate should in theory be sustainable, as a 2004 paper found to be the case in northern Anhui cities, including Suzhou. "Water resources are renewable, but only under the premise that they are used and preserved properly," says He.
Cities around China are also sinking due to excessive groundwater extraction. A recent study that used data on changes in the Earth's gravity found that groundwater storage on the North China Plain — which covers seven provinces, including Anhui — decreased at a rate of 6 to 8 trillion liters a year between 2002 and 2014. Feng Wei, researcher at the Chinese Academy of Sciences' Institute of Geodesy and Geophysics, and author of the study, tells Sixth Tone that the main reason is overuse by farmers, who grow grains that are too thirsty for the climate. Near Suzhou, research has found two areas with depressions of about 200 square kilometers in total, with the culprit here being urban overuse. Suzhou's geological hazard prevention plan for 2018 specifically mentions the threat of land subsidence caused by over-pumping groundwater.
With little left to take out of the ground, Si County is turning to surface water for salvation. A treatment plant is doing test runs and should clean 50 million liters of river water a day by September. But seasonal droughts can leave the area's waterways running low. In mid-June, Si County's moat — which connects to several rivers — drained almost completely. The drought lasted long enough for grasses to cover large stretches of the muddy riverbed, which glistened in the sun. Zhang, the waterworks manager, estimates that the new plant will be able to meet the county's demand for about seven months out of the year. During the winter dry season, they will have to look for other sources.
The county government has its hopes pinned on a water diversion project — a smaller version of the giant cross-country canals that send water to Beijing. But pollution limits their choices. Only a third of the rivers in the area meet the required level of cleanliness to be a safe source of drinking water, according to a government report. The Xinsui canal, which runs directly north of the county seat, is a level four out of five — too polluted to use. Despite billions of yuan spent on cleaning up freshwater lakes, nearby Hongze Lake's water quality is worse than level five, according to a recent audit.
In June 2019, a treatment plant will be finished that will link Suzhou to a diversion channel that will transfer water north from the Huai River. The entire project will reach several cities and will cost 1.36 billion yuan, but Suzhou's Shao Wei says that it's unknown when or how much water will flow to the city. Also, since there are concerns about the Huai River's water level, another diversion project, currently underway further south, was deemed necessary to supply water from the Yangtze River to the Huai.
The city is also planning on recycling wastewater — though, since it won't be clean enough for drinking, it will be used for sanitation and watering green spaces. Already, residents are repurposing water as best they can. "After doing the laundry, I reuse the water to clean the floor," says You, a 40-year-old housewife who was heading home with a bag of vegetables, just in time for the lunchtime water rationing. "Then I will keep that to flush the toilet."
Others lack awareness that there is a shortage in the first place. "I don't know why [there is no water]," says Qi, a retiree who moved out of her waterless sixth-floor apartment to live with her daughter. "I'm never overdue on my water bills." He, the professor, says the lack of knowledge and awareness among some residents is compounded by the appearance of water abundance created by the water diversion projects.
Meanwhile, the thirst for more buildings seems unquenchable. In Suzhou and the regions it administers — including Si County — 42 percent of people live in urban areas. In about a decade, the local government wants that number to reach 67 percent.
But recent migrants have found that moving to the city hasn't brought urban luxuries. Li Sumei, 67, works as a street cleaner in the Si county seat. Her family still has a house in a nearby village, which has its own well. Unlike where she lives now, it's easy to pump out water. "I still sometimes take clothes back to my home in the countryside to do laundry," she says.
Editor: Kevin Schoenmakers.
(Header image: A man carries two containers of filtered water from a water station in Si County, Anhui province, June 8, 2018. Tang Xiaolan/Sixth Tone)