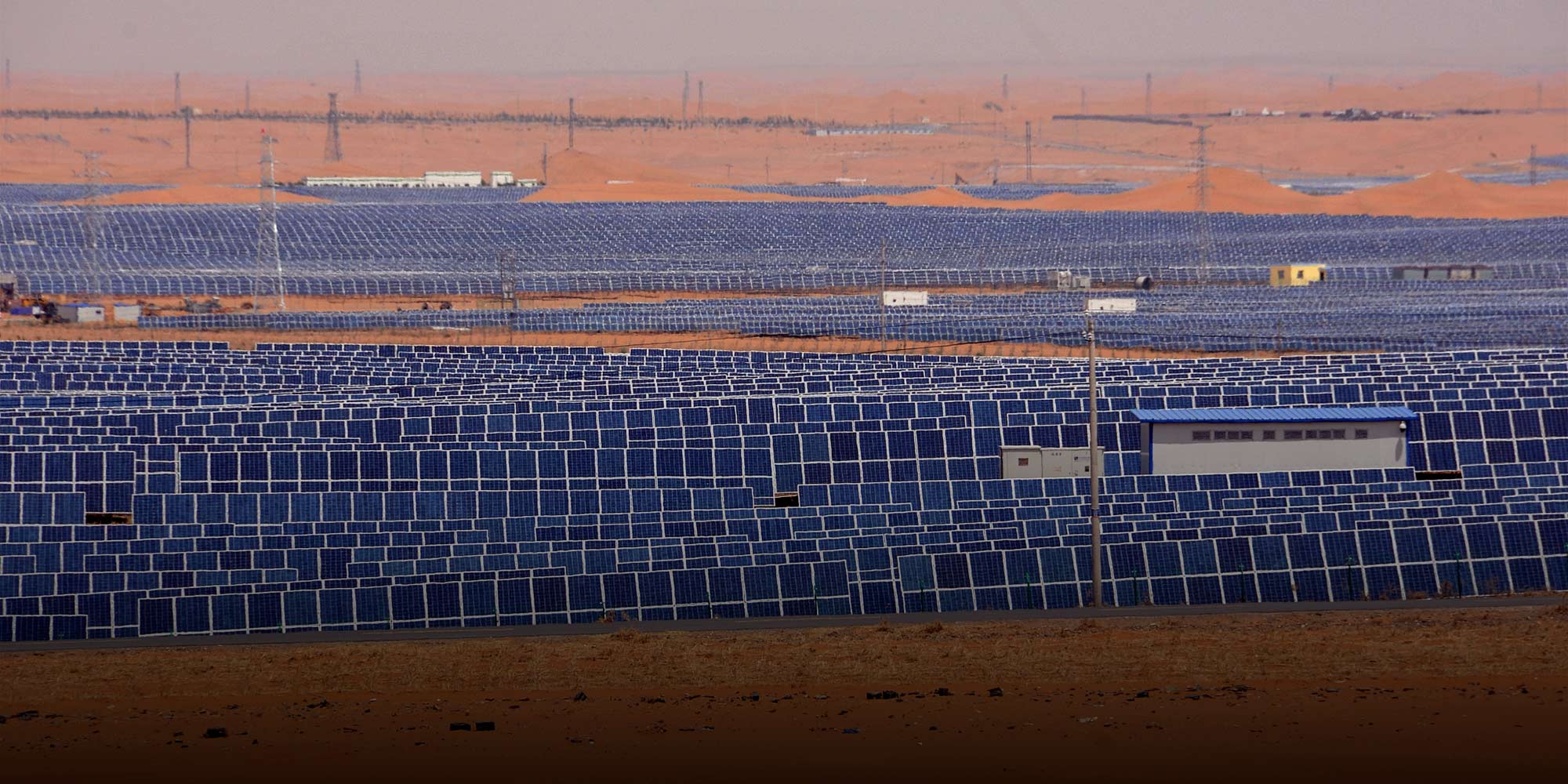 VOICES & OPINION
Dreaming of a Silicon Desert
How a small city in northwestern China is trying to turn itself into the next 'big data' hub.
Built atop a desert oasis, the city of Zhongwei was once a frontier outpost during the Ming and Qing dynasties. After being reconstituted in 2004 as a prefecture-level municipality of the Ningxia Hui Autonomous Region in northwestern China, it has been touted in recent years as a rising star in China's emerging big data industry — a Chinese "Silicon Desert." Indeed, Zhongwei officials have frequently referred to their fellow desert city turned tech hub Phoenix, Arizona, as a model. And at first glance, Zhongwei's growth over the past five years seems impressive.
In 2013, Amazon Web Services (AWS) announced an ambitious new plan to construct a cloud computing base in Zhongwei. Although the project encountered a series of policy-related setbacks, the center finally opened for business in late 2017.
In addition to the Amazon data center, Zhongwei is also home to Western Cloud Base — three massive cloud computing complexes situated around the city. Earlier this year on June 5, I was able to visit one of the complexes: Zhongwei Industrial Park. Located in the desert northeast of Zhongwei proper, it is currently home to Meili Cloud Computing — a joint venture between the state-owned China Chengtong Holdings Group and the private Cybernaut Investment Group. Meili Cloud recently completed the first stage of an ambitious project to build two huge new data centers in Zhongwei — one rented to Qihoo 360 Technology, the other to prominent tech companies such as Meituan and Jingdong. Telecom giant China Mobile has also joined the game with a 2.5 billion-yuan ($375 million) initial investment in a data center of its own.
Zhongwei's development into a big data industry hub is grounded in both politics and economics. Politically, Wan Xinheng — Zhongwei's mayor and a Peking University-trained computer scientist — has played a critical role not just in negotiations with the aforementioned enterprises, but also in navigating the country's bureaucracy to mobilize and realign existing political resources in support of this nascent industry. This includes the planning of both Western Cloud Base and the Zhongguancun Tech Park, which provides office space to many of the tech companies opening data centers in the area. Under Wan, the local government has also established a bureau specializing in big data industry management and services.
In addition to political factors, Zhongwei — much like Phoenix — possesses the kinds of natural advantages that can attract big data companies. A data center's energy efficiency is measured by its power usage effectiveness (PUE). An ideal PUE is 1, and because of Zhongwei's semi-arid climate and average annual temperature of 8.8 degrees Celsius, its local facilities boast a PUE of 1.1; its energy costs are also second only to the neighboring Inner Mongolia Autonomous Region. Meanwhile, in addition to more commonly seen water cooling systems, Meili Cloud also built a wind system that uses the area's natural wind resources to help cool down the company's servers.
Impressive as these advantages are, Zhongwei is by no means immune to rising competition in China's cloud services industry. As Taiwan-based Academia Sinica researcher Qu Wanwen has noted, contemporary Chinese national industrial policy is constantly compromised by its multilayered, oftentimes inconsistent state structure, which encouraged interregional competition. Combined with the GDP-centered offical promotion system, it can get even worse.
China's photovoltaic industry offers an instructive example. What began as a state-planned initiative soon led to fierce competition as localities rushed to build capacity, eventually causing a production glut. Now, with big data looking like a key national priority over the near to long term, local governments around the country are already moving to establish themselves as industry hubs.
Zhongwei is not the first Chinese city to try and capitalize on the big data industry, and it's made reaching and surpassing its rivals a key priority. Whether it can do so, however, is open to debate.
Although the existence of national, regional, and local subsidies seems to guarantee a stable growth path for the industry, market saturation is still possible. Should this occur before cloud service providers can recover their investments, price competition may topple some small- and medium-sized enterprises, as well as any regional cloud bases that fail to diversify beyond data storage. If Zhongwei wants to achieve its stated goal of overtaking its more established competitors, it may have to grow its cloud computing industry to include firms specializing in platform architecture, cloud distribution and integration, data mining, consulting, and other value-added services.
However, Zhongwei still has a long way to go before it can turn itself into a center for high-end, high-value enterprises. According to Jerome S. Engel — founder of the Lester Center for Entrepreneurship at the University of California, Berkeley — the key components of a successful innovation cluster are favorable government policies, proximity to universities, a climate of entrepreneurship, state- or corporate-backed R&D centers, availability of venture capital, and access to legal and accounting professionals. Zhongwei's struggles in meeting these requirements may offer lessons to China's broader industrial policy.
Zhongwei has instituted a set of policies to attract leading cloud computing firms and startups alike, including one that offers rent-free office space and land for data centers for the first three years. The city also tempts businesses with the offer of potential state investment or joint-venture status, as well as good loan terms and interest rates. Yet it is not the only city to offer a favorable policy climate. The southwestern province of Guizhou has made big data a provincial priority, and has fully mobilized its provincial, municipal, and local administrative bodies in support of the industry.
In terms of universities, Zhongwei lags behind tech hubs like Phoenix, which is home to Arizona State University, and the eastern Chinese city of Hangzhou, which boasts the highly ranked Zhejiang University. Zhongwei is home only to the Zhongwei campus of Ningxia University, which opened in 2014. Currently, the campus houses about 2100 undergraduate students, and does not have any graduate programs, research labs and outlets for enterprise collaboration are just getting started.
As for a climate of entrepreneurship, the local entrepreneurial ecosystem is still limited to cloud computing companies. Although space in the Zhongguancun Tech Park went quickly, some enterprises chose not to run their businesses there. Those that did were primarily attracted by the region's low labor costs. For instance, one high-profile tenant is actually a labor-intensive call service provider. Zhongwei also suffers from shortages of venture capital and white-collar professionals, though the latter problem may resolve itself as the cost of living in China's largest cities continues to rise, forcing professionals to relocate.
This has been compounded by the utter lack of national- or provincial-level R&D centers or research programs in the area. A look at Taiwan shows the importance of such centers. Although the island's semi-conductor industry was founded by private corporations in the late 1970s, the core technology was developed in state-funded research institutions. State-backed R&D centers have helped develop the technological infrastructure underlying many cutting-edge industries — especially in developing nations. And while corporate-led research institutes can help fill this void, companies like Amazon Web Services have largely chosen to locate their research teams in Beijing, rather than Zhongwei, since it is easier to recruit talent there.
Big data — like earlier clean energy initiatives — is shaping up to be the next big fad in economic planning. But a plethora of data centers is not enough to turn a city into the next Silicon Valley. For all of the natural advantages and favorable policies cities like Zhongwei can offer, these places cannot create a skilled workforce and a climate conducive to entrepreneurship overnight. 
Editor: Kilian O'Donnell.
This article was funded by the Sixth Tone Fellowship. In 2018, Sixth Tone sponsored eight young scholars to come to China for a six-week research trip to conduct fieldwork in eight provinces all over the country.
(Header image: A view of a photovoltaic system in Zhongwei, Ningxia Hui Autonomous Region, May 24, 2015. VCG)