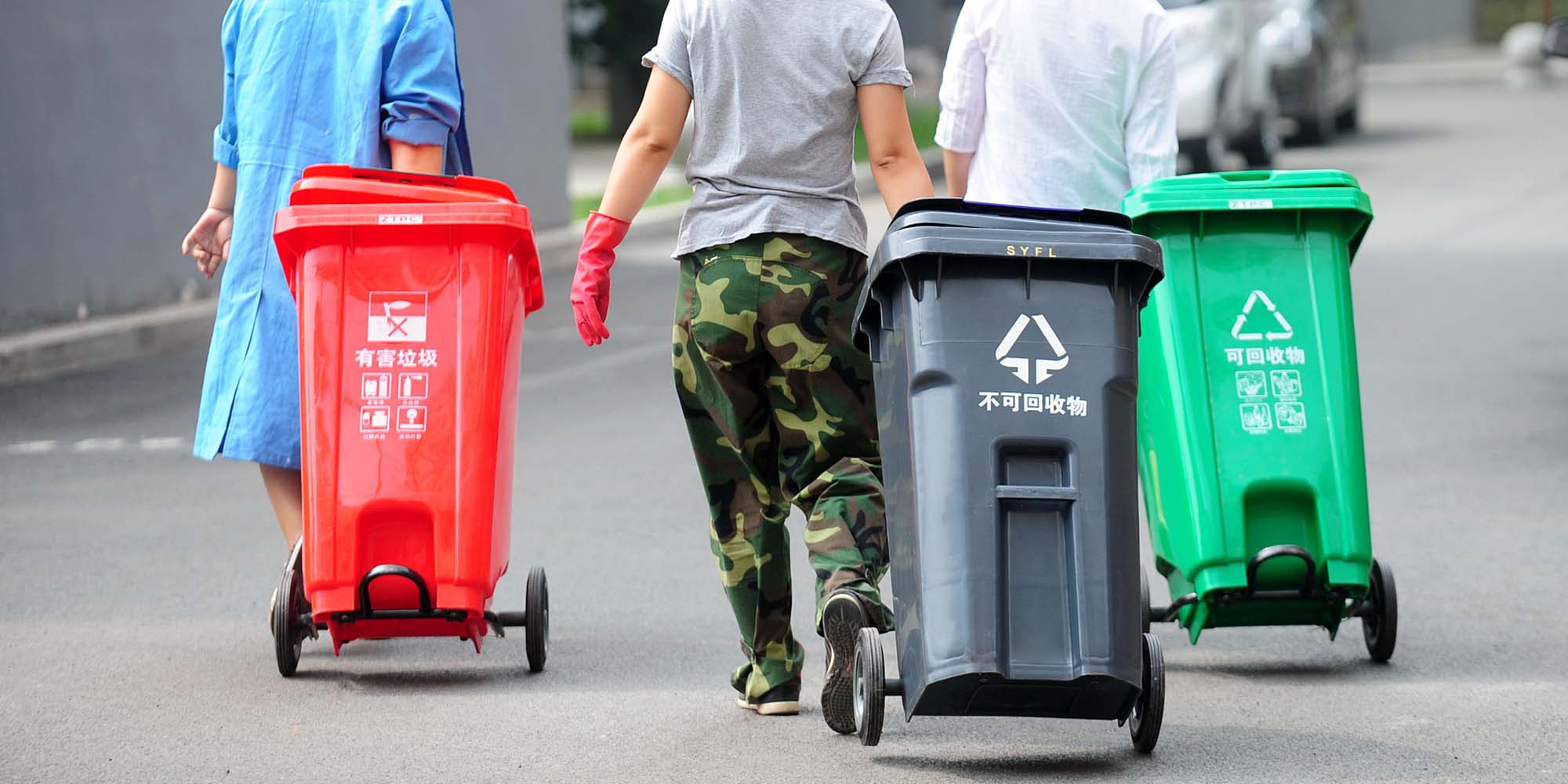 NEWS
After Banning Foreign Trash, China Will Soon Enforce Recycling
City dwellers will have to sort their household waste under new laws being drafted.
China has promoted sorting of urban household waste for nearly 20 years — but with little effect.
Now the country's Ministry of Housing and Urban-Rural Development is setting up a working group to draft laws on household garbage recycling, Sixth Tone's sister publication The Paper reported Friday. 
The ministry announced at a press conference that 46 major cities have developed facilities for sorting, collecting, transporting and treating trash, and 14 of those cities have issued local regulations related to domestic trash classification.
Yang Haiying, deputy director of the Ministry's Urban Development Department said at the press conference that the department hopes to see trash classification in all cities at prefecture-level and above by 2020. "It's necessary to strengthen public awareness of household trash classification," Yang explained. "[Attitudes] haven't changed from 'I've been told to sort' to 'I want to sort.'"
The ministry's target is for 35 percent of urban household waste to be recycled by 2020. China recently banned imports of 56 types of solid waste, including paper and household plastics, which means that recycling plants are now looking to domestic sources.
Nearly two decades of efforts to promote residential trash sorting have seen little success. In 2000, eight cities including Beijing and Shanghai were selected as pilot cities for sorting their trash, but even now many Shanghai neighborhoods do not have recycling bins, and those that do are largely ignored.
According to a People's Daily article in 2014, sanitation workers often mix different types of trash together when they collect it because so few people pay attention to trash classification — further discouraging those who do bother to sort. Much of the paper, cans, and plastic that does get recycled comes from waste pickers who salvage such items to sell to recycling stations.
Though some cities like Shanghai and Hangzhou have introduced fines for residents who disobey trash classification rules, they have proved too difficult to implement, as no one watches over residents putting out their trash, especially in city high-rises.
In April this year, Shenzhen in southern China's Guangdong province became the country's first city to impose a mandatory recycling program for large household waste such as furniture and home appliances. Residents can schedule a pick-up time online, and those who fail to recycle such items may be penalized with reduced credit scores.
On June 21, China's National Development and Reform Commission issued green development guidelines which ordered cities and some towns to begin charging residents for waste disposal by the end of 2020, in order to reduce landfill and encourage garbage sorting.
Editor: Qian Jinghua.
(Header image: Cleaners drag garbage bins for harmful, non-recyclable, and recyclable waste in Shenyang, Liaoning province, June 26, 2015. VCG)