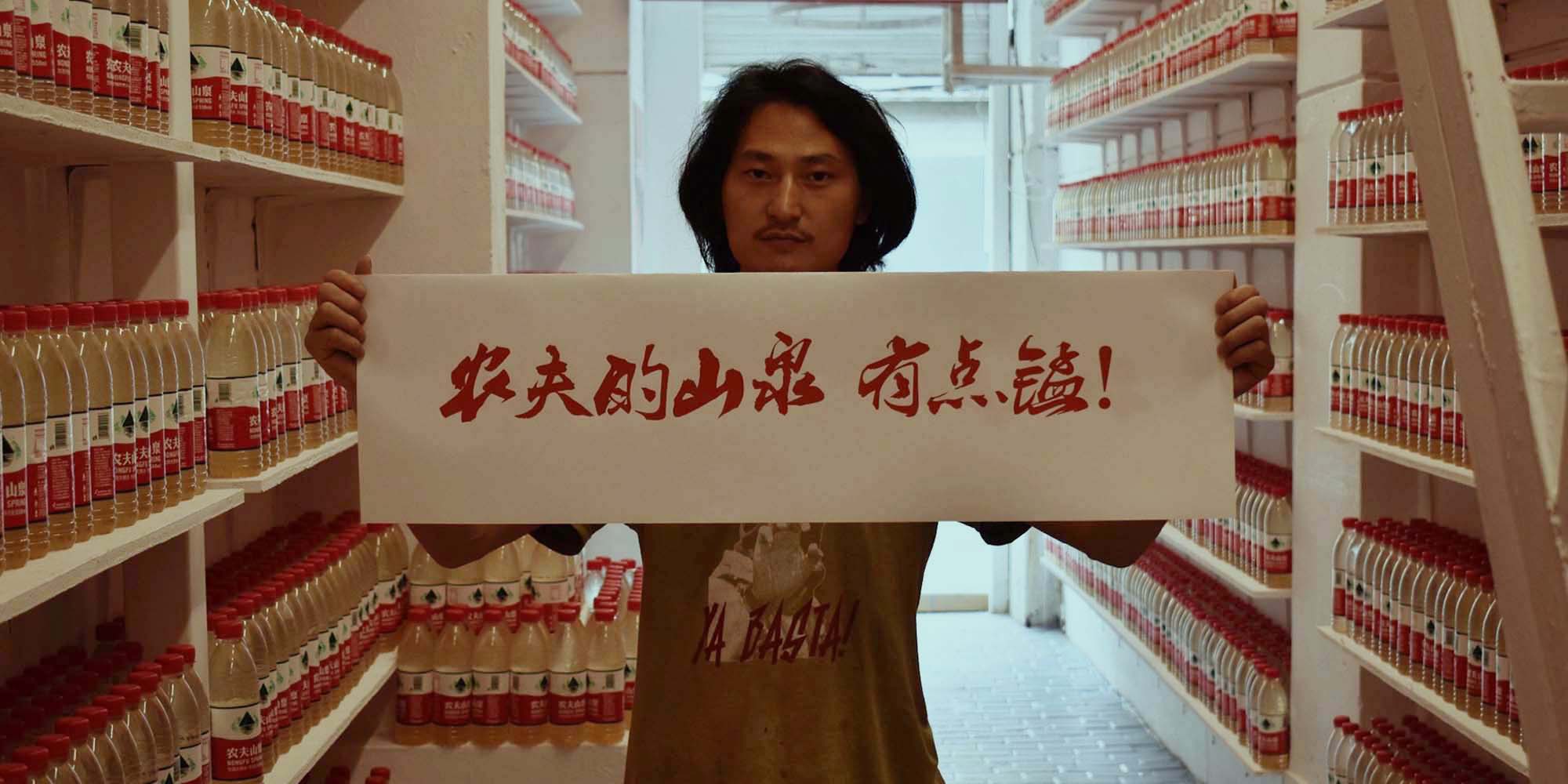 NEWS
Polluted Water Exhibition Prompts Official Action
Chinese artist Nut Brother's latest project puts a message in a bottle to raise awareness of contaminated drinking water.
The supermarket shelves are stacked with rows of bottled water, but though the packaging is that of ubiquitous Chinese brand Nongfu Spring, the liquid inside is brown and cloudy.
The scene is part of an exhibit at Beijing's 798 Art Zone. Artist Nut Brother filled the bottles with water from Xiaohaotu, a poor township in northwestern China's Shaanxi province where the water is reportedly polluted with heavy metals.
"'Nongfu Spring' literally means the spring water that farmers drink," the 37-year-old artist told Sixth Tone, "but what kind of water are Chinese farmers really drinking?"
Nut Brother — who does not reveal his real name to the media — says that he visited the township in mid-May and was appalled by what he saw. Despite threats from authorities, he managed to collect 10,000 bottles of groundwater with the help of villagers, and shipped 9,000 bottles to Beijing, while the remainder were sent to Xi'an, the capital of Shaanxi province, for another exhibition that will open on July 3.
The Beijing exhibition opened on June 20, and a day earlier, Nut Brother published an article on social platform WeChat about the pollution that has plagued Xiaohaotu for years. The article has received over 45,000 views as of Friday. In response, the environmental protection bureau of Yulin, the city that administers the township, has announced that it will investigate the issue and demand that local industry — including iron mines and state petroleum company Sinopec's oil field project — deal with their waste appropriately.
As well as the exhibition, Nut Brother and his curator are collecting evidence from villagers and volunteers to push for ecological restoration and compensation. The artist is known for advocating for environmental and social causes: In 2015, he impressed audiences around the world with his "smog brick" made of dust that he collected by brandishing a vacuum cleaner through the Beijing air.
"I think art should respond to when and where you are," Nut Brother told Sixth Tone. "Artists should face the challenges of our times rather than shunning them."
Editor: Qian Jinghua.
(Header image: Artist Nut Brother poses in front of his work, which uses 9,000 bottles of polluted water from a village in Shaanxi province. @坚果兄弟 from Weibo)