After three years of failing to secure victory, China beat the U.S. in an astonishing 4-0 final. No, this is not a fantasy dreamed up by optimistic Chinese soccer fans — it's what really happened at RoboCup 2018, an international robot soccer competition held in Montreal last week.
A team of 10 students and eight robots from Zhejiang University (ZJU) in eastern China's Hangzhou won the small-size league this year, a competition for wheeled robots under 15 centimeters tall. The team — who call themselves ZJUNlict — won the same competition in 2013 and 2014 but failed to defend their title in recent years.
In a training video, a cylinder-shaped ZJUNlict robot spins 360 degrees while lifting a golf ball to its roller mouth and spitting it out.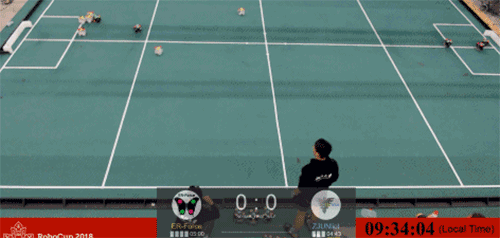 One of the robots from Zhejiang University scores during RoboCup 2018, a soccer competition for robots held in Montreal, June 22, 2018. Courtesy of ZJUNlict
"This year, we were more advanced [than other teams]," team captain Huang Zheyuan told Sixth Tone. Huang, a master's student at the university's College of Control Science and Engineering, said that the team improved the robots' ball control with enhanced hardware, while software upgrades helped to hone their passing skills. In the final against a team from Carnegie Mellon University, ZJUNlict boasted a 60 percent possession rate and scored four goals to the Pennsylvanian school's nil.
Organized by a group of robot enthusiasts from academic institutions around the world, RoboCup has been held every year since 1997 to promote robotics and research in artificial intelligence (AI). Contests test a range of applications for robotics, from rescue to domestic tasks, but the RoboCup Soccer is one of the most exciting to watch.
Robots of all shapes and sizes compete across a variety of contests: Some are human-sized with legs, while others have boxy bodies and wheels. University students compete in the major leagues, while a junior league tests the skills of students in high school or younger. This year, several Chinese institutions competed in the robot soccer tournament, including teams from Tsinghua University and Beijing Information and Science Technology University.
ZJUNlict has been taking part in RoboCup since 2004, under the expert coaching of Xiong Rong, a Zhejiang University professor who designed Haibao, a service robot for Expo 2010 in Shanghai that resembled the event's blue mascot, as well as robot dog Jueying, a rival to Boston Dynamics' flagship robot. Xiong started ZJUNlict to offer an extracurricular activity to students from different departments.
The rules of the small size league contest are quite different from a human game of soccer. For starters, the game only lasts 10 minutes, and is held on a field of 12 by 9 meters — only one-seventieth the size of a standard soccer pitch. Each team has only eight robots instead of 11, and they battle for control of a golf-sized ball. Robots are also limited to a speed of 6.5 meters per second. "This is to put a limit on the hardware functions, so that the developers can focus more on enhancing the software," Huang explained.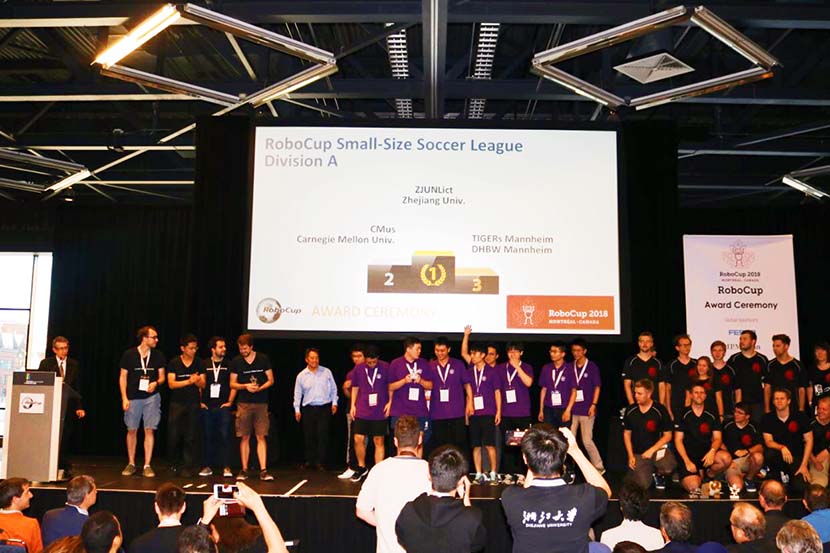 Zhejiang University's team receives their award during RoboCup 2018, a soccer competition for robots held in Montreal, June 22, 2018. Courtesy of ZJUNlict
But there are also similarities. If a robot violates the rules, a human referee will hand it a yellow card, and ban the bot from play for two minutes — a harsh penalty in a 10-minute game.
A central computer coordinates the robots' movement, Huang explained, and developers cannot do anything during the contest to change their programming. "It is like one brain controlling all its hands," he said. The robots adjust their positions and tactics after every move, using both preset formulas and machine learning.
A soccer fan himself, Huang enjoys watching FC Barcelona's games, and told Sixth Tone that he even imitated the club's tactics in his coding — a strategy he believes has been successful.
In recent years, the Chinese government has encouraged the development of AI applications in domestic settings as well as in medicine, agriculture, transport, and industry. Zhejiang University now has at least 20 research teams working on robot-related technologies. In 2017, it established a robot research institute in cooperation with a nearby city to investigate commercial applications for robotics, and Huang said many of the team's former members have founded businesses that develop robots for industrial use.
The ultimate goal of RoboCup, according to its official website, is for a team of fully autonomous humanoid robots to win against the human champions of the World Cup by the middle of this century. That future seems far off: Currently, the games are still far from the drama and artistry of human competition. Robots collide with each other, or clumsily trip over their humanoid feet. ZJUNlict had to bring eight backup bots to the game as units can break down.
Yet Huang is confident that RoboCup will achieve its goal. "What did we know about the year 2018 a decade ago?" he asked. "Technology develops at an astounding speed, and we still have 30 years to go."
Editor: Qian Jinghua.
(Header image: Zhejiang University robots play an exhibition soccer match in Yiwu, Zhejiang province, Nov. 20, 2013. VCG)