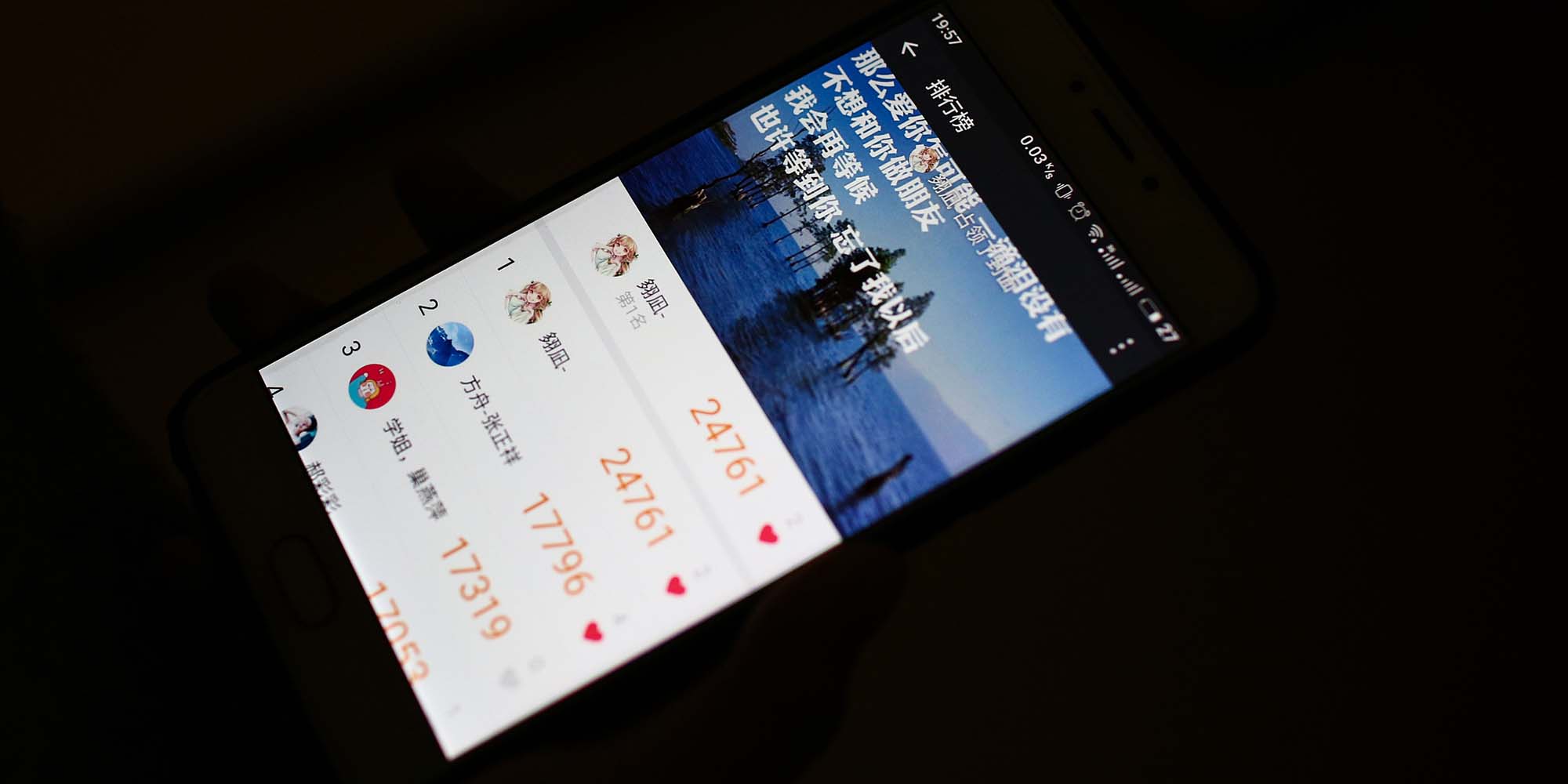 NEWS
The Gadget That Boosts Your Step Count While You Nap
From celebrity fans to lazy university students, there are plenty of people willing to pay for fake fitness stats on WeChat.
If you're a sports-averse university student or a struggling marketer, a pendulum-like gadget that has become wildly popular on China's leading e-commerce platform might be just the fix for you.
China's ubiquitous social networking app, WeChat, includes a function called WeRun, which records a user's daily step count and ranks them alongside their WeChat friends. Every day, the person who took the most steps has the right to set the cover photo of the step-ranking page. For some, it's just a fun bonus after a hard day's walking — but others see it as an opportunity to promote their products or boost the profile of their favorite celebrity.
Enter China's latest must-have gadget: step count increasers, which boost your step count without you moving an inch. Rather than physically taking thousands of steps a day, cunning businesspeople are buying the items for between 20 and 60 yuan ($3 to $9) on e-commerce platform Taobao — and this week, the gadgets were among the top-ranked search items on the site. Sellers promise that their wares, which work by swinging a phone to mimic the movements of walking, can generate 6,000 to 7,000 steps on a smartphone per hour. Buyers only need to attach their cellphone to the gadget and watch their step count rise.
One of Taobao's top sellers of the product has sealed over 25,000 deals in the past 30 days, with their total sales volume reaching 150,000. The vendor's feedback page is flooded with positive reviews, gushing about how happy the reviewers are with the products.
Among the most enthusiastic buyers are die-hard celebrity fans. Li Tao, a 23-year-old student from eastern China's Shandong province, has been a fan of Chinese actress Dilraba Dilmurat since 2014. She bought a WeRun hack two weeks ago to support her idol. "If you support her, you try everything to make her more famous," Li told Sixth Tone. "Making her my WeRun cover for a day is one of the tiniest things a fan can do."
The gadgets have also found a following at universities, which often have fitness requirements for students. In April, Guangdong University of Foreign Studies in southern China announced that it would require students to reach at least 10,000 steps per day on WeRun. Some students found the target too high — fueling more demand for WeRun hacks.
"I know some classmates who use WeRun hacks," Xia Luyu, a 20-year-old student at the university, told Sixth Tone. "My roommates and I tried [cheating] the old-fashioned way, by shaking our phones all the time," she added. "Those who use the WeRun hacks can gain 5,000 steps just by napping."
There's also a financial incentive: The apps for financial services companies Ant Financial and Ping An Insurance have step-tracking functions that come with rewards like Starbucks and KFC coupons, or donations to public welfare programs. On the Ant Financial app, a user can convert their step count into tokens that can be redeemed through Ant Forest, a tree-planting initiative from the company.
It takes an Ant Financial user around 850,000 steps to plant one of the more expensive tree varieties on offer in Ordos, a desert city in northern China's Inner Mongolia Autonomous Region. "[The gadget] created several thousand steps in about an hour. Now I can finally plant trees without having to shake my phone all the time!" wrote one buyer in his Taobao review.
For sellers and buyers alike, WeRun boosters are a win-win — but host platform WeChat is less impressed. "We have the right to shut down the accounts of any user who attempts to manipulate data on WeChat," a WeChat spokeswoman told Sixth Tone, adding that they hadn't yet shut down any accounts for this reason. "We encourage users to compete on our platform in an ethical and friendly manner."
The step-boosting tools have also rubbed some rule-abiding WeRun users the wrong way. In April, Jiao Xiangjin, a 32-year-old IT technician from the northwestern city of Xi'an, spent a whole Saturday shopping with his girlfriend — and by the end, he was exhausted.
Jiao hoped the silver lining of his physical pain would be beating his co-workers, whom he competes against each day to see who can take the most steps. But when he opened WeRun at the end of the day, he couldn't believe his eyes. One of his co-workers had taken 62,000 steps, nearly 40,000 steps ahead of him.
To Jiao, the answer was clear: His colleague had cheated by buying a WeRun hack on Taobao. "A lot of people are buying it," he told Sixth Tone in frustration. "People are wasting their money," added Jiao, who ironically lost a 200-yuan bet against his co-worker over who would take more steps.
Despite the loss, Jiao said he won't consider buying a hack. "Next time, I might try taping my phone to my dog," he quipped.
Editor: Julia Hollingsworth.
(Header image: A WeRun ranking list a user's cellphone in Beijing, Dec. 11, 2017. VCG)