A video of bystanders cheering and urging a 19-year-old on before she jumped off a building to her death has gone viral on Chinese social media, with web users condemning the onlookers as "cold-blooded."
The student, who was surnamed Li and hailed from Qingyang city, in northwestern Gansu province, died by suicide on Wednesday, according to a post from Toutiao News. In a handwritten note apparently penned by Li and shared widely online, she claimed she had been sexually abused by her high school teacher and became severely depressed when her school and local authorities failed to hold him to account.
In the letter addressed to Gansu Qingyang People's Court, Li said the alleged assault occurred when she was 16 during the school's summer semester. Li had visited the nurse and was recovering in the school's sick bay. A teacher, named Wu Yonghou, sat beside Li and allegedly kissed her on the mouth, face, and ears, and attempted to take off her clothes. The alleged assault stopped when another teacher entered the room.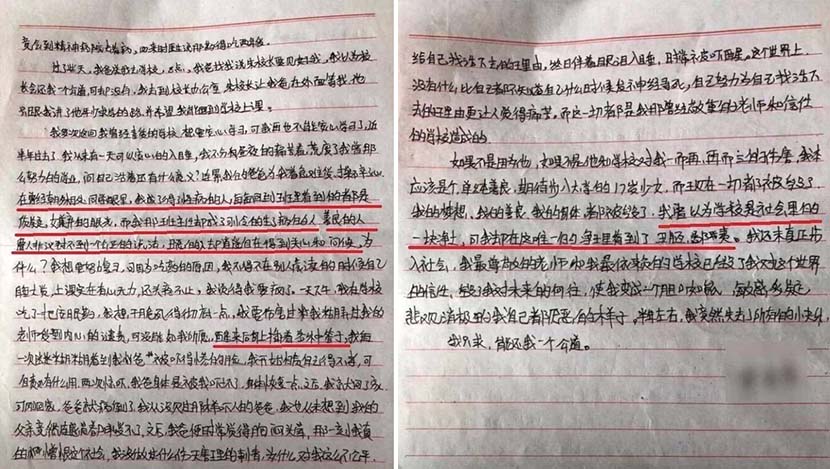 A letter believed to be written by the young woman who died on Thursday. From Weibo
In her letter, Li wrote that the incident had weighed heavily on her. She went to the school counsellor the following day, and Wu was told to apologize to her. The student then reported the case to local authorities, but Wu was released without charge after he told police that he was just doing a "physical examination" on Li to make sure she didn't have a fever.
On Wednesday, Li sat at the top of a tall building in Qingyang for a number of hours. Videos posted online show Li in the moments before her death, with a fireman holding her hands and around a hundred people gathered around the building. The people can be seen applauding, cheering, and screaming "jump already." One person is recorded saying: "See guys, she's been trying to jump from 1pm to 6pm. She's such a coward, a donkey can do better than that." In another video, people can be heard clapping as Li falls.
A number of Weibo users condemned the bystanders who cheered on Li's suicide. "No snowflake in an avalanche ever feels responsible," read one comment, which received over 500 likes. One of the most shared posts on Weibo about Li's suicide has now been reposted over 28,000 times, with over 51,000 people leaving comments. Users also left comments on the Weibo page of Gansu Qingyang People's Procuratorate, the public prosecutor, questioning their decision not to pursue the case. Many netizens expressed sympathy for both Li and the fireman, who can be heard screaming in despair as she falls.
A spokeswoman at Li's former high school, Qingyang No.6 Middle School, refused to comment although she told Sixth Tone the school had never employed a teacher named Wu Yonghou. Gansu Qingyang People's Procuratorate's spokesman told Sixth Tone they would not be commenting before a press conference held on Tuesday.
Correction: This story has been updated to reflect that Li died on Wednesday, not Thursday as previously stated. 
In China, the Beijing Suicide Research and Prevention Center can be reached for free at 800-810-1117 or 010-82951332. A fuller list of prevention services by country can be found here.
Editor: Julia Hollingsworth.
(Image: Huang Lijian/VCG)