Hapless lovers in China don't have to rely on their natural charm — they can now turn around their luck with spells from online shopping sites.
In addition to groceries, clothes, and electronics, China's online shoppers can purchase customizable charms, according to a report Sunday from national broadcaster China National Radio 1. Vendors claim their spells can destroy a marriage, boost a buyer's odds in gambling, dispel mistresses, or even push up stock prices on the share market.
The charms are derived from a Taoist ritual, where believers write down notes asking for good fortune. The notes are then either burned or glued to the wall of their house as a symbolic way of transmitting the request to supernatural powers.
But the report — and Sixth Tone's research — suggest the charms sold online appear to have little to do with tradition. In an audio recording played on the show, a male vendor boasted: "Those hand-painted notes are all lies — no Taoists [were involved], we drew all the charms ourselves." The man added that no decent Taoists would sell such goods online.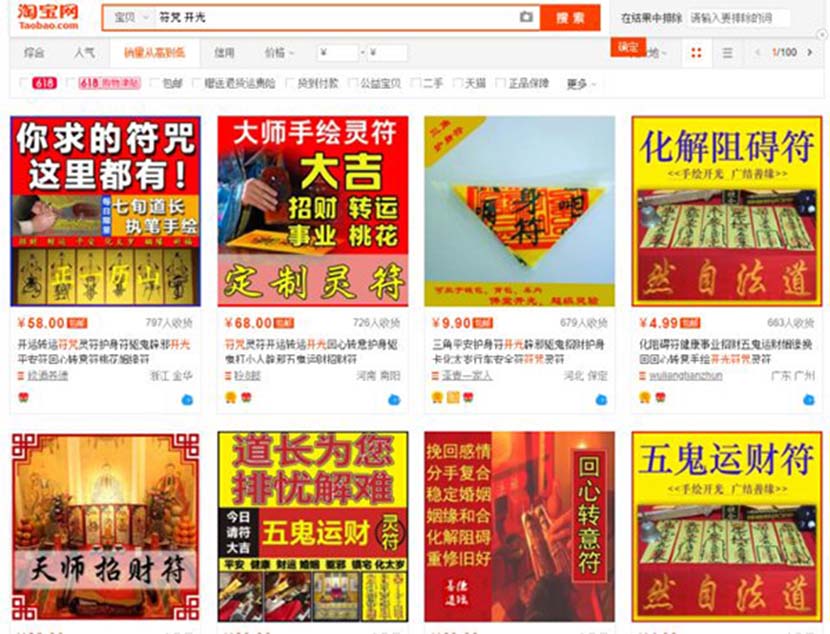 A screenshot of Taobao shows the variety of spells and charms on offer.
During a search of e-commerce giants Taobao and JD.com on Monday, Sixth Tone found thousands of vendors selling handwritten Taoist incantations, with some claiming their wares had been blessed by eminent monks. The notes are priced between 2 and 38,000 yuan ($0.30 to $5,800), although no customers had purchased the priciest notes.
Posing as a potential customer, Sixth Tone asked a Taobao vendor for charms that prevent those with a wandering eye from cheating. The vendor of the highly rated store, which has been on Taobao for five years, recommended a love charm package with a series of incantations promising to make a target lovesick for the user. The vendor asked Sixth Tone to provide the names of both people in the couple, their genders, and birth dates in both Western and Chinese lunar calendars.
The vendor also claimed they were located in Dragon and Tiger Mountain in eastern Jiangxi province — a place famous for the local Taoist temple Tianshifu and as one of the birthplaces of Taoism. But Lu Guoping, who works at Tianshifu Temple, told Sixth Tone that the temple is not affiliated in any way with the Taobao vendor. "People should not trust them" he said, reiterating the first vendor's sentiment that no legitimate Taoism group would sell charms online.
According to Chinese regulations, religious leaders must be recognized by the relevant religious group and register with State Administration for Religious Affairs before they can undertake religious activities. If people pose as official leaders but are unregistered, they could face a fine of up to 10,000 yuan or criminal charges.
Despite warnings from sellers and Taoists alike, buyers appear to be convinced by their purchases. "My husband gently and tenderly chatted with me last night, I am stunned," commented one person purporting to be a customer on the anti-cheating charm's review page, adding that she thought it had worked extremely well. "My husband has been really good recently, he comes home every day to keep me company," said another buyer who appeared to have used the charm.
Editor: Julia Hollingsworth.
(Header image: A pair of spell dolls are seen being sold on Taobao, Aug. 26, 2014. IC)