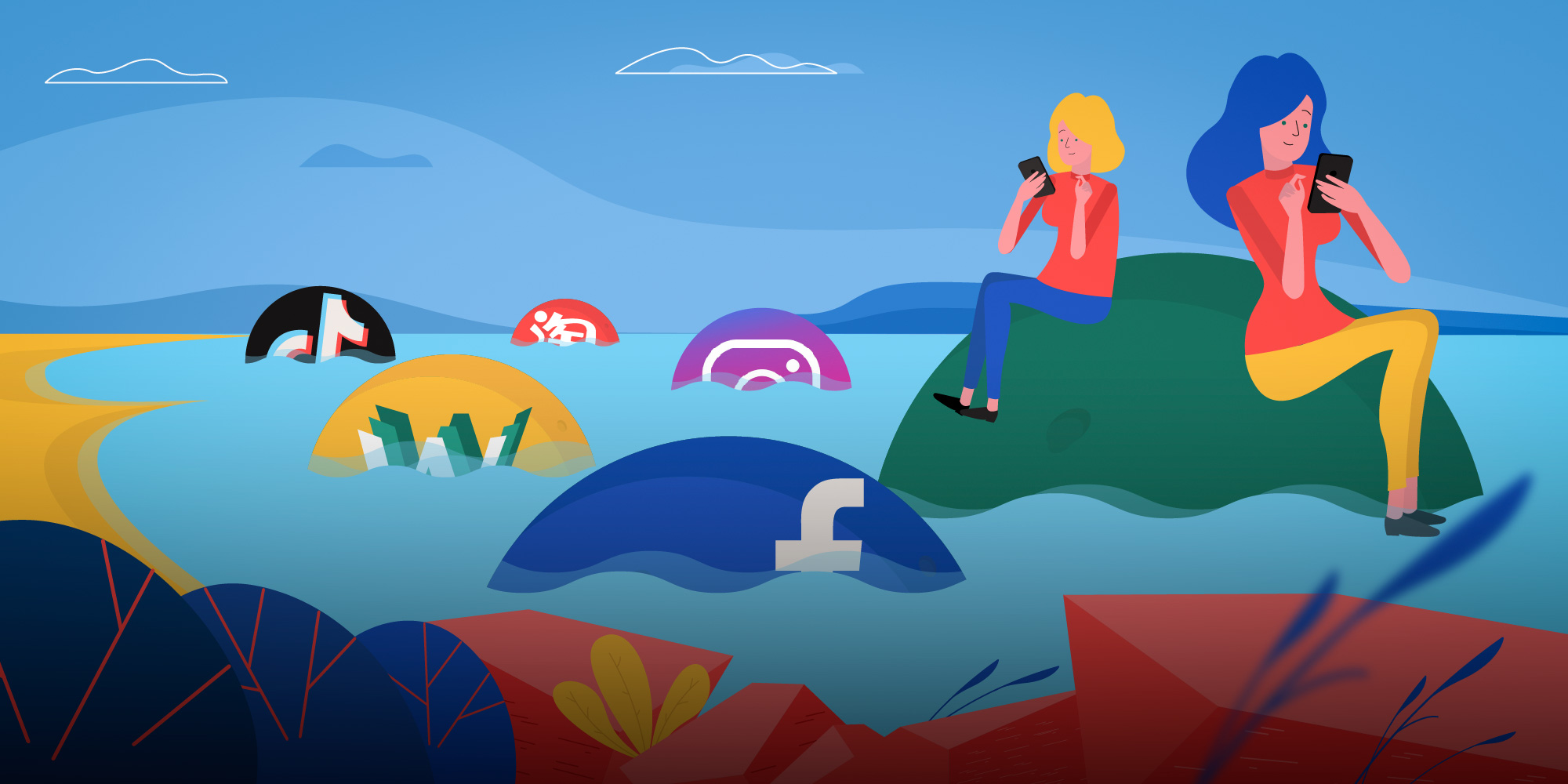 FEATURES
Outside the Green Bubble of China's Super-App
China's must-have social media app WeChat has endless functionality — but its downsides are pushing some people to quit.
In China, you can call a cab, get bubble tea delivered to your door, and even apply to get divorced all on the same social media app: WeChat. But that's not enough to win over Shanghai lawyer Zhu.
In the seven years since WeChat was released by internet giant Tencent, it has seeped into almost every aspect of daily Chinese life, and now boasts over 1 billion monthly users worldwide — just short of the size of China's total population. Zhu is one in a small minority of smartphone users who has never tried it.
"I hope to create more of a challenge when the government tries to map our big data," 36-year-old Zhu, who did not want to give her real name for privacy reasons, tells Sixth Tone. The WeChat-objector lives the life of a Luddite, without e-commerce giant Alibaba's mobile payment app Alipay or ride-hailing app Didi, which both require registration using a phone number tied to the user's ID. "I know my data will be collected somehow in the end, but I just want to have more dignity," she says, linking her heightened concern for privacy to her legal education.
But as WeChat grows ever more ubiquitous and indispensable in everyday life, there's a cost to the few who opt not to use it — far beyond the party invites and memes they might miss out on were they to quit one of WeChat's overseas counterparts, like Facebook. For Chinese, life without WeChat can mean being hamstrung both at work and in daily life.
Every time Zhu gets a new client, she has to warn them about her lifestyle choice — otherwise they would expect to contact her through WeChat. When she travelled abroad with her colleagues in the spring, the others could easily contact each other on WeChat using the available WiFi, but if they wanted to get hold of her, they had to shell out extra to call or text, she recalls with guilt. Her parents don't understand her choice and have tried to persuade her to get on the ever-present app.
Zhu's data fears aren't entirely unfounded: China's new cybersecurity law, which came into effect a year ago, requires tech companies to store internet logs of when and where users accessed their servers for at least six months, to aid law enforcement. Experts say "internet logs" don't include the contents of the messages themselves, but that didn't prevent an outcry in January when the chairman of Chinese car giant Geely said Tencent founder Pony Ma "must be watching our messages on WeChat every single day." Tencent, meanwhile, has denied that it stores or analyzes users' conversations on the platform, although its privacy policy notes that it may share users' personal information if requested by the authorities. Citizen Lab, a research group from the University of Toronto, says it has found evidence of the app silencing content.
Another WeChat-eschewer who works as a product manager at a state-owned internet company has ditched the app in favor of Telegram, an encrypted messaging app that requires a VPN — or virtual private network — to scale China's Great Firewall. The man, who is in his 30s, is so concerned about privacy that he asked to be anonymous and instead go by the random, unique code 3MzYWI5bTcxaTM that allows him to track his quotes. He tried WeChat for a week back in 2011, before it was officially released, but promptly uninstalled it. He compares the mini-ecosystem created within WeChat to "The Matrix" — the 1999 sci-fi movie in which humans are imprisoned inside of a simulated reality — and says that those who don't use WeChat are like inhabitants of "Zion," the only city with a small population of Matrix-rejectors.
He believes that a growing number of people in China are now becoming wary of sharing too much data with one app. There's evidence that this could be the case: In March, search giant Baidu's CEO Robin Li sparked public anger with his comments that Chinese people are often willing to trade their privacy for convenience, safety, and efficiency.
In addition to privacy, the product manager is also bothered by the way the ever-more-powerful WeChat controls what information users see. In March, WeChat blocked links from popular video-sharing app Douyin, and later made it temporarily impossible to share links to more than 30 video-sharing apps; it also blocked links from Tencent's competitors, including e-commerce giant Alibaba and news aggregator Jinri Toutiao. "WeChat tries to keep all the users there by design — it provides seemingly well-rounded services," he says. "But actually [WeChat] forces users to give up services from competitors."
For him, living without WeChat hasn't been too much of a struggle: Many of his friends in the tech world gave up WeChat four or five years ago, and unlike many Chinese workplaces that rely on WeChat for intra-office discussions, WeChat can't be used for his work due to the state-owned company's confidentiality policy — employees must use the company's own messaging software instead. Nevertheless, he's run into other unexpected headaches. When he travelled to the southwestern city of Chongqing during this year's Spring Festival, he found himself at a milk tea shop that only accepted WeChat payment, refusing credit cards, other forms of mobile payment like Alibaba's Alipay, and even cash, despite the law stating that shops must still accept it. In the end, he gave up and walked away.
Complaints about WeChat aren't new, but as the app expands its territory, there have been few real-life effects. In 2016, influential Chinese tech blogger Lawrence Li announced that he would be deleting WeChat, slamming it as a place where "childish, anti-intellectual, vulgar, and boring content prevail." He also criticized it for not allowing official accounts to link to websites not owned by Tencent, effectively shutting off the web for WeChat users. "[It] fundamentally dismembers the web and tacitly encourages copyright infringements — if one can't link to the web, one will have to duplicate the web," Li wrote. He followed that up with an open letter last year, urging scholars to ditch WeChat and Weibo, and instead move to Telegram and Twitter.
Li lives in Japan, where a WeChat-free existence is easier, but he insists that his new location isn't the main reason behind his decision: Many overseas Chinese still use the app to replicate their online lifestyles back home, he tells Sixth Tone. Li doesn't bother trying to persuade others to follow suit these days: He understands that WeChat is omnipresent in China. None of Li's family or close friends have quit WeChat, but he communicates with his parents — who are still in China — through iMessage and WhatsApp.
Other Chinese tech products may have similar problems, but Li believes WeChat is the only Chinese app so powerful that it feels indispensable. "WeChat is a communication, media, and publishing tool that penetrates Chinese society so deeply that it's not just about convenience," he wrote in his "Bye-Bye WeChat" announcement more than two years ago. "It shapes our minds and cultural lives."
Matthew Brennan — co-founder of consultancy China Channel, which provides insight into WeChat for foreign firms — agrees that WeChat is "pretty much unavoidable" for anyone who wants to function normally in Chinese society. He cites the case of Alibaba founder Jack Ma, who famously announced in 2013 that he would be quitting WeChat and launching the company's own messaging app. The app turned out to be a total failure, and Ma ended up reluctantly admitting in a livestreamed interview last year that he was back to using his competitor. "Even if you hate it as much as Jack Ma does, you have to use WeChat," Brennan tells Sixth Tone.
Many people get their information from WeChat, but not everything is readily available: Sensitive images and keywords shared on the app are sometimes silenced by the government. Beginning in 2013, provocative online discussions on microblogging platform Weibo started to be extinguished, moving instead to WeChat — which was originally used for casual chats among small circles of friends.
Lokman Tsui, assistant professor at Chinese University of Hong Kong's school of journalism and communication, says that WeChat is increasingly using keyword filtering, and its ability to spot sensitive images is improving. "Over the years, WeChat's surveillance is getting more sophisticated, more pervasive and extensive," he tells Sixth Tone. But Tsui believes — arguably somewhat idealistically — that Tencent is big enough that it doesn't have to take censorship lying down. "They are the dominant player now, with bargaining power that smaller companies don't have," Tsui says.
And there's a bigger risk than messages not going through: Comments in chat groups that insult the authorities, or even those who died during significant events, can lead to police detention.
Legally, Chinese social platforms are also more vulnerable. Tsui adds that while Chinese tech companies are directly responsible and liable for the content that they host, their Western counterparts are not — other than for copyright infringements. "If users upload a hate speech video on Twitter, you can sue the user, but not the company," says Tsui.
Tencent declined Sixth Tone's request for comment, but the Tencent Research Institute itself has previously delved into the issue of whether or not using WeChat makes people happy. In an experiment with 85 participants last year called "WeChat fasting," testers were required to spend just half an hour on the app each day for 15 days — significantly less than the 107 minutes an average user spends on it each day. The experiment found that the subjects were less negative and more concentrated while working or studying, as they were less socially fatigued and overloaded with information. The research recommended that the app's users be more efficient with how they spend time on WeChat.
Even for those who agree with the WeChat naysayers, actually quitting the app can be a step too far. In February, as independent journalist Jiang Xue tried to open her WeChat account, she saw a message telling her that access was permanently restricted because she had spread content that violated regulations. Two days before that, she'd reposted articles criticizing proposed political changes in China.  
One of Jiang's friends suggested she give up WeChat, telling her to stop "rolling in the pigsty." But Jiang can't let it go. "You immediately lose all your contacts; it's not realistic to quit completely," she tells Sixth Tone. "But after that, I began using WeChat less frequently, more cautiously, and made more phone calls instead."
It wasn't her first run-in: Her public WeChat accounts had already been blocked three times. Many Chinese intellectuals share her predicament: They're unhappy with the self-censorship needed to survive within China's internet ecosystem, but also don't want to give up on their readers who need the information most.
In her article, Jiang sums up the predicament. "I'm just one of the information refugees on the Chinese internet, who struggle, hesitate, and wonder about the ultimate question: What if nothing ever changes?"
Editor: Julia Hollingsworth.
(Header image: Liu Zheng for Sixth Tone)