ZHEJIANG, East China — Four years ago, Peng Yusi was a nondescript Beijing drifter who waited tables and sold gloves under a foot bridge to get by. Now he's a star, with over 40 major movie roles under his belt.
But there's a catch: None of them have ever been shown in the cinema.
Instead Peng — who's best known as the zombie-fighting, ghost-busting sorcerer Yin Shisan in the first two films of the "Monk Comes Off the Mountain" series — has turned the internet into his stage. The first film, which shares its name with the series, had a puny 280,000-yuan (then $45,100) budget and was filmed over the course of a week. Nevertheless, it became an online hit when it was released in 2015, raking in 24 million yuan over the course of four months from users who pay per video.
Peng Yusi, an actor, rose to fame through online big movies. By Shi Yangkun and Liu Jingwen/Sixth Tone
The series is an example of "online big movies," a term coined in 2014 which refers to movies exclusively shown on video streaming sites — similar to Netflix- or Hulu-produced films in the United States. The market size has grown from 1 billion yuan in 2016, to an estimated 3 billion yuan this year, according to data published by video streaming site iQIYI. As online movies tend to be cheaper to make than traditional blockbusters, they've become a paradise for both profit-seeking opportunists and relatively inexperienced directors who are able to experiment with rookie actors and banned genres that might not normally make it onto the silver screen.
Peng believes that his stardom is a lucky coincidence. Born as Peng Qiang to a working-class family in northwestern Gansu province, Peng never had any professional theater training. He graduated from a vocational school, and worked first on a factory assembly line, then in an internet café.
In 2010, after two years at the cybercafé, Peng met a girl who changed his life. She was an aspiring actress, and before he knew it he was following her to Beijing to pursue an acting career against his parents' wishes. But when he arrived, reality hit. He didn't have any influential industry connections and struggled to land even the occasional role as an extra. Housing was expensive, and he found himself experiencing what millions of migrant workers face: living in a basement and flitting between odd jobs. In 2013, he changed his name to Peng Yusi after a fortuneteller told him it might bring him better luck.
It just might have worked.
But Peng credits his lucky break to director Zhang Tao, who in turn has a lot for which to thank online movies. Filmmaking had long been Zhang's dream, but he repressed it, believing it would be impossible for a layman like him to achieve. In 2014, Zhang — who now owns several media companies — spotted a hole in the market for zombie feature films and decided to direct his debut online film, "Monk Comes Off the Mountain." While casting, he stumbled upon Peng's acting portfolio and was taken with Peng's everyman look, opting to hire him for the role of Yin over a more traditionally attractive heartthrob.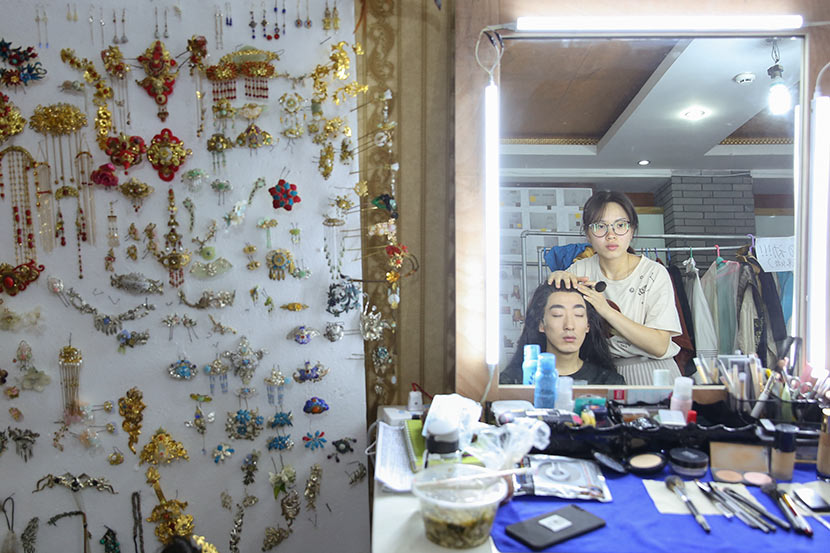 A makeup artist powders Peng Yusi's face at a dressing room in Hengdian Town, Zhejiang province, May 26, 2018. Shi Yangkun/Sixth Tone
Zhang and a few of his friends raised a total of 280,000 yuan and called in favors for the things they couldn't afford, such as renting a fire engine and a school stadium. "To be honest, 280,000 yuan is not even enough for lunchboxes for a normal movie crew," Zhang tells Sixth Tone. "[It felt like] we were crossing the river by feeling the stones," he added.
Despite the film's cash crunch, it was still a good time for the emerging online film industry, which was able to show things that are often not allowed to be shown in cinemas. Anything shown in Chinese theatres needs official approval: Producers must submit an application before shooting, and the final product needs to be signed off. Because China currently does not have a film classification system, regulators cut content that they consider unfit for an all-ages audience — including violence, highly sexualized scenes, zombies, and vampires. Until July of last year, online movies had very little official oversight, and so producers took advantage of this competitive advantage. In 2016, financial publication Jiemian reported that movies with supernatural themes made up almost half of the overall online movie market.
"Monk Comes Off the Mountain" was no different — Peng's Yin helped the soul of an aborted baby get to heaven, saved a pretty girl who was being haunted by her dead friend's ghost, and also fought off zombies.
Peng embodied the character so well that he was soon flooded with similarly mystical roles. But he hasn't recited any incantations for a while, thanks to increased official scrutiny. In response to the growing online movie market, video platforms and the country's media regulator released stricter rules in June and July last year. Nowadays, online movies have to first gain approval from both the regulator and host platform before they can be screened, meaning that there is no more content on ghosts or superstitious practices. Last year, iQIYI refused 20 percent of online movies offered by studios, and took dozens of hit films offline, including those mimicking old Hong Kong gangster movies.
It's been a blow for online movies: According to Peng, the formerly lax rules about content were why movies like the "Monk Comes Off the Mountain" series were successful in the first place. "Back then [in 2014], a few decades had passed since a zombie picture was made," Peng says, adding that China wouldn't allow foreign productions about the undead to screen either. The lack of zombie films left the audience hungry for the genre, he says. "If they had but one taste, they would gobble it up with relish."
Online movie director Qin Xiangfei — who goes by his nickname Professor Qin — explains that the newborn industry often had to use salacious content to win over viewers. "The first bucket of gold in any industry is sinful," says Qin, "Without money, without high-quality talent, we have to use certain tricks, as well as more bloody and naked scenes, to attract viewers and survive."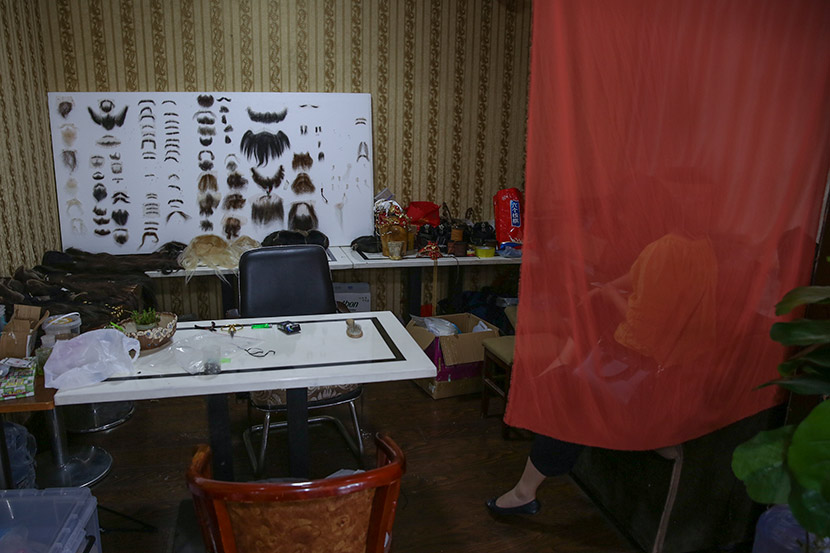 Inside a dressing room at a film set in Hengdian Town, Zhejiang province, May 26, 2018. Shi Yangkun/Sixth Tone
While traditional movies might take years to shoot, limited budgets mean online movies are under much tighter schedules, usually taking a week or two to film, during which the crew often works until midnight. Last month, Qin worked on a new martial arts movie starring Peng, which had to be completely wrapped up in 15 days. The crew worked almost 24 hours a day, seven days a week. "We are like workers in a Foxconn factory," he says, comparing his working conditions with an iPhone factory accused of harsh working conditions. "As a result, the films lack creativity, just like a process on an assembly line." The tight filming schedule for online movies contributes to their low quality, Qin says, adding that he hopes both the content — and the schedules that put them under such enormous time pressure — will improve as online movies get more investment.
Now that online movies are subject to the same government oversight as feature films, they have less of a competitive edge and may struggle to compete with big-budget flicks. The changes over the past year have seen many small-time production houses driven out of the game, Qin says. Online movies are often criticized for being of lower quality than their blockbuster counterparts — unsurprising considering their short shooting schedules, low budgets, hasty post-production, and sometimes weak plots. On review sites, some viewers have slammed online films for their substandard quality and tendency to steal names and branding from well-established blockbusters. In one movie poster for "Monk Comes Off the Mountain," for example, there's even a look-alike of Marvel's most popular hero, Iron Man.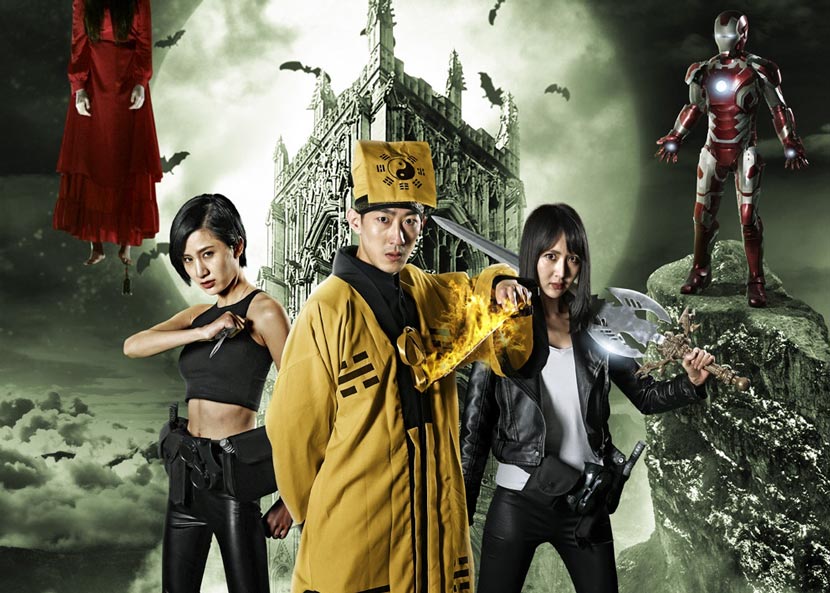 A promotional image for the film 'Monk Comes Off the Mountain II,' featuring an Iron Man lookalike in the top right corner. From the film's page on Douban
While traditional filmmaker and professor at Beijing Film Academy Wang Hongwei also recognized the need to make a profit, he still tried to warn the online movie industry not to get too carried away by monetary success. "No matter whether they're online platforms or young directors, they need to stay alert so as not to be seduced by the current statistics," he said at an industry conference held by iQIYI.
The new rules have already made changes in the fledgling industry, with some films graduating to bigger-budget productions while some smaller-budget flicks are no longer competitive enough to survive. For Zhang Tao, he has moved away from cheap productions. His latest directorial works — one fantasy and one action-packed movie — cost eight and ten million yuan to shoot, respectively.
As a pioneer of online big movies, Zhang remains optimistic about the industry: It's still developing, and will eventually reach a Hollywood standard, he says. Zhang sees the silver lining of the increased official input — he thinks it's a sign that the industry has become big enough to be noticed by the authorities. "You can't let the masses and opportunists with bad aims disrupt the market," says Zhang, claiming that he has always been aware that his creations can't cross the line.
Oscar-winning Taiwanese director Ang Lee is Zhang's role model, but Zhang also believes that movies should be a commodity first and an artistic work second. People are often impressed by how he has managed to earn so much from his films, despite creating the film on a shoestring. He hopes that this can show kindred spirits — whether they're fresh graduates or Beijing drifters — that working on a film isn't just a pipe dream. "Many youngsters with a movie dream like I had [now] have a goal to strive for," he says. "They see the light."
For Peng, the online big movie industry has been a great shortcut to stardom. Despite his humility, his paychecks show that he's already become reasonably successful: His current income is higher than most online movie actors', at a few million yuan per year.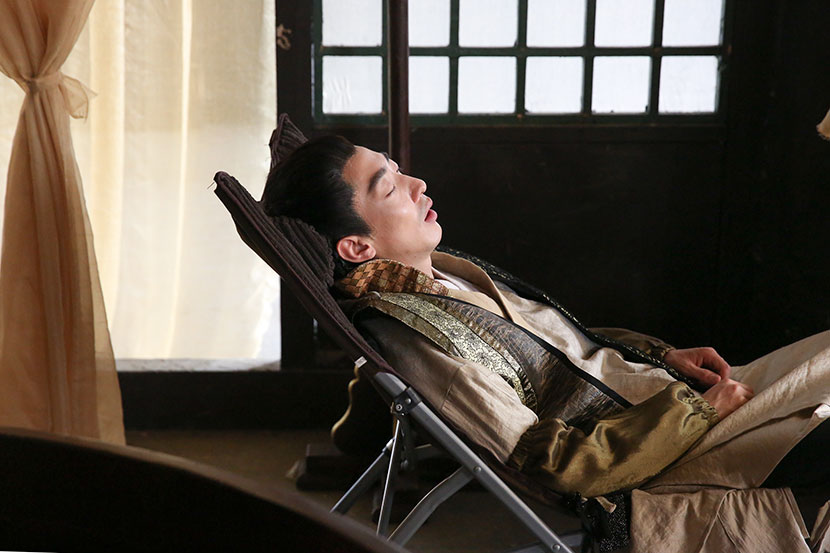 Peng Yusi takes a nap at a film set in Hengdian Town, Zhejiang province, May 26, 2018. Shi Yangkun/Sixth Tone
But such highs have come at a price. Peng's lost count of how many films he shot last year, but estimates that it was at least 12, meaning that he had barely any time to relax. Peng has cut down on roles in a bid to level-up into big-budget productions with more challenging genres to hone his acting skills, although he's yet to score a big part on television or in traditional box office movies. "I would rather be a chicken head than a phoenix tail," he says, explaining how he would prefer a main role in a small-time film over a smaller part in a major hit. The busy schedule has already taken a toll on his health — he now takes traditional Chinese medicine three times a day after meals. "It's the medicine that holds me together," Peng jokes, trying to sound careless.
Ultimately, says Peng, the industry has fundamentally changed, thanks to the year-old rules and oversight, but it still provides an easier route for rookie actors to get on screen. The industry is more cautious, meaning fans of supernatural movies might not be able to get what they've waited so long for. "The good side is that [the government] has started to recognize and standardize the industry. The bad side is that creations are restricted," says the former onscreen fighter. "Anything is a double-edged sword."
Editor: Julia Hollingsworth.
(Header image: Peng Yusi (right) takes a break at a film set in Hengdian Town, Zhejiang province, May 26, 2018. Shi Yangkun/Sixth Tone)