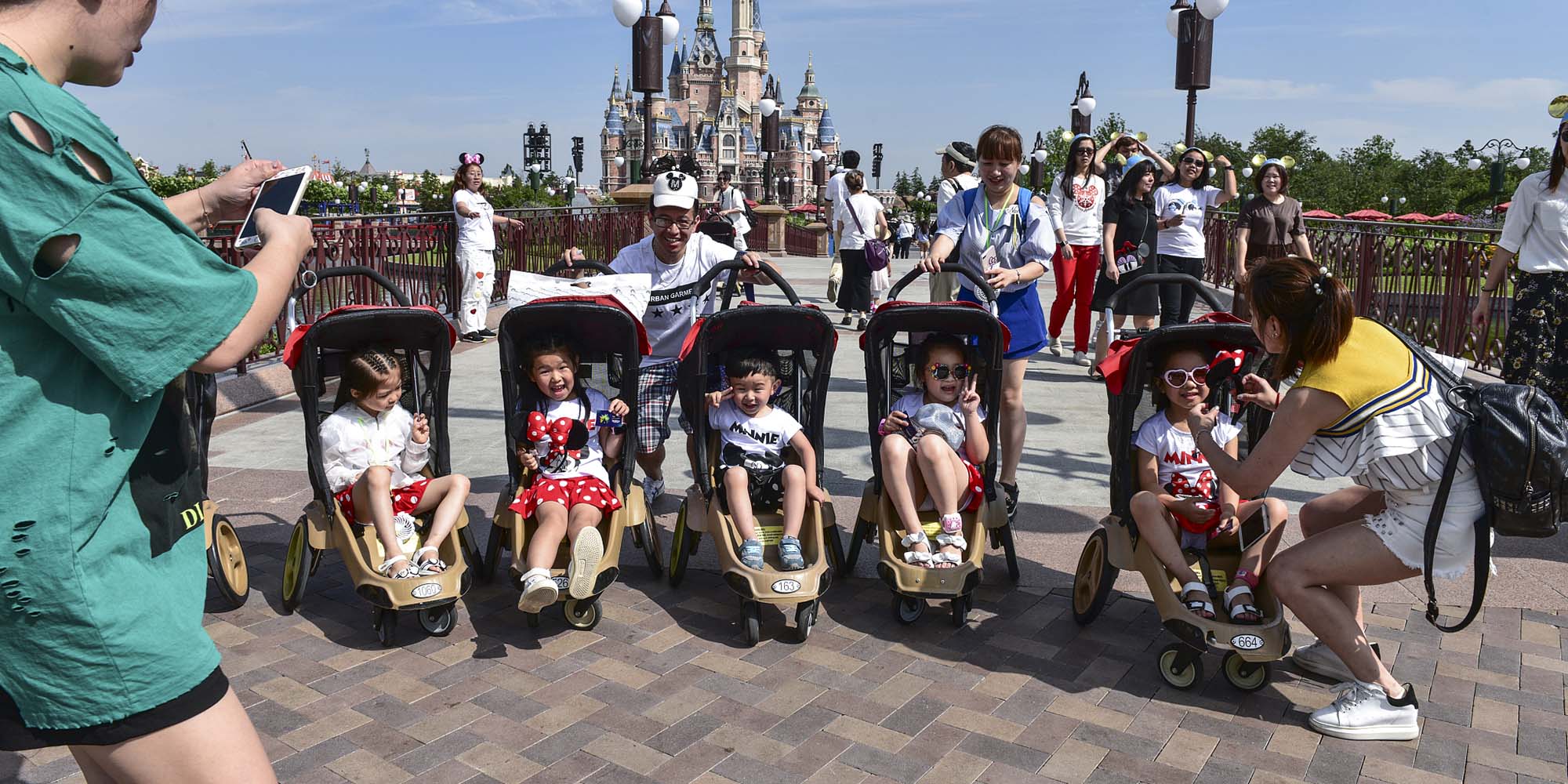 NEWS
Dad Sues Shanghai Disney Over Child Discount
Guangdong judge asks court to decide if child prices should be based on age or height.
Disneyland might be the happiest place on earth, but it's managed to get on the wrong side of one Chinese father.
Liu Demin, a judge who hails from the southern province of Guangdong, is suing Shanghai International Theme Park Company Limited, a co-owner of Shanghai Disney Resort, after the park refused to issue a child pass to his 10-year-old child, China Youth Daily reported Friday.
In January of this year, Liu and his friend took their children to Shanghai Disney. Liu had purchased a parent-child package priced at 499 yuan ($77) online. Although the children were aged 10 and 9, both parents were told their kids didn't qualify for discounted child passes, and that they would need to purchase full-price tickets instead.
According to the theme park's rules, children must be between 100 and 140 centimeters to qualify for a discounted pass. Adult tickets are priced at 399 yuan, while child tickets are 299 yuan — though during public holidays, they increase to 575 yuan and 431 yuan, respectively.
Liu and his friend both bought adult tickets for their children but were upset by the park's arbitrary rules. Liu told Beijing Youth Daily that the benchmark should be replaced by fairer standards, like those used in other parks, and he questioned whether child tickets should be sold only to children or to anyone below 1.4 meters tall. Disney parks in Hong Kong, Tokyo, Paris, and the United States all use age rather than height as a standard for selling child tickets. At Hong Kong Disneyland, for example, child tickets can be purchased for those aged between 3 and 11.
"The standard for Shanghai Disney's child tickets is very unreasonable, and it's obviously not treating Chinese children equally compared with those in other places," Liu told the newspaper.
Sixth Tone contacted Shanghai Disney Resort for comment but had not received a reply by time of publication. Liu is still waiting for a hearing date at Shanghai Pudong People's Court, according to China Youth Daily.
In China, public transport, theaters, and tourist attractions commonly use height as a benchmark for determining eligibility for child tickets. The national standard for railway tickets, for example, regulates that children above 1.5 meters have to buy full-fare tickets, while those between 1.2 and 1.5 meters qualify for child tickets.
But not everyone agrees with this method. An online survey in March showed that 56.7 percent out of 1,969 parents who responded said using height as a standard for child tickets was unreasonable. Over one-third said they had argued with staff over child ticket fees, and over half believed age was a fairer benchmark.
A National People's Congress representative had previously proposed that the government standardize child tickets, pointing out that 5-year-olds were usually 1.1 meters or higher, Sixth Tone's sister publication The Paper reported in March.
Some places, at least, have already begun to adjust their standards. In May, state-owned China National Radio reported that 16 tourist attractions in central China's Henan province had adopted a trial fee-waiver policy for children. For instance, people who can prove they're under 18 can enter the Yuntai Mountain tourist site for free from June 1 to Aug. 31.
Editor: Julia Hollingsworth.
(Header image: Children smile for photos at the Shanghai Disney Resort, June 16, 2017. VCG)