HUBEI, Central China — As Su Lijun weaves his way through the bright, cavernous factory, rows of female workers dressed in hooded uniforms are prying apart one crawfish after another. The freshly boiled crustaceans become red blurs as the workers manipulate them with tweezers and gloved hands. The entire process — from breaking off the head and removing the shell to deveining and rinsing — takes no longer than five seconds.
The 1,500 workers peel their way through 80 tons of crawfish on an average 10-hour workday. Su, 41, is in charge of several such production lines, and his company, Qianjiang Laker Seafood Co. Ltd., is just one of many in Qianjiang's burgeoning crawfish industry — the third-largest in the country and the pride of the small city.
Every year in April, thousands of workers flock to China's largest crawfish factory. By Liu Jingwen/Sixth Tone
It's been quite a turnaround for the humble crawfish. They were first discovered in the area's rice paddies in 1988, and were seen as invasive pests that gnawed on rice stalks, preyed on other aquatic animals, and destabilized embankments. The species — the Louisiana crawfish — is not indigenous, having been introduced to China by the Japanese in the 1930s. But they felt right at home in the humid Hubei climate. "When I was in fifth grade, my classmates and I would go down to the paddies to catch crawfish after school," Su recalls. "I'd take them back home and pull their heads off, and then my mother would fry them up for dinner."
It wasn't long before the animal's tender and easy-to-prepare meat became a popular local delicacy and a lucrative business opportunity. "Around 2001, some farmers from Qianjiang began to catch baby crawfish in natural ditches and sell them at the markets for about 20 cents [now worth $0.03] or so," Yang Yungang, vice president of the Qianjiang Fisheries Bureau, tells Sixth Tone. They'd release any unsold animals in their rice paddies during the offseason, he explained, and by the following spring, they would have more to catch — and thus an industry was born.
Whereas farmers used to alternate each season between growing rice and breeding crawfish in their paddies, a new method was invented in 2014 that allowed for simultaneous use. These days, all the Qianjiang crawfish paddies combined would take up half of Manhattan, and 93 percent of them now use this new method. In 2017, crawfish production in the city rose by about half from the year prior to 70,000 tons, according to the Ministry of Agriculture's 2018 crawfish industry development report.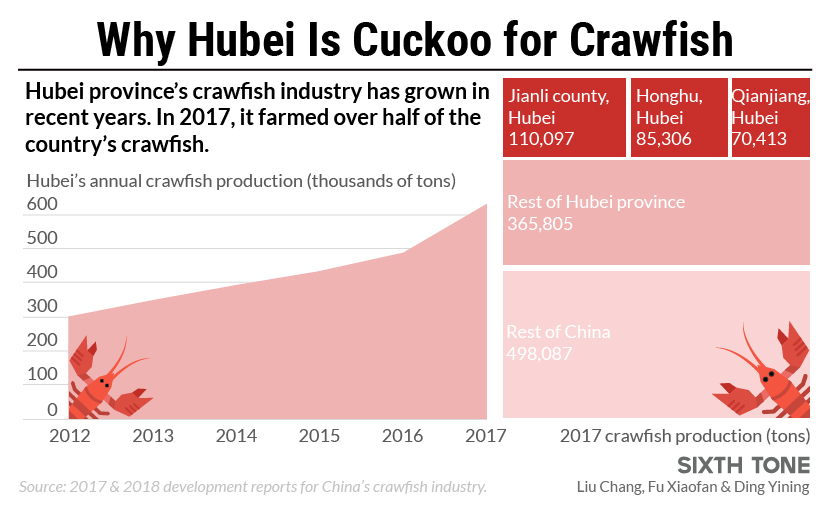 Ma Yulin, 64, has worked on crawfish farms for the last five years. The catching season lasts from February to May, and this is when Ma makes most of his 100,000 yuan annual salary. During the day, he tends to the ponds, making sure the water is clean and not overheated, and puts out crawfish cages. He wakes up in the middle of the night to empty the cages, and then in the early morning sells his catch to a nearby processing plant.
While much of the production is sent away to other parts of China and abroad, Qianjiang has gone to great lengths to become the go-to destination for a crawfish feast. Immense billboards with dancing cartoon crawfish loom over the expressway leading into the city. In mid-May, Qianjiang hosts an annual crawfish festival that includes opera performances, fishing competitions, and lots of eating. In the evening, restaurants set up countless plastic tables where revelers dive into pans of braised crawfish and copious amounts of beer.
In a new urban zone of Qianjiang, a 15-meter-high crawfish statue embraces the sky with its bright-red claws. The bizarre sight — which in 2015 earned the Guinness World Record for "Largest Statue of a Crustacean" — represents a new phase in the city's growth. According to promotional documents, Qianjiang is building an "Ecological Crawfish City" as a tourist attraction combining dining, education, and beautiful scenery.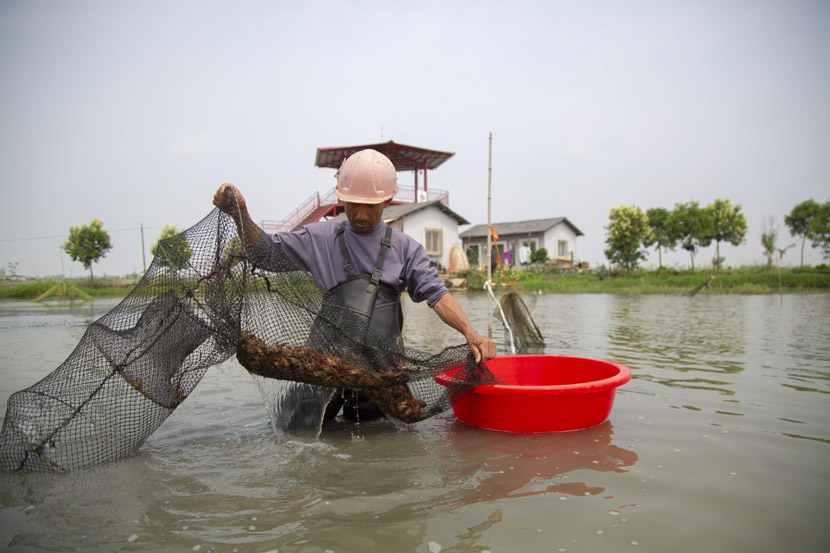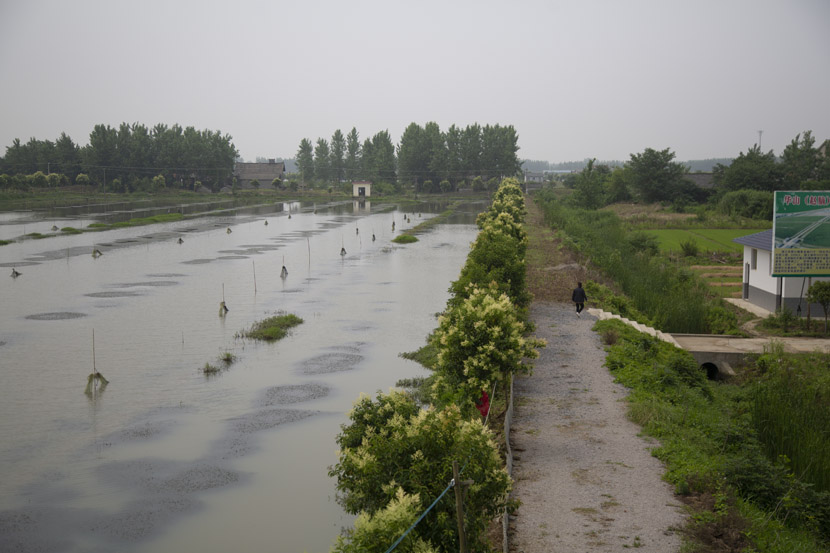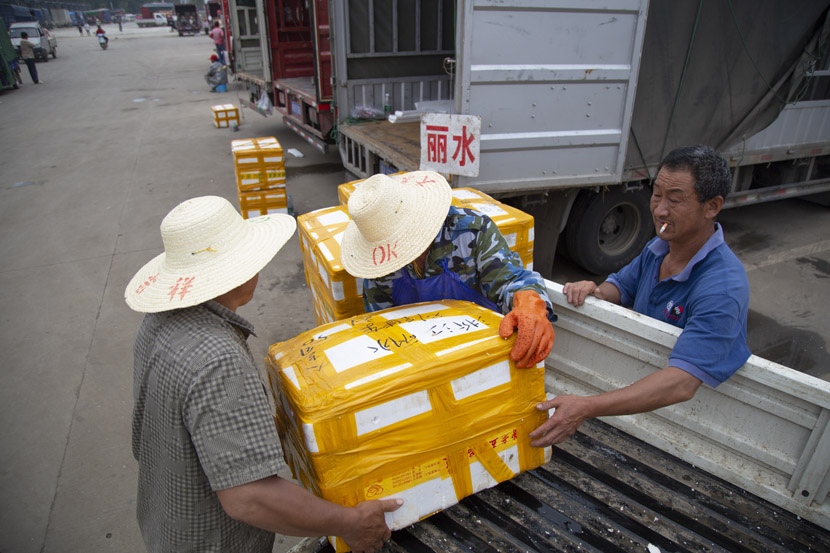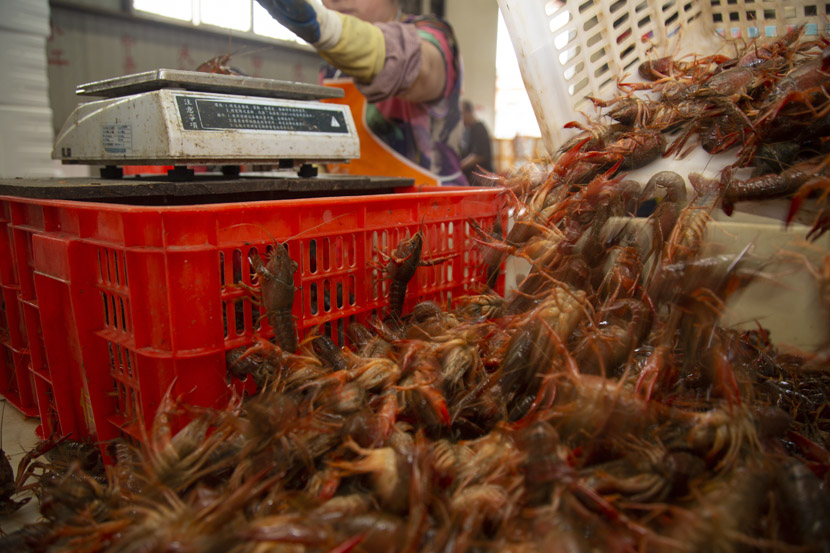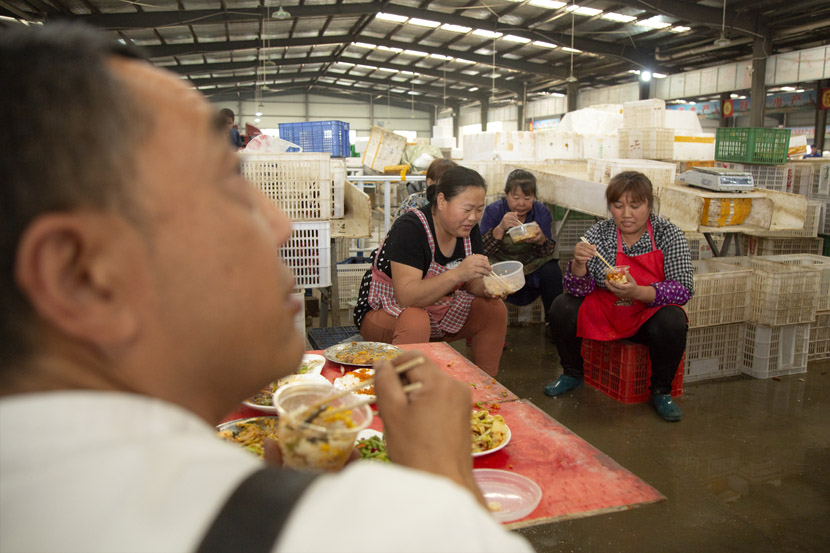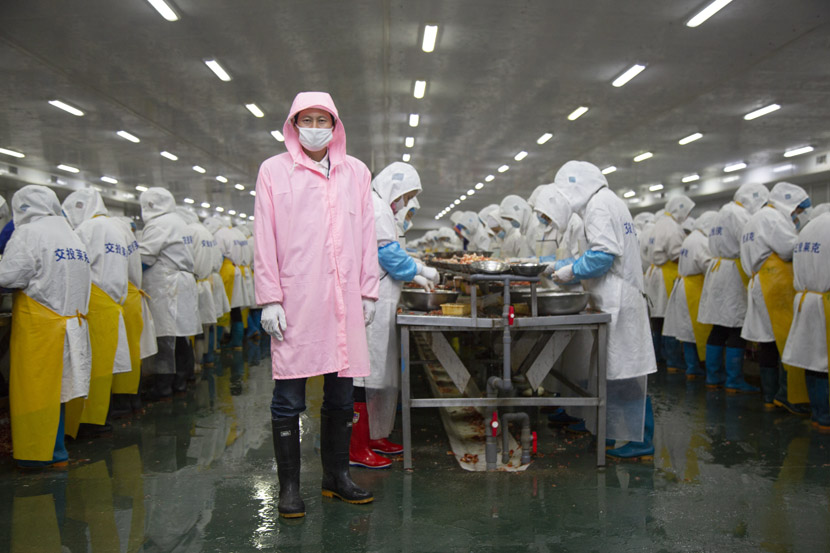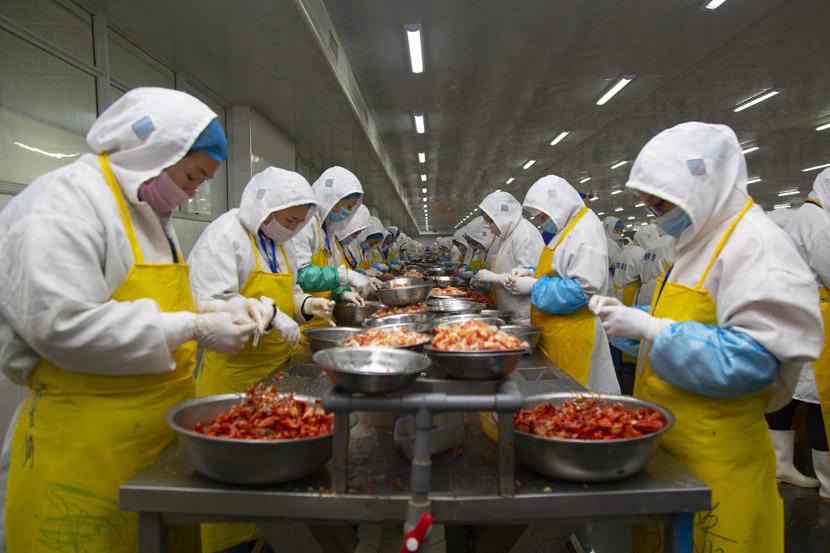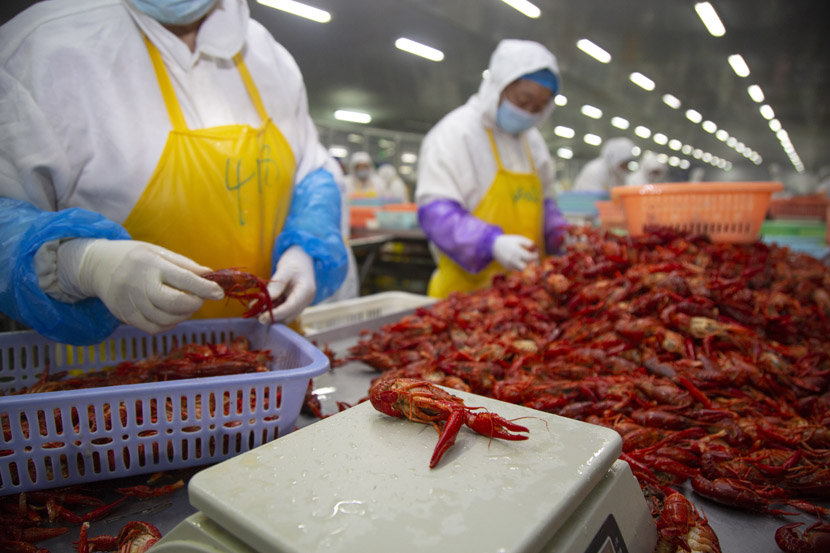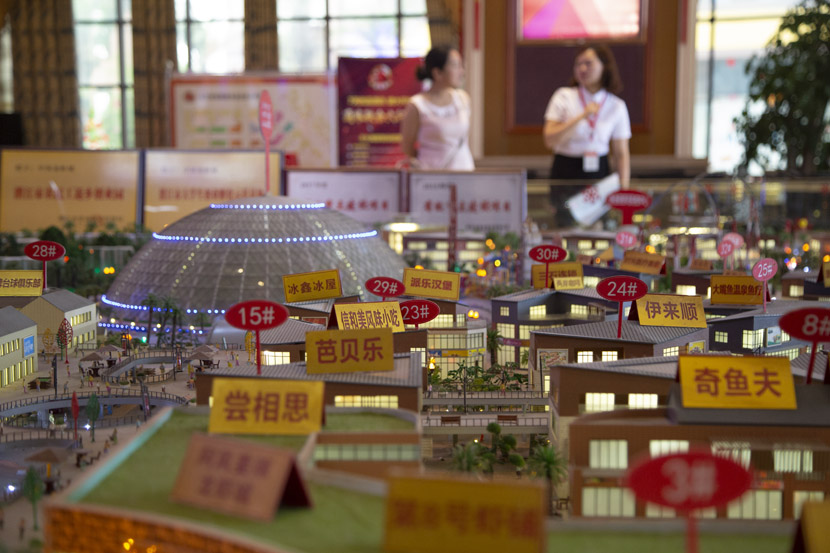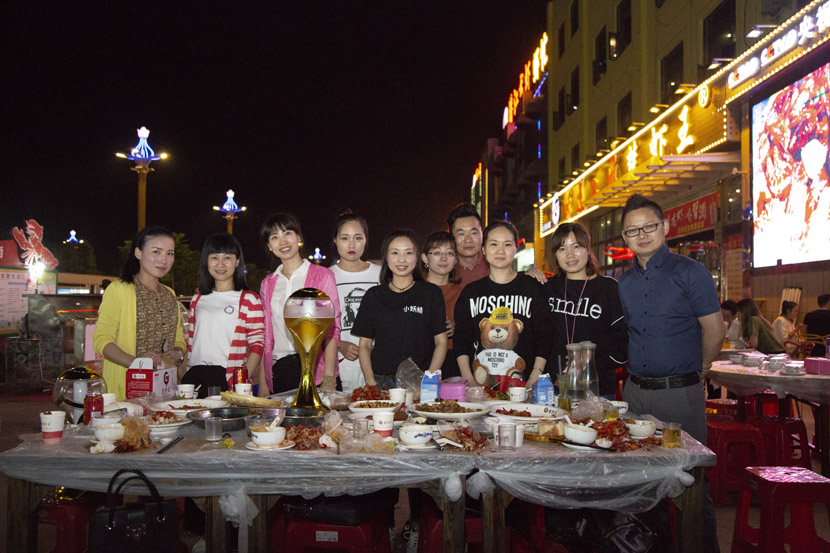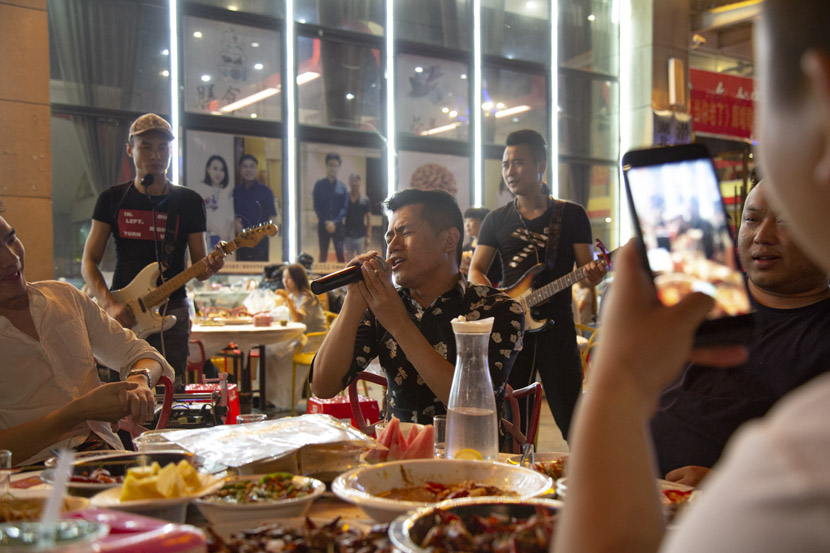 For now, most visitors go to a string of crawfish establishments colloquially known as "crawfish street." According to Xia Qin, who works at a place called "Taste Factory," the restaurant can sell up to 2,000 kilograms of crawfish — 300,000 yuan's worth — a day during the peak season, when visitors come from all over Hubei and beyond. In other months, they might only have a few customers at a time.
Dinnertime is a cacophony of restaurant employees calling out to customers, TVs advertising crawfish dishes, and entertainers like 28-year-old Lu Xiaosan and 23-year-old Lu Ahwei — both stage names — mingling with tourists. For 40 yuan, the men from neighboring Anhui province will sing any song, sometimes changing the lyrics for comedic effect. They dance around with their guitars as the intoxicated diners sing along. From April to July, the duo make Qianjiang's crawfish street their home — until the catch ends, the restaurants fall silent, the visitors leave, and everyone waits until next year.
Contributions: Liu Jingwen; translator: Lewis Wright; editors: Kevin Schoenmakers and Ding Yining.
(Header image: A view of the crawfish statue that in 2015 earned the Guinness World Record for 'Largest Statue of a Crustacean,' Qianjiang, Hubei province, May 23, 2018. Zong Chen for Sixth Tone)