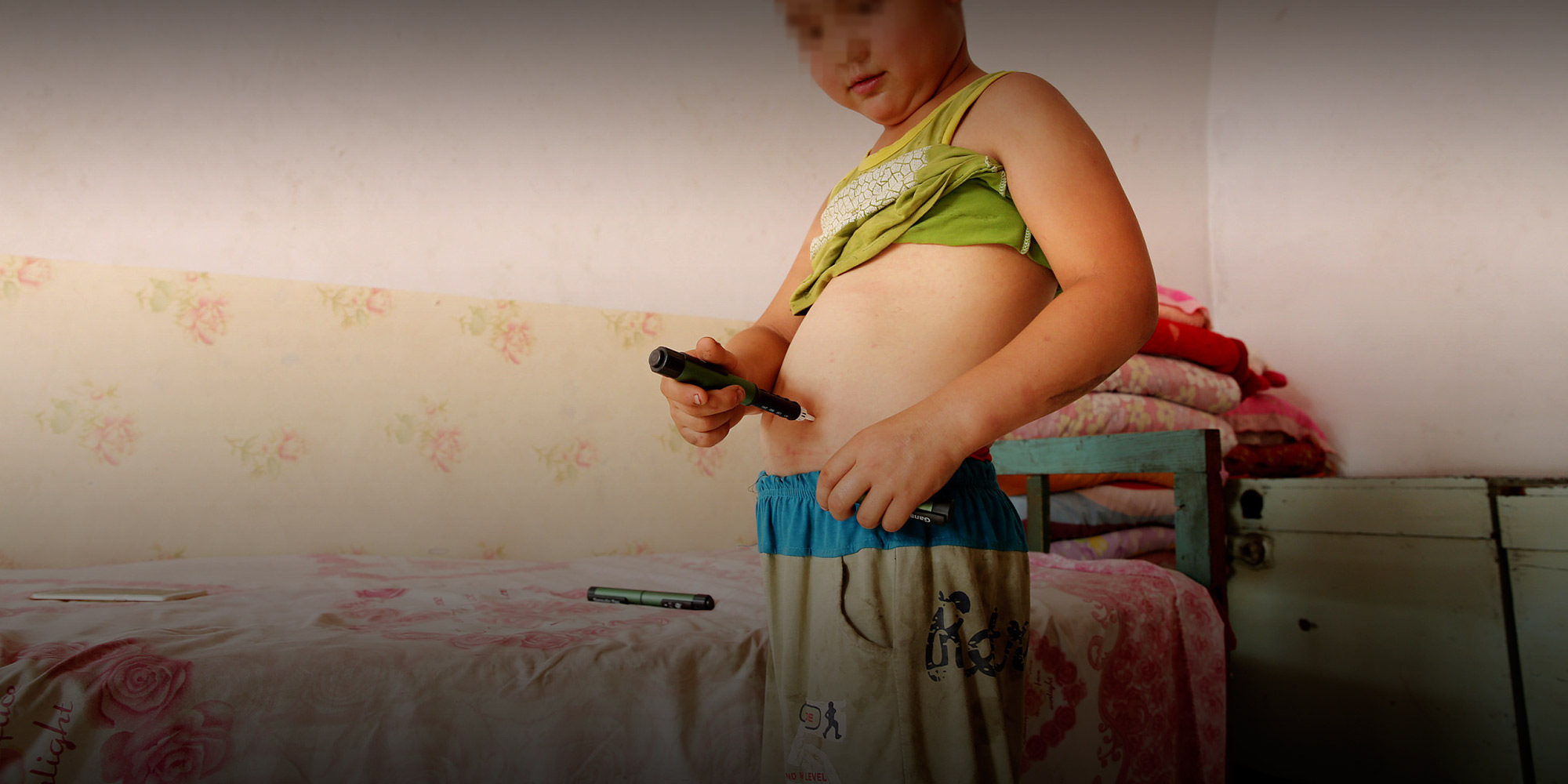 FEATURES
Worth a Shot: The Fraught Lives of China's Type 1 Diabetics
Chinese people with the rarer form of diabetes are all too familiar with poor health care and social discrimination.
GUANGDONG, South China — Zhong Jianhua is cheerful, talkative, and energetic. But when she's alone, she often feels depressed. In her hometown of Heyuan, most women her age are already married with children. Although the 29-year-old accountant was in a stable relationship for several years, she and her ex-boyfriend broke up in 2016. Zhong attributes their split to the disease she kept hidden for 17 years.
"When his family heard that I had Type 1 diabetes, they put an end to the relationship," Zhong says. "I assured them it was highly unlikely that I'd pass the disease on to my children, but they were scared of the fact that I have to give myself injections every day."
People with Type 1 diabetes are unable to produce insulin, a hormone that controls the body's blood sugar levels. Type 1 is rare — just 5 to 10 percent of diabetics worldwide have it — and is usually diagnosed in childhood or adolescence. It is also more life-threatening than Type 2 diabetes, which mostly affects the elderly and the overweight: While most Type 2 patients have low, but stable, levels of insulin and do not need to constantly monitor their blood sugar levels, people with Type 1 must constantly adjust their diets and exercise regimes, and self-administer insulin injections throughout their lives.
In January, Chinese endocrinologists published a study in the British Medical Journal (BMJ) estimating that over 13,000 new cases of Type 1 diabetes occur in the country every year. For unknown reasons, Type 1 diabetes has been relatively rare in China: In 2011, it occurred in six out of every million Chinese people under 14, compared with 237 per million Americans and 245 per million Britons the same year.
China did not start building a national database of Type 1 diabetes patients until May 2014, through a project led by Weng Jianping — the professor who headed the BMJ study. There remains no official data on the total number of people living with the condition, but Zeng Xifeng, founder of a major online community for Type 1 diabetes patients called "Tangtangquan," estimates the total to be over 1 million. "Many patients go unnoticed," he says.
According to a survey carried out by the Chinese Diabetes Society, one-third of the country's Type 1 diabetes patients say they constantly struggle with anxiety. Another third of respondents say they have depression.
When his daughter Niuniu was born with Type 1 diabetes seven years ago, Zeng — a nuclear engineer by profession — knew nothing about the condition. He spent an agonizing six months flitting between hospitals in the cities of Guangzhou and Shenzhen, watching helplessly as Niuniu's blood sugar levels spiked and plummeted, struggling to bond with his little girl in neonatal intensive care wards.
"At first, doctors couldn't provide a clear diagnosis," Zeng recalls. "I looked into the medical literature on the condition myself. I even sent [Niuniu's] genetic samples to a lab in the United Kingdom for testing. Hospitals in China have very limited experience dealing with babies born with diabetes."
Barely any information about Type 1 diabetes was available in Chinese when Niuniu was born, Zeng says. "Hospital nurses would spend some time telling Type 1 patients a few things they needed to keep an eye on, but the help they gave was extremely limited," he says, adding that patients were seldom taught how to control their blood sugar levels. "Self-management is extremely important for these patients — it's literally a matter of life and death. Sadly, the government made no effort to help."
Zeng later resolved to learn more about Type 1 diabetes and raise public awareness of the condition. In October 2015, he launched his mobile app Tangtangquan, which allows Type 1 diabetics to input diet and exercise data. The app then estimates their blood sugar levels and calculates how much insulin they need to inject in order to remain healthy. Today, the app boasts over 10,000 active users.
"Volatile blood sugar levels can be life-threatening: If they're too high, you get ketoacidosis," Zeng says, referring to a serious, even potentially fatal, diabetic complication. "And if they're too low, you can go into shock. Both can claim lives."
Zhong, the accountant, understands the importance of getting proper treatment. She was diagnosed in 2001, when she was in fifth grade. At the time, her family knew little about the disease — and neither did the doctors at her local hospital.
Doctors gave Zhong the same premixed insulin injections that they would have administered to patients with Type 2 diabetes. But premixed insulin is unsuitable for Type 1 diabetics, who require fast-acting and flexible remedies to make up for their variable insulin deficits.
For Zhong, the consequences were severe. "One night, back in my middle school dormitory, I found myself unable to move," she remembers. When she got to the hospital, her blood sugar level was only 25 milligrams per deciliter — around one-third of the normal level. "I still remember feeling paralyzed," she says. "I could hear everything around me, but I couldn't open my mouth or eyes." To this day, Zhong knows little about the exact treatment she received. Luckily for her, the episode did not appear to leave any lasting damage.
Fluctuating blood sugar levels means that there is no one-size-fits-all course of treatment for Type 1 diabetics. Yet many Chinese doctors lack the necessary experience to help people living with the condition monitor and maintain healthy blood sugar levels. Liu Hongyan, a medical consultant for Tangtangquan who previously worked as an endocrinologist in Guangzhou, says most of the diabetic patients she treated had Type 2 — the much more common and easily controlled form of the condition.
"Managing blood sugar levels for Type 1 diabetes patients is complicated. Challenges emerge during particular stages [of life], like puberty," says Liu, referring to the difficulties of maintaining a treatment routine during a period of fluctuating hormones and habits. "These patients need regular guidance from professionals. It's impossible for them to pick up adequate knowledge from a hospital."
In 2014, Zhong joined Tangtangquan. From then on, she began to learn more about Type 1 diabetes and came to realize that she was not the only one fighting the condition. Later that year, after talking to other members of the community, she stopped taking premixed insulin.
Since childhood, Zhong has suffered psychologically as well as physically. Zhong says that as a child, she often felt abnormal: Diabetes was seen as something older people got, not children. "Whenever I was hospitalized, I heard the nurses whispering, 'What a pity! She's such a beautiful girl and will have to live with the disease for life!'" Zhong recalls, adding that her parents provided scant emotional support. "I just felt so ashamed. Back then, my parents had no idea that if they had just comforted me and said, 'It's not your fault, you're just sick,' that would have helped me a lot."
Zhong was a top-performing student throughout primary and middle school. Although her teachers knew she was diabetic, Zhong hid her condition from her classmates. When other children ran out to the playground for sports class, she surreptitiously hung back in the classroom, pulled out a syringe, and gave herself an insulin injection. At lunchtime, she found a quiet corner to administer another shot.
Zhong's academic performance began to drop in high school, and she eventually failed to get into university. "In my high school years, I thought about my diabetes all the time — how to keep my classmates from finding out, what would happen if I couldn't eat the same food as them, where I should go to take my next shot," she says.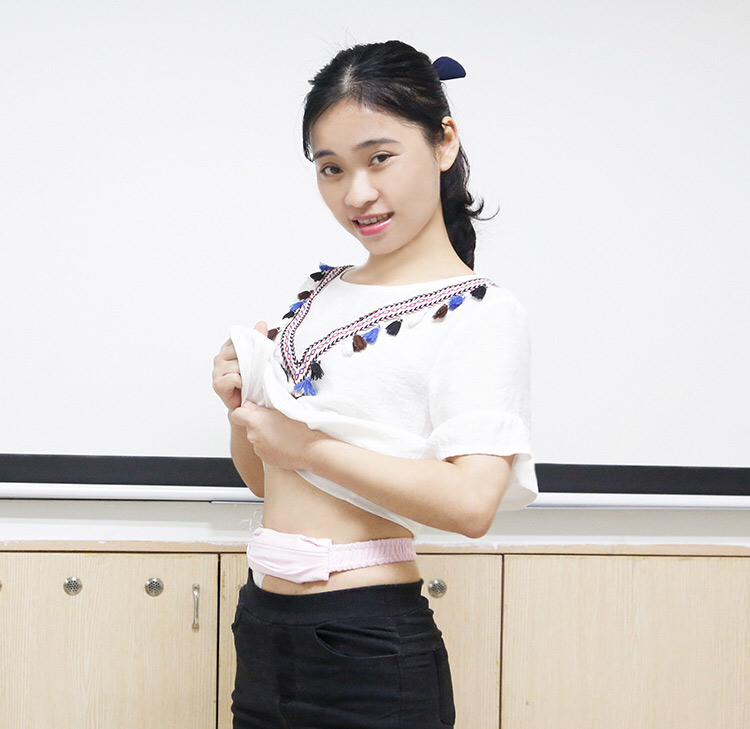 In the last few years, social networking apps have put Zhong in touch with other young people who have Type 1 diabetes. Many users share tips about how to control their blood sugar levels. Now, Zhong believes that she will lead a normal, fulfilling life despite her disease. "I've been sharing my experiences, and many people have given me very positive feedback," she says. "I hope I can help to promote awareness of this disease and encourage more people to walk out of the shadow of illness."
The road ahead is strewn with obstacles. In China, all applicants to higher education institutions must pass a physical examination. But national guidelines state that schools can reject applicants with severe endocrine disorders, including Type 1 diabetes. Prospective civil servants face similar forms of discrimination: Applicants with endocrine diseases such as diabetes do not qualify for most roles.
In addition, China's national medical insurance does not cover essential medical equipment for Type 1 diabetes patients, including blood sugar testing kits and syringes. Zeng estimates that the average patient spends around 2,500 yuan ($380) per month on medical supplies. In Zhong's hometown of Heyuan, the average monthly income was estimated at just over 5,000 yuan last year.
Social stigma toward diabetes is proving hard to shake, too. "I've heard of children being rejected by kindergartens, students being pressured by universities to quit their courses, and people losing their jobs, just for having Type 1 diabetes," says a patient who requested anonymity because her friends and colleagues do not know she has the condition. "I choose to hide it because I don't have a choice. It's not because we're not tough enough; life is too hard on us."
Zeng was lucky enough to find a public kindergarten in Shenzhen that was willing to enroll Niuniu despite her condition. Although the teachers there are aware that she has diabetes, they still don't really know how to care for her, Zeng says. He travels to the kindergarten twice a day to administer Niuniu's insulin injections himself. His travails allow his daughter to lead a normal, healthy life.
Zeng wants to shift away from the fear and misunderstanding surrounding Type 1 diabetes and publicize positive examples of celebrities who led successful lives despite having the disease — like the late American actress Mary Tyler Moore, who lived to the age of 80. He runs an online radio show through Tangtangquan, which provides patients with a platform for sharing their experiences. "Peer support matters a lot to them," he says.
For her part, Zhong hopes to one day get a job at a pharmaceutical company that produces drugs and equipment for people with Type 1 diabetes. Two years on from her previous romantic relationship, she is now considering the advances of another suitor. The same worries are still there — he's a bit younger than she is, and she worries that his family might also reject her — but Zhong feels at peace with herself and her condition. "When you realize that your existence means a lot to the people around you," she says, "you start to feel confident and have aspirations for your future."
These days, her diabetes is no longer a secret.
Editor: Matthew Walsh.
(Header image: A 9-year-old boy injects insulin at his home in Linfen, Shanxi province, Aug. 2, 2016. Chen Wei/VCG)