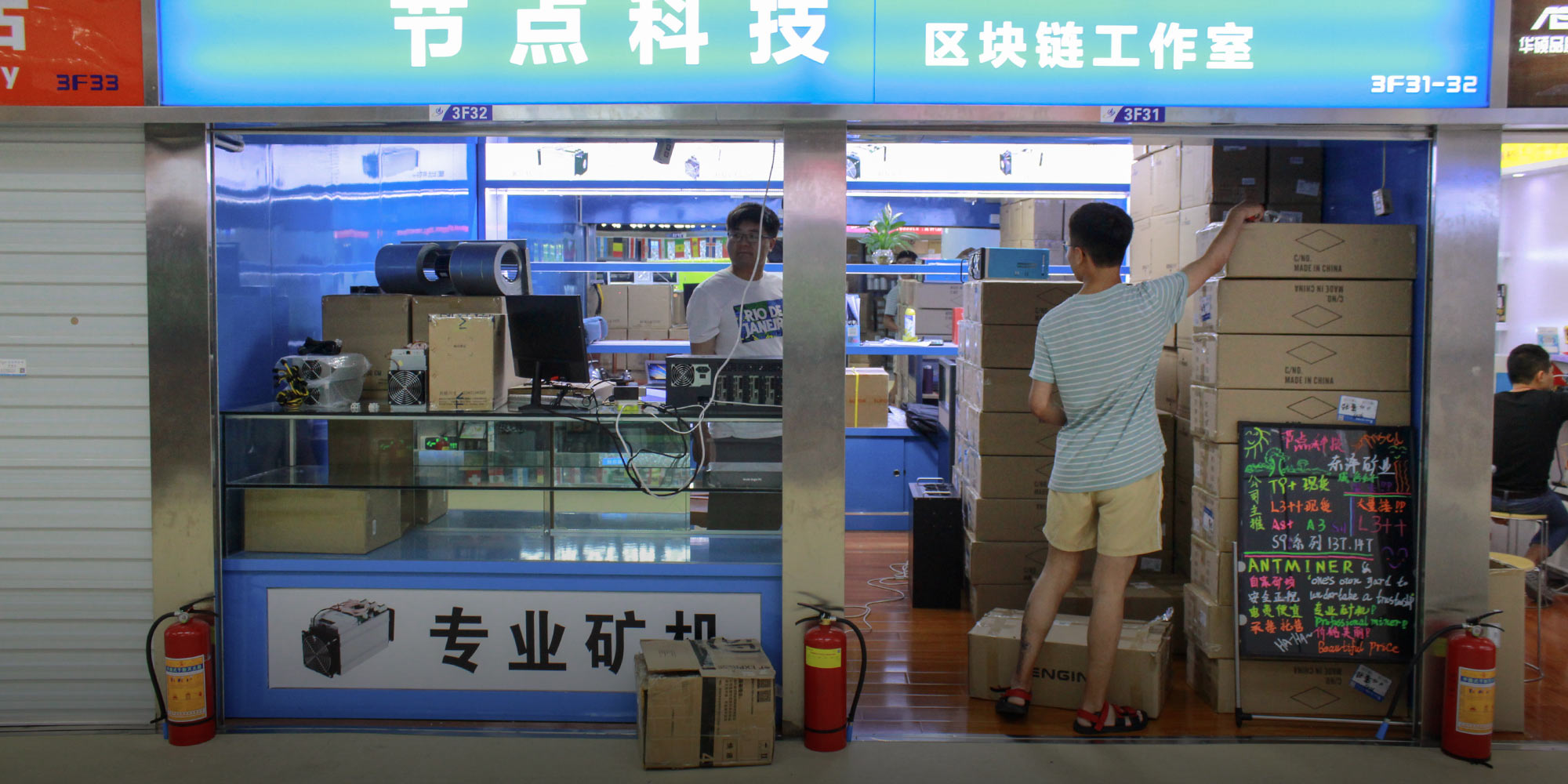 FEATURES
Vendors Left Gasping After Burst Bitcoin Bubble
China's small-time business owners rode the cryptocurrency wave last year, but now that the hype is over, they're struggling to make ends meet.
GUANGDONG, South China — It was the height of bitcoin fever, and 30-year-old Du Peng was convinced that he was about to make it big. In December, he left his wife, two sons, and easy internet café job in Zaozhuang, in the eastern province of Shandong, to head to the entrepreneurial southern city of Shenzhen. He was hoping to take advantage of the digital gold rush by selling cryptocurrency mining machines.
On Dec. 17, only days after Du arrived, bitcoin reached its historic high of nearly $20,000 — a value 20 times higher than at the beginning of last year. Ethereum, another major virtual currency, increased its value by 130 times in 2017.
As the prices of virtual currencies skyrocketed, Du made a small fortune. But riding the cryptocurrency wave turned out to be a risky move: Since that all-time high, bitcoin has slipped 66 percent, and its volatile prices and regulatory uncertainty threaten the industry's survival.
These days, business is sluggish for those selling cryptocurrency-cracking machines — especially in the city's bustling electronics hub, Huaqiangbei. Since the Chinese New Year in February, many shopkeepers in 71-story skyscraper SEG Plaza's packed electronics market have closed down or resumed their stabler — though less lucrative — gadget trades.
Du's doors are still open, but the demand for these machines has declined sharply. "In the past, it was normal to receive orders asking for over a thousand machines; now an order of 200 machines is considered a big deal," a bespectacled Du told Sixth Tone. Prices currently range from 1,000 to 5,000 yuan ($160 to $780) — a drop of around 60 percent from last year, according to Du — but even this can't seem to bring in customers.
"We can barely cover our rent these days," said Du, who runs a store called Node Technologies on the third floor of SEG Plaza. "In the past two weeks, we've sold fewer than 1,000 machines."
When there aren't any customers — a common problem nowadays — Du pours himself a cup of jasmine tea and plays on his cellphone. At the end of his chat with Sixth Tone, during which no customers visited his store, he lamented: "In the past, I would have sealed several deals during these past two hours."
Stacks of cardboard boxes take up half the shop, each containing machines specifically designed for generating cryptocurrencies — a process known as "mining." In bitcoin mining, a user first makes a financial transaction that everyone in the system verifies before passing it on to miners. Miners then create a block and add it to the blockchain by solving an intentionally complex mathematical puzzle for which they earn bitcoin. This leads to an arms race of sorts, in which those with the fastest mining machines win. Since cryptocurrencies are not created or issued by any conventional financial authorities, mining serves as a central bank: It's how digital tokens are issued and transactions verified.
Between the end of December and mid-January, Chinese miners handled almost 80 percent of the world's bitcoin. That has likely changed: While mining is not officially classified as illegal, multiple media outlets reported in January that authorities ordered local governments to close bitcoin-mining operations, though leaked documents of the order didn't give a deadline. Media also reported that the central government has been mulling plans to curb the power supply for bitcoin miners — a blow to the energy-intensive activity that, worldwide, consumes the same amount of energy annually as all of Chile, according to current estimates.
China remains host to the world's biggest mining machine makers, which have also been forced to lower their prices despite their seemingly bright future. Canaan Creative, the world's second-biggest maker of bitcoin mining hardware, filed for an initial public offering (IPO) on the Hong Kong stock exchange in May. Meanwhile Wu Jihan, co-founder of the industry's largest company, Bitmain, said that he's open to a listing either in Hong Kong or overseas.
But at SEG Plaza, the stakes are higher because the businesses are smaller. It's especially risky for those selling machines tailor-made to mine bitcoin, as opposed to computers that could also be used for gaming or other purposes. "To be honest, if the bitcoin price collapses, these [machines] are just useless scrap," said Du.
Last year's bitcoin boom didn't just attract newcomers like Du. Some, like former electronics parts vendor Xu Chenglian, completely shut down their businesses to join the bitcoin mining machine buzz. "Everyone was rushing into the market," said Xu, a 23-year-old local. "I would have regretted it if I hadn't taken part."
Nowadays, the bitcoin mining machine vendors' final hope rests in foreign buyers from places like Russia, the United States, and Eastern European countries, said Du. They aren't faced with the same regulatory pressures as Chinese miners and come to the bazaar for better deals than they can get back home. Outside his store, Du has set up an advertisement board decorated with smiley faces and neon slogans written in both Chinese and English, although some might be incomprehensible to English speakers. "One's own gard [sic] to undertake a trusteeship," reads one mysterious English-language proverb.
But even overseas interest has diminished recently, said Li Yanchao, a 38-year-old fixer who facilitates trips to Huaqiangbei for foreigners via his website, Electronics Shenzhen. He started to receive inquiries about mining machines in September of last year, and in the three months leading up to Chinese New Year, he got at least one inquiry almost every day. But since the holiday, queries have slowed to a drip.
Government regulations have driven down cryptocurrency prices, said Dennis Cao, a Chinese Canadian who owns three cryptocurrency mines — warehouses stacked with humming computer processors — in Canada's British Columbia and in China's Yunnan province and Xinjiang Uyghur Autonomous Region. Concerned by capital outflow and money laundering, the People's Bank of China banned domestic cryptocurrency trading platforms in September 2017. It also outlawed initial coin offerings — a form of fundraising that allows investors to purchase a type of digital token that they can use to buy a company's future product or service but don't give them ownership of the company. "The volatility in the trading market will certainly deter some traders from entering it, which will then further [bring down the] price of mining machines," Cao said.
Meanwhile, tightening regulation on the use of electricity in China's hinterland — where most mining factories are located — might also affect the mining machine market. Many miners have moved to provinces like southwestern China's Guizhou and Sichuan, where electricity is cheaper than in the rest of the country. They can also bargain directly with hydropower stations in these regions without going through the national electricity providers, said Du, who also operates a mining factory in Xinjiang. 
Cao is nevertheless optimistic about the future of bitcoin mining in China. While other countries have relatively lax regulations on cryptocurrency, it's often much pricier to mine: Building a mining factory in Canada is five times more expensive than in China, he says. "There is enough electricity here, construction is cheap, and it takes less time to build a mining factory," said Cao. "The only thing I'm worried about is the political risk."
With all of the regulatory changes and hurdles, vendors in the brightly lit SEG Plaza bazaars still point to signs of hope amid all the uncertainty. "The government didn't say mining was legal — but they didn't say it was illegal either," said a female vendor who declined to give her name for fear of facing repercussions.
Du, though, is still persevering with his business. "I can't just go home after encountering a few challenges," he said, explaining that mining still has a promising return, and that the market will recover eventually. "People who enter the market right now and buy up machines when the prices are low are the real smart ones."
Mining machine vendor Xu also remains positive about the government's attitude toward the mining industry. "If the government thinks mining is illegal, how can so many stores here still be open?" he asked.
Even though business is momentarily slack, Xu still earns more than he did before mining. As a vendor with three years' experience at Huaqiangbei, he thinks it's normal to see an industry wax and wane. "I've developed a thick skin to deal with this," he said. "We will know when the wind changes because, after all, we're the bellwether of the entire market."
Editor: Julia Hollingsworth.
(Header image: Du Peng's storefront in Huaqiangbei, Shenzhen, Guangdong province, May 28, 2018. Chen Na/Sixth Tone)