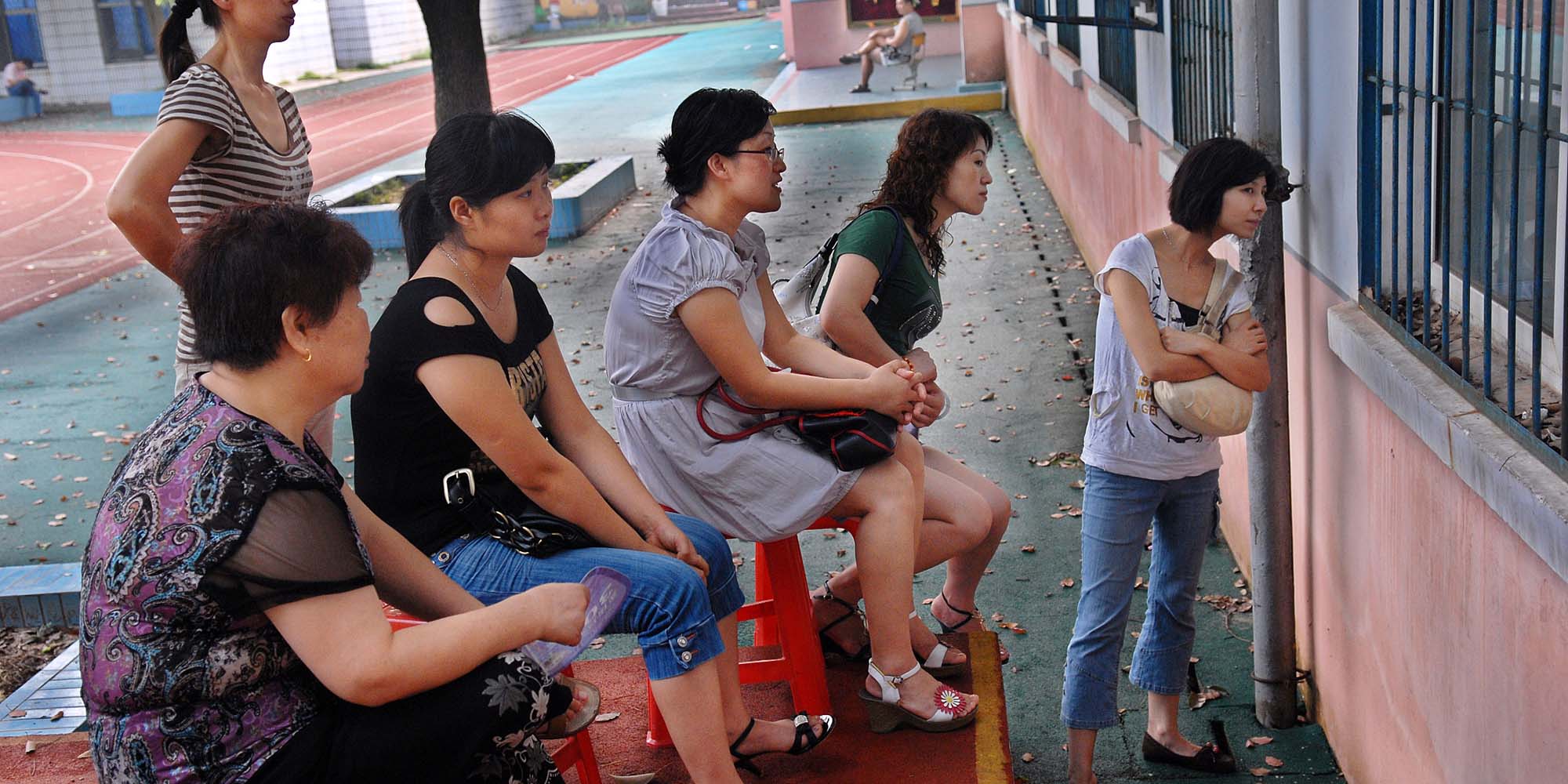 NEWS
Chinese Mom Attends Son's Classes to Help Him Graduate
While teachers maintain that parents joining in lessons is helpful and healthy, experts say such invasive measures could hinder a child's development.
Some Chinese parents take their children's academic performance so seriously that they don't mind going back to school themselves.
Dai Jihua, the mother of a teenager in central China's Hubei province, attended over 80 percent of her son's junior high school classes to help him improve academically, local newspaper Changjiang Daily reported Monday. Dai has been supervising her son's studies for three years in the hope that her watchful eye will help him excel on the high school entrance examination, which starts this Thursday.
"It's impossible for the teacher to just focus on [my son] all the time," Dai told Changjiang Daily, "so I decided to attend class with him, and be a role model as well as a supervisor."
Chinese mothers have a reputation for being strict disciplinarians, so much so that they're often referred to as "tiger moms." They also hold their children to high standards in terms of both academic and extracurricular performance. Some parents, however, have said the Chinese education system is just as demanding of children, and students as young as preschool-age being have been described as having a "military-like aspect."
The school named in the report, Wuhan No. 64 Middle School, has a policy that — ostensibly in the interest of closer supervision — allows parents to attend classes during their kids' junior high years. Most parents attend at least one class each month, but Dai opted to sit in on over 3,000 out of some 3,600 classes offered during the three-year period.
According to the report, teachers at the school say Dai's model has proven effective: The mother prepared notes for each subject that included tips from top students. She also reportedly said that her maternal influence made her son more attentive in class, which in turn had resulted in better grades.
But not everyone is convinced that such a practice should be acceptable, with some netizens slamming Dai as "a control freak" and saying her parenting style could cause "childhood trauma."
"Maternal love is great, but I think it's more important to allow children to learn on their own," read one upvoted comment on microblog platform Weibo. "After all, you can't be with [your kids] throughout their entire lives."
Chu Zhaohui, an education researcher at the National Institute of Education Sciences in Beijing, agrees. He told Sixth Tone that having overbearing parents could negatively impact a child's confidence and self-discipline in the long run.
"The children will end up thinking that they're studying for the parents and not for themselves," Chu said. "Then when no one is around, they might not be so self-disciplined."
Editor: Bibek Bhandari.
(Header image: Mothers observe their children through the window of a classroom in Wuhan, Hubei province, July 13, 2008. Yang Hongbin/VCG)