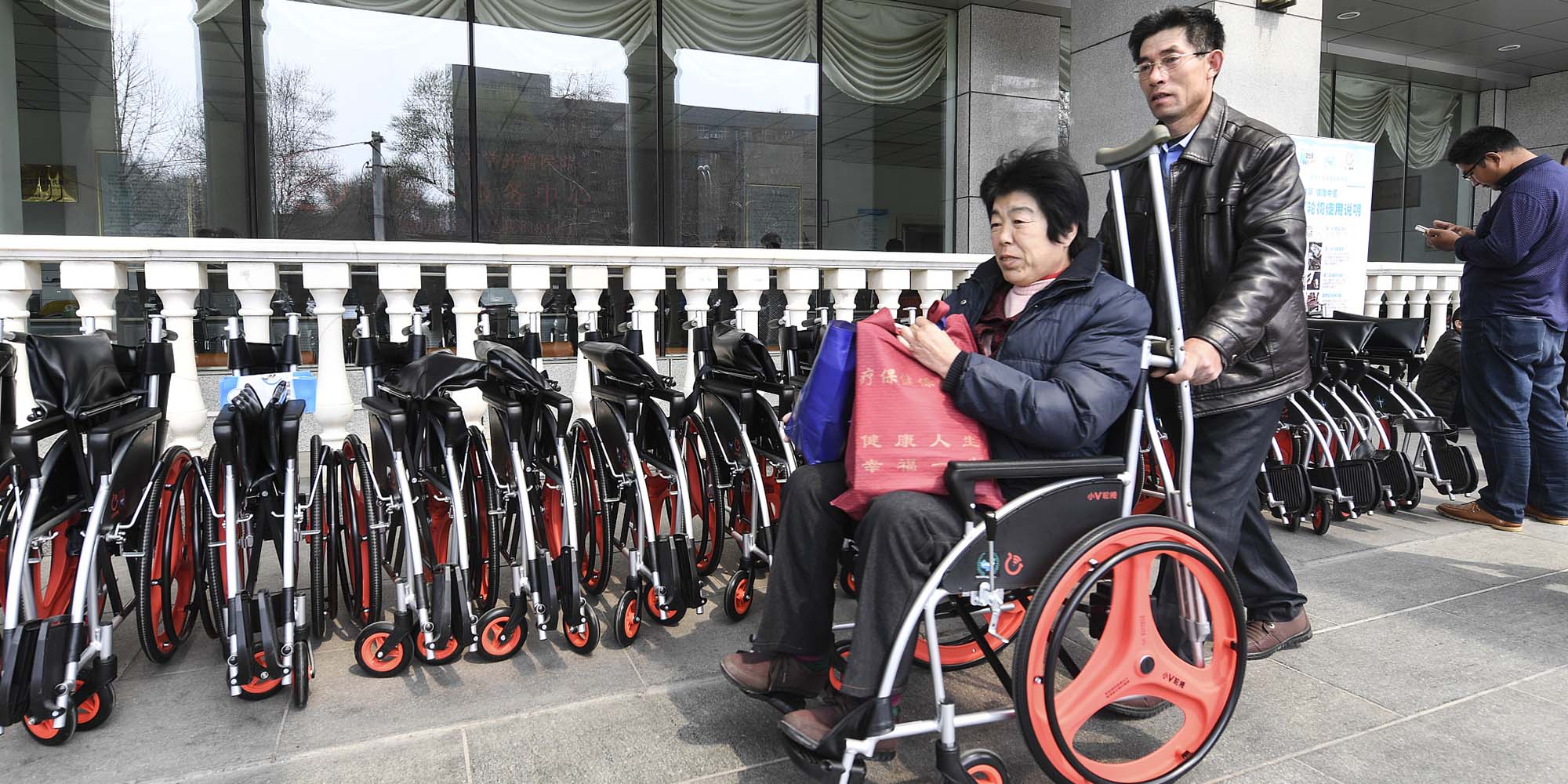 NEWS
Wheelchairs Join Sharing Economy Hype, Puzzle Chinese Consumers
With the advent of rentable wheelchairs, netizens and media outlets wonder whether China's sharing economy might be getting out of hand.
China's sharing economy has given birth to another form of pay-as-you-go transport — though this one's targeting a somewhat niche market: On your next trip to a big-city hospital, you just might stumble upon a colorful row of shared wheelchairs.
But many in China, from netizens to state media outlets, are wondering whether the unasked-for service is necessary. "Is there real need, or is this just a pseudo-concept?" asked a Saturday report by The Beijing News.
Shared wheelchair businesses like Beijing-based XiaoV have recently sprouted up in big cities like Shanghai and Beijing, the report says. Founded in 2017, XiaoV provides self-service wheelchair rentals in and around hospitals. Like other sharing economy businesses, XiaoV requires a customer to scan a QR code printed on its wheelchairs, which prompts them to register with their phone number and pay a deposit of 299 yuan ($50) before unlocking a wheelchair. The first two hours are free, and afterward users are charged 1 yuan for each additional 10-minute interval.
"We're aiming to provide a convenience for the elderly and disabled," XiaoV's founder, Wang Jian, told Sixth Tone. Wang added that his company has already signed contracts with hundreds of hospitals — from Guangdong province in the south to Jilin in the northeast — to roll out tens of thousands of shared wheelchairs.
Wang said that XiaoV will not rely on customer deposits or rental fees for revenue, and he declined to elaborate on how the company planned to profit. Wang added that he wasn't worried about customers abandoning the wheelchairs anywhere they pleased because of the docking mechanism. "If the wheelchairs are not returned successfully," he explained, "the rental fee will continue to rise."
An administrative staff member at Bengbu First People's Hospital in the eastern province of Anhui told Sixth Tone that the hospital currently offers shared wheelchair services provided by a Shanghai-based company. She said that because of occasional wheelchair shortages at the hospital, she welcomed the new arrivals.
"Renting a wheelchair requires staff to deal with complicated paperwork, and there may not be anyone available to do this at night," said the employee, who declined to give her name because she was not authorized to speak with media. "This will have a positive impact on young patients especially, as they may be more familiar with mobile apps."
She said that while the hospital had toyed with the idea of making its own wheelchair-rental app, the task proved to be beyond the IT department's capabilities.
In just the past few years, China has seen numerous iterations of the sharing economy, including bicycles, umbrellas, power banks, exercise equipment, sleep pods, and even sex dolls. While some of these products have been hailed as important innovations, others have been dismissed as needless gimmicks hoping to cash in on a commercial buzzword.
Given shared bikes' less-than-sterling reputation for cluttering sidewalks and residential communities, as well as the omnipresent risk of customers' deposits mysteriously disappearing should a company go bankrupt, netizens have reacted to the shared wheelchairs with skepticism.
"XiaoV wheelchairs are really hard to use," commented one netizen on microblog platform Weibo. She explained that she couldn't get the lock to open even with repeated attempts, prompting her to include the hashtag #impractical.
"Even shared bikes are on the decline," wrote another Weibo user. "How long can shared wheelchairs possibly last?"
Editor: David Paulk.
(Header image: A man pushes a woman using a shared wheelchair outside Qilu Hospital of Shangdong University in Jinan, Shandong province, March 23, 2018. Zhang Yong/CNS/VCG)