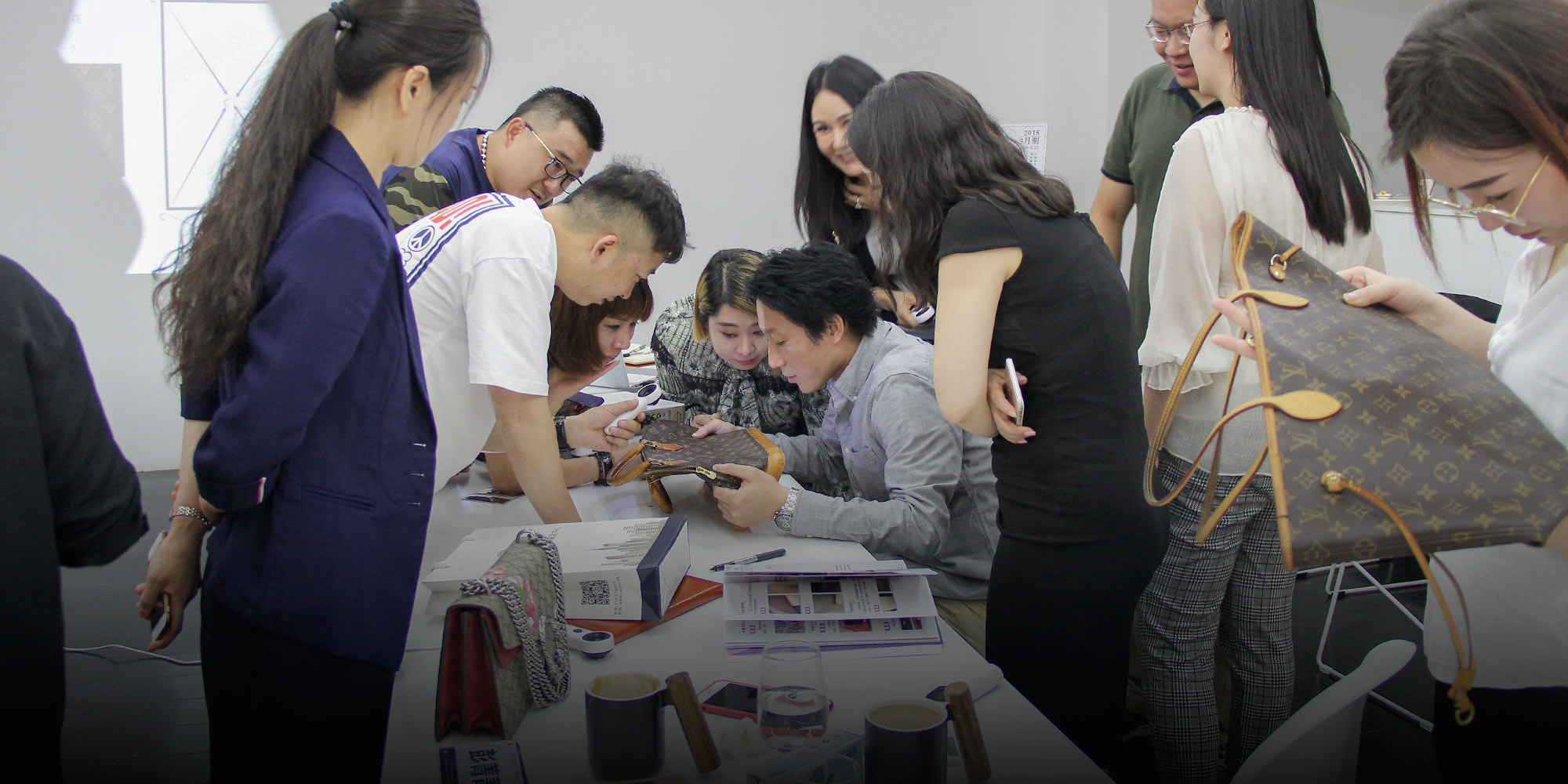 FEATURES
Real or Fake? The School for Catching Counterfeit Goods
Distinguishing quality bags from copies requires an eagle eye and years of experience — or a government-backed certificate.
BEIJING — At first glance, the slightly-worn Louis Vuitton handbag looks every bit like the real deal. A casual observer could easily fall for it — a lover of designer labels could even be seduced into paying a small fortune to carry it.
But 27-year-old e-commerce entrepreneur Peng Jingjing is no casual observer, and she's got a hunch that the bag is a fake. Wearing white gloves, she peers through a magnifying glass at the "LV" monogram on the bag, recalling something her teacher told her: The grain of the canvas on fake Louis Vuitton bags is often perfectly parallel with the angle of the "L," which is not the case with genuine bags. With the clock ticking, Peng unconsciously inches closer to the canvas. She tenderly touches the material, furrowing her brows into a shape that mimics the "V" in the logo. "I'm almost blind," she complains, 10 minutes into her hunt for covert clues.
Last month, Peng, her husband, and seven others sat in a luminous, tastefully decorated classroom, taking part in the first government-endorsed course on how to tell real designer handbags from their copies. The students ranged from e-commerce sellers like Peng to a bag factory owner trying to improve product quality — and they'd each shelled out 9,800 yuan ($1,500) for the privilege of learning how to distinguish convincing fakes from authentic designer goods.
Experts expect that the protégés' skills will be valuable as China's booming luxury market creates a flourishing trade in secondhand designer goods. Last year, China's luxury market amounted to 142 billion yuan, accounting for 32 percent of the global luxury market, according to a report by management consultancy Bain & Company. Its peer McKinsey & Company, meanwhile, estimates that by 2025, Chinese shoppers will spend over 1 trillion yuan on luxury goods — approximately the same amount as the rest of the world combined. But as customers grow more comfortable buying from unofficial vendors and fakes become so convincing that recognizing them requires an eagle eye, there's a growing risk of being conned by high-quality counterfeits sold as secondhand goods.
In the past, China was famous for producing knockoffs. But in recent years, the government has become warier of fakes that tarnish the country's reputation, and so authorities have stepped up anti-counterfeiting measures. At the 13th National People's Congress earlier this year, Premier Li Keqiang said that law enforcement had been playing a bigger role in cracking down on counterfeits, adding that making or selling fake or substandard goods was "the enemy of fairness and innovation, and [goes] against social ethics."
Authorities believe that protégés like Peng will prove to be useful tools in the battle against fakes. Hailing from the southern tech hub of Shenzhen, Peng works full-time in the finance industry, but for the past few years, she's been selling secondhand bags in her spare time on Taobao, China's biggest e-commerce platform, and on social networking app WeChat. Motivated by the extra cash and her love of bags, she started out by just sourcing her wares from friends. But when her Taobao shop started to take off two years ago, she buckled down and began expanding her business by sourcing her bags from strangers.
Nowadays, Peng handles thousands of bags a year — and on her best days, she can sell more than 10 bags for anywhere between a few hundred yuan and tens of thousands of yuan, with each sale yielding a 20 to 30 percent profit. Many of her bags come from clients who've been given luxury bags they don't want, or who want to recoup some cash after an impulsive purchase. But while Peng considers herself street-smart, she knows that she needs to get book-smart if she's to outwit the market's dishonest players.
"When I deal with small-time vendors, half the time I receive defective bags," Peng tells Sixth Tone. Her concern about being duped led her to attend the five-day course organized by the government-backed Luxury Appraisal Center, which is affiliated with China's online shopping regulator, the China Electronic Commerce Association. Ultimately, both she and her husband came away with government-endorsed certificates that they hope will increase their credibility with clients.
The pilot class only accepted a small number of students, but there's a huge demand for certified luxury appraisers, says Wang Jianjun, vice chief of a government body which identifies talent gaps in the market and accredits protégés at the end of the course. He estimates that there's a need for over 10,000 certified luxury appraisers — mainly in more developed cities, where the average citizen can afford to buy more luxury goods.
In addition to the course, the government is working to form an appraisal association that would set uniform standards for appraisers, says the Luxury Appraisal Center's secretary-general, Peng Lei — no relation to Peng Jingjing. "The secondhand market is poisoned by fake goods," says Peng Lei, who was in charge of organizing the training. He hopes that the class can help the government with its appraisal encyclopedia — due to be released in December — which will include details to look for when appraising luxury goods. Like Wang, Peng Lei expects enrollment in the course to grow, and explains that the overall spike in China's luxury market will boost secondhand trading and e-commerce platforms in general, where consumers may then turn to appraisers to ensure that they don't squander money on counterfeit items.
Dong Jiangnan, one of the instructors, explains that there will always be some difference, however slight, between fake goods and the real deal. Despite China's reputation for producing high-quality fake bags, even the most capable copycat can't get the exact same leather or buttons as the luxury brand it's imitating, Dong tells Sixth Tone. But he acknowledges that some bags are harder to examine than others. "Unlike Gucci, which is easy to appraise, the only way to examine a Fendi bag is by buying a real one and then comparing them side by side," Dong says, adding that different Fendi designs vary widely from one bag to the other.
Outside the school walls, not everyone is as optimistic about the course. A secondhand luxury goods trader in Shanghai — who wants his identity kept secret to avoid ruffling feathers in the industry — says a real appraiser wouldn't need a certificate to validate their skills. "Only newbies would seek such certificates," he tells Sixth Tone. He adds that the secondhand market is pretty niche and close-knit, making it hard for newcomers to break into it. Appraisers usually charge 200 yuan to 500 yuan a bag, despite the whole procedure taking less than 10 minutes. "You know who is good, and who is not," he says.
Ge Xiaohan, a Japan-based secondhand and vintage luxury bag trader who has sold tens of thousands of bags to customers in China over the past seven years, also believes that an appraisal school isn't enough to fix the industry's problems. Ge worries that the school's protégés won't be able to learn about all of the designer brands in just five days. "They're taught theory, but without accumulating more long-term knowledge, they can't call themselves appraisers," he says.
Ge suggests that the answer might be an organization where customers could go for a reappraisal that would be free of charge if it were determined that the item had been incorrectly assessed the first time. Even at a very well-established Japanese vintage bag auction in which an item would go through 30 appraisers, a fake bag could still get past all of those sharp eyes. "You can never say never," he says.
Editor: Julia Hollingsworth.
(Header image: A teacher from Japan uses a Louis Vuitton bag to demonstrate how to detect fakes during a class organized by the Luxury Appraisal Center in Beijing, May 18, 2018. Courtesy of Luxury Appraisal Center)