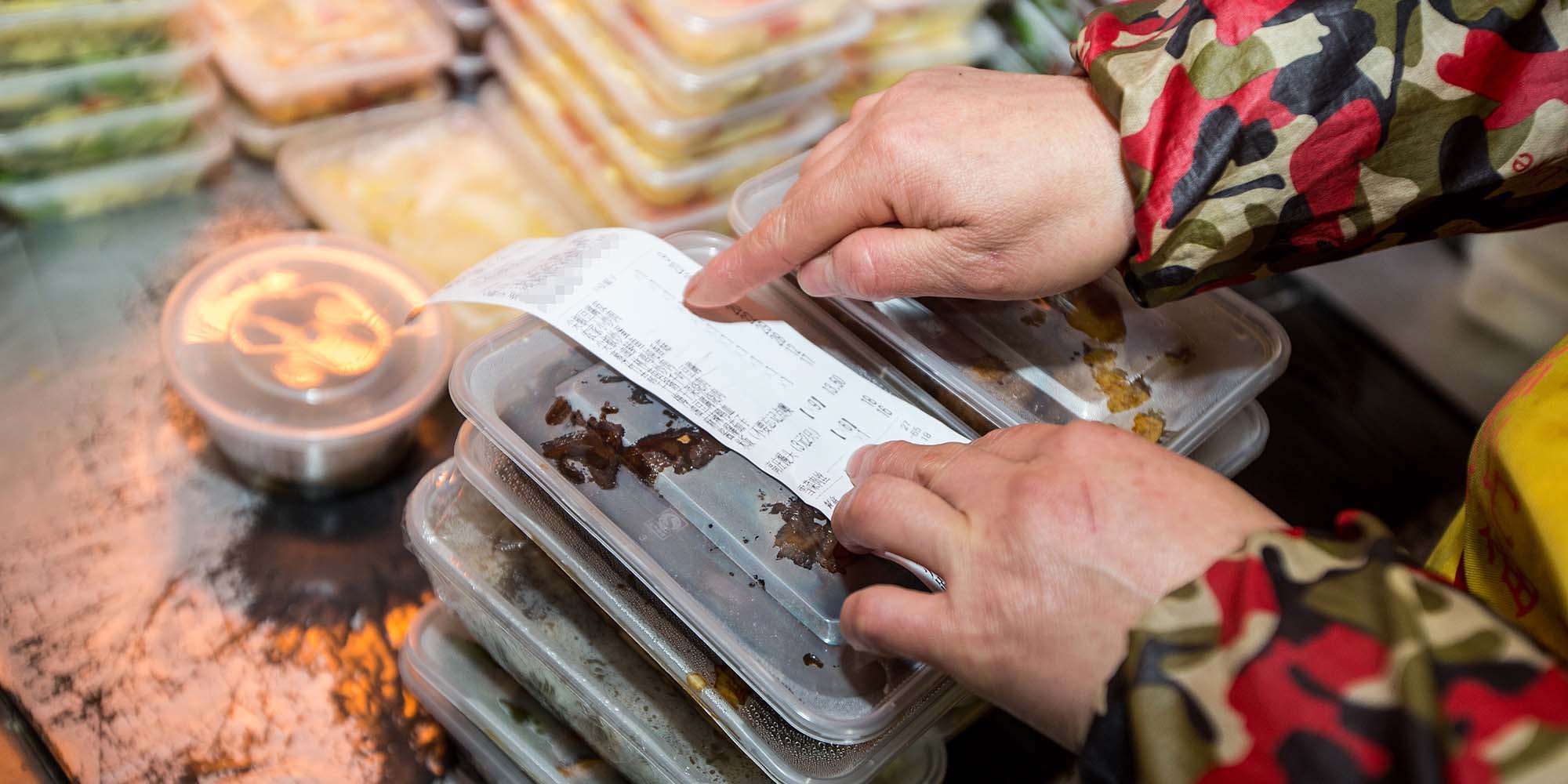 NEWS
Chinese Food-Delivery Companies' Green Initiatives Fizzle Out
Restaurants, couriers, and consumers all blame each other for delivery waste.
Every afternoon, Li Wei whips out her mobile phone to place her usual lunch order on Chinese food-delivery app Ele.me — and every time, her order comes with a set of disposable cutlery.
"Generally when I order take out, I have no utensils with me because I'm not at home," said the 24-year-old officer worker in Shanghai. "The chopsticks that come along with my order are a convenience."
Li is just one of 10 million daily users of Ele.me, which, along with rivals Meituan and Didi, provide convenient food-delivery options to a large proportion of China's working population. However, the convenience comes at a cost: An estimated 20 million pairs of disposable chopsticks are used every day in China — a staggering figure experts say could prove catastrophic for the environment if it's not addressed soon. But the situation has devolved into delivery companies, restaurants, and consumers fighting over their share of the blame.
Meituan, for example, says the food merchants have a greater responsibility to address the problem. Citing internal research, a representative from the company who would not give his name told Sixth Tone that while some buyers opt out of receiving cutlery, restaurants might be too preoccupied during peak hours to notice or care, and thus provide utensils anyway. Without elaborating, the employee assured Sixth Tone that Meituan is doing its part to protect the environment.
Ele.me did not respond to Sixth Tone's requests for comment. In September, the company launched a campaign to be more eco-friendly after an environmental nonprofit sued both it and Meituan for "ecological disruption." A verdict in the case is still pending. Both companies have since said they would charge an extra fee for utensils, and Ele.me has even brought celebrities onboard to promote its "no free cutlery" campaign on social media platforms.
But it's been six months since the campaign: The environmental fervor has died down, and customers are back to their old habits. At least half a dozen people Sixth Tone interviewed said the "no free cutlery" campaign hasn't fared well — and that they themselves are partly to blame. Though most agreed that the campaign was a step in the right direction, many weren't ready to sacrifice convenience.
"It's easier than washing my own dishes at home," said one takeout customer surnamed Zhu. "Restaurants want to provide better service, and that's why they'll often provide utensils regardless of whether customers ask for them," said Da Ling, a frequent user of food-delivery apps.
China currently lacks a specific law that would restaurants to adopt more eco-friendly policies when they're rushing orders out the door. Experts say that as long as the vendors are meeting food safety standards, it's hard for the larger courier companies to pile on additional demands.
Mao Da, a Beijing-based researcher and environmental expert, said that though restaurants and food-delivery companies should collaborate on a wider "no free cutlery" campaign, the couriers should take more responsibility in implementing it.
"Food-delivery companies have more power and are in an advantageous position to effect change," Mao told Sixth Tone. "It's obvious they still don't recognize that this is a problem for which they must bear more responsibility."
Editor: Bibek Bhandari.
(Header image: An employee checks orders on a customer's receipt at a restaurant in Hangzhou, Zhejiang province, Jan. 31, 2018. VCG)