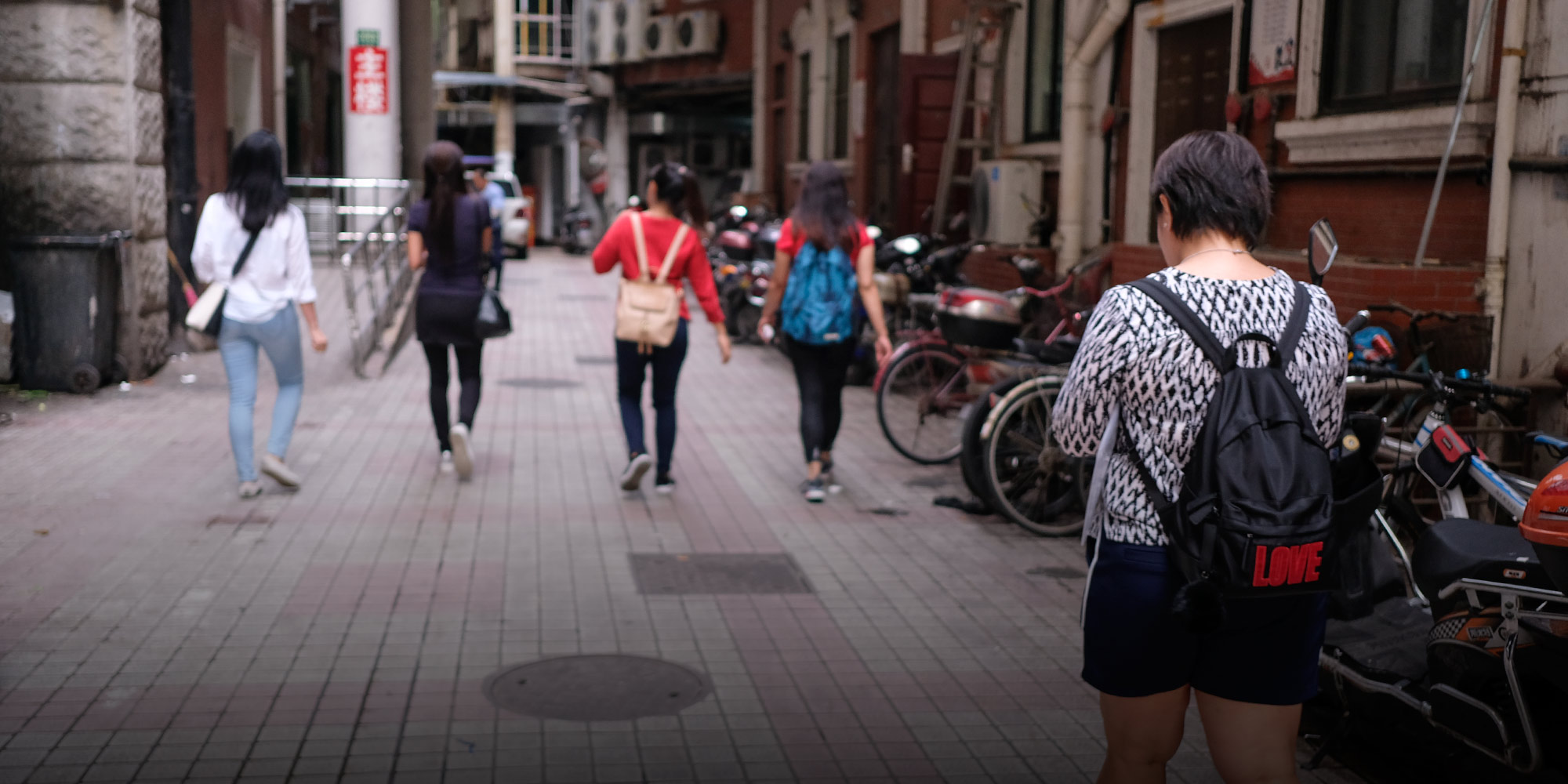 FEATURES
China's Undocumented Filipino Housekeepers Eke Out Risky Living
Despite legal and practical risks, China remains an attractive destination for domestic workers from the Philippines.
SHANGHAI — After working in Shanghai for nearly two years, Maria Castillo had visited almost every tourist attraction the city has to offer — except those that require a passport for identification upon entry.
The 35-year-old domestic worker from the Philippines had never had a legal work permit for China, which meant she was constantly at risk of getting caught by the authorities, who could detain and deport her. "I was so scared I would be put in jail; I didn't want to be a criminal," she tells Sixth Tone.
Castillo, whose name has been changed to protect her safety, worked as an ayi — a Chinese word for "aunt" that is colloquially used for cooks, cleaners, nannies, and other domestic workers. Most immigrants working in such roles do not qualify for work visas under Chinese law, which means they can't access health care or other services, and are constantly at risk of prosecution.
Nonetheless, China is becoming a popular destination for Filipinos. Attractive salaries are the main draw, as Chinese employers often pay more than those in other countries.
"It is common knowledge among us Filipinas," says Leah Antonio, who has been working legally in Shanghai for nearly four years. The 31-year-old single mother tells Sixth Tone that she now earns 6,000 yuan ($940) a month as an ayi, a salary three times what she earned as a sales promoter back home, and more than double Shanghai's minimum wage, which at 2,420 yuan is the highest in the country.
Demand is driven by wealthy Chinese who seek out Filipinas for their English skills, says Shen Haimei, an anthropology professor at Yunnan Minzu University. "The Filipina ayi's abilities are considered better than those of the local Chinese ayi," she tells Sixth Tone.
There are up to 200,000 undocumented Filipinos working on the Chinese mainland as domestic workers, Philippine labor secretary Silvestre Bello III said in 2016 during a state visit to Hong Kong. No more recent official figures have been released, and though Bello then voiced concern for his compatriots and sought to legalize their status, rumors of a special visa category that would do so have yet to bear fruit.
There are over 2.2 million Filipinos estimated to be working overseas — both legally and illegally — often as housekeepers or nannies in the Middle East and East Asia. The latest statistics show that Hong Kong and Singapore have 191,000 and 70,000 Filipina ayi, respectively. But research shows that many are exploited or mistreated — in Hong Kong, for example, foreign domestic workers often earn below minimum wage.
Earlier this year, the Philippines banned Kuwait from employing Filipino housekeepers after a brutal murder that came in the wake of numerous allegations of abuse in the region.
With high salaries in China's mainland and few places in the world that can truly guarantee safe and fair working conditions, many Filipinas are willing to take a gamble even if they cannot secure work visas. Shiella Estrada, secretary of the Hong Kong-based Federation of Asian Domestic Workers Unions, explains that most of these women are aware that there is a risk involved, but often they choose to take a leap of faith — especially if their friends are already there.
Journey to the Mainland
In 2015, a friend introduced Castillo to an agent who promised to bring her over to Shanghai to work for twice the salary she was making at the time. Castillo had been working for just over a year in Macau, a special administrative region of China that, along with Hong Kong, has long been a legal work destination for Filipinos.
Castillo says she barely hesitated: She arrived on a three-month tourist visa with the belief that the agent would help her get a work permit. But after working five months as an ayi and shelling out 18,000 yuan in agency fees, the agent told her she was unable to get the documents Castillo had paid for.
"I was so furious," Castillo says. "But then I began to feel really scared." She realized she could end up in jail. With no way to leave the country without making her illegal status known to authorities, she felt trapped.
Such agency scams are common, according to Lalaine Siason, chairperson of the Overseas Filipino Workers Global Movement Association and Cooperation, an international group by and for Filipino workers. She tells Sixth Tone that many ayi agencies reach out to Filipinas through Facebook, WeChat, or Viber and bring them to the mainland, only to leave them without legal status once they've paid the agency fees.
They get away with it because both the employer and employee fear they will be punished if they report the issue. "It's basically human exploitation and trafficking," Siason says.
Siason herself has been a legally employed ayi for over 11 years in Shanghai. She says that some wealthy Chinese business owners can secure work permits for foreign ayi by registering them as employees in their company, or as teachers if they have a college degree. But many workers are what they call "TNT" — tago ng tago, or "hiding and hiding" in Filipino.
Growing demand puts pressure on the Chinese government to better regulate the sector. In April, China and the Philippines announced plans to welcome over 300,000 Filipino migrants to work legally as English teachers, cooks, caregivers, nurses, musicians, and household service workers — but did not make any promises about whether undocumented workers already on the mainland would have their status legitimized.
Undocumented, Unprotected
Jail time is not the only concern for undocumented workers, whose status leaves them exposed to all sorts of risks and violations. If workers are injured or get sick, they're unable to seek treatment, and even in serious emergencies, many feel they cannot call for aid for fear of being found out.
In early 2015, Siason and her friend, Grace Bautista, set up their organization to assist their compatriots because they were tired of seeing bureaucrats do little to help.
Over the last few years, Siason and Bautista have helped many Filipinas reach home safely — but they have also had to send back bodies. In the beginning, they often did this at their own expense, but recently the Department of Foreign Affairs in the Philippines has been providing more help.
The two women recount the painful story of close friend who had hepatitis C. When she got sick, she was still made to finish her term of employment as agreed. With her condition worsening, she was eventually allowed to return home — but as an undocumented worker, she had to wait over a month for her paperwork, with no access to health care. She passed away six days after returning to the Philippines.
Siason says that to her knowledge, around 20 Filipino workers have died in China since 2015 for a variety of reasons, and that before her organization stepped in, the wait time for a body to be sent home was three months on average. Now, the process only takes about a week.
Monitoring Exploitation and Abuse
The exploitation of Filipina ayi is well-documented in places with longer histories of hiring them, like Hong Kong and Singapore.
A 2017 report from Research Across Borders, an organization that investigates migrant working conditions across East Asia, found that 60 percent of live-in domestic helpers in Singapore — who are mostly from the Philippines and Indonesia — had been exploited. "It mostly manifests in the form of excessive work volume, isolation, and confining and surveilling the worker," Anja Wessels, director of Research Across Borders, tells Sixth Tone.
There are comparatively few reports of abuse from the Chinese mainland, but this could be because the market is less mature.
Fel Patagani, a 28-year-old currently working in the city of Liuzhou in southern China's Guangxi Zhuang Autonomous Region, says that her mainland employers treat her better than her previous employers in Macau. "I'm very close to the family; they treat me like their own child," she tells Sixth Tone.
Patagani, who shares the household chores with a Chinese ayi, says her main duty is to take care of the family's daughter and speak English to her, for which she earns a monthly a salary of 6,500 yuan and two flexible rest days a month. "I like it here in China," she says.
Shanghai-based ayi Leah Antonio, however, says that verbal abuse is more prevalent than physical violence. "I am 100 percent sure that my employers will never hit me," she says. "But sometimes they can be insensitive and harsh with their words, even if they don't realize it."
The Elusive Road Home
Castillo was constantly worried about getting caught — but luckily, she found Siason and Bautista through social app WeChat. In November 2017, after more than two years in Shanghai, Castillo finally returned to the Philippines.
"If the women surrender, it is generally considered the easiest way for an undocumented worker to go home," Bautista tells Sixth Tone. "But if they are caught … then it is a different matter altogether."
According to Bautista, the procedure is relatively simple: Surrender to the authorities and seek help from the Philippine consulate, which will prepare the necessary documents. Often the individual will be briefly detained, but the offense will not be registered on their criminal record. Those who are arrested, however, can be detained for longer periods and barred from returning to work in China.
Law enforcement varies across cities. In Guangzhou and Xiamen, Bautista says, even those who surrender can end up with three months' jail time and a 10,000-yuan fine; Shanghai, meanwhile, is relatively lenient, with detention terms no longer than 15 days.
Castillo was fortunate: She was given the option to either pay a fine of 10,000 yuan or serve two weeks in jail. Her employers paid the penalty for her, and she was on her way home just three days later.
Bautista and Siason have helped countless undocumented workers across China, all of whom stay connected through WeChat groups. The group chats continue to grow, as the two women do not remove members, even if they have successfully returned home, since those safe in the Philippines can offer help and guidance to the ones who are still stranded abroad.
"Our goal is to get all undocumented workers back to the Philippines first," Siason says.
Editor: Qian Jinghua.
(Header image: Lalaine Siason (far right) accompanies four undocumented Filipina workers on their way to a job interview at a local 'ayi' agency in Shanghai, May 31, 2018. Nicole Lim for Sixth Tone)