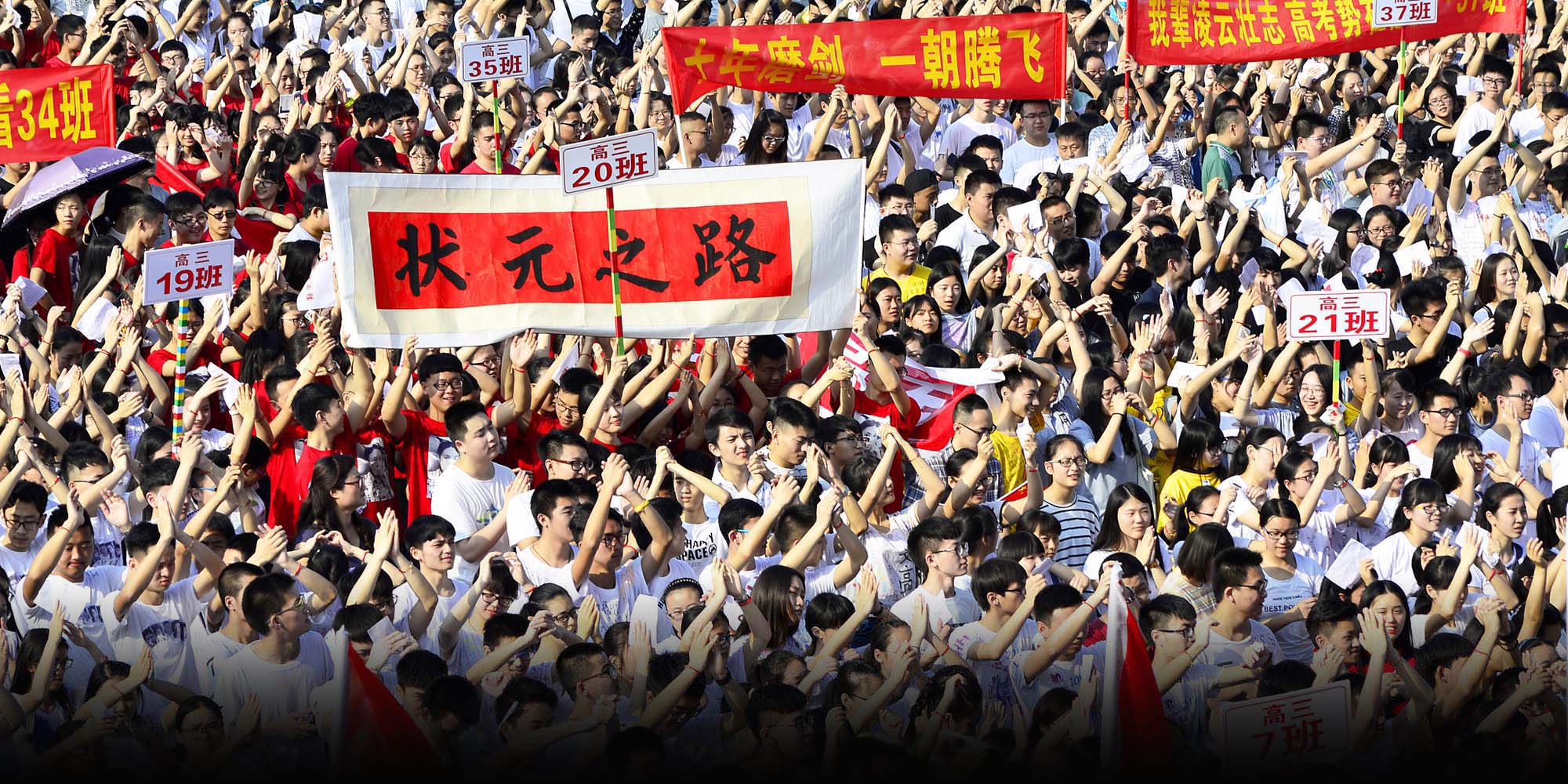 NEWS
Everyone's a Cheerleader for China's College Entrance Exams
Arguably the nation's biggest spectator sport, the 'gaokao' has inspired creative efforts to support stressed-out students.
China's national college entrance examination, or gaokao, kicked off on Thursday. More than 9.75 million students are taking the two- or three-day test, according to the Ministry of Education, and as always, the entire country is coming together to cheer them on.
This year, most exam candidates were born in the year 2000. For these digital natives, a Sina Education survey found, the gaokao is not necessarily the life-determining event that it has been for many generations since the exam resumed in 1977. Some have the option of studying abroad instead, while others can try for special admissions.
But that doesn't mean the gaokao has become unimportant, or any less stressful. Across the country, parents, governments, businesses, and bystanders have morphed into cheerleaders for this year's candidates. On microblog platform Weibo, the hashtag "Let's go, gaokao!" has racked up more than 5.63 billion reads.
During the exam madness, gaokao candidates are top priority. In Shanghai, candidates taking the subway can show their exam credentials to cut through the rush-hour crowds, while bus conductors also call out reminders as they approach the exam site. Across the city, more than 4,000 taxis have been booked to bring teenagers to their test centers, according to The Paper.
Teachers offer last-minute tips. "Avoid using internet slang and neologisms in your essays," advised a teacher from Beijing No. 2 High School. "Bear in mind that the teachers who grade them probably won't understand."
Here's a quick look at what's happening during this year's exam period.
Music Videos
China's unending love for viral dances has coupled up with the country's devotion to cheering on gaokao candidates in the form of flash mob-style music videos.
On Wednesday, the website of the People's Daily released a music video titled "Full Score Dance" featuring students from more than 20 Chinese colleges dancing on their campuses. The song includes rousing and somewhat melodramatic lyrics derived from Chinese anime: "Never yield to mediocrity / let your blood roar like oceans / youth is about burning."
Students from Wuhan University of Technology in central China's Hubei province also made their own video with music adapted from the song "My Sky" by Chinese rap-rock band NZBZ. One scene shows students in graduation gowns dancing in unison at their desks outdoors, while another has a class dressed in blue and white tracksuits — a common high school uniform in China — performing percussion with rulers and pencil boxes. Posted on Saturday, the video has already been viewed more than 9 million times.
Sappy Slogans
As exam season approaches, high schools invariably fill up with red banners celebrating hard work, lofty dreams, fierce competition, and filial piety.
There is no shortage of sentiment in the couplets. "Only through enduring hell's wrath," one in eastern China's Shandong province proclaims, "may we gain the strength of heaven." Another at Hengshui No. 2 High School in Hebei reminds students that getting into Tsinghua or Peking university helps repay their parents. Some even quote Mao Zedong's poems.
But other banners are more matter-of-fact. A photo from Shangao High School in southern China's Hainan province shows students with a banner that says, "Get more points, crush thousands more people." Another says, "To succeed, first go crazy, then be determined and dash ahead!"
Amulets and Prayers
The stress of gaokao season feeds a thriving superstition market. On Tuesday, a bus with the license plate "91666" — which sounds like "must be skillful" in Chinese — took Maotanchang High School students from the famous cram school's rural home into the city. The driver's family name, Ma — which means "horse" — is the first character of an idiom that says the horse's arrival marks the moment of victory.
According to The Paper, there are some 15,000 students from Maotanchang taking this year's exam. In early June, many light sky lanterns upon which they've inscribed their hopes and dreams. It's a good sign if the lantern successfully takes off.
"All the sky lanterns I lit flew up — [that means] I'll certainly get into college, right?" one male student said happily in an interview with The Beijing News.
Celebrity Blessings
Many stars send students their well-wishes, too. On Wednesday, basketball legend Kobe Bryant posted a message of encouragement on Weibo, where he has over 5.6 million followers.
"My dear young friends in China, I'm so glad to see you working and studying so hard and preparing for your own greatness. It's not easy to do that. I wish you all the best and good luck at the college entrance examinations, and keep pursuing your dreams," he wrote.
Editor: Qian Jinghua.
(Header image: Students gather for a ceremony before the college entrance examinations at a high school in Mianyang, Sichuan province, June 5, 2016. Wang Yong/VCG)