When Sir Hugh Beaver came up with the idea of the Guinness Book of Records in the early 1950s — while he and his hunting buddies debated the speed of various European game birds — he probably did not expect that half a century later, Chinese millennials would be obsessed with setting obscure records.
The first few Chinese records were mostly ancient accomplishments or statements of fact, rather than new feats: In the first edition of the book in 1955, China was recognized for being the country with the largest population, while in 1962, pictograms found at an archaeological site in the northwestern province of Shaanxi set the record for the earliest documented characters.
But nowadays, Chinese attempts at Guinness World Records are increasing and diversifying.
On Wednesday, netizens were perplexed by photos of drenched students at Sanya University who had braved torrential rain in order to attempt the world record for the largest graduation photo. Although school administrators had told them to take shelter, students stood fast in their commitment — though later the university posted that they eventually gave up because the rain made it too hard to verify the number and identities of the students.
According to state media outlet China Daily, Guinness World Records announced in April that it receives 2,000 applications each year from China. Though globally, applications are growing at a rate of 1 to 2 percent, the annual rate of growth in China is 10 percent. Since 2012, the Guinness World Records organization has had a regional office in Beijing, and partners with state broadcaster China Central Television on some programs.
"People always assume that China is a big country and has the advantage in breaking records. But I don't agree. I think it's not the number of people that gives China the advantage but its diversity and history," Marco Frigatti, Guinness' general manager for the greater China region, told China Daily.
With the slogan "Officially Amazing," Guinness World Records says its purpose is to define or recognize success in an unconventional or unlimited way. Unlike Olympic gold medals, which also reflect China's ambitions but are limited to sports, Guinness celebrates all sorts of accomplishments — from astronauts and pop idols to those who are simply unusually tall.
The strange kaleidoscope of Guinness World Records can reveal how the world is changing in terms of what makes us strive and marvel and gasp. Here are a few highlights from China's recent attempts.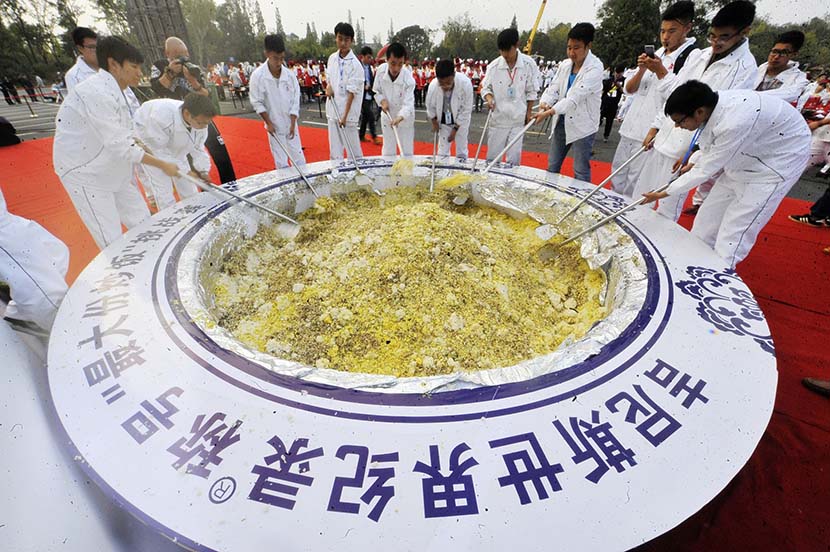 Cooks attempt to set the Guinness World Record for the largest serving of egg fried rice in Yangzhou, Jiangsu province, Oct. 22, 2015. Meng Delong/VCG
1. Fried Rice Falls Flat
In 2015, 300 chefs in the eastern city of Yangzhou prepared the "world's largest dish" of Yangzhou fried rice, a popular food in Chinese restaurants around the world. The dish weighed 4,192 kilograms. But a few days after the dish was recognized by Guinness World Records, the record was deemed invalid because the organization found that 150 kilograms of the rice had been dumped in animal farms instead of eaten by people as required.
2. Dancing Grandmas
You can find retirees dancing on sidewalks and in public parks and squares all over China. In 2015, nearly 20,000 grandmas gathered at a square in northern China's Hebei province to dance to that year's most infectious earworm, "Little Apple." They managed to set a record for the largest line dance, but despite their joy, some of the over-60 participants told media that the training was grueling, and that they had to practice even in the rain.
3. Phony Drones?
On May 1, the skies of Xi'an in northwestern China's Shaanxi province filled up with 1,374 drones. Audiences, however, felt cheated when they saw a few drones fail to stay the course. But Guinness World Records responded that a day earlier, the organizers had already succeeded in breaking the record for the most drones to be flown simultaneously. Nonetheless, some locals still grumbled that the grand show was a waste of money.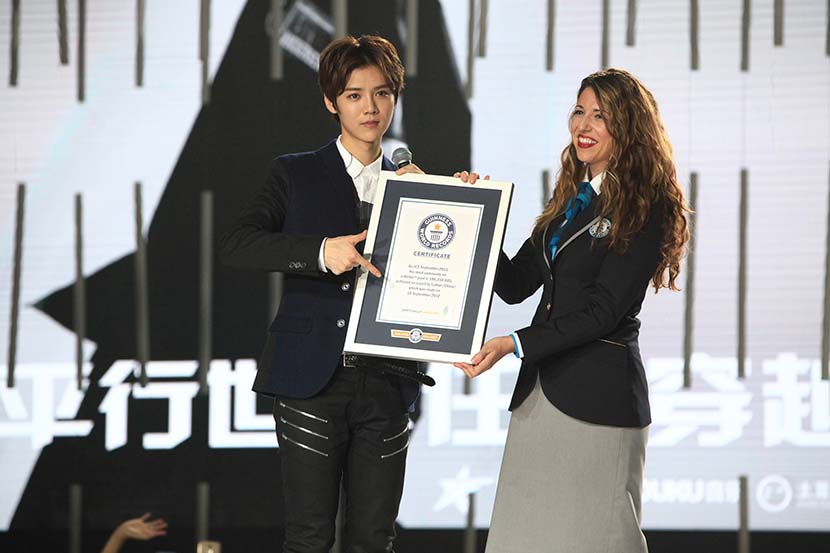 Lu Han (left) receives the Guinness World Record award for most comments on a social media post in Beijing, Sept. 25, 2015. VCG
4. Singles' Day Shopping
Though Singles' Day on Nov. 11 was once a campus celebration of the uncoupled, it has transformed into the world's largest online shopping bonanza, driven by internet giant Alibaba, and concerns about the commercialization of the day have not deterred determined bargain-hunters.
In 2014, Guinness awarded Alibaba's website with the record for highest online sales revenue generated by a single company in 24 hours: It pocketed 57,114,214,058 yuan ($8.9 billion) on Nov. 11 that year.
5. The Flash Floods of Fandom
Whether the subject of their adulation is a "little fresh meat" or an unlikely gay icon, Chinese millennials are ride-or-die when it comes to their idols, and some fandoms seem to be organized with military precision.
Beijing-born megastar Lu Han achieved his first Guinness World Record in August 2014, when a Weibo microblog post he'd made in 2012 about his favorite soccer team drew over 13 million comments, the most on any Weibo post. A year later, he broke his own record when the number of comments on the post rose to over 100 million. The equivalent record for Facebook pales in comparison: According to the Guinness World Records website, it is held by an Indian spiritual guru whose post has fewer than 19 million comments.
In 2016, Lu set another record for the largest gathering of people wearing antlers, after inviting 1,731 fans at his concert to put on antler headbands.
6. Start Them Young
On June 1 of this year, an education firm based in Beijing organized for 18,159 children from home and abroad to take part in the world's largest online language lesson. Luckily, every participant dutifully signed in on time and stayed focused throughout the 30-minute lesson — setting a new, if somewhat niche, world record just in time for Children's Day.
Editor: Qian Jinghua.
(Header image: Seniors square-dance en masse to break a Guinness World Record in Xianghe County, Hebei province, Nov. 7, 2015. Lei Sheng/VCG)