Few pop culture pairings are as inseparable as millennials and their memes. But on Wednesday, a commentary published in state-owned newspaper People's Daily suggested that the memes of the moment bring too much negative energy and should instead contribute to a happier, more harmonious online environment.
"The vitality of internet slang should not depend on whether it's eye-catching or amusing, but on whether it has some social value and can stand the test of time," wrote People's Daily commentator Sheng Yulei.
Sheng admitted that some trending terms do point toward an advancing society, a progressive collective mindset, and an idyllic future. Memes like "The world is so big, I want to go out and see it" — all that a Henan teacher wrote in her viral resignation letter — challenge people to look beyond the world they know and tap into their latent curiosity. And the "prehistoric powers" of China's Olympic sweetheart, candid and quirky swimmer Fu Yuanhui, were commonly invoked in the pursuit of greatness to motivate people to rise above their perceived limits.
But Sheng criticized the vast majority of today's online memes and neologisms for applying "simple and brutal labels" to social phenomena and contributing to a prevailing sense of ennui. "Some internet slang has become trendy simply by channeling the misery people feel when they encounter difficulties. One or two trending words cannot fully represent our life and works, let alone offer spiritual guidance to help us solve problems," he wrote.
Here's a look at some of the memes referenced in the People's Daily commentary, as well as a few others that fit the writer's criteria for criticism.
Invisible Poor Population (隐形贫困人口)
In April, the term "invisible poor population" exploded on Chinese social media, referring to people who pretend to be connoisseurs of fancy food and drink while actually having little money to their name. Another People's Daily commentary published that month blamed the culture of conspicuous consumption that's especially prevalent in China's cities. Abetting this "spend now, pay later" mentality, the author explained, is easy access to quick cash through the country's ballooning online lending industry.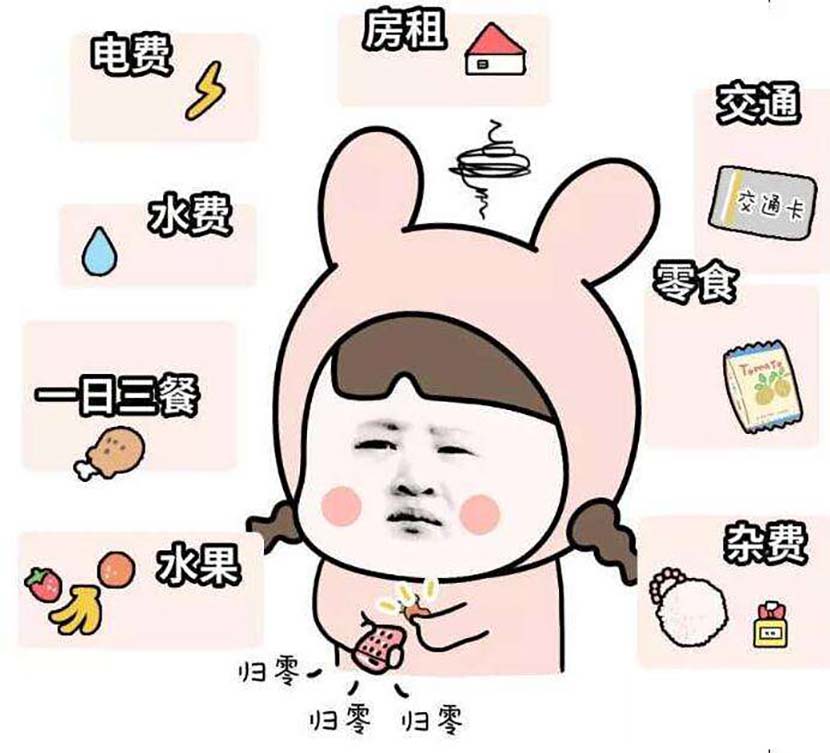 A meme shows a woman from the 'invisible poor population' being overwhelmed by her daily living expenses. From Weibo
Surprisingly, many netizens readily included themselves among the ranks of the invisible poor. An article on the topic published by Xinshixiang, a public account on social app WeChat that focuses on pop culture, suggested that today's young people value their overall quality of life as much as their bank accounts: They might splurge on expensive meals, luxury cosmetics, and high-end gyms, the author wrote, even if it puts a strain on their finances.
Active Loser (积极废人)
April also saw the rise of the "active loser." This term refers to someone who frequently makes grand resolutions but rarely follows through on them — a prolific proclaimer but a delusional doer. Active losers are known for their carefree, positive attitudes and their crippling inability to act, whether due to procrastination or some other vice. Furthermore, when the decisive moment has passed, the active loser may feel overwhelmed with guilt for giving in to sloth.
Active losers often delude themselves: When dieting, for example, they might convince themselves that the calories in a soda are offset or "burned" by ice cubes, or that sugar-saturated milk tea is healthy because its two nominal components — milk and tea — are both good for you.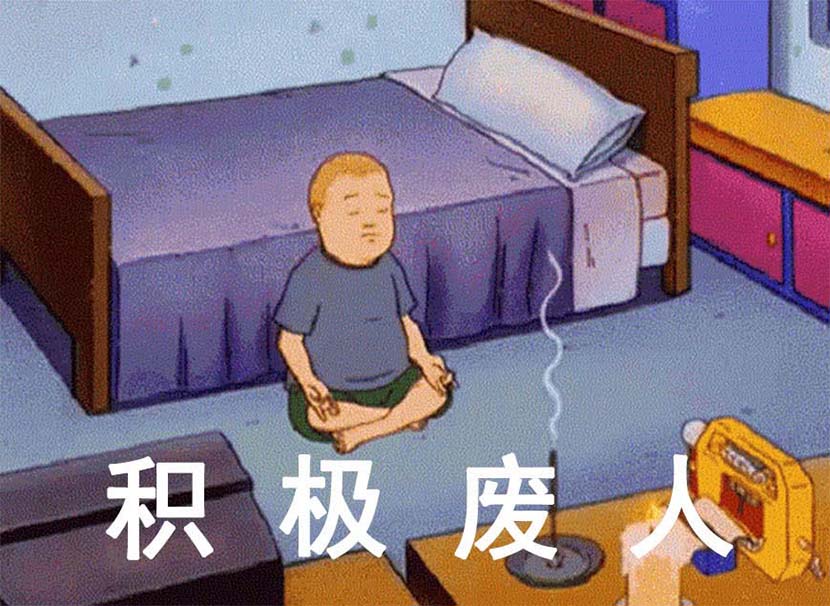 A screenshot from the American sitcom 'King of the Hill' shows Bobby as the prototypical 'active loser.' From Weibo
On May 10, meme maven People's Daily bid farewell to the counterproductive term on its official Weibo microblog account: "From today, let's say goodbye to 'active loser' and encourage procrastinators to more promptly put their plans into practice."
Troll Queen (杠精)
We all know that one contrarian acquaintance who puts the "devil" in "devil's advocate." In China, such people who argue solely for the sake of arguing are known as "troll queens" — a portmanteau of online troll and drama queen that was popularized in late 2017.
A troll queen lives in a state of constant outrage — against society, against fate, against the man, or against other countries. Engaging with a troll queen on social media is almost always vexing and exhausting, as they have a tendency to disregard logic entirely, says pop culture commentator Zeng Yuli. "We dislike troll queens not because we're opposed to hearing advice, but because they point out problems without offering solutions," he told Sixth Tone. "The best way to deal with a troll queen is with silence."
But Sheng, the People's Daily commentator, takes issue with netizens who invoke this term whenever another disagrees with them. "If it's just about someone else holding different opinions," he said, "isn't it wrong to call them a troll queen?"
Universal Luck Repellant (万能好运绝缘体)
If you've never been in a relationship, have trouble sleeping, underperform at sports and video games, boast a lackluster academic record, and never get the "lucky draw" from the red envelopes your friends send on WeChat, then you might be a universal luck repellant. "Life should at least make one exception for me," lamented one self-described universal luck repellant on Weibo.
Plastic Besties (塑料姐妹花)
As if taking a cue from the 2004 comedy "Mean Girls," this term is used in China to describe hypocritical female friendships. It comes from the adage that best friendships are like plastic flowers: They're fake, but they don't wither.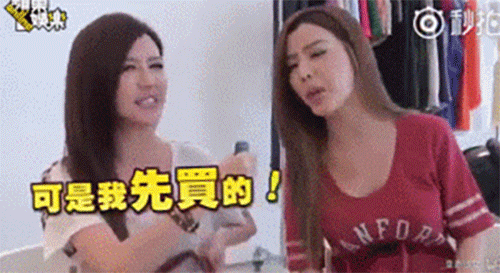 Sisters Miko and Yumi from girl group By2 tease each other about handbag color preferences. From Weibo
On the surface, plastic besties may look like they share a twin sister-like bond: Like any pair of true friends, they hang out together and take selfies, which they dutifully post on social media — but each girl posts the photos in which she looks better than her friend, or photoshops her own face and body without touching up her friend. And aside from merely wanting to be the better-looking of the pair, plastic friends show a knack for badmouthing each other in private.
Editor: David Paulk.
(Header image: Ikon Images/VCG)