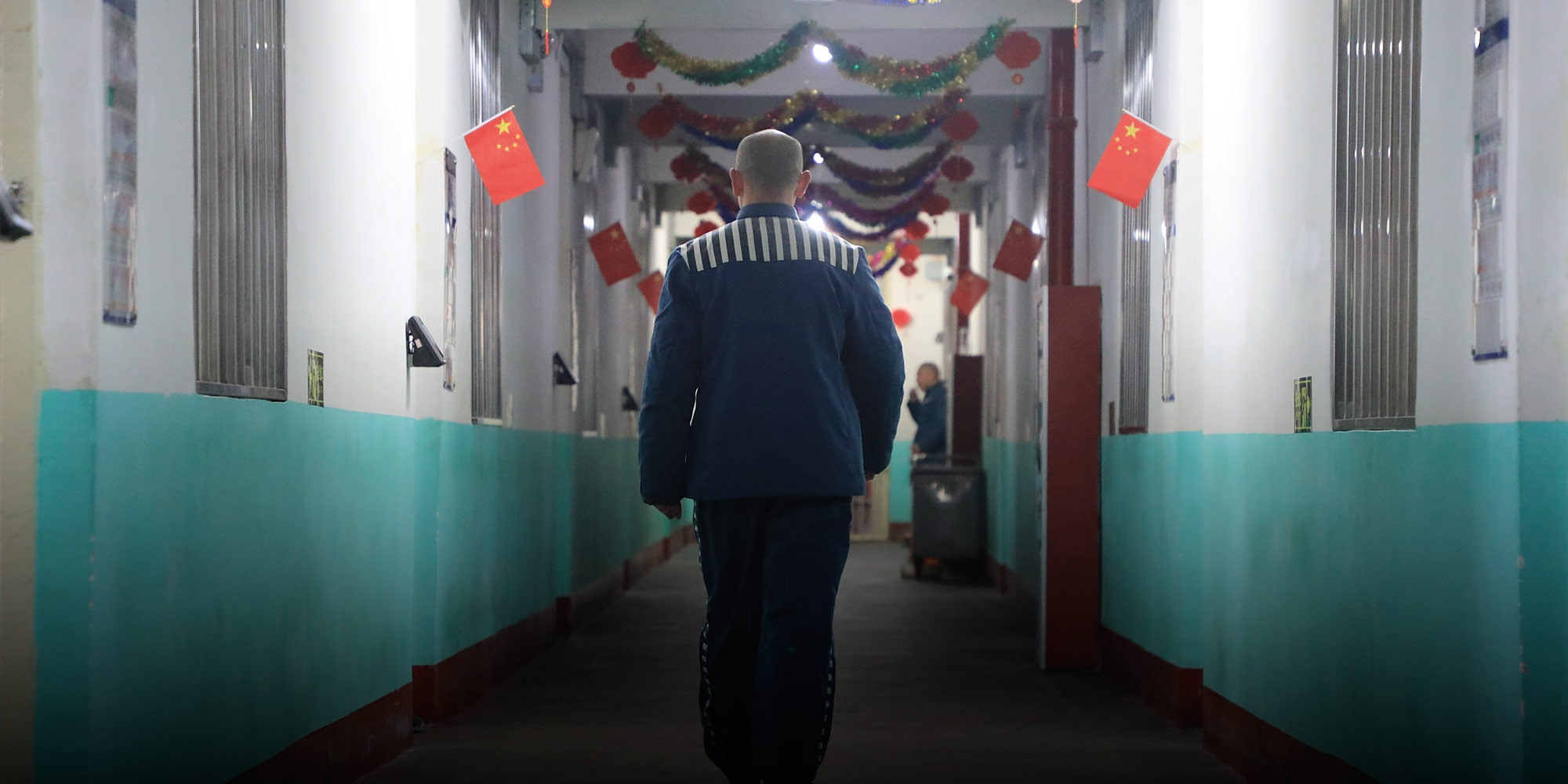 FEATURES
Disabled Speakers Offer Shandong Prisoners Inspiration, Empathy
Volunteers with disabilities help inmates rethink their struggle.
SHANDONG, East China — On a cold winter night 16 years ago, Chen Yumei and a few friends set off from the port city of Qingdao in a scrap metal collection truck, her wheelchair in the back. They drove through the dark until, at dawn, they reached their destination. Chen had been awake the whole way. She was nervous: She had never been inside a prison before.
A year before her journey, Chen — then a freelance writer — had written about Wang Guitong. The father of a child with leukemia, Wang had been sentenced to life in prison after resorting to theft to pay for treatment. He had gotten his hands on the newspaper with Chen's article inside, and had shown it to his cellmates and the wardens, who had then invited her to give a speech. Chen, now 53, remembers how she wanted to let the prisoners know that even though high walls and barbed wire cut them off from the outside world, they weren't forgotten.
This happenstance event evolved into an unlikely volunteering career, with Chen touring prisons to give motivational speeches. Having a disability — Chen's legs have been paralyzed since early childhood — has proved powerful. People pay attention, she tells Sixth Tone, to her unique message: "One day, you will be released and set free, and I will still have to serve my own 'life sentence' in my wheelchair. If I didn't lose hope in life, then there's no reason why you can't do better."
Chen has spoken to hundreds of prisoners about how disability has affected her life: how she learned to "walk" by squatting down and moving her feet with her hands; how even though she had good grades, she couldn't take the college entrance exams; how working in state-owned factories for people with disabilities created as a form of social welfare, she could only earn one-tenth the income of a nondisabled laborer.
Sometimes Chen talks to inmates one-on-one and helps them with legal matters, such as applying for early release. "Somehow, I can feel a kind of connection between disabled people and prisoners: Both of us are vulnerable groups living in fear of discrimination and suffering from inequality," Chen says, adding that she sees prisoners as patients afflicted with a lack of willpower. "Prison is actually a judicial hospital for treating their 'deficiencies,'" she says.
Wang — the man Chen wrote about — says he appreciates the metaphor. It makes it easier for him, now 52, to recall his time behind bars. After Wang entered prison in 1996, every day felt like a year, he says, because he was so worried about his daughter Tingting, who had been ill since she was 3 years old. Stealing items worth 16,000 yuan (then around $1,900) — when authorities were cracking down on crime and the law, since amended, meted out heavy punishments for theft — had put him behind bars for life. "That amount wasn't even enough to cover all the medical fees," Wang tells Sixth Tone. "My daughter, lying in the hospital bed, was tortured by illness all over her body, crying, 'Dad, I'm in so much pain.' I know it's wrong to steal, but what else could a desperate father do?"
Liu Haitao, the deputy warden of Weihu Prison when Wang was incarcerated there, tells Sixth Tone that he still remembers Chen giving her first speech. She committed to helping Wang's wife — who had been diagnosed with a mental illness — until Wang got out of prison. Afterward, during a donation drive organized by the prison, Chen insisted on chipping in 100 yuan — about half of her monthly income. "That she extended a helping hand even though she lived in financial difficulty was the most moving moment," Liu says.
In the past 16 years, more prisons have opened their doors to welcome Chen. She has gathered a group of about 50 people with disabilities who join her on visits, though it hasn't been easy. Apart from difficulties relating to their ages and disabilities, the group lacks funding: Prisons only cover travel expenses when guests are officially invited, and neither charities nor the provincial disabled people's federation provides support.
Their initiatives don't always succeed. In addition to her talks, Chen also tries to help prisoners adapt to life after release, when many face discrimination while looking for work. "People are afraid of me," one ex-convict tells Sixth Tone. "I have paid for my mistake, but nobody has accepted the price." Chen recalls how she once tried to help a former inmate who had been fired from his train kitchen job by writing letters explaining the man's situation, but to no avail.
During his first few years behind bars, Wang hoped to be reunited with his wife and daughter. He was put to work in a coal mine as part of the prison system's "reform through labor" program — authorities consider punitive labor character-building — and did his best to stand out, hoping that it would improve his chances of an early release. But one day in the winter of 2000, Wang's wife came to visit bearing tragic news. "When I asked how Tingting was doing, her mother cried silently, and I soon realized my girl was gone," Wang says.
Wang was released in 2016, but he had been diagnosed a decade earlier with uremia — a disorder where the kidneys no longer filter toxins out of the blood. The only treatment, a kidney transplant, is prohibitively expensive. "Their family was so miserable," Chen says. "If the purpose of prison is to punish, why is it that even now [that Wang is released] they can't live happy lives?" Chen is trying to raise money for surgery.
But Chen and her cohort still soldier on. "We want to let prisoners know that they are not forgotten or abandoned, and that we will of course accept them on the day they come out," says Liu Guohong, 54. Though her legs are paralyzed, she works as a scrap metal collector in Chen's neighborhood. "I told them, 'If I can make a living with such a severe disability, you can also make it,'" she says.
For 71-year-old Chen Ruiyun — no relation to Chen Yumei — the prison visits are a reminder that she's still alive and helpful. "I'm recycled," she says half-jokingly. Her gray hair reminds prisoners of their mothers or grandmothers. "Some of them have not seen their family members since going to prison," Chen Ruiyun says. "Once they see my vulnerability, they are really moved and regret what they've done." Once, when she took her 13-year-old granddaughter along with her, the sight brought a prisoner to tears: He said the girl was around the same age as his own daughter. "I guess such a scene is more effective than any lecture," Chen Ruiyun says.
Editor: Kevin Schoenmakers.
(Header image: An inmate walks down a corridor of a prison in Xinxiang, Henan province, Feb. 15, 2018. Wang Fuxiao/VCG)