SHANGHAI — This International Children's Day, China's grown-ups are scoffing that age is just a number as they hop on the holiday's increasingly commercialized bandwagon — from ordering fast-food kids' meals for the sake of exclusive toys to showing off childhood photos on their social networks.
Millennials in China are increasingly embracing childish things in defiance of adulthood, even turning cartoon character Peppa Pig into a street culture icon that soon drew concern from media regulators.
But on the June 1 holiday, some Chinese consumers were left disappointed when businesses ran out of their Children's Day freebies. For one Sixth Tone reporter, this very experience cast a pall over an otherwise merry day.
Near the crowded, glitzy thoroughfare of West Nanjing Road, people of all ages and demographics could be seen rushing into KFC. But as customers crowded in, the cashier repeatedly apologized — not for burnt fries or spilled soda, but for a depleted stock of Doraemon-themed kids' meal toys introduced to commemorate this year's Children's Day.
The cinematic premiere the toy's release coincides with — "Doraemon the Movie: Nobita's Treasure Island" — celebrates nostalgia as much as children. The film's Chinese poster proclaims "Let's go home!" and "Never abandon innocence!"
"Everyone has a Doraemon in their heart. I've liked Doraemon since I was 7," wrote one adult user on Chinese ticket-booking platform Taopiaopiao. From a cursory scan through the thousand or so comments about the film, it's clear that for many fans, Japan's beloved cartoon cat conjures up waves of fond childhood memories.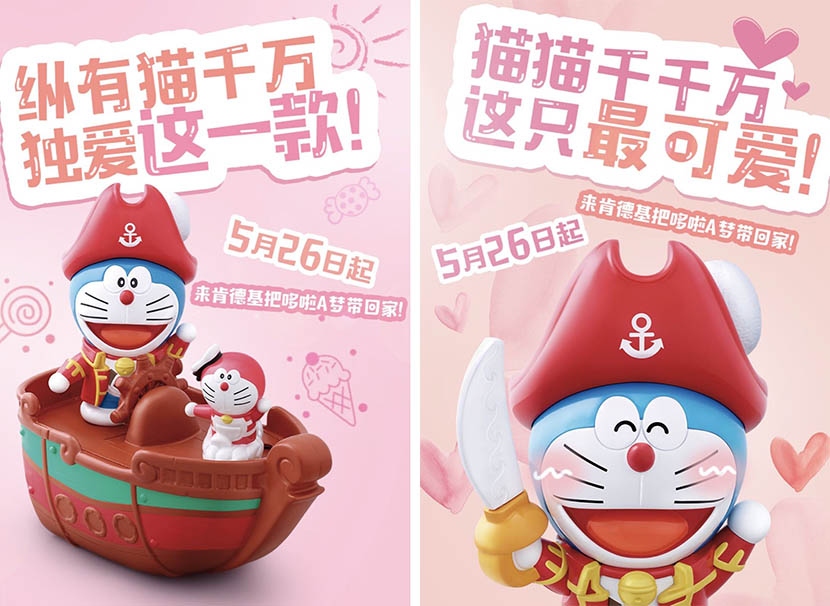 Promotional images of KFC's Doraemon-themed Children's Day toys.
Zhou, a 22-year-old college student waiting at KFC, told Sixth Tone that she and her friends often celebrated Children's Day by ordering kids' meals at restaurants. This year, though she is off-campus for an internship, her friends reminded her that she should still treat herself.
"When I was young, my grandparents would take me shopping to buy Barbie dolls, and we would eat KFC or McDonald's whenever we wanted," said Zhou, holding a Spider-Man action figure freshly purchased at a nearby Disney store. "I couldn't help buying it," she explained sheepishly.
In addition to fast-food chains, other businesses also tried to cash in on Children's Day. Meituan, a food-delivery company that recently launched a ride-hailing service, gave out Children's Day coupons, and its rival, Ele.me, rewarded anyone who placed an order for KFC or McDonald's with 3 yuan ($0.50) in cash.
Just a few doors down from KFC, Danish building-block company Lego had partnered with a local real estate firm to build a small-scale Legoland catering to prospective tenants and their kids, while local coffee chain Coffee Box had painted another Japanese cartoon character, Ultraman, on its cups. Even state media outlet Shanghai Daily promoted Peppa Pig latte art at its employee café.
Still more netizens hijacked the kid-centric holiday by posting childhood photos on social platforms like Weibo and WeChat — including judges from a Beijing district court.
Editor: David Paulk.
(Header image: A woman passes by a mall entrance displaying Peppa Pig posters, Nanjing, Jiangsu province, May 31, 2018. VCG)