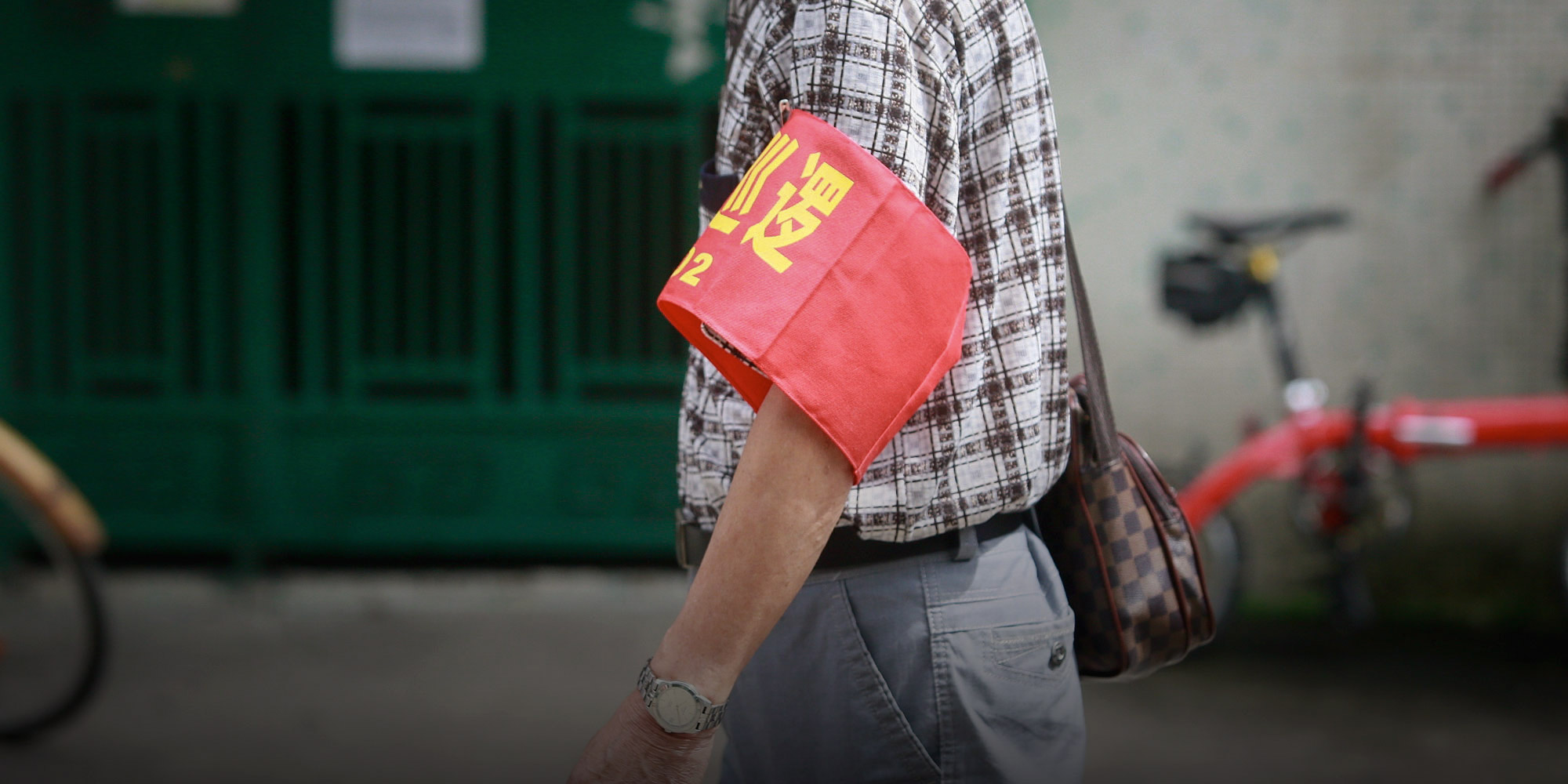 VOICES & OPINION
Is China's Grassroots Social Order Project Running Out of Money?
'Grid management' — where volunteers double as public order officials — is strong, stable, and rather expensive.
One Sunday in April, I drove across town to my friend's neighborhood in Tianjin, a coastal metropolis in northern China. By the time I had finished parking, several middle-aged women with red armbands had already marched across the residential complex and were sizing me up. "This car isn't from our neighborhood," announced one of them, correctly but somewhat abruptly.
Perhaps because I generally look harmless, I soon passed their "inspection." But if the women had deemed me suspicious, they probably would have alerted the neighborhood authorities — or even the local police — of my whereabouts and appearance.
This style of local governance is relatively common in Chinese cities. Incidents of collective vigilance like the above anecdote are generally known by the term "mass prevention and treatment." When combined with a top-down system of social monitoring, the result is an administrative style called wanggehua guanli, or "grid management." Local officials rally so-called community volunteers to deputize as auxiliary public order officials. Volunteers are drawn from a wide range of social groups, but generally have low levels of formal education. They receive no specialized training for the role.
Community volunteers receive a small stipend from the government, usually somewhere between 300 and 500 yuan ($50 and $80) a month. They also enjoy occupational injury insurance guaranteed by the state. Volunteers do not have fixed hours and are responsible for monitoring daily life in the community, keeping an eye on strangers passing through the neighborhood, and reporting anything suspicious to the authorities. If their information proves valuable, they may receive financial rewards.
Grid management was piloted by local government officials in Beijing's Dongcheng District in 2004: They reorganized the district's 205 communities into a 589-part grid. Local authorities then assigned specific personnel to each grid unit — urban managers, police, supervisors, Party branch secretaries, legal workers, and so on. These teams, in turn, mobilized some 120,000 community volunteers operating in the district, many of whom were drawn from existing neighborhood committees.
Officials claim that Dongcheng's grid management project has been a roaring success. They say that the district saw a marked decrease in the number of formal complaints and petitions, the main ways that members of the public register discontent in China. In addition, the number of public security incidents per thousand people is lower in Dongcheng than in any other Beijing district, although officials have not released evidence to corroborate this.
In November 2013, the Chinese Communist Party (CCP) signaled its intention to integrate grid management into existing models of grassroots urban governance. Then, in December 2015, the CCP's Central Committee and the State Council — China's cabinet — officially approved the grid management system prior to a national rollout.
The shift toward grid management reflects a broader trend in urban China. Urbanization is largely dependent on mobility: Millions of Chinese people have migrated to the country's cities in the last four decades in search of better lives. But this influx of newcomers into urban communities is creating a society of strangers. Individuals within a community no longer know each other as well as before, a fact that worries municipal officials and frontline public servants, who often view the pace of urbanization as a threat to their control over social harmony. Many city management officials I speak to blame urbanization for their increasingly difficult jobs, saying that the government urgently needs effective methods to re-establish control over public order.
Grid management responds to these concerns by mobilizing communities to isolate potentially dangerous elements within crowds of strangers. Although Chinese cities are deploying a wide range of surveillance and facial identification technologies, at present most of these devices are only able to identify known threats to public order. In short, current technology is reactive, not preventative: A computer cannot judge the potential risk posed by an unknown individual, let alone determine what constitutes suspicious behavior.
However, scholars have voiced skepticism about the invasive nature of grid management. Many claim that the system violates the right to personal privacy, empowers volunteers to settle personal scores via extralegal means, and prefigures the creation of a surveillance society. Yet urban officials tend to dismiss these issues, countering that grid management is much less invasive than CCTV cameras, that there is nothing illegal about volunteers watching people with their own eyes, that the majority of volunteers submit true and reliable reports to law enforcement, and that the system enjoys widespread public support. (Although this last point is difficult to verify, it nonetheless seems reasonable, given the huge numbers of active volunteers in the scheme and Chinese society's arguably more lenient views of privacy rights.)
And there really are objective benefits to grid management. For example, Chinese megacities are often praised for their high levels of personal safety and low rates of public order crimes. There are around 120 police officers for every 100,000 people in China, according to a 2017 book by the social scientist Fan Peng — far fewer officers than in developed countries. As a result, officials seek additional support from volunteers, hoping to tap into public enthusiasm for maintaining social order.
Grid management is controversial, as it blurs the distinction between the public and private spheres and challenges personal privacy. But if we set aside this matter for the moment, we find that the more immediate issues with grid management concern its feasibility and sustainability. As China continues to urbanize, city officials are feeling greater pressure to maintain local stability, a key metric for judging their career performance. But at the same time, unbridled urbanization increases the economic and human costs of grid management. Although the system promises measurable rises in social stability, it may yet creak under the weight of finite resources — namely, money, time, and human effort.
Translator: Kilian O'Donnell; editors: Lu Hua and Matthew Walsh.
(Header image: A man wearing a red armband stands on patrol in Foshan, Guangdong province, July 23, 2015. Guo Jijiang/VCG)