SHANGHAI — Though 90-year-old Weng Zhongyin maintains that he is still quite capable of traipsing up three flights of stairs, his wife has not been able to leave their fourth-floor apartment since she became paralyzed two years ago. She is unable to speak clearly, but Weng, a long-retired obstetrician, knows that she feels lonely and trapped.
The six-story building that Weng and his wife share with 29 other households does not have an elevator. It's a growing concern, now that more than half the apartment owners are in their 80s. Despite seven years of lobbying for one to be built, the residents are still struggling up the stairs.
"Once the elevator is in place, I'll be able to take my wife to visit nearby temples and parks together," Weng says.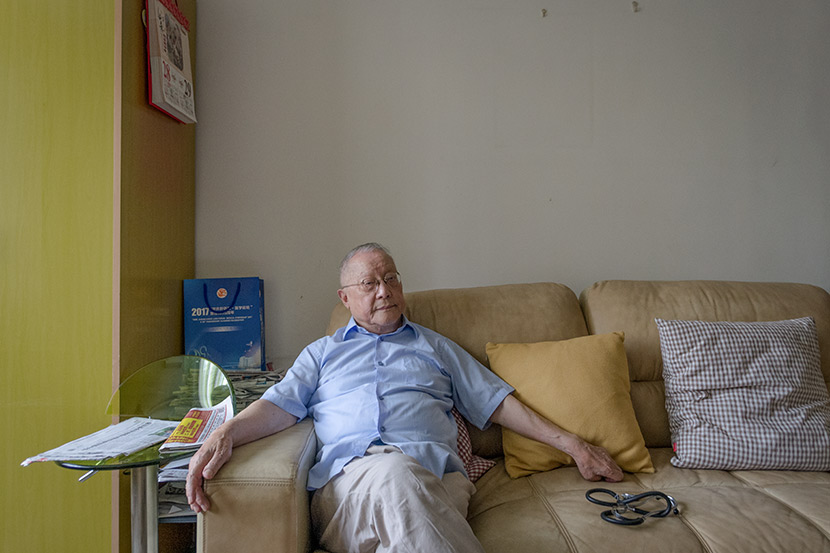 Weng Zhongyin, a retired doctor, poses for a photo in his fourth-floor apartment in Shanghai, May 14, 2018. He had just used the stethoscope to check on his wife, who has not been outside for years because she is partially paralyzed and cannot use the stairs. Kevin Schoenmakers/Sixth Tone
Directly above Weng lives 84-year-old Su Xiujie, a renowned children's dramatist who loves his cozy flat in the heart of the city's bustling Jing'an District. But as the former cadre ages, he too has been forced to realize that he may have built his nest too high.
Their apartment block, opened in 1981, was constructed by the foundation of Song Qingling, a Shanghainese woman and prominent political figure who died that year. The building was earmarked for housing highly skilled locals, and at the time, it was quite a coup to be assigned a flat there.
Nowadays, however, the residents are frustrated: Even though they have raised the funds themselves, any construction work requires approval from multiple levels of government. Weng was baffled when nothing had happened two years after he paid for the planned elevator. "This is a problem that should be solved by our government," he says.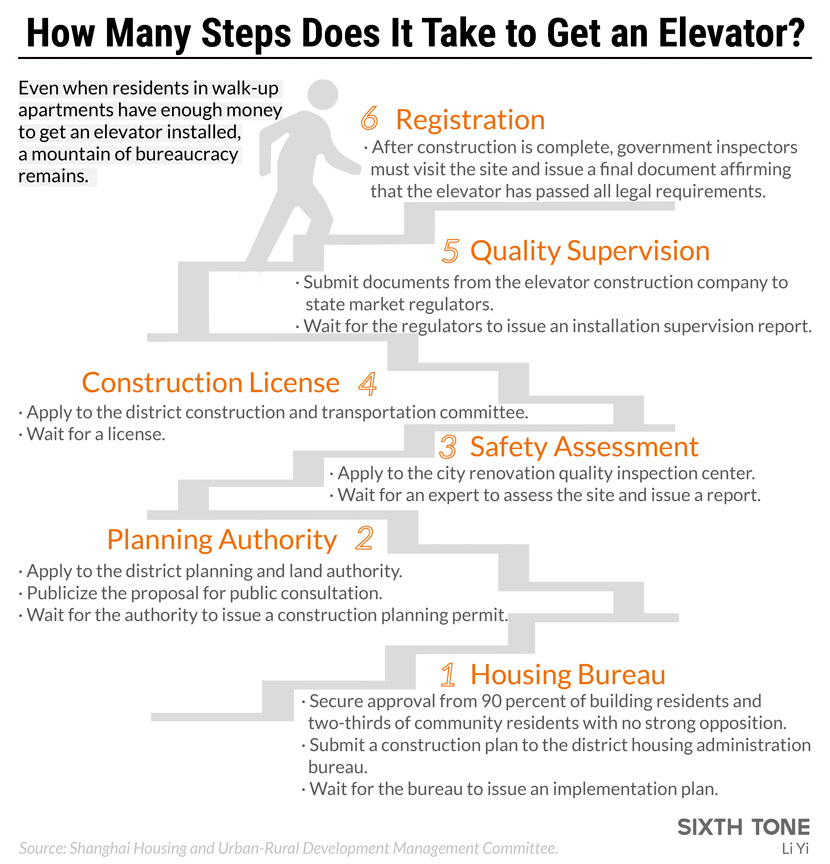 The issue of inaccessible housing will only grow as China's elderly population swells in the coming years, says Feng Jianguang, the chairman of Zhiku Aged Care Support Service Center. The problem will be especially prominent, he believes, in more modern cities like Shanghai where seniors cherish their independence.
According to official statistics, a third of Shanghai's registered urban residents were aged over 60 at the end of 2017: some 4.8 million people, or the population of Melbourne. By 2040, Feng says, the over-60 population of the city could be 45 percent.
A survey from Shanghai Research Center on Aging found that more than 75 percent of the city's seniors preferred to grow old in their own property rather than move in with their kids or to a care facility. "That's the effect of traditional Chinese cultural values," Feng says. He believes that the government should formulate a clearer system on how seniors can apply for elevators in their buildings so that they can maintain independent lifestyles for as long as possible.
Walk-up apartments of five or six stories were very popular in Shanghai and other major cities in the 1980s, Zhiku marketing director Li Yuanfeng says. But the generation of people who were assigned to live in these flats during their working years are all now reaching old age. "The designers didn't think ahead," Li explains.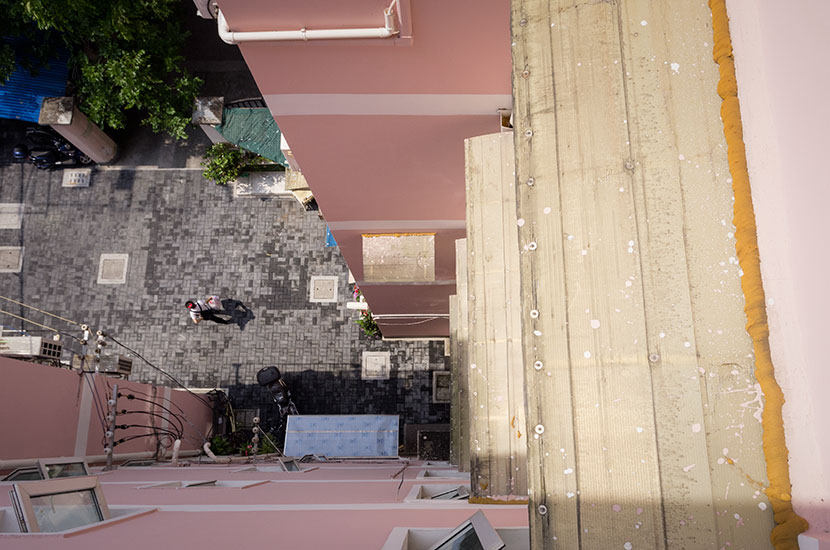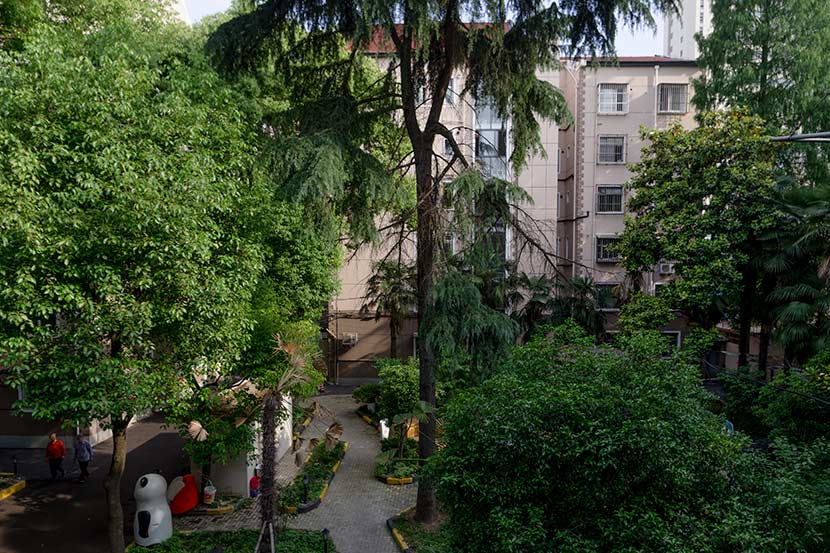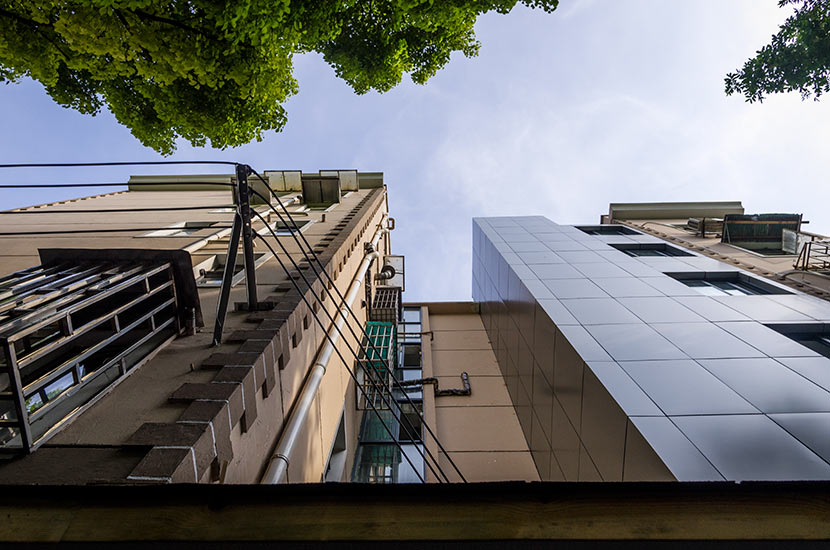 In 2010, the Beijing government announced that in light of the city's aging population, it would support self-funded renovation applications from residential communities seeking to add elevators. Though Su lives in Shanghai, he saw a glimmer of hope in the news and gladly took up the role of project manager for elevator construction in his building.
But one resident's opposition soon threw a spanner in the works. Though 29 households — including Su's — had agreed to a plan that would not cost a cent for ground-floor residents, a woman who owned a ground-floor flat vehemently disagreed with the construction, though Su says she never said why.
The staircase gossip was that she wanted to get back at her neighbors who had complained about her renting her flat to a constantly changing cabal of strangers. Su maintains that the landlady worked at a hospital and rented her rooms to out-of-town patients' families.
According to a Shanghai housing administration notice, applications for elevator construction must have the consent of at least 90 percent of property owners in the building to be refurbished, and two-thirds of property owners in the compound under the same management. But a note in the document also states that the plan must encounter no serious opposition — so after the woman filed a strongly worded complaint against the plan, local government told Su that his approval had been suspended.
Though Su and dozens of government officials personally visited the objector, she would not budge. "Some rules are unreasonable," Su says.
Fei Min, a 50-year-old hotel manager who is helping neighboring residents apply for elevators, has had better luck. In the last six years, construction has been completed on three elevators in Huayi Guarden, their community a few blocks from where Su lives. But it wasn't easy.
Fei had to get every household on board with the plan, and then have stacks of documents stamped by different government departments, some of which posted outdated guidelines, gave him conflicting advice, or did not understand even their own procedures. "The actual construction for one elevator took less than three months," Fei says, while the whole process took three years.
The Jing'an District government declined Sixth Tone's request for comment.
Elderly people play cards in front of Su's apartment building in Shanghai, May 14, 2018. Kevin Schoenmakers/Sixth Tone
Yang Yuping, a subdistrict employee who helped Fei liaise with different departments, believes that the government should create a one-stop service for construction applications to make it easier on retirees, who are often bewildered by the layers of bureaucracy. Fei is now trying to apply for government subsidies for the completed elevators, but one available subsidy that reimburses up to 40 percent of construction costs, or up to 400,000 yuan, is no less of an ordeal.
After years of running through a maze of red tape, Su finally got some good news in late April. The district government has given him the green light to bypass the one person who opposes the elevator, after several rounds of failed negotiations. But what awaits is another obstacle course of blank forms, unhelpful bureaucrats, and running back and forth for various stamps and signatures.
"We've come this far — all we can do is wait," Su says with a bitter smile.
Editor: Qian Jinghua.
(Header image: Su Xiujie poses for a photo outside his fifth-floor apartment in Shanghai, May 14, 2018. According to current plans, the wall he is leaning against will be turned into the entrance to the elevator. Kevin Schoenmakers/Sixth Tone)