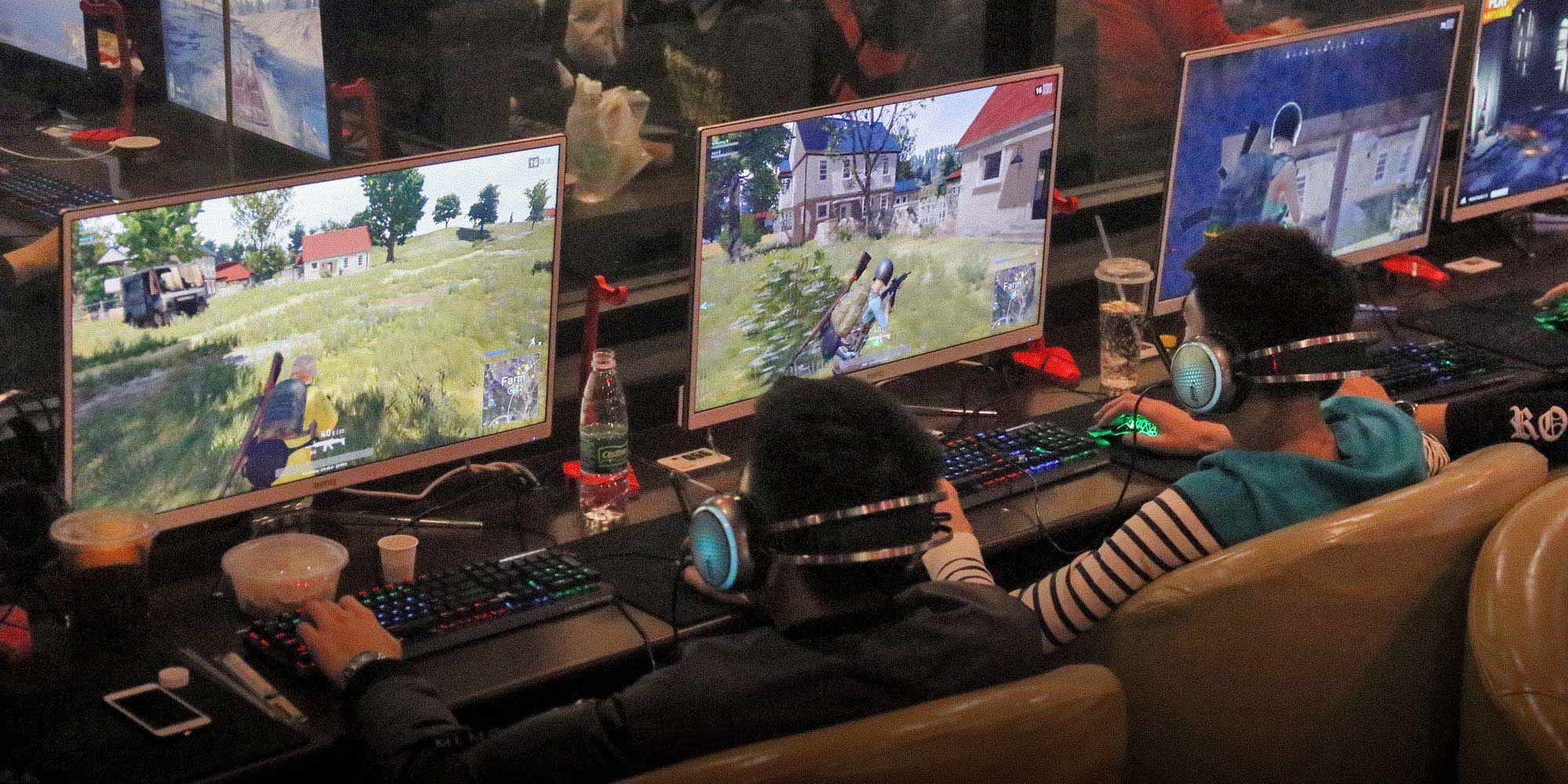 FEATURES
Feeling the Cheat: The Game Hack Sellers Working Under the Radar
Police crackdowns and defensive measures from game developers aren't stemming the tide of video game cheats.
Computer science graduate Li spends his nights selling superhuman abilities. From magic guided bullets to the ability to see enemies through walls, the 29-year-old's wares help eager gamers secure victory in online battles.
Business is thriving for Li, who rakes in between 10,000 and 30,000 yuan ($1,600 and $4,700) a month from cheat sales on top of his 8,000-yuan salary. His cheats are mostly for the immensely popular Korean-owned game "PlayerUnknown's Battlegrounds" (PUBG), which sees players fight to the last man standing in desolate, weapon-strewn wastelands.
Li — who refused to give his full name or occupation due to the shady aspects of his trade — is one of many thousands of techies profiting off China's video game cheats market. In China, using cheats isn't necessarily illegal, but trading cheats can be against the law if they cause damage. In this relatively lawless industry, scamming is rife, virus-laden cheats are common, and it's easy to fall on the wrong side of the law. Cheats pass from developers to kingpins to hordes of vendors, who then sell them to users on a subscription basis for around 50 yuan a day. Gamers enter the subscription codes to activate cheat software, which runs as a separate third-party app. There's a dazzling range of cheats offered to gamers, including those allowing avatars to become invisible, run as fast as cars, and fly boats as if they were airplanes.
A keen gamer himself, Li first started programming cheats for his own amusement while at university. After graduation, he served in the army before settling down in the northern port city of Tianjin, where he'll soon get married.
A year ago, Li grew restless. A number of his former classmates working in top Chinese tech firms like Tencent — which acquired PUBG's China publishing rights in November — were selling cheats, and so he began doing so himself. In the beginning, it was tough for Li to find customers, but after six months, he had built up a base of clients — men, women, and even young children — and had a steady supply of cheats from developers and distributors. When asked whether he feels guilty about his line of work, Li is unrepentant: "If you don't do it, someone else will, right?"
While the exact number of cheaters or cheat sellers in China isn't known, the industry appears to be flourishing. A recent survey by security software firm Irdeto of over 9,000 gamers found that 55 percent of Chinese gamers admitted to having used third-party cheating tools in online multiplayer games — the highest proportion of all six nations in the study, and much higher than the 43 percent from the second nation most prone to cheating, South Korea. In December, after PUBG users complained about widespread cheating, the game's creator, Brendan Greene, revealed that 99 percent of the cheaters came from China, despite comprising less than half of the game's players at the time. Cheaters are not always subtle: Some of the top PUBG players listed on Steam, an online gaming platform, advertise contact details for cheat services through their profiles.
Gaming companies, unsurprisingly, have poured time and resources into cracking down on this gray market, from fixing in-game loopholes to blocking suspicious accounts. PUBG tries to beat cheats by releasing a constant stream of small patches, forcing cheat makers to continually update their codes. Steam permanently bans transgressors detected by the game's anti-cheat scanners or flagged by other players — a fate that's befallen several professional gamers who were suddenly banned from PUBG while livestreaming.
But while it can be easy to spot cheats like flying cars and inhuman speed, the most popular cheats — such as improved accuracy — are subtler. A shot that successfully hits a target's head could be a cheat, or it could just be the work of a highly skilled gamer, according to Li Yingfeng, the president of esports education academy Hengyi Wenhua in the eastern city of Nanjing. Ban-resistant cheats can cost thousands of yuan — still modest compared to what a livestreaming gamer can earn by wowing fans — and can be so hard to trace that they require frame-by-frame analyses by cheat-busting sleuths to catch signs of cheating, such as unnatural crosshair movements.
Recent arrests also point to the scale and sophistication of China's video game cheat industry. This year, 15 men were arrested by police in Lianyungang, eastern Jiangsu province, for producing and selling cheats laced with Trojan malware that stole users' data in a 30 million-yuan case. In another case in April, a man living in remote mountainous areas of southern Fujian province was arrested for making hundreds of thousands of yuan selling video game cheats to a network of over 30,000 distributors. A legal officer from Tencent told Sixth Tone that cheat selling can be considered "sabotaging computer systems" under Chinese law, and can constitute a criminal offense if it influences the game's operation and production.
Wang, a 26-year-old cheat seller who refused to give his full name due to the sensitive nature of his work, says that China's large number of cheaters is partly due to cultural attitudes toward cheating and video game developers' formerly lax approach to dealing with cheats. But a much more important factor is the sheer number of PC gamers in the country, says Wang. Until recently, video game consoles were banned in China, meaning PC games — which are more susceptible to cheats — became the dominant gaming format, presenting a huge market for cheat sellers.
Wang has already been in the cheat business for six years, supplying distributors with cheats for around 20 major video game titles — including PUBG. His interest piqued in middle school when he saw a player dealing impossibly powerful blows to monsters in the South Korean fantasy combat game "Dungeon Fighter Online." He used cheats himself for several years, but his side-hustle only took off in university, when his lighter schedule enabled him to dedicate more time to growing his network.
These days, Wang keeps his business small to avoid getting into trouble, but he still makes about 10,000 yuan a month on top of his day job at a video game company in the southern tech hub of Shenzhen. He says that scams and malicious cheat software are constant threats for buyers. A cheat seller could easily take customers' money and block them — a temptation he's resisted. In such an anarchic online market, sellers develop a reputation for their trustworthiness and the "stability" of their cheats — meaning how well they protect the player from having their account banned. Many of Wang's new clients approach him through recommendations, but trust is easily lost: It just takes a single faulty cheat to lose a client forever. Sellers also actively work to discredit each other, including methods like producing photoshopped conversations that appear to show evidence of scamming.
Even after so many years, none of Wang's friends, family, or colleagues have any inkling of his cheat-selling activities. "From an ethical perspective, cheats are not a good thing," Wang says, adding that he thinks using cheats against other players is wrong, since it destroys their gaming experiences.
Wang Zili, a former social media manager for gaming accounts and no relation to Wang the cheat seller, agrees. He says that cheats have destroyed a large swath of excellent online games over the past two decades — as well as the players' gaming experiences. "Whether for game developers or gamers, the flood of cheats is a disaster," says Wang Zili, adding that it scares ordinary gamers away, sucks resources from developers that could be otherwise spent on improving games, and causes other gamers to cheat, too. "Every successful game will become the target of cheat developers." Irdeto's survey backs him up: The survey found that cheaters tend to shorten the life cycle of games by decreasing players' willingness to continue playing, or to pay for add-ons such as in-game content. Because of the international nature of online gaming, cheaters from one region can spoil the gaming experiences of players in other regions, Rory O'Connor, Irdeto's senior vice president of cybersecurity services, tells Sixth Tone.
Sometimes, companies give up altogether and allow games to become a "battle of the gods," with cheaters battling cheaters, says Wang Zili, who's pessimistic about efforts to quash cheating. "For gamers, finding a pure and fair game environment [with zero cheating] is becoming more and more of a wild fantasy," he says.
Hong Kong university student Oscar Tong began using cheats a few years ago because he loved winning and wanted to gain his friends' approval. "I just enjoyed the feeling of being a god in the game; I enjoyed beating everyone," the 19-year-old tells Sixth Tone. "I enjoyed people thinking I was really good at the game, but actually I was cheating."
In December of last year, Tong went on Chinese instant messenger QQ and tried his hand at selling cheats he'd created for PUBG. "There's a lot of people: They're desperate; they want the cheats," Tong says. "They have the money. A lot of Chinese just love using cheats, same as me." Within a month, the QQ chat group he set up to sell cheats ballooned to over 500 members. As his reputation for good cheats grew, he started being contacted by Chinese cheat-selling websites and big-time sellers with access to large networks. Soon, he was making five-figure sums every month — though he refuses to specify the exact amount to avoid encouraging other gamers to follow his path.
To deal with the constant updates, Tong rewrote his cheats deep into the night, once staying up over 24 hours to update code. As he worked, gaming clients from all over China pestered him, asking whether his cheats were usable yet. The late nights gave him constant headaches and fatigue, and he began skipping class. His closest friends, who hated cheating, began calling him "Cheater Tong." He was even scammed out of 3,000 yuan by a seller who had agreed to supply him with numerous discounted gaming accounts that he could then use to test PUBG cheats. Exhausted and wanting his life back, Tong logged out of the industry after only three months in the business.
Tong's change of heart towards cheating came recently, while he was playing PUBG with friends without cheats. When his team met a squad that had clearly received some unsanctioned help, he and his friends were wiped out in seconds. The experience made him realize that cheats destroyed others' gaming experiences.
"I realized it's OK to be bad; your friends won't laugh at you," Tong says. "[Before], I hated the feeling when I lost. But now, I've learned how to lose."
Editor: Julia Hollingsworth.
(Header image: Gamers battle to the death during a 'PlayerUnknown's Battlegrounds' tournament in Yantai, Shandong province, Dec. 12, 2017. Tang Ke/IC)