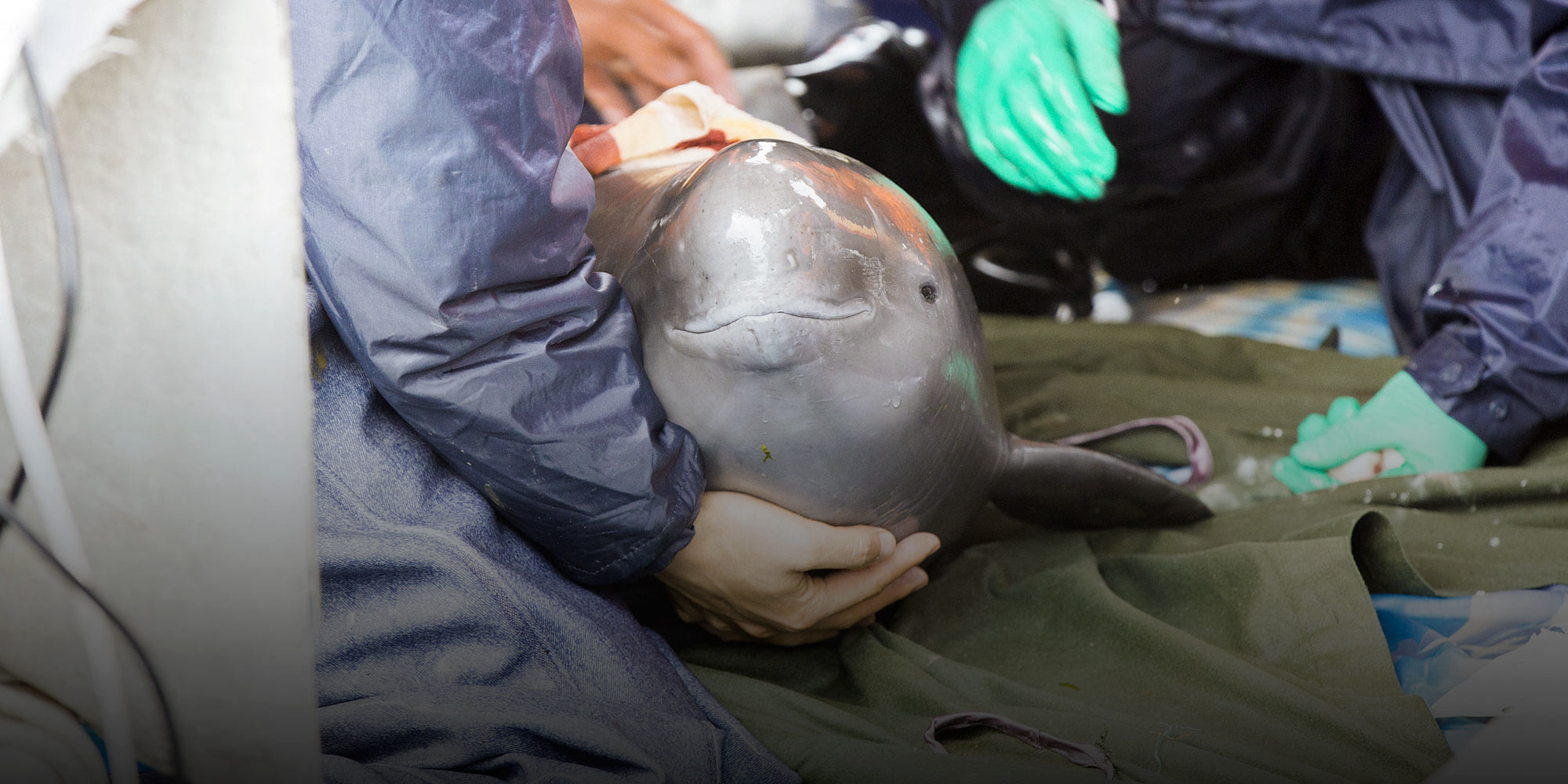 FEATURES
Former Illegal Fishers Lead Fight to Save Near-Extinct Porpoise
The survival of one of the Yangtze's iconic animals lies partly in the hands of the people who helped push it to the brink of extinction.
JIANGXI, East China — Yang Falin has fished in Poyang Lake ever since he was a teenager. Whenever strong winds portended an approaching storm, dozens of gray-skinned porpoises used to leap right out of the water. "The 'river pigs,'" Yang said, using a local nickname for the porpoises, "were worshipping the wind."
Today, such scenes are rare. The Yangtze finless porpoise — a 1.5-meter-long aquatic mammal whose pointed snout suggests a perpetual smile — dwells only in the Yangtze River and its surrounding lakes. It was listed as "critically endangered" in 2013 by the International Union for Conservation of Nature. A survey in 2012 found that the population had decreased to just over 1,000, and a more recent survey in 2017 found this figure to be roughly the same. About 30 years ago, however, more than 2,500 porpoises were estimated to live in the Yangtze.
Human activity — including illegal fishing, sand dredging, land reclamation, and shipping — have degraded the porpoises' habitats. In the main stream of the Yangtze, where about half of the porpoises reside, populations declined at an annual rate of nearly 14 percent from 2006 to 2012. If this trend were to continue, the species could vanish from the Yangtze river within 30 years, said Wang Ding, a leading researcher on finless porpoises at the Chinese Academy of Sciences' Institute of Hydrobiology (IHB) in Wuhan, the capital of Hubei province. The Yangtze finless porpoise cannot breed with other porpoise species, making it particularly vulnerable to extinction.
Forty-eight-year-old Yang has witnessed the animals' dwindling numbers firsthand; indeed, he once fished illegally in Poyang Lake himself. But in late 2016, he gave up fishing and started working as an NGO-funded porpoise patroller instead, hoping to protect the animals from further decline. Clad in bright-orange life jackets with the words "Porpoise Protection Patrol" emblazoned on the back, Yang and his three colleagues drive repurposed fishing vessels around the northern part of Poyang Lake to keep a lookout for illegal fishers, unlawful wastewater emissions from nearby chemical plants, and other threats to the porpoises.
The team's conservation work began in 2016, after one of Yang's fellow fishers took a group of NGO workers out onto Poyang Lake. Among them was Jiang Yi, an upbeat woman in her mid-20s who earlier that year had founded the Finless Porpoise Protection Action Network (FPPAN) — an environmental NGO working to preserve porpoises in the Yangtze River basin. Despite the fishers' initial reluctance, Jiang eventually convinced several of them, including Yang, that giving up their unlawful fishing practices would allow them to continue working on their beloved lake in the face of tightening legal restrictions on fishing and boating trips.
According to historical data compiled by FPPAN, between 2008 and 2016, at least 251 porpoises died "unnatural deaths." Since 2011, Jiangxi province — home to both Poyang Lake and around half of the country's Yangtze finless porpoise population — has seen the most deaths. In about 60 percent of the cases, patrollers find carcasses in such advanced stages of decomposition that it is impossible for conservationists to determine the exact cause of death. But the specimens that can be studied divulge a litany of ways porpoises can die: Suffocation after being trapped in fishing nets, propeller strikes, illnesses, and starvation are among the most common causes.
When Sixth Tone visited Poyang Lake in late March, Yang said his team had already found five dead porpoises that month alone. "Spring is their mating season," he explained. "They're less alert [to danger] and often float with their backs above the waterline," a habit that leaves them prone to boat collisions.
While out on patrol, Yang and his team keep a written log and photograph their findings, detailing the time and place whenever they spot a porpoise. If they come across a dead specimen, they haul it aboard and notify scientists at the local research institute, who collect the remains for research purposes.
Fishing equipment is a common culprit in porpoise deaths. Jigs — lines of sharp, baited hooks — catch on the animals' flesh. A popular type of fishing net can also be strung between two boats up to 2,000 meters apart and then submerged as deep as the lake bed, thus hardly missing a single fish. "If you use that kind of net, the porpoises stand no chance," said Wang Diyou, captain of the patrol boat.
Large fishing nets also exhaust the porpoises' food supply. Comfortably situated at the top of the food chain, Yangtze finless porpoises dine mostly on small fish, mollusks, and crustaceans. But the uncontrolled usage of highly efficient fine-mesh nets — some of which zap fish on contact with an electric current— deprives the porpoises of key food sources. "Wherever an electric net has passed through, a layer of small fish lie dead [on the lake bed]," said Wang, who, somewhat perversely, was the first fisher in the area to use an electrified net.
National laws in China ban the usage of electric nets and punish offenders with anything from fines to prison sentences of up to three years. In practice, however, local fishing bureaus simply confiscate the nets, Yang said, leaving lawbreakers free to try their luck again. During peak season, from September to May, local fishers earn a lucrative 10,000 to 20,000 yuan ($1,550 to $3,100) per month — roughly the same amount they make during the remaining three months combined — and so many are happy to risk having their equipment confiscated.
Yang and his team report illegal activity to a fishing bureau in nearby Jiujiang City but complain that officials are slow to react. Yang regrets that the patrollers don't have the authority to mete out punishments themselves. "If we call the fishing bureau today, they might come tomorrow," Yang said, adding that certain illegal fishers now take to the lake under cover of night, after officials in Jiujiang clock out for the day.
Chen Zhiyi, director of the fishing administration department at the Jiujiang Fishing Bureau, told Sixth Tone that enforcing the law is difficult, as it takes time to analyze the team's reports and dispatch personnel to the site. And a labor shortage at the bureau means that it does not deploy staff at Poyang Lake, he added.
Naming and shaming illegal fishers is made even harder by the fact that the team's weather-beaten, single-engine boats are much slower than their adversaries' more powerful vessels. "Last December, we came across four [illegal fishing boats] and chased them for 20 minutes," Yang said, "but the longer we chased [them], the farther away we found ourselves." The patrol is funded almost entirely by FPPAN and other NGOs, although the Jiujiang Fishing Bureau made a one-off goodwill payment of 10,000 yuan to FPPAN soon after the patrol was established.
The team's work also brings them into conflict with their former fisher-friends living in the villages around Poyang Lake. "Some called us traitors," said Yang. "They would barely talk to us during our early days on the job."
In addition to angry fishers, porpoise protectors must also contend with sand dredgers. River sand is a key component of the cement that's fueling China's construction boom. A 2014 study estimated that China gets around 9 percent of its construction sand from Poyang Lake, making it the world's biggest sand source.
But dredging decimates the porpoises' natural habitat by digging up mud from the lake bed, worsening water pollution, lowering water levels, and accelerating lakeshore erosion. It also destroys the spawning grounds of the fish that form a key part of the porpoises' diets. Unregulated dredging carries longer-term consequences, too: With less sand to slow the current down, the lake water drains more quickly into the Yangtze than before. Poyang Lake's water level falls earlier with each autumn, marooning porpoises on the shore or forcing them into the more treacherous environs of the nearby river.
Sang Haijian, the director of the patrol team and an NGO worker at the Porpoise Protection Action Network in Jiujiang, said that little can be done to improve the situation. "We have never reported on sand dredging, as it is hard to collect evidence," he said. "If you ask dredgers to show you their licenses, you're lucky not to get beaten up." When a group of Sang's volunteers patrolled a stretch of Poyang Lake two years ago, a gang of six people on a speedboat intercepted their vessel and seized their camera, he said.
From 1998 to 2001, multiple provinces situated along the Yangtze, including Jiangxi, banned sand dredging in the river. But the ban does not cover Poyang Lake, where dredgers now proliferate. Although the Jiangxi provincial government established a 6,800-hectare porpoise reserve in the lake in 2004, patrollers say it only includes part of the animals' habitat, and that the provincial fishing bureau never assigned an official to manage the site.
Liu Xiaolong, director of the environmental protection branch at the provincial agricultural department, confirmed to Sixth Tone that no specific organization or personnel currently manages the porpoise reserve, adding that it was a matter for the county-level fishing bureau to handle. "We are carrying out institutional reforms to address the issue," Liu said, though he declined to offer a timeline.
A 2012 report by the IHB suggested making the existing porpoise reserve national-level and expanding its territory to include confluence waters around the Yangtze. "The success of porpoise conservation in Poyang Lake is key to the protection of the species across the Yangtze region," it stated, adding that the current reserve "does not go far enough."
But in some cases, the provincial government's dredging ban seems at odds with other policies. In December of last year, The Beijing News reported that all porpoises had vanished from a core area of the reserve after licensed sand dredgers operated there for two years. In the report, the provincial fishing bureau did not explain why it had granted licenses to the dredgers.
China's Ministry of Agriculture has been pushing for the relocation of Yangtze finless porpoises to reserves in Dongting Lake, in central China's Hubei province. Last year, the ministry proposed making the porpoise a first-class protected species, which would result in more resources and funding being allocated for its protection, and harsher punishments for those who harm the animals.
Yet the decision is still pending. Xu Xudong, deputy director of the IHB and a member of the Chinese People's Political Consultative Conference — a high-level political advisory body — who worked on changing the proposal's status, believes that the current deadlock is due to a reluctance to invest more money and labor into protecting the mammals.
With support from charities and individual philanthropists, five patrol teams now cover a 200-kilometer stretch of water. Some, like Yang, are full-time fishers-turned-patrollers, while others volunteer in their free time.
Yang now earns only 3,000 yuan a month, but he enjoys his work much more than when he was an illegal fisher. "We fishers are simple people," he said proudly. "Once we switched to the new job, we stopped thinking about other things. We just focused on doing it well."
In the old days, Yang explained, fishers never hurt porpoises — if the folk tales are to be believed, those who did saw their catches plummet for years afterward. Wang, the ship's captain, recalled how when he was a teenager, a porpoise once got caught in his net; carefully, he disentangled it and set it free. Today, few treat them with such care.
Editors: Denise Hruby and Matthew Walsh.
(Header image: Staff at the Chinese Academy of Sciences' Institute of Hydrobiology check the physical condition of a porpoise in Poyang Lake, Jiujiang, Jiangxi province, March 17, 2017. Fu Jianbin/VCG )