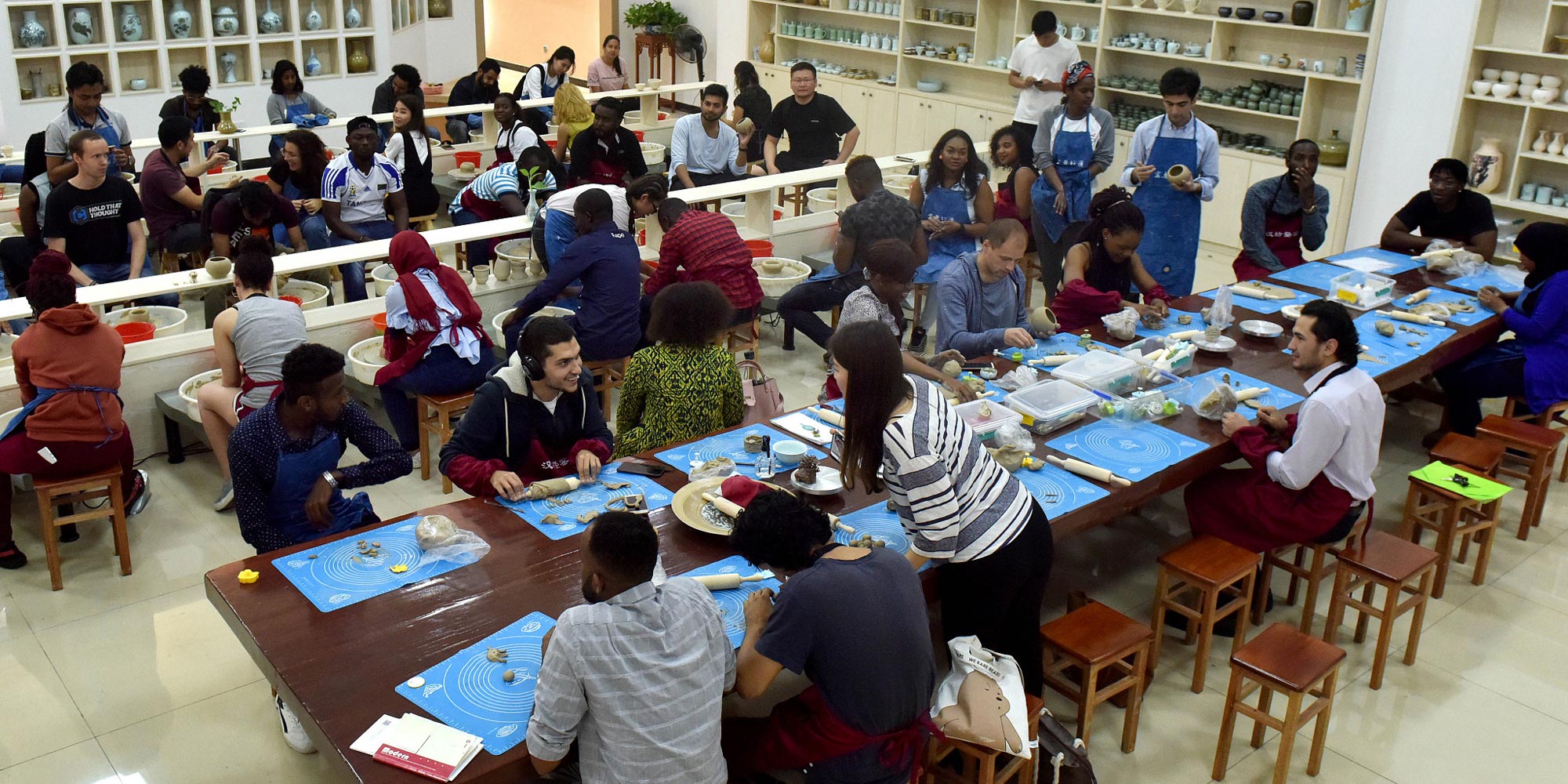 NEWS
China's Funding for Foreign Students Provokes Claims of Racism
Education ministry explains budget after net users complained that foreign students were getting more money than locals.
A spokesperson from China's Ministry of Education addressed the media on Monday to clarify a widespread misunderstanding after its 2018 budget struck a raw nerve with nativist netizens.
An open letter published Friday on Han Culture Studies, a public account on social app WeChat, asked why the education bureau's budget allocated twice as much money for foreign students studying in China as for domestic primary and secondary education. The ministry's budget report, published in April, earmarked 3.3 billion yuan ($510 million) for international students' education — a year-on-year increase of 16 percent — and 416.6 million yuan and 1.2 billion yuan, respectively, for primary schools and senior high schools.
The open letter described the budget as "racial discrimination," "an insult to taxpayers," and an act of "sabotage" against education equality, especially given that so many rural Chinese schools are still underfunded. As of Tuesday, the article — signed "a citizen of the People's Republic of China" — had been viewed over 100,000 times and received more than 11,000 likes. Another article published last week condemned the policy as "paying big bucks to buy foreign students."
The ministry, however, says that the controversy rests on a misunderstanding: Only primary and secondary schools affiliated with universities directly under the education ministry are funded in this budget, rather than all schools in the country, a ministry spokesperson told The Paper, Sixth Tone's sister publication, on Monday. The spokesperson added that the bulk of the funding for international education goes to Chinese tertiary institutions for the development, management, and construction of facilities, and that the criteria for scholarships are very strict.
Education expert Xiong Bingqi, deputy director of the 21st Century Education Research Institute, a Beijing-based think tank, believes the budget is appropriate for the country's needs. The number of international students pursuing degrees is one indicator of a competitive, world-class institution, he explained — although only 49 percent of foreign students studying in China are undertaking degrees.
"China's international education doesn't attract top foreign students," Xiong said. "It's a real problem that must be met head-on." Scholarships help lure overseas students, he added, and since China's best universities are state-owned, they mainly rely on government funding for scholarships, unlike other countries, where colleges might draw more from private philanthropy.
In 2017, there were 489,200 foreign students at China's institutions of higher learning — a figure that had increased by 10 percent two years in a row — and 58,600 of these students had received scholarships from the Chinese government, according to the education bureau's statistics. The top three countries of origin were South Korea, Thailand, and Pakistan.
However, Chinese citizens have often voiced reservations about whether the country's international education ambitions are fair, as some leading universities have lower admissions thresholds for foreigners than for domestic students. Last year, net users questioned whether Tsinghua University had unequal entry standards after it canceled a written test for foreign students to bring its admissions process in line with other top overseas universities. Some media reports even say that students have changed their nationality to take advantage of the easier entrance requirements.
Xiong, however, believes that the nativist view is reactionary. "The idea that the education resources of top universities should be left for domestic students is very narrow-minded," he said. "To attract the world's best students to study in China, our universities should focus on improving their quality of education rather than lowering requirements."
Editor: Qian Jinghua.
(Header image: International students practice Chinese pottery at Zhejiang Normal University in Jinhua, Zhejiang province, Jun. 6, 2018. Zhang Jiancheng/VCG)