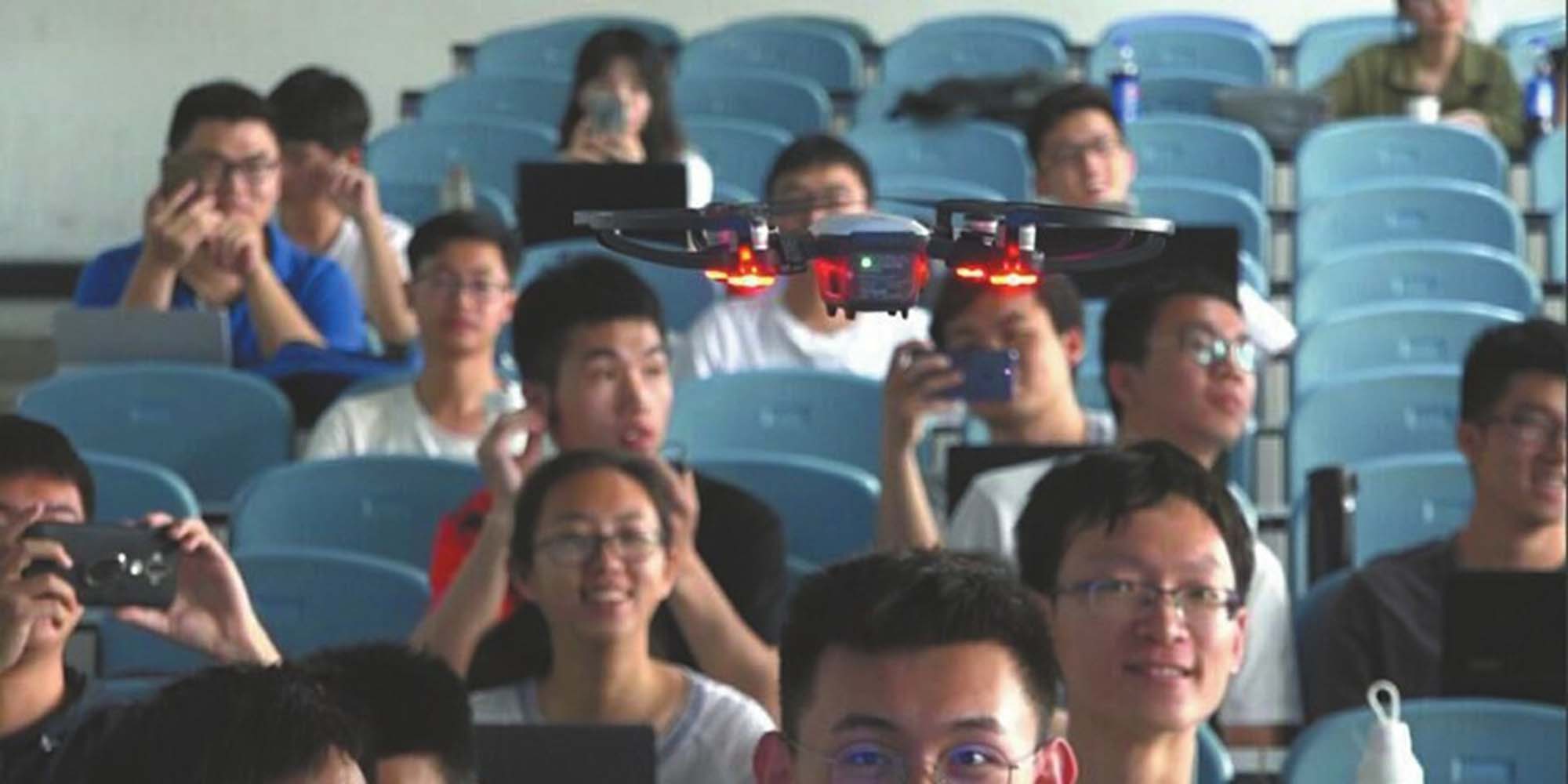 NEWS
Facial Recognition Drone Monitors Chinese College Class
Sichuan University professor says the flying face-readers will help his computer science students understand what they're learning.
It was a match made in android heaven: drones and facial recognition.
Wei Xiaoyong, a computer science professor at Sichuan University, has combined two of China's trendiest technologies into a palm-sized flying face-reader that can monitor students' attendance — or even analyze whether they are paying attention.
The professor told Sixth Tone that he had developed the product for his web data-mining class. "The technology itself isn't new — we've just combined the facial recognition element [with] the drone for my class to help students understand what they've learned," Wei said. "It shows students the possibilities of the project and helps them better understand how they can apply the things they've learned."
Facial recognition is a growing part of daily life in China, as companies and local authorities rush to adopt the technology. Law enforcement personnel in particular have embraced facial recognition, using it to shame jaywalkers, catch criminal suspects at concerts, and screen passengers at railway stations.
Now educational institutions are hopping onboard. Earlier this week, a school in the eastern city of Hangzhou landed in the media spotlight for installing cameras that analyze students' facial expressions and attentiveness in class. Wei, too, has been experimenting with face-readers that examine students' emotions and moods since 2016 — though he says the technology still has its limitations.
"If you are trying to track a single student … the tech will not be that accurate," Wei explained. "But it does help to analyze the collective behavior in the classroom, and gauge their satisfaction and attention level."
China is at the forefront of developing and commercializing facial recognition technology, as businesses and governments partner to push the country's artificial intelligence ambitions — and fewer privacy protections and access to an enormous population have been boons to the sector's growth.
In April, one of the country's biggest e-commerce companies, Alibaba, funneled $600 million into SenseTime, a Hong Kong-based company specializing in facial recognition tech. The Chinese government is also investing in a nationwide face database that will store information about its 1.3 billion citizens — enabling them to identify individuals in as little as three seconds.
But while technological innovation can bring convenience, experts — and increasingly, ordinary Chinese citizens — are concerned that it is becoming too invasive. They say the mass banking of personal information could come with privacy violations and security risks.
"We have made progress on the technological front of facial recognition," said Wei, who has been researching the subject for over a decade. "But the biggest challenge is to now see how the public will accept the fact that they might have to trade their privacy."
Editor: Qian Jinghua.
(Header image: A few of Wei Xiaoyong's students take photos of the drone as it maneuvers through the classroom at Sichuan University in Chengdu, Sichuan province, May 2018. Xinhua)