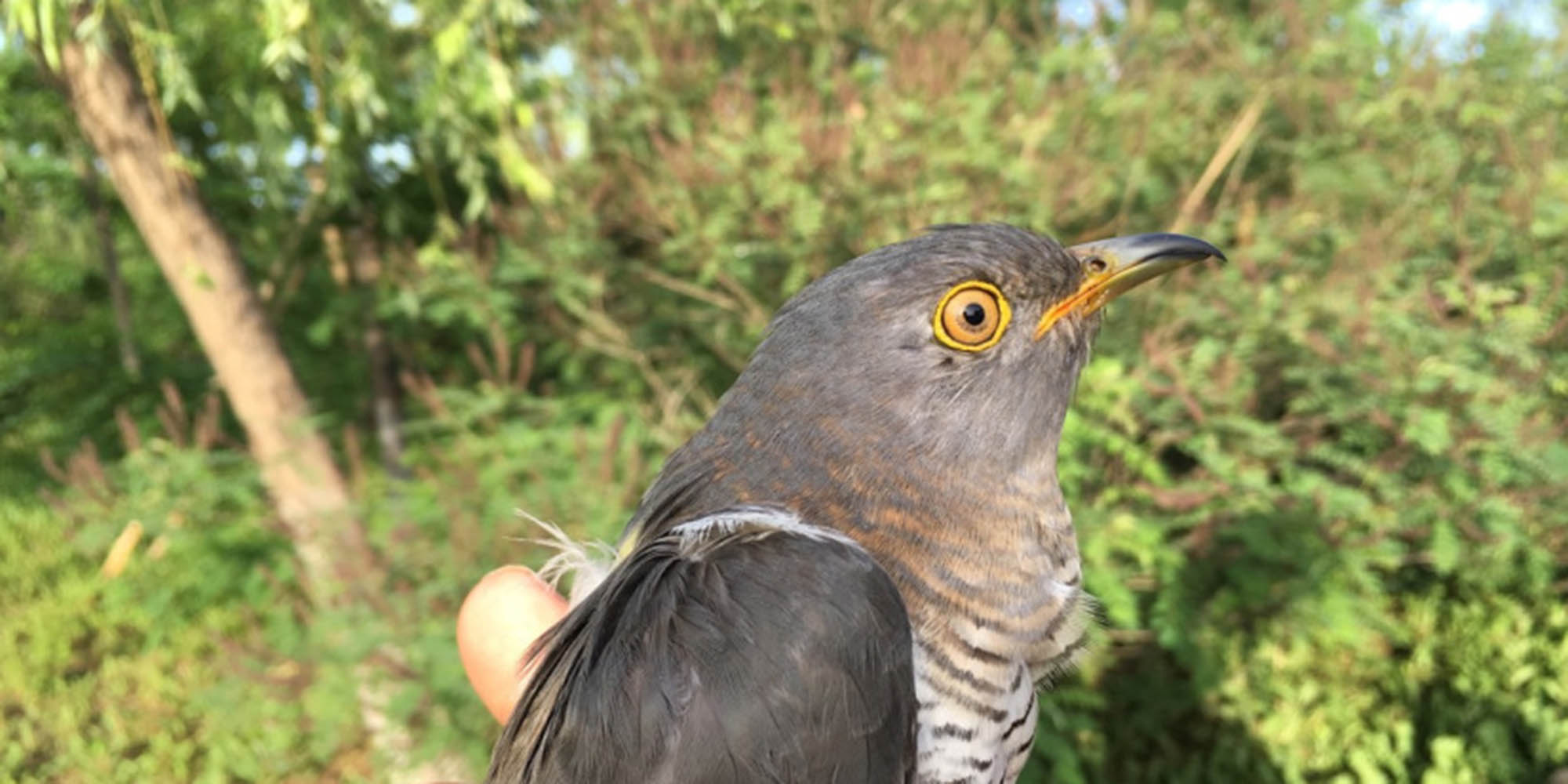 NEWS
Chinese Celebrity Bird Flappy McFlapperson Believed Dead
Birding Beijing reported abnormal transmissions from the beloved cuckoo as she was flying through Myanmar.
China's avian ambassador appears to have gone off the air. The cuckoo affectionally known as Flappy McFlapperson is believed to have passed away in Myanmar last week.
Around May 14, according to Birding Beijing, Flappy's satellite tag began showing temperature fluctuations and a plummeting battery charge, suggesting she had died. For exactly two years, Birding Beijing — a website and blog run by British conservationist Terry Townshend — had been following Flappy's migration as part of the Beijing Cuckoo Project.
Flappy will be mourned and missed by hundreds of thousands if not millions of admirers, many of whom learned about her exploits through Birding Beijing's social media accounts or any of numerous media reports published all over the world.
"Sad to find that Flappy McFlapperson has flapped her last. Her contribution to public engagement with science and conservation was very real," British MP Barry Gardiner posted on Twitter. "R.I.P. to dear, inspiring Flappy McFlapperson. As Emily Dickinson once wrote, 'Hope' is the thing with feathers," tweeted Diane Shaw of the Smithsonian.
Flappy had attracted numerous Chinese admirers, too. "This bird travels along One Belt, One Road," commented one user on microblog platform Weibo, referring to China's ambitious plan to revive the Silk Road. "This is one great, free life." And the very day before Flappy's final transmission, Party-affiliated newspaper Beijing Youth Daily published an article lauding the intrepid cuckoo's extraordinary journey.
Scores of netizens rooted Flappy on as she peregrinated through 16 countries, from East Asia to Africa and back. The cuckoo's satellite transmitter provided live updates to Townshend and her monitors, who posted regular updates on a blog so fans could feel like they were accompanying Flappy along her journey.
"I think the name and the fact that people have been able to follow her in near real-time have been key factors," Townshend told Sixth Tone, referring to Flappy's unanticipated popularity and unique moniker, chosen by students at Dulwich College, an international school in Beijing.
Flappy was first fitted with her satellite tag on May 24, 2016, in Cuihu National Urban Wetland Park, about an hour's drive northwest of central Beijing, and became a research subject for the Beijing Cuckoo Project, aiming to learn where East Asia's cuckoos spend their winters, and to engage and excite the public about the birds and their migratory patterns.
"The discovery about her long-distance migration was new to science, so I think people are in awe that such a small bird can travel vast distances in short spaces of time," said Townshend. Common cuckoos like Flappy have wingspans of 55 to 60 centimeters and weigh just 115 grams on average.
In the comments section at the end of Birding Beijing's farewell article, Flappy fans have already begun leaving heartfelt tributes. "What an ambassador she has been," wrote one reader. "Her influence in shaping attitudes towards the natural world will have been enormous. A tiny life with big consequences."
Contributions: Qian Zhecheng; editor: Qian Jinghua.
(Header image: Flappy McFlapperson, a common cuckoo whose migrations from northern China to sub-Saharan Africa were tracked via satellite tag and broadcast on social media for two years, is believed to have passed away in mid-May. Courtesy of Birding Beijing)