ZHEJIANG, East China — For the last five hours, 52-year-old Li Baojin has been cutting fabric printed red, white, and black. She recognizes the colors as part of the Egyptian flag, but she couldn't tell you where Egypt is, or that it is one of the 32 countries competing in the upcoming 2018 FIFA World Cup.
Though the quadrennial soccer tournament — which will be held in Russia from June 14 to July 15 — has landed Bisheng Flag Factory with 6 million orders for fans to wave in the stands, Li isn't fazed. After 13 years of making flags, she's used to the pressure. "At this factory, we're always busy; we get numerous orders every year," she tells Sixth Tone.
The workshop takes up a 1,500-square-meter space on the sixth floor of a building in Yongkang County. Around 20 staff work around the clock to make the flags, package them, and ship them around the world. Factory co-owner Li Meihua — no relation to Li Baojin — says large orders come as early as nine months in advance. Yet fortunes can also quickly turn in the fickle flag trade, which follows the pulse of world events, both celebratory and somber.
China's flag factories are ramping up their production lines for the upcoming 2018 FIFA World Cup. By Tang Xiaolan/Sixth Tone
Li Meihua and her husband, Li Jiang, first entered the flag business in 1999, when the industry saw roaring trade because the nation was celebrating the 50th anniversary of the founding of the People's Republic of China. The couple went to Yiwu — now one of the world's largest trading hubs for small commodities, and about 90 minutes' drive from Yongkang — to set up a booth selling flags to wholesalers.
Sales spiked again when Macau, a former Portuguese colony, was returned to Chinese sovereignty in December the same year. But it was Sept. 11, 2001, that really changed things for the couple. Within a day, they were suddenly inundated with orders from Taiwan and Hong Kong for American flags as patriotism soared in the wake of the attacks. Clients would come by the booth in the evening, fill their bags with star-spangled banners, and fly out the next morning from Shanghai to the U.S. "From then on, our exports increased, and business really took off," Li Jiang says.
At first, the couple bought from suppliers and then contracted homeworkers to make flags. In 2007, they established their own factory. Li Meihua manages the factory in Yongkang while her husband drives to Yiwu every morning to sell their goods and buy materials. It's a common arrangement for couples in the area: There are even buses shuttling entrepreneurs between Yongkang and Yiwu.
Yongkang hums with the noise of industry. Beneath the harmony of the flag factory's machinery, one worker's phone plays music to help her stay alert during a 14-hour shift. Given the workload, most of the staff — almost all women — say they have no time or interest in following the World Cup.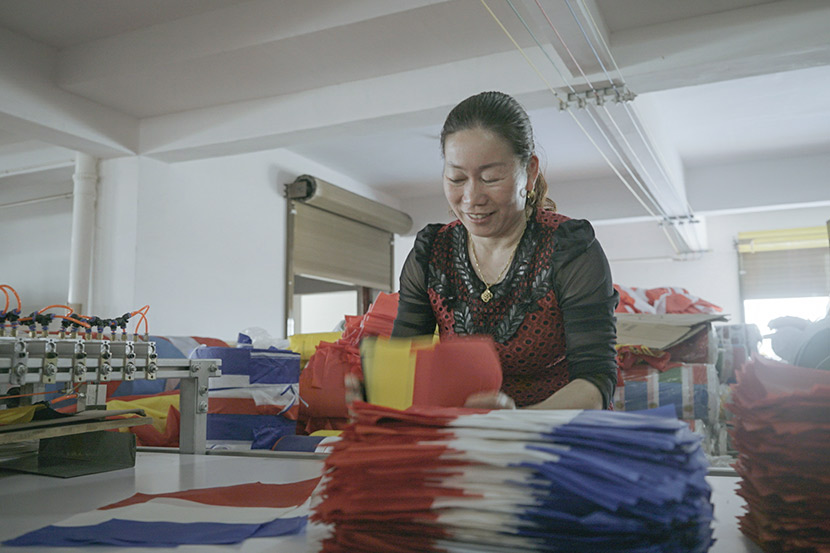 A worker operates a machine that can cut three flags at the same time at a factory in Yongkang, Zhejiang province, April 11, 2018. Tang Xiaolan/Sixth Tone
But of course the boss, Li Meihua, is an exception. Though she used to find soccer dull, she's come to love the game because her business depends on the fate of each team. "Fans go crazy when their teams advance to the next round, and we'll immediately receive urgent orders that we'll have to ship by air," she says. "We have to learn about the teams and make predictions … It's like gambling."
For the last World Cup in 2014, the couple correctly predicted Germany's victory. This year, as well as her faith in typically strong teams like Germany, France, Spain, Brazil, and Argentina, Li Meihua also feels optimistic about the host country, Russia.
After a long day's work, Li Baojin rides her scooter home. She says her husband watches soccer every night, and sometimes she'll join him.
"People on TV will wave the flags — I've seen it," she says.
Editor: Qian Jinghua.
(Header image: Li Baojin, 52, separates colored fabric at a flag factory in Yongkang, Zhejiang province, April 11, 2018. Tang Xiaolan/Sixth Tone)