She is revered as a relationship expert by millions of women. She claims to run the world's largest "love consultancy." She boasts that one of her clients flies in for classes on a private jet. She is Ayawawa — a polarizing self-help guru who was banned from one of China's largest social networks on Tuesday after her comments about "comfort women" ignited a storm of controversy.
During one of her workshops, Ayawawa — whose real name is Yang Bingyang — asked her clients about the Chinese women taken by Japanese soldiers during World War II. "Do you think the comfort women were miserable?" she asked. "Have you ever considered that the men might have been worse-off? They were shot dead, but the women survived at least." These questions — included in a Friday article by Tencent's nonfiction platform as an example of how women can capitalize on their femininity — have made Ayawawa the recipient of a barrage of criticism and a six-month ban from posting on microblog website Weibo, Sixth Tone's sister publication The Paper reported Tuesday.
"Such poisonous 'chicken soup for the soul' that shares the spirit of binding women's feet must be purged from the internet," reads a scathing commentary published Monday by China Women's News, an affiliate of the state-backed All-China Women's Federation. The writer goes on to dismiss Ayawawa's gender ideas as "heretical."
In spite of her detractors, Ayawawa believes her methods help Chinese women. "Life is hard for women, so I give them survival strategies," she said during an online talk show in March.
Ayawawa's notion of a "survival strategy" seems to be finding a Mr. Right — someone from whom a woman can benefit. Think of relationships as business transactions, Ayawawa tells her students, introducing terms from evolutionary psychology like "mate value" (MV) and "paternity uncertainty" (PU) — referring to desirable traits and how confident a person is that their partner won't cheat, respectively. Likening MV to quality and PU to price, Ayawawa explains, a woman with high MV and low PU will "trade" well on the marriage market.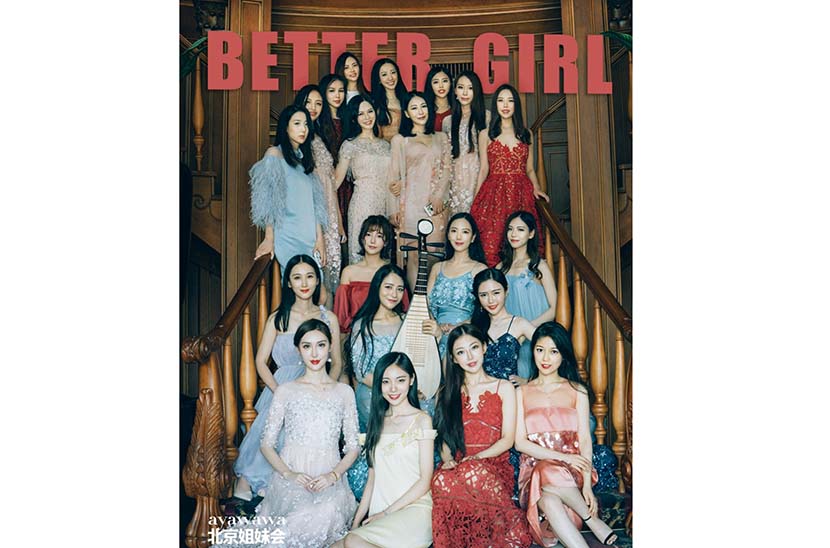 A promotional poster shows the members of Ayawawa's Beijing sorority posing for a photo on a staircase. From Weibo user @Ayawawa
According to the nonfiction platform's article, one woman who followed Ayawawa's teachings was able to "decrease her PU" by fawning over her boyfriend and being subservient to his authority. The boyfriend soon proposed to her with roses and a diamond ring. During the talk show interview, Ayawawa said she discourages women from wearing unconventional, Bohemian-style dresses on first dates, as this makes them appear independent and free-spirited — and thus raises their PU in the eyes of the prospective partner.
Ayawawa became an internet celebrity in the early 2000s. Now 35, she claims to have an IQ of 145: "Those prettier than me aren't as smart, and those smarter than me aren't as pretty," she once famously said. In a 2012 interview with China News Week in 2012, Ayawawa said she had joined Mensa International — an exclusive who's who of people with high IQs — with the aim of finding a boyfriend.
Apart from MV and PU, Ayawawa has a system by which she categorizes people as paper, scissors, or stone, depending on their attitudes toward monogamy and social class. For years, she promoted, packaged and sold these ideas to fans: She currently has over 3 million followers on Weibo, plus another 1 million on social app WeChat.
Ayawawa's fandom extends from Hong Kong in the south to Xinjiang in the northwest. Her empire has become so successful that she has occasionally been invited to speak at government events as a model for what China's so-called WeMedia platforms can and should be. But Ayawawa's brash nature has also ruffled feathers among feminists and internet celebrities like Mimeng, another polarizing personality.
"Her theories are nothing special — no more than asking a woman to lay down her dignity," said feminist Li Sipan, founder of Women Awakening Network, an organization that teaches journalists how to write about gender issues. Instead of fighting against a social structure that discriminates against women, as feminists often do, Li said, Ayawawa proposes that women accept the status quo and learn how best to play the cards they're dealt.
"If a woman devotes herself to feminism, it's unlikely that she will see much progress in the near future — but if she follows [Ayawawa's] philosophy, she can always trade up and get something," Li told Sixth Tone.
Ayawawa delivers a lecture to a female audience in Wuhan, Hubei province, Dec. 26, 2015. IC
Despite the fact that women in China now have better access to higher education — statistics show women outnumber men at Chinese universities — there's still a glass ceiling hindering them in the workplace, Li said. According to a 2010 survey conducted by the All-China Women's Federation and the National Bureau of Statistics, women living in urban areas earned two-thirds as much as their male counterparts. "This is a large, overarching issue, and no individual can tackle it on their own," Li said, recalling a Chinese proverb that says "Working well is no better than marrying well."
Li added that commercialization has influenced the prevailing social mentality, and made women believe that there are somehow incomplete, or unfilial, if they don't choose a partner. May 20, for example, is equivalent to Valentine's Day in the West because the date sounds like "I love you" in Chinese — and online and offline retailers have taken full advantage.
"We have defined the good life as one that includes marriage through a [formal or official] ceremony," Li said. "But this showing-off of intimacy casts a bad light on single people." During the talk show, Ayawawa tells the host that most of her clients came to her with the desire to either meet a new boyfriend or recouple with an old one.
Though Ayawawa stands by her methods and ideas, she apologized on Weibo in the wake of the public backlash, saying it was "extremely wrong" to comment on gender differences in the context of war, and pledging not to post on her account for one month. She soon deleted this post, however, and by Tuesday had made all of her posts private.
When reached by Sixth Tone on Monday, Ayawawa's agent declined to comment because of "the sensitivity of the issue." The next day, Weibo announced that Ayawawa's account would be suspended for six months.
Li of Women Awakening Network said that while most relationship gurus provide advice on how to improve relationships, Ayawawa takes this to the extreme. "Marriage is more than the moment in which you marry someone," Li said. "No single relationship is just about taking care of another person, as this would be unequal." She added that it would take self-hypnosis to believe everything Ayawawa espouses about relationships and marriage.
However, one of Ayawawa's longtime fans told Sixth Tone that everything — even unconventional relationship advice — should be taken with a grain of salt. "Some of her ideas go too far, so I would just take the ones that benefit me," said Huang, a 26-year-old employee at a state-owned enterprise. "After all, I'm an adult — I don't deify her, taking every word from her mouth as gospel."
Editor: David Paulk.
(Header image: A promotional poster shows Ayawawa posing for a photo during her relationship counseling workshop in Guangzhou, Guangdong province, May 11, 2018. From Weibo user @Ayawawa)