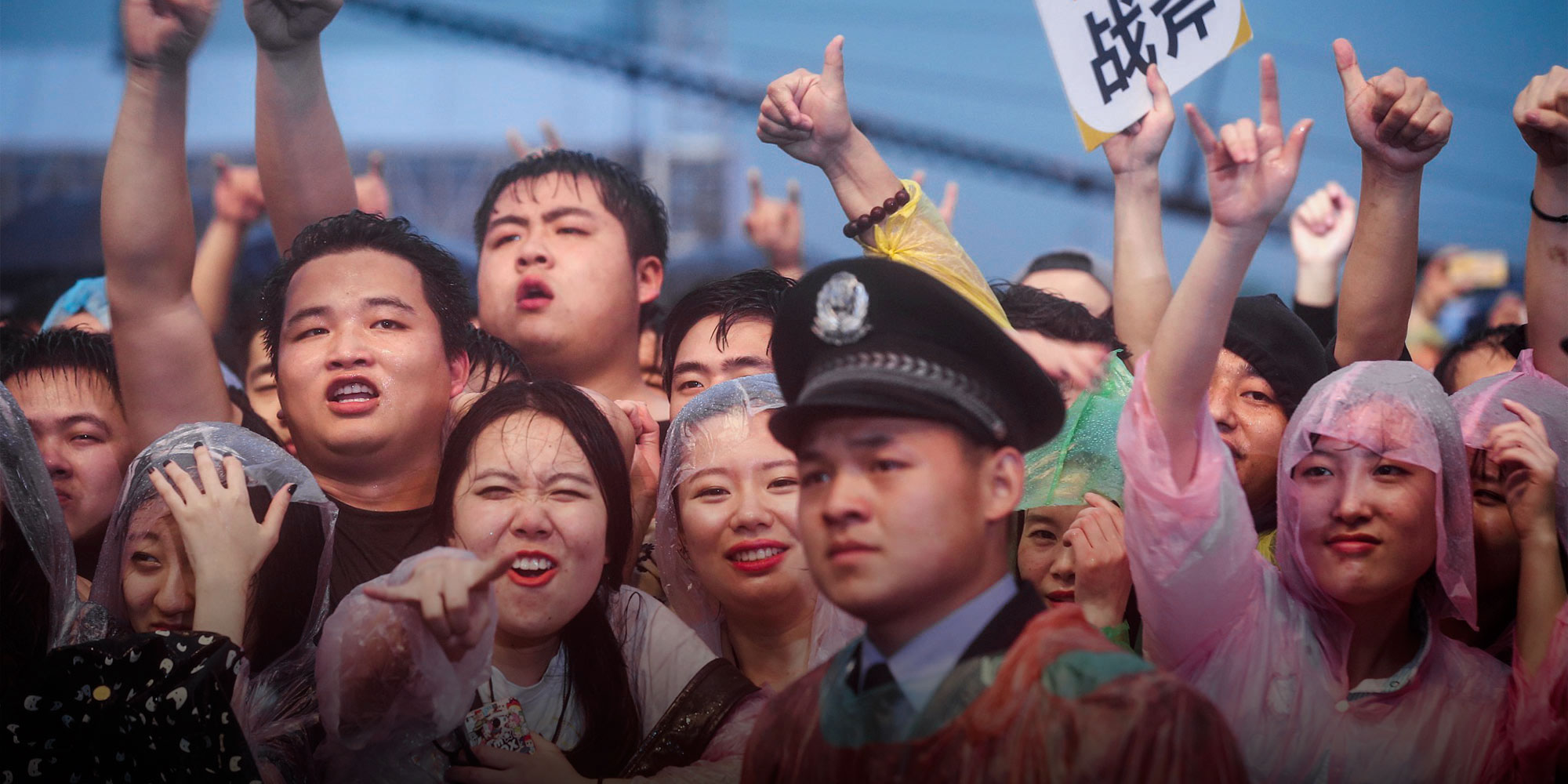 FEATURES
Summers of Love, Rock 'n' Roll, and Rules
The sun appears to be shining on China's music festivals — but offstage, some say the future is less bright.
BEIJING — Li Hongjie is now 41, but he still wistfully recalls the summer almost two decades ago when he felt he was living in a real-life utopia. Beer flowed freely, and a crowd of liberated youngsters reveled in the deafening rock 'n' roll music blasting from the speakers.
To music enthusiasts like Li, that night and two days at a shabby school auditorium in a Beijing suburb in 2000 were the first chapter in China's music festival history. It was supposed to be a show for student bands at the country's first modern music institution, Beijing Midi School of Music, but it instead became the inaugural Midi Festival, now one of the country's largest rock festivals.
In the nearly two decades since, music festivals have gone from free-spirited gatherings to massive commercial operations. Last year, 269 music festivals were held in China, and the number is only expected to grow. But China's market is still relatively primitive — by comparison, Switzerland, with a population of just over 8 million, has more than 300 music festivals each year. And, in addition to logistical issues like trash disposal and transport that beset organizers around the world, events in China face numerous bureaucratic hurdles and significant official scrutiny.
In the heady days of the first Midi Festival, Li was working as a reporter at a government-backed magazine. These days, he is no longer an observer, having founded and organized a number of well-known festivals himself, and even penned a book about one of them. "I had been in love with music festivals for years," Li, who wears glasses and a neat goatee, tells Sixth Tone at his co-working space in downtown Beijing. "Those who were born in the 1970s, especially rock lovers, all have a Woodstock obsession."
In 2009, Li and some colleagues at the Chinese sister magazine of Rolling Stone hastily pulled together their own music festival. Only a few months after signing a 10-year contract with the government of Zhangbei County, about three hours' drive from Beijing, they welcomed guests to a three-day event on vast grasslands the size of two Tiananmen Squares. Thus, the first Zhangbei Music Festival was born.
Before Zhangbei, Li had never organized a music festival from scratch. He had been so fixated on artistic production and making the free atmosphere resemble the original 1969 Woodstock that practical issues had barely crossed his mind. The organizers were only expecting some 3,000 people. In the end, there were over 100,000 guests in attendance, which was both a blessing and a curse: Some customers were dissatisfied with the lack of toilets, transportation difficulties, and barren prairie location.
Now he considers it a successful first attempt, but he may just be looking back through rose-colored glasses: Someone recently reminded him about a moment he had forgotten, which saw Li frantically chasing sky lanterns around, afraid they would fly onto the stages where local and foreign talents were performing.
In fact, 2009 was a big year for Chinese music festivals. That same year, indie record label Modern Sky set up its second festival brand, Strawberry Music Festival, having launched its eponymous Modern Sky Festival two years earlier. Strawberry would go on to become a festival empire, with outposts all over China and big-name overseas headliners like the United Kingdom's alt-J and Charli XCX.
The man behind Modern Sky, Shen Lihui, has been dubbed the most business-savvy rocker in China. Sitting in his Beijing office in front of shelves brimming with cassettes and vinyl records, the now-50-year-old who wears his hair in a signature John Lennon style explains how he set up the label in the late 1990s, as no one would sign his high school band, Sober. It was a bad time to get into the music industry; the company made no profits in its early years, but it gradually found a niche providing customized ringtones for phone manufacturers like Motorola and Nokia.
When Shen's balance sheets finally looked healthier in 2006, he decided it was time to expand. Music festivals were the first thing that came to mind. "I was very unsatisfied with all other music festivals," Shen tells Sixth Tone. "I think music festivals should be beautiful and include things that you can experience and play with, not just music."
On the eve of the first Modern Sky Festival in 2007, Shen sat in a cab hurtling along the Beijing expressway, en route to make final site checks. As the sun set in the west, tears rolled down his cheeks. It's finally happening, Shen thought to himself.
The next day, however, did not go smoothly. A number of people showed up with fake tickets, and a scalper snatched the staff passes from a desk and fled. The only saving grace: The backstage chaos didn't seem to affect the performers and the cheering crowd.
That first year, Modern Sky spent over 3 million yuan ($470,000) and ended up with a million-yuan deficit. Before the first festival, some staff quit, afraid the label didn't have the right experience and their new job working on the festival would be too demanding. But that didn't stop Shen. Nowadays, the festival empire is thriving, with Modern Sky label valued at an estimated 1 billion yuan in 2015.
Although free spirits started these festivals, the events are often constrained by complex and tedious procedures. Before organizers can put on their shows, they need to gain approval from the local culture bureau. That involves submitting a slew of information, including set lists and performers' personal details. Events are banned from including elements that violate moral standards, such as swear words. Last year, Strawberry Music Festival in northern China's Hebei province was canceled when the event's permit didn't get approved. In 2009, all 14 foreign bands slated to play at Modern Sky Festival were banned from performing at the event at the last minute due to "unforeseen circumstances."
The bureaucratic difficulties are something Archie Hamilton, the U.K.-born founder of China-based music company Split United, has experienced firsthand. He's been running festivals and promoting music events since 2007, when he launched Yue Festival in Shanghai on the same fateful day Shen debuted Modern Sky Festival. It was a time when the public knew little about music festivals, and the market was still two years away from taking off. The relatively immature music festival industry was exactly what brought Hamilton to China — he wanted to create something fresh and inspiring. Hamilton became a self-described man on a mission: to bring good music to China.
Although Hamilton invites a lot of international acts to his events, it's challenging to get permits and visas for foreign artists in time. The process requires foreign performers to return to their home country to apply for a visa. Meanwhile, bands made up of China-based expats have to cancel their members' existing work permits, apply for new performance visas, and then reapply for work permits after the festival. "Obviously, the majority of the expat bands are unable to do this, which is a shame, as these artists contribute in lots of ways to the local scenes," says Hamilton.
Last year, for instance, there were 35 foreign bands at his Concrete & Grass Music Festival, which boasts a lineup of domestic and international talents. Ultimately, he managed to get all but three bands on the right visas, and in the end, the local authorities turned up and canceled those three bands' performances. "Every big event in China is a different challenge," Hamilton tells Sixth Tone in a phone interview. "You never know quite what the challenge is going to be."
After 10 years in the business, Hamilton is dubious about the future of music festivals in China. "It may be that China doesn't really want big international music festivals," Hamilton says, referring to festivals with overseas artists. He believes that the government is tightening its control over festivals and international artists, going against the grain of an increasingly global music scene. On a few occasions, the culture ministry refused to grant foreign artists approval because of morality issues; last year, Canadian star Justin Bieber was told he couldn't perform due to unspecified "bad behavior." Nevertheless, Hamilton says maintaining solid relationships with local government and police is crucial to getting things done.
Every so often, the supposed problems are more hype than real hindrance. Ahead of this year's Strawberry Music Festival — now in its 10th year — social media was abuzz with rumors that performers would be forced to cover their tattoos onstage, following earlier revelations that such body art would need to be covered on TV shows. Shen explains that it was just a suggestion from a culture committee in the eastern city of Hangzhou — which hosts one of the 20 Strawberry festivals in China — rather than a national rule. Communication with the authorities is often challenging, Shen says: "Sometimes they introduce a one-size-fits-all solution. It takes a toll on us when an official doesn't understand music festivals, stipulates unreasonable regulation, gets too nervous, or misses the point."
While the authorities often appear resistant to music festivals, some smaller cities have worked to attract them. Chengdu, the capital of southwestern China's Sichuan province, launched a policy in 2016 to encourage the development of the music industry by offering local companies up to 5 million yuan to hold music festivals there. Zhangbei Music Festival has demonstrated the potential benefits of hosting such an event: In 2014, the three-day festival gave the local tourism industry a 210 million-yuan boost.
Chinese festivals also face challenges common to large-scale events around the world, such as combating crime. In the past few years, accusations about the high level of crime were leveled against the major music festivals in China. "As the saying goes, we don't want a piece of mouse shit to spoil the whole pot of porridge," says Shan Wei, CEO of Midi Productions, adding that Midi doesn't want to hang banners cautioning revelers about theft and sexual harassment all over its festival site.
Despite all the challenges, new music festivals spring up in China every year. Some commentators wonder if the market has already reached a saturation point; a think tank affiliated with China Music Business News found that 60.7 percent of music festivals in 2016 didn't make it to the next year. Nevertheless, international brands are also eager to break into the Chinese market. Last year, the United States' Ultra Music Festival visited Shanghai for the first time — and there's a raft of big-name events expected to follow suit.
It's signs like these that keep industry stalwarts like Shen and Li optimistic that China is still a land of milk and honey for music festivals.
"Strawberry as a music festival has life, meaning it holds the possibility of great power and change," says Shen. "For me, it is full of imagination and unknowns."
Correction: An earlier version of this article incorrectly attributed a quote to Shen Lihui. The article has been updated to reflect that it was said by Shan Wei. 
Editor: Julia Hollingsworth.
(Header image: Audience members make enthusiastic hand gestures behind a security officer during Strawberry Music Festival in Wuhan, Hubei province, April 18, 2015. Xu Chuyun/VCG)