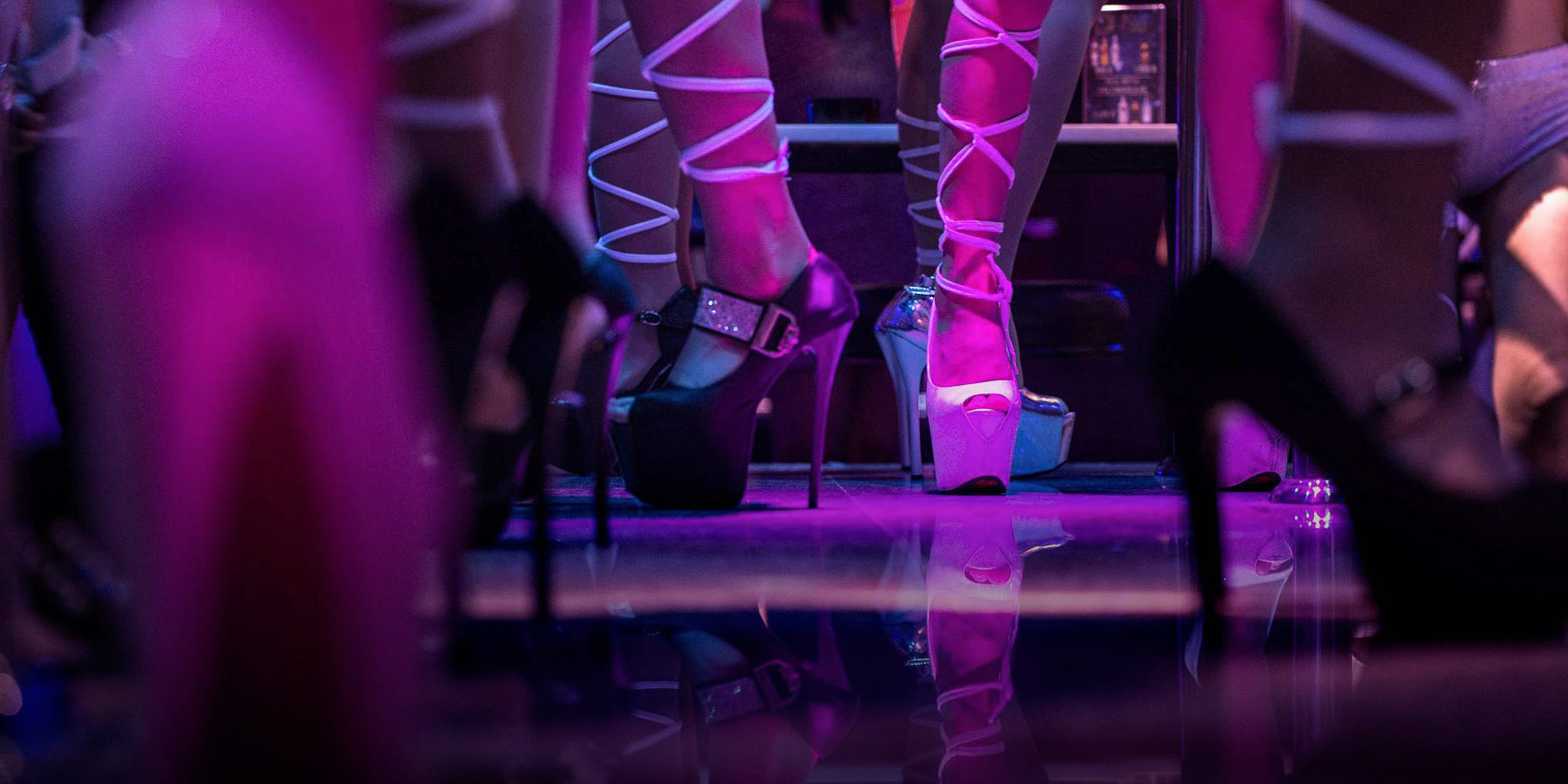 FEATURES
The Neon-Lit World of China's Foreign Dancers
Paid performers are hitting China's clubs in search of cash — but for some, their glitzy dream has lost its sparkle.
SHANGHAI — Every night at 10:30, Katerina Strogaya clocks into a high-end club to perform for the city's revelers. Four hours and four short performances later, the 28-year-old Russian dancer scans her fingerprint and heads home.
After more than half a year of work with only one day off each month, this has become routine for the medicine and enterprise management graduate. Her nighttime performances — plus gigs like modeling and teaching dance classes during the day — earn Strogaya at least 13,000 yuan ($2,000) a month, considerably more than the combined $500 a month she made as a gym trainer, go-go dancer, and agent back in St. Petersburg.
Lured by the prospect of adventure, travel, and money, foreigners have long flocked to China's thriving nightlife scene to work as club dancers and entertainers. About 15 years ago, when foreigners were a scarce resource, go-go dancers could earn as much as 40,000 yuan a month, according to one current performer. Nowadays, the pay is less impressive, and two distinct subtypes of go-go dancers have emerged: an A-team of professional dancers, and a B-team who are mostly employed to drink and play games with customers. While some experienced dancers, like Strogaya, score jobs in respectable venues, many others work illegally in bars of varying repute that require their dancers to drink with guests. Even for the most seasoned performers, the risk of physical danger or scams is ever-present.
At a mall-top café overlooking a construction yard in central Shanghai, a reserved Strogaya tells Sixth Tone that she was skeptical when she first heard about the lucrative go-go dancing opportunities in China eight years ago. The youngest of nine siblings, she had long dreamed of living abroad but was anxious about her English abilities and felt tied down by relationships and work, she says, her dark hair pulled into a tight bun. After years of persuasion from a Ukrainian friend who was living in Shanghai, she finally mustered the courage to make the move seven months ago and landed a visa-sponsored job soon after arriving.
In recent years, Russia's economic woes have seen bars tighten their purse strings. Before leaving for China, Strogaya's regular go-go dancing gig paid so little that it was more a hobby than a job. But in China, Strogaya can dance every night for 10 times more money. Back in Russia, she had to handmake every outfit for herself and her fellow dancers, but here she has an array of "beautiful costumes" bought for her by the club, she says, beaming. Her Instagram account shows the spoils: lingerie-style outfits with high-heeled leather boots, a 1920s-style pearl headpiece, a brightly sequined captain's hat. When she dances in China, locals often stare at her with mouths agape, filming her on their smartphones, she says. Customers emboldened by liquid courage clumsily try to copy her dance moves.
In Strogaya's line of work, the attention can go too far. She's sometimes harassed by intoxicated partygoers — but during her seven months in China, she's had fewer problems than she used to back home. Drunk men occasionally charge toward the stage, she says, miming a lunging zombie, but they are stopped by security.
At this point, Strogaya's friend Valentina Ekzarkho, an animated Ukrainian who has been listening to the conversation while playing on her phone, chimes in. "Katerina, you are a lucky girl — you work in a good club in the best city," she says, her light brown hair falling past her shoulders. "But in other cities, in other clubs, in other provinces, in other parts of China, it is — oh my god — very dangerous."
At only 24, Ekzarkho has already had six years' experience in China, though not as a dancer — she's sung in over 50 cities across the country. Outside China's main urban centers such as Shanghai lies a vast frontier of less developed cities where bars can be "crazy" and provide minimal security for performers, Ekzarkho says. Unsavory characters try to touch her when she walks to the stage for midnight performances — "peak drunk time," as she describes it. "In the club, they get drunk and it's very ugly. The princess inside you cries," she says, laughing at her tragic metaphor.
Once, while Ekzarkho was singing alongside two go-go dancers, a customer threw a glass bottle that narrowly missed her face and smashed on the stage behind her. For a moment, she thought that a bodyguard would run up and shield her, but the show went on. She spent the rest of the night wondering what other projectiles might fly her way.
There's also the risk of not getting paid. It's happened to Ekzarkho three times, and she now believes that Chinese go-go dancer agents have few qualms about cheating their clients. Once, she and two go-go dancers took a five-day job in a central Chinese city with an agent she trusted. Following the show, she repeatedly asked the agent for the 10,000 yuan they were owed, but after a month of silence, the agent deleted her as a contact on messaging app WeChat. "For them, it's very easy. I can't do anything — I'm a foreigner here. I don't have the power," she says, noting that her visa at the time didn't entitle her to work legally.
Ekzarkho now has the experience to know a bad job when she sees one, but newcomers often have no idea what they're signing up for, she says. She was once a clueless fresh arrival herself: One day back in 2012, Ekzarkho was sitting at the back of a lecture hall in Ukraine, feeling bored. She picked up a call from an agency asking if she wanted to model in China. It sounded like good money, so she agreed on the spot and flew out a week later. "I don't know if I was crazy, or I was not very clever," she says of her rash decision.
But when she arrived, she found there were no glamorous photo shoots — instead, the job turned out to be a nightly Victoria's Secret-style catwalk show in a club. "I was just 18 years old, looking at life through pink glasses. I thought it was going to be the start of my modeling career — but in fact, it was the end," she says. After several painful months that she describes as her worst in China, Ekzarkho transitioned to singing.
Russian choreography graduate Yana Parshukova, 23, had a similarly rough start — she describes it as "psychologically traumatic." In July last year, she and a friend flew on a one-way ticket to Guangzhou in southern China's Guangdong province with just 1,000 yuan in her pocket, she tells Sixth Tone in Russian through a translator. It was her first trip out of the country; she hoped to experience a new culture and find work go-go dancing. But the adventure was beset with difficulties: Her luggage arrived a week late, and she failed to secure any jobs. Penniless and desperate, her family sent her money and she bought a plane ticket home.
She's now back in China, working as a touring go-go dancer in Hainan, China's southernmost province and a popular domestic tourism destination. For 7,000 yuan a month, Parshukova and her friend do the occasional hourlong evening dance gig in clubs. She planned better this time around and was careful to land a job that doesn't require go-go dancers to drink with guests. Such gigs just want foreign-looking young people — dancing ability or even attractiveness is secondary, she says.
The phenomenon of booze-guzzling go-go dancers is relatively new — and "very strange," says Wang Feng, an agent for regular foreign go-go dancers based in Changsha, a booming nightlife city in central China's Hunan province. Wang, who also goes by the name Nikki and is a former dancer herself, has noticed club managers tend to prefer skinny, tall girls over a curvier "Beyoncé look," and clean-shaven, not overly muscular men with beautiful, almost feminine features. Clubs in less developed cities pick foreign dancers to show how international they are, while clubs in bigger cities, such as Shanghai, tend to also use Chinese go-go dancers, she says. Wang has also seen the rise of energetic "party go-go dancers" in China's increasingly popular rave-style nightclubs, hired to whip crowds into a frenzy. "Chinese people are quite shy and passive," she says. "To really have fun, they need someone to lead and guide them."
As for complaints about unscrupulous agents, Wang says that when go-go dancers aren't paid for a gig, it's often the performers themselves who are at fault. Young, immature artists kick up a fuss over the slightest schedule or wardrobe change, and cultural differences present a potential minefield of misunderstandings, she says.
Such sentiments ring true for Bao Di, a nightclub manager with over 20 years' experience, who had so much trouble with go-go dancers that he gave up using them altogether. Bao, who's based in Nanjing, the capital of eastern China's Jiangsu province, began hiring go-go dancers through an agency three years ago, inspired by showy performances in Las Vegas and Amsterdam. He found that foreign go-go dancers didn't cost much more than Chinese dancers but had a much greater impact on audiences. These dancers mostly came through Hong Kong, Bao says, where they acquired visas; from there, they entered the mainland through Guangzhou and were dispatched to jobs in cities across China. Bao's main criteria for go-go girls — most of whom came from Russia and former Soviet bloc nations — were that they look good and could dance. But he found it hard to get hold of real dancers — many were "just a foreign face," better at drinking with clients than dancing.
Eventually, Bao found himself in hot water over visas. He recalls how one go-go dancer finished early to spend a night with a customer for cash. She was fired and found work as a so-called KTV girl, entertaining guests at karaoke bars. When police arrested and deported her for prostitution, the trail led back to Bao's club, which was fined for employing foreigners on non-work visas.
Despite having to deal with the occasional tantrum, Changsha-based agent Wang — who says her dancers all work on legitimate visas — views foreign go-go dancers as beneficial to China's burgeoning nightclub scene. Like an older sister, Wang fondly describes how normal the dancers' lives are outside of the club: playing pool, eating out, bowling. There's also a sense of family created in the clubs — many go-go dancers pair up, and she herself ended up marrying a Brazilian DJ.
Back in Shanghai, Strogaya is still feeling optimistic about her lot. She plans to stay in China around two more years before returning home to start a family and be closer to her aging mother. Hearing this, her friend Ekzarkho laughs like she's heard it all before. "I told myself that years ago," she says with a knowing smile.
Editor: Julia Hollingsworth.
Correction: An earlier version of this article incorrectly stated that Wang has a child with her husband. This article has been updated to reflect that the couple do not have a child together.
(Header image: Roberto Schmidt/VCG)